Hey!
Are you new around here? Maybe you've submitted to a few campaigns already or maybe you're working towards becoming a TikTok influencer (here's what you need to know if you are!). Or are you already a seasoned TRIBE Creator?
Wherever you're at, there's always more to learn about TRIBE and creating epic content.
TRIBE Influencers cash in by creating Instagram and TikTok content for the brands they already know and love. And you can too.
How to become a creator
LOCK DOWN YOUR STYLE
Consistency is key; as is creating content that reflects your social persona. Think: authentic, personable and visually creative. Plus:
• Establish a unique niche - such as health and fitness, beauty or something else you're passionate about
• Create a certain aesthetic: 'colorful and upbeat', or 'vintage'
• Stick to a few core topics you'll post about, like mental health, fashion or recipes


Tip: Looking to Influencers who inspire you can be a good place to start.
FIND BRANDS YOU LOVE
Certain brands may be an obvious choice for you to collaborate with. For example, if you're a health and fitness Influencer, sportswear and health food brands may resonate really well. If you're a lifestyle Influencer, you may look to your fave fashion and beauty brands.
STALK... THEN SNAP
It's time to deep-dive into the brands you want to work with.
Great Influencers create content that fits their own unique style while meeting the requirements of a brand and aligning with the platform they're posting on. Studying the TRIBE brief is important, but it's worth going the extra mile. How?
• Check out the brand's website
• Stalk their socials
• Find the content they use on their other advertising channels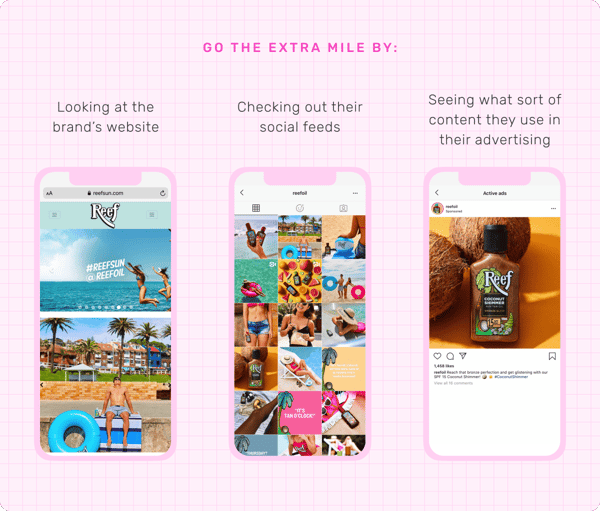 SIGN UP TO TRIBE
TRIBE connects you with thousands of the brands you L.O.V.E. And guess what? They want to work with creators just like you!
Don't worry... signing up takes 5 mins MAX.
PRACTICE MAKES PERF
Get a feel for us by submitting content to the 'Get Started' campaign in the TRIBE app.
While you're still a newbie, keep a lookout for the 'Try Me' tag—these are hand-picked campaigns for new Creators. They increase your chances of getting approved and get you off to a winning start as an Influencer!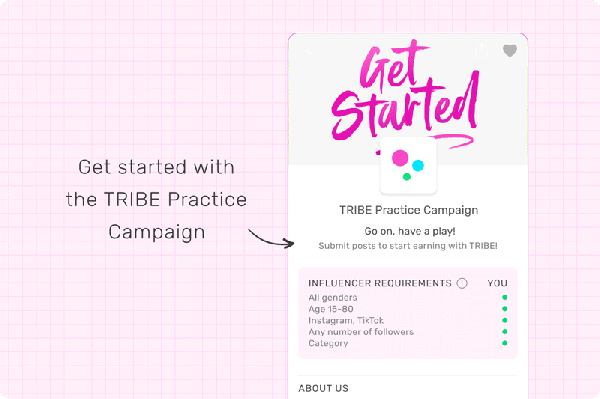 So, why should you become a TRIBE Influencer?
MAKE BANK
Keen to start your lucrative side hustle? Or looking for a bit of extra spending money? It's never been easier. Seriously.
When your content is approved, you get paid safely through the TRIBE platform – no messy paperwork required! Plus, you set your own price.
Not sure where to start? Check out our Creator's Guide to Setting Your Own Fee on TRIBE.

IT'S FUN... NOT TO MENTION, EASY
Have you seen the TRIBE app? We've got a dedicated team of designers and developers tirelessly working away to make it simple for you to use!
Our aim? To streamline the submission process for Creators like you. And we make this happen by introducing regular updates, like improving how you upload Stories and Carousels.
You can browse live campaigns anywhere, any time:
• On your daily commute
• Between reps at the gym
• While out at dinner
• Whenever tickles your fancy, really!

YOU DON'T NEED TO HAVE 100K+ FOLLOWERS
Whether you're trying to grow your TikTok followers or have a small number of followers for your niche, brands know that Creators with fewer followers generally have higher engagement (your followers LOVE YOU!)
The sweet spot lies between 3k and 100k followers. In saying that, it's not always about the count—it's about the creativity.
With TRIBE, brands look at the quality of your content, not the size of your following. Even if you don't have 100k+ followers, you get the opportunity to work with amazing global brands.
TRIBE Influencer @jennifer_chong says:

"I rarely get selected by brands on other platforms because my follower numbers aren't huge. On TRIBE, I get to showcase my creativity upfront, which allows me to stand out and get chosen well ahead of larger Influencers."
IT'S FREE
TRIBE has always been free for Creators to use. You can get your side hustle on without ever having to pay setup or subscription fees! Boom.
IT'S SO QUICK
In the past, Influencers could only collaborate with brands via Influencer agencies who would go back and forth between the two, negotiating prices and deciding on the content.
Now, this is all done for you with the TRIBE app – no middleman required. You choose the brands you want to work with, and you work with them directly.
Let us run you through how TRIBE works
It's so easy – just follow these steps:
1. Download the TRIBE app and create a profile in 2 mins.

2. Ensure your notifications are turned on so you don't miss the inside scoop.

3. Browse the exciting briefs on offer and pick the ones you love. Psst! Try out the Practice Campaign if you want to give it a try before submitting for real

4. Find a brand you love, unleash your creativity and pitch for a real TRIBE campaign (psst! Here's how to nail your pitch).

5. Then, if the brand loves your pitch you'll be pre-approved (locking in 50% of your fee upfront) before submitting your final piece/s of content.

6. When approved, publish to your social accounts and watch the cash roll in.

How can you create content that wins?
Now let's dive into the fun stuff: how to create awesome Instagram or TikTok content that brands just can't say no to.


TOUCH UP ON YOUR PHOTOGRAPHY SKILLS
While you definitely don't need to be a trained photographer to create great content, picking up some basic skills around composition, lighting and editing can help you take it to the next level.

PAY ATTENTION TO THE BRIEF
The brand's brief is your source of truth when it comes to creating content they'll love. While it's great to unleash your creativity and experiment with different concepts and formats, the brand will specifically ask for what they want – so pay attention.
PRICE YOUR CONTENT FAIRLY FOR A GREATER CHANCE OF APPROVAL
Because TRIBE is a digital marketplace, you're free to set your own price! That means you can charge whatever you think is fair for your content.
Keep in mind, brands will pay more for content from Influencers with more followers, greater engagement and awesome content creation skills. But they won't pay more than they think it's worth, so keep that in mind.
Creative content + reasonable price tag = higher approval rate
PREP FOR SEASONS AND HOLIDAYS
Here's a hot tip: Brands LOVE to generate timely, seasonal content and they often run holiday campaigns on TikTok or Instagram. Get out your calendar and mark key events like Easter, Thanksgiving and Christmas, and then make a note 6–8 weeks in advance to start looking for seasonal campaigns.
Check out our Top Holiday Tips for Influencers.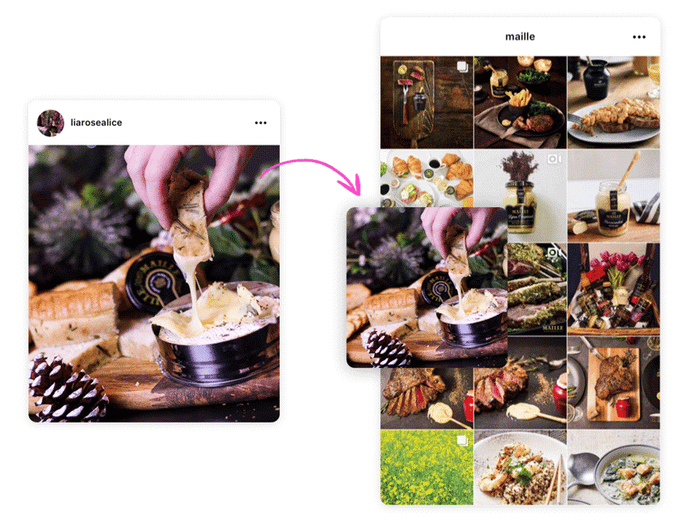 Wanna know how to get good at Influencing?
You're a pro at submitting to TRIBE campaigns now—nice! So, how can you take your content creation to the next level, and earn even more?

Here are some pointers to help you up your Instagram and TikTok game and enter the top tier of Influencers.


DO SOME SOLID RESEARCH
Keep it fresh. Never underestimate the power of research to help you shake up your approach and find new ways to grab a brand's attention.
Take some time to look at what your fave brands are doing on their own social channels.
You can even look to other top Influencers to see what they're doing right. Check out the Top Tips From a TRIBE Creator.

PRACTICE, PRACTICE & PRACTICE
The more often you create content—whether it's for TikTok or Instagram—the better you'll get at it! Try to find a campaign to submit to at least once a week. Not only will this keep your skills in check and inspire you to think of new techniques, it'll help boost your Influencer rating.


EXPLORE FRESH TOOLS
Research the latest tools you can use to take your content to the next level – whether it's scheduling tools to help you curate your feed, editing tools to help you freshen up your visual style, or even in-app tools, like Instagram's latest Story features.
...nailed it!
Now you know everything there is to know about creating winning content with TRIBE.
But it isn't over... your TRIBE journey is just beginning!


What now?
STAY IN THE KNOW
Our awesome team is constantly updating the TRIBE app and adding new features to make it even smoother for you. Plus, there are always new things to learn about Influencer Marketing.
Did you know how the Paid Partnerships feature works? It means more money, more protection and more recognition for you! What about the fact the brands can now turn your posts into Branded Content Ads? We're here to keep you ahead of the game—so take some time to upgrade your Instagram account to make sure you're recognised as a true Creator.
Stay on top of the latest news, advice and product features by following @tribe.creator on Instagram.


Turn this into a side hustle. Or a lifestyle. Or a business
Lots of Influencers start out using TRIBE to supplement their income. It can become an awesome little side hustle that allows you to earn a bit extra to cover holidays, new clothes or anything else that tickles your fancy. After all – you're on this Creator journey, so shape it how you want it.