TikTok is no longer the new kid on the block. It's a massive social media network with over a billion users. Because of this, influencer marketing on TikTok is only getting more and more popular. If you're in the market to get noticed and get paid to work with brands you know and love, it's time to start taking your TikTok presence seriously and building your brand. How? We've got you covered.
10 ways to grow your TikTok followers
Know your target audience
Getting new followers starts with knowing everything you can about your current followers. What kind of content are they looking for on TikTok? Do they want educational videos or aesthetic vlog-style clips?
If you have a Business account on TikTok, you'll have access to lots of data-rich insights that can tell you a lot about your audience. Take a look at who follows you and interacts with your content, this'll shed light on who they are and what they enjoy. Then do more of that! The more you can create content for your specific target audience, the more they'll engage.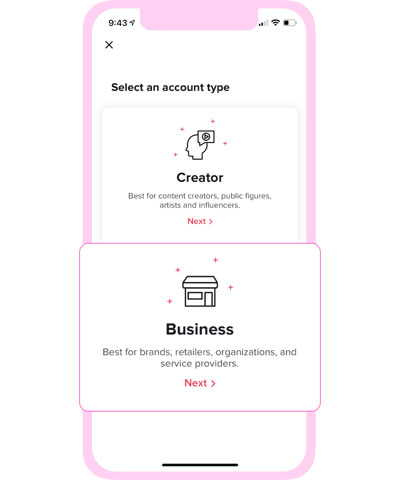 Up your video quality
Sure, TikToks don't have to be cinematic masterpieces, but if your videos have poor sound or video quality, it'll be easy for people to skip. Depending on the kind of content you make, investing in a ring light or small microphone could do wonders for making your videos extra good. Even just finding a quiet, well-lit place to shoot is a simple way to up your video quality.
Jump on trending songs and sounds
These songs are trending for a reason! They're popular and often come with a push from record companies. The algorithm will favour any content you make with trending sounds, so they're an easy way to get your videos in front of more eyeballs. You can find trending songs in the discover tab, or use the tracks that the TikTok app suggests when you shoot a new video.
Of course, just because something is trending doesn't mean you have to participate. Make sure it's relevant to your niche and audience.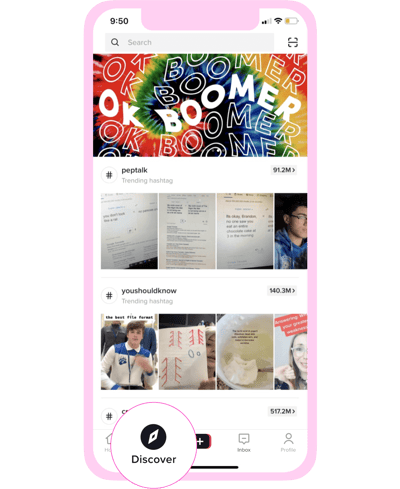 Use trending hashtags
Like every other social media platform, hashtags are essential for spreading your content. Using trending hashtags (and making your videos relevant to those hashtags) can boost your chances of appearing on people's For You Page.
If you're not sure what hashtags to use, have a look at other Creators in your niche and take inspo from them. Or just type '#' when writing your caption and see what trending hashtags pop up. (Here's what's trending on TikTok right now!)
Make sure your content stands out
Yes, jumping on trends is a great way to boost your audience. But you need to also be making original content — videos that will help you stand out from the crowd. What are you giving your followers that they're not getting anywhere else?
Try putting a unique twist on trends to make it your own.
Duet and stitch
Put time and effort into engaging with other Creators and brands on the platform. It's called social media, after all! One of the best ways to do this is through the duet or stitch features, where you take an existing TikTok video and add your own take to it.
When you duet a video, you'll likely be pushed into the FYP of people who follow the original creator, and if you're in the same niche, that's an easy way to get new followers. Even regularly commenting on other Creators' content is a great, and genuine, way to get noticed.
Engage with brands through branded hashtags
If you look at the hashtags currently trending on TikTok, the odds are that at least one or two of them are branded. Companies will create hashtag challenges and trends, and put money behind them as a marketing strategy. Engaging with these hashtags is a great way to get noticed by brands, especially if you want to work with them in the future.
It's as simple as exploring a hashtag, seeing what other Creators have come up with, and putting your own spin on it. For example, mattress brand Simmons launched the #Snoozzzapalooza challenge, where Creators turned their rooms into a music festival by stage diving into their beds. Branded hashtags are often simple challenges that you can interpret in a way that suits your niche and audience.


Have fun
Not to sound cheesy, but at the end of the day, it's all about having fun. If you take your TikTok presence too seriously, it's going to come across in your videos. But if you just create content that you love and are passionate about, that positive energy will radiate through the screen.
When you're genuinely having a good time, you're naturally going to be creating engaging content that people want to see.
Post at the right time
If you want people to see your content, you probably don't want to be uploading new videos at 3am. You need to be sharing videos when your followers (and potential followers) are already scrolling in-app. Thankfully, if you've got a business account, that info is super easy to track.
In the Business Suite section of the app, you'll find Follower Activity, which shows you the specific days and times your followers are the most active on TikTok.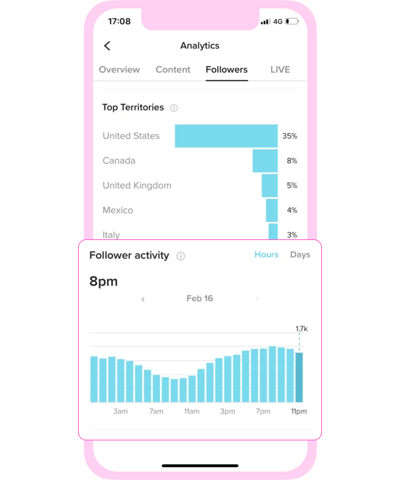 Work with brands
Working with a brand that aligns with your values is an effective way to boost your audience. Influencer marketing has become a massive thing on TikTok in the last few years and brands are constantly looking to work with passionate and talented Creators (like you).
Even with a small following, you can form great partnerships with brands. One of the easiest ways to find brands you know, love, and want to work with is through TRIBE. Believe it or not, today's brands seek real, authentic content from Creators like you, with a smaller, more loyal following. And TRIBE can help you lock down work for those brands you already know and love.


Can't wait to spread your creative wings? Keep your eyes peeled for the many TikTok campaigns dropping in the app weekly.