What's your slingshot strategy?
There's an opportunity here. You sense it.
You've been in awe of marketers around the world, who've risen above budgets cuts and thrived through creativity. Rather than the BIG eating the SMALL, it's now the FAST eating the SLOW. Perfect conditions for an agile marketer like yourself. You just need inspiration. To hear the weird and wonderful ideas keeping the world's most ingenious marketers awake at night.
This is for you.
"Such a brilliant idea with fantastic insights and incredible jokes! #betterthannetflix"


ELMIRA GAZIZOVA

Brand Strategist
"This is sensational
content - bloody love it.
More please!"


WILLIAM CARTER

Media Manager,
Australian Football League

"I binge watched the whole series. Thoroughly enjoyed all episodes & highly recommend."

MAREE FERGUSON

Director,
Dietitian Connection
"Best 24 mins I spent
today. So much goodness on how to get off life's hamster wheel!"

JODIE METAXIOTIS
Partner, The Garden Agency
"'I wish I'd thought of it' was my internal dialogue when I saw this smart idea. Light, smart, useful."

LUCIO RIBEIRO

Marketing and Business
Strategist
"'Brilliant... and I'm not even in marketing!"


KATE LAWN Local Business Development Manager,
Windrush Volkswagen Group
"Thanks for getting all of these minds together and providing it free. Bravo!"

ANNE-MARIE CHENEY
Director - Content,
Publicis Groupe
"Society needs leaders like these. Thanks for sharing."
GREG LONGFORD
Youth Worker,
Links to Learning
"What a productive, helpful & lighthearted initiative! I'm tuning in regularly!"

SARAH KIRYSHIN
Co-Founder,
Toucan Marketing Co.
"I've taken something useful from every single episode."
EMILIE SILVERWOOD-COPE
Social Media Manager
& Consultant
"It's bloody brilliant! Insightful snippets interspersed with some wicked humour"

ANDY ROUSE
Director,
Hire Aspirations
"Amazing advice, thank you. I will take these and other insights into my thoughts each day."

LINDA FINCKE
Senior Event Manager,
Phoenix Creative Management
MUST SEE
One of the world's most unique minds covers why CV19 won't have a long-lasting impact & the pros and cons of Influencer Marketing.
This CEO power couple unpack the definition of resilience, the silver lining emerging from physical isolation & so much more.
BEST OF AUSSIE MARKETERS
Hear from the other side: Coles' CMO talks marketing into the future & the need for humour during and after the crisis.
We unpack the ingredients your post-COVID strategies require & why now, more than ever, is the time to invest in your brand.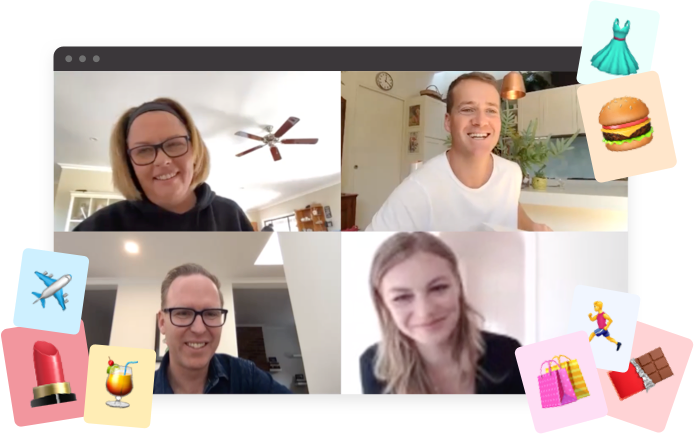 Let's get personal!

This LIVE series has the world's best marketers addressing industry-specific challenges, sharing current case studies and answering your questions in real time.


The next LIVE episode is on its way! In the meantime, catch up on past eps and remember to subscribe for the latest updates on what's to come.