When a brand uploads a campaign to TRIBE they're super excited to see what talented creators would love to collaborate with them.
To make this even more fun for you and the brands, we've developed a way you can excite them with your creative ideas.
It's called 'Pitching'.
If the brand likes your pitch, they'll Pre-Approve you and commit 50% of your fee. This will give you the green light to then shoot and submit your final content. The brand will then provide feedback or approve your content, ready for you to publish and get paid!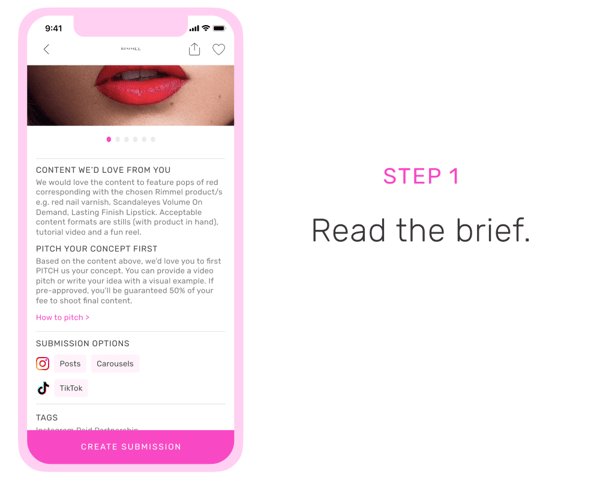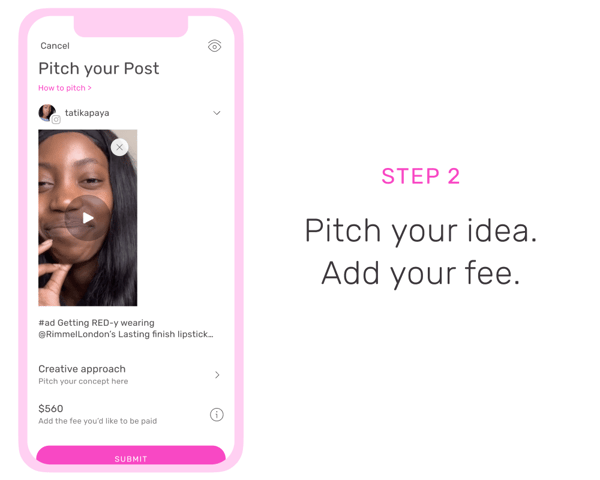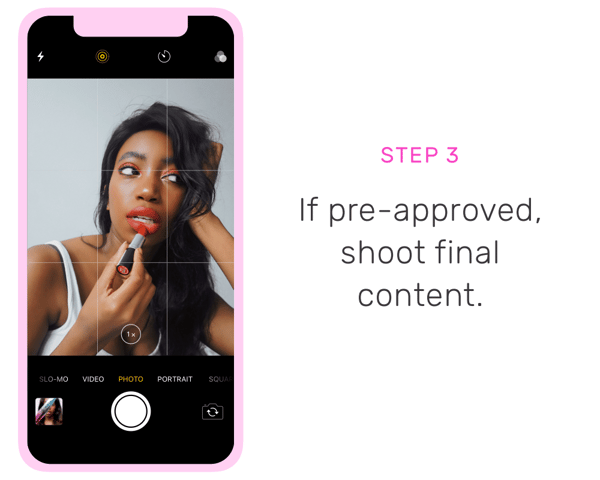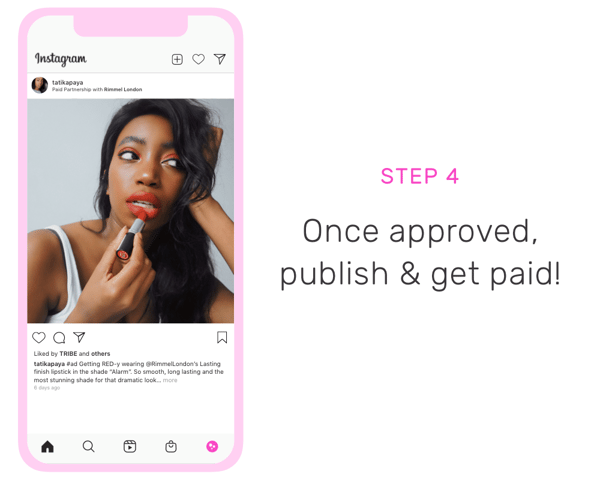 THERE ARE 3 WAYS YOU CAN PITCH
PITCH OPTION #1:
How to PRESENT your idea
Simply look into your camera and tell the brand what you had in mind for their campaign.
PRESENTING

YOUR PITCH WORKS BEST FOR:

✅ Video concepts for TikTok, Instagram or Pinterest
WHY WE ❤️ THE BELOW EXAMPLES:
✅ Less than 60 secs.
✅ A friendly, yet clear description of their idea.
✅ A fun idea to start with.
✅ Creators have an awesome Bio/Portfolio to support their pitch.
PITCH OPTION #2:
How to WRITE your idea
If you don't want to present to camera, you can WRITE your idea in the Notes section here: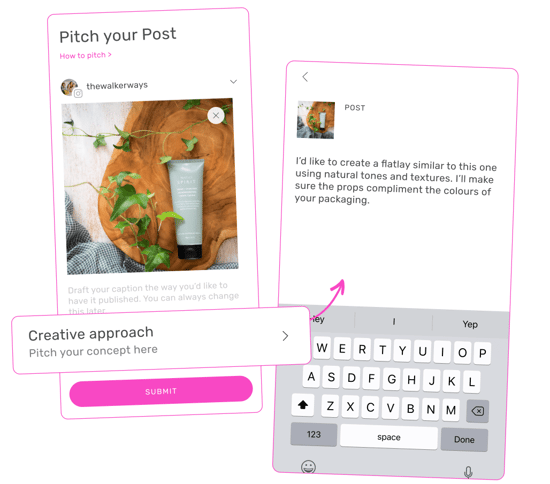 REMEMBER
If you choose to WRITE your pitch, you'll still need to upload a pic or clip you've taken, that helps bring to life what you've written. For example, it might be a previous photo you've taken in a similar style as the one you'll shoot for this campaign if Pre-Approved.
Should you create a Mock Shot?
A mock shot is where you take a new pic or clip without the product, to demonstrate what you'll do with the product. It's not the greatest use of your time. It's never as good as the final will be, so it doesn't show your best work. On the flip side, if your mock shot IS really good, that feels like wasted energy as it'll never get published.
Can I upload content I haven't shot?
We recommend against this. The only time you're allowed to add a pic or clip that isn't yours is if your description references a trend or effect and you wanted to upload it saying, "I'd love to do my own interpretation of this but celebrating your brand". But we'd only ever suggest you submit other people's content if you've set up a killer Portfolio that proves you can, in fact, shoot great content. Be aware, if the brand feels your final content does not match the quality of the example you used, it's unlikely you'll receive your 50% Pre-Approval fee.
WRITING

YOUR PITCH WORKS BEST FOR:

✅ Simple concepts that don't require much explanation via a video pitch.
✅ Creators who may not feel comfortable presenting to camera.


WHY WE ❤️ THE BELOW EXAMPLES:
✅ Short and sharp.
✅ They've attached a strong example of a pic or clip they've shot in a similar style as what they'll shoot for this campaign.
✅ A fun idea to start with.
✅ Creators have an awesome Bio/Portfolio to support their pitch.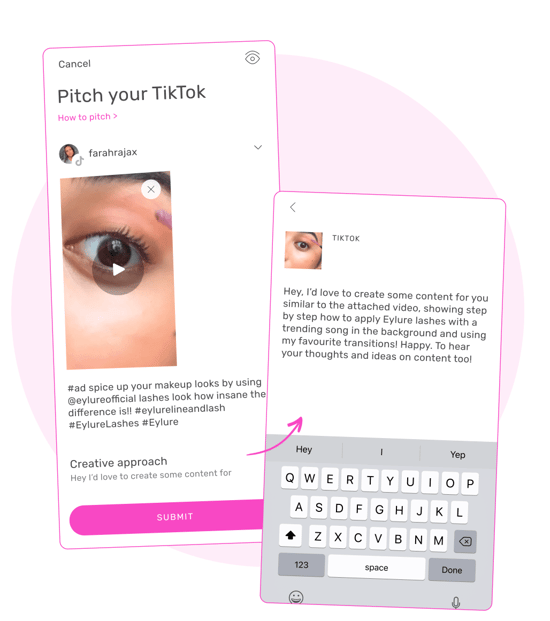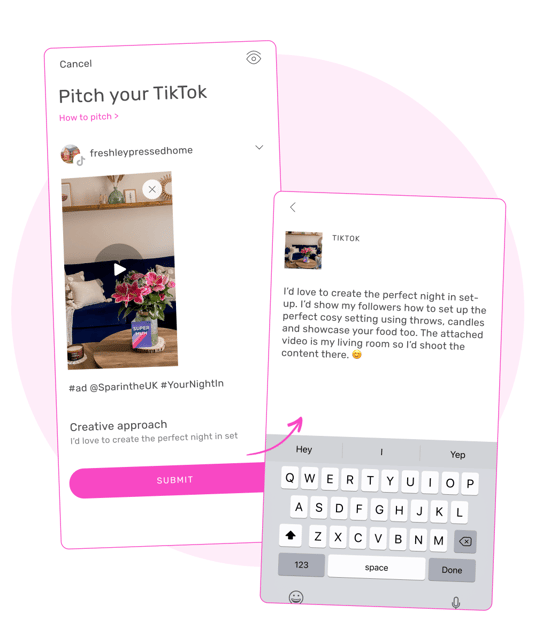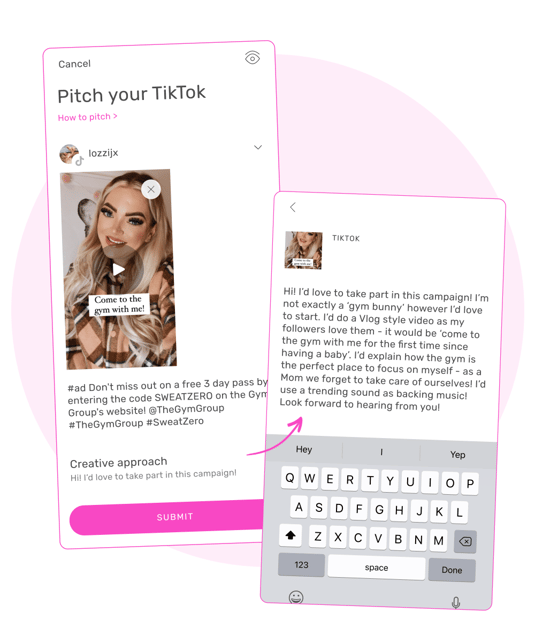 PITCH OPTION #3:
How to SHOOT your idea
This option is for the adventurous creator who'd like to skip the queue, try their luck and submit their final content upfront. So rather than DESCRIBE their idea, they're just going to SHOOT it.


SHOOTING

YOUR PITCH WORKS BEST FOR:

✅ Brands asking for easy content:

• Like one that already exists in your camera roll.
• Or a pic or short clip featuring a cheap product, no product or a product you already have.

✅ Creators who are happy to shoot content knowing they may not get approved BUT feel they have a higher chance than simply describing their idea.

What's the No. 1 rule to pitching with final content?
Letting the brand know in your Notes.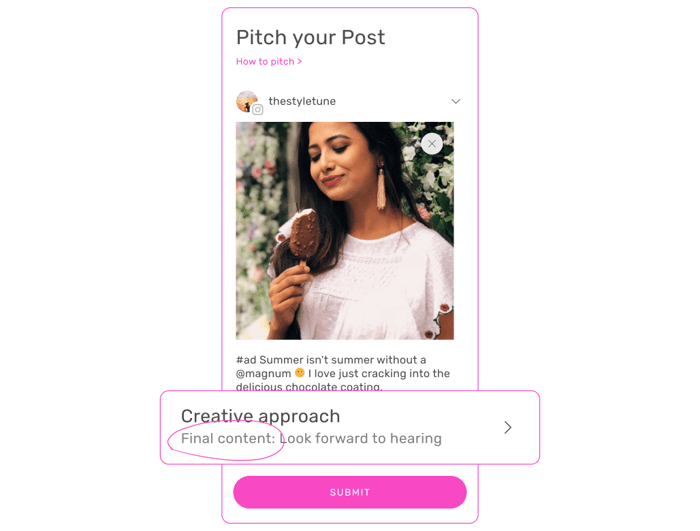 WHY WE ❤️ THE BELOW EXAMPLES:
✅ Eye-catching quality!
✅ Caption is written exactly as it'll appear if published.
✅ Bio/Portfolio is complete
WHAT THE BRAND SEES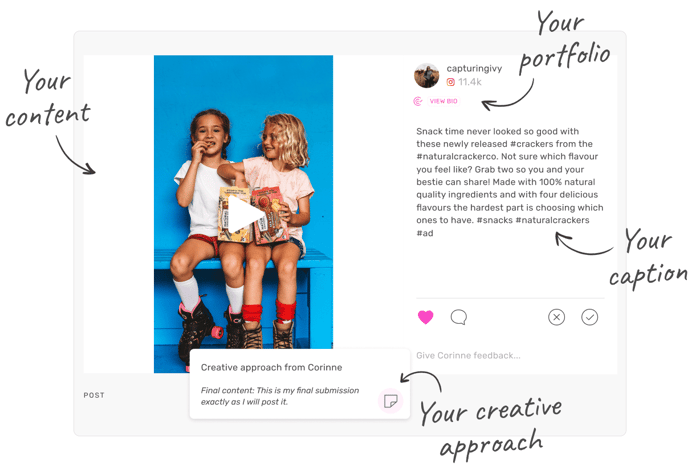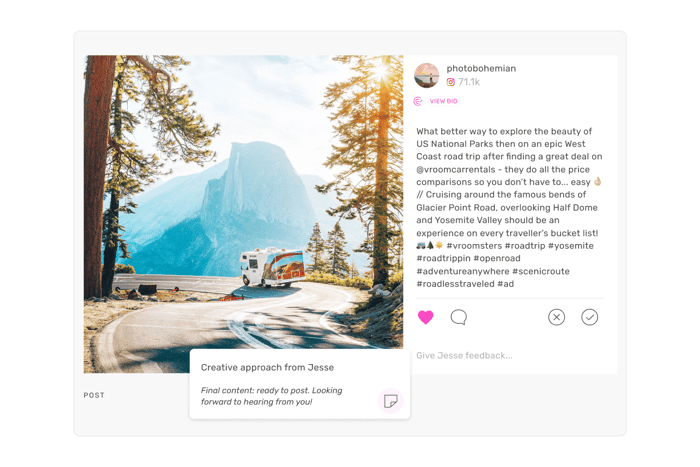 Top 5 mistakes creators make when Pitching:
❌ WRITING YOUR PITCH IN THE CAPTION FIELD
Whoops! You need to WRITE your idea in the Notes section. The brand still needs you to draft up a caption in the caption field, which you can always update later if approved.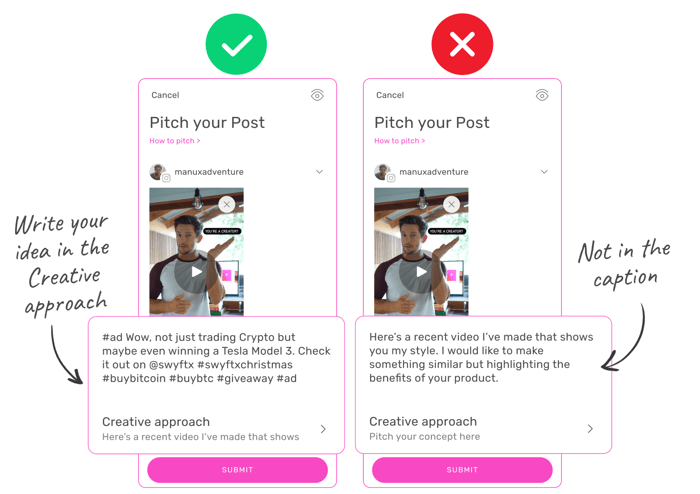 ❌ SCREENGRABBING WORDS OF YOUR PITCH
Unless you submit an example pic or clip in a similar style as you'll craft for this campaign, it's highly unlikely you'll be Pre-Approved.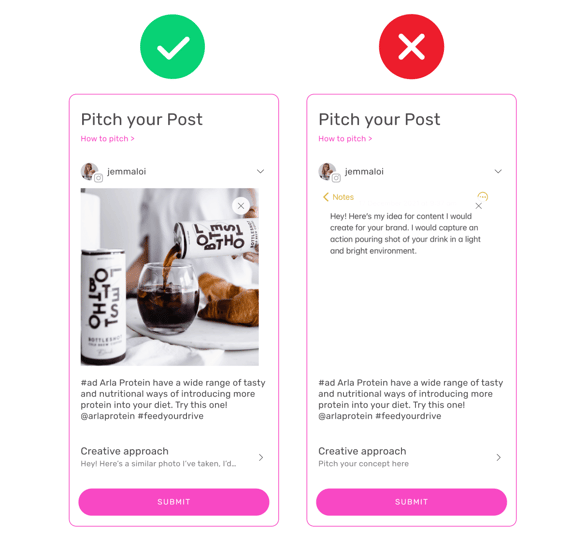 ❌ ATTACHING A SCREENGRAB OF YOUR ACCOUNT
As per above. We want you to be Pre-Approved! But this won't achieve that.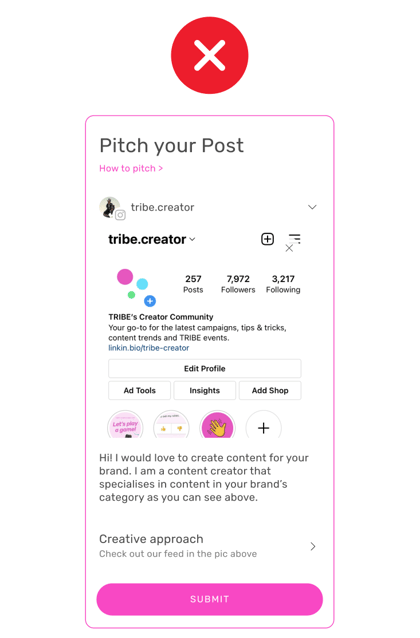 ❌ HAVING AN EMPTY BIO & PORTFOLIO
You'll be compared with creators who've uploaded awesome content.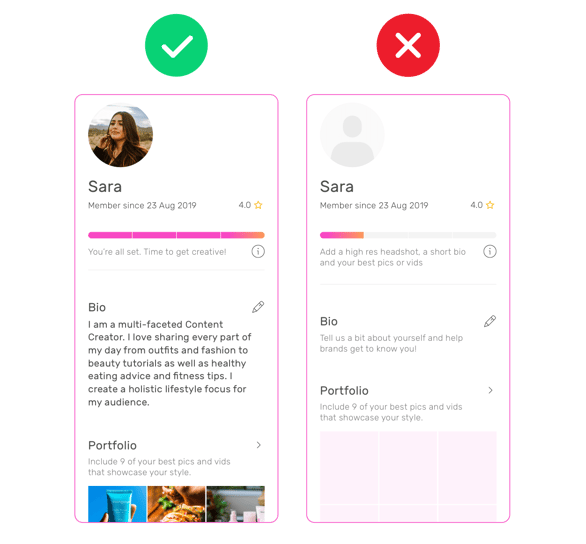 ❌ NOT READING THE BRIEF CAREFULLY
You'd be amazed how often creators wonder why they never got approved when in actual fact - they misread the brief and the brand had no choice but to approve other creators. For the extra minute or so to re-read the brief before pitching, you'll save yourself a lot of energy.
Here's how to submit your final content
Your content has been Pre-Approved... congrats! Now that you've shot your final content you'll have to resubmit it for the brand's final approval, here's how:
• Click on 'Pre-Approved' in the Submissions tab.
• Tap the submission you want to resubmit.
• Tap the 3 dots icon
• From the menu, select 'Edit & Resubmit'
• Make your changes and tap 'Resubmit'
It's that easy! For more detail on how to do this check out our step by step visuals here.

Which TRIBE campaigns are NOT open for Pitching?
As a start, Pitching will be open for all TikTok campaigns and selected Instagram campaigns where you'll be shipped the product.
You'll only be allowed to pitch for campaigns that include this section in the brief: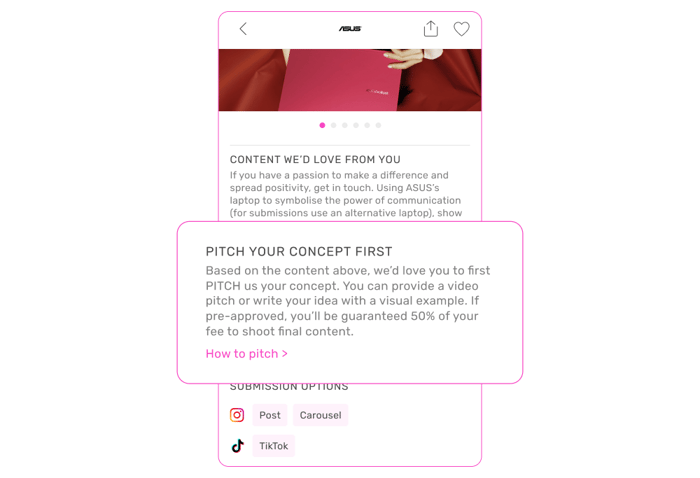 If the above section is NOT included, that campaign is for creators who are happy to submit final content upfront. Like option #3 above, for these campaigns, rather than DESCRIBE your idea, you'll have the opportunity to just SHOOT and submit your idea.
Again, these campaigns will be reserved for easier requests like a pic of you at the beach or promoting a photo editing app you could do from your phone. The better your content, the more chance you'll earn.
Time now to pitch for a handful of exciting campaigns. Good luck!