There are now countless influencer apps for creators to choose from. If most influencer networks are more or less the same, why choose TRIBE? Well, we do things a little differently.
Our platform is designed to give creators more control over their content and streamline the influencer process. From creating to getting paid, everything is optimized to put you in the driver's seat, with more creative freedom and more money making.
We know that change can be scary AF, but have no fear! We're all about keeping transparent, so if you're on the fence about TRIBE, here are the pros and cons of our platform…
Money Money Money
TRIBE is a content first platform, which means you get to decide how often to create, which brands to work with and how much you want to earn. Once you get that first win on TRIBE, your earning potential is truly exponential.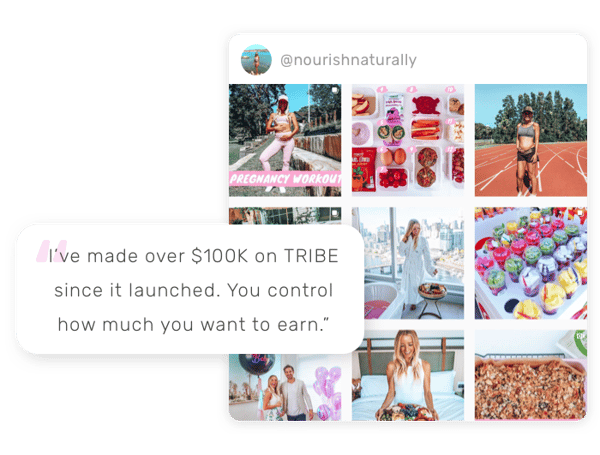 Pros:
You're only limited by your creativity.
The more brands you submit to, the more you will earn. It's as simple as that!

You set your price.
Decide how much you think your content is worth, and get paid 100% of what you ask for.
Cons:
You get out what you put in.
Brands only consider content if you submit to their campaign, so it's up to how much you want to hustle. You get out what you put in, so start submitting!
Creativity
We put you in the driver's seat, giving you full creative control over your content and allowing you the freedom to get a little experimental. Say goodbye to selfies and get creative - the sky's the limit!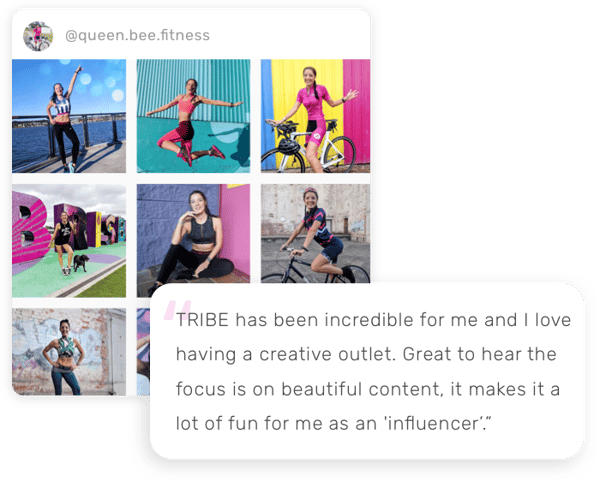 Pros:
Thinking outside the box.
Brands love seeing creators experiment with a range of creative formats. Think outside the box, instead of fitting yourself into one for demanding brands.

Be your own creative director.
Once you've read the brief, you drive the creative direction of your content - let your imagination run wild!

Cons:
Creativity can be whiskey, but it's worth a shot!
Sometimes, a creative risk pays off and you get approved. Other times, the brand might be looking for something a bit more specific. So read the brief closely!
Following Size
On the TRIBE app, all influencers – whether they have 3k, 20k, or 100k followers – are on the same playing field. If you're creating high-quality content, staying true to who you are and recommending the brands you love, you're in the game.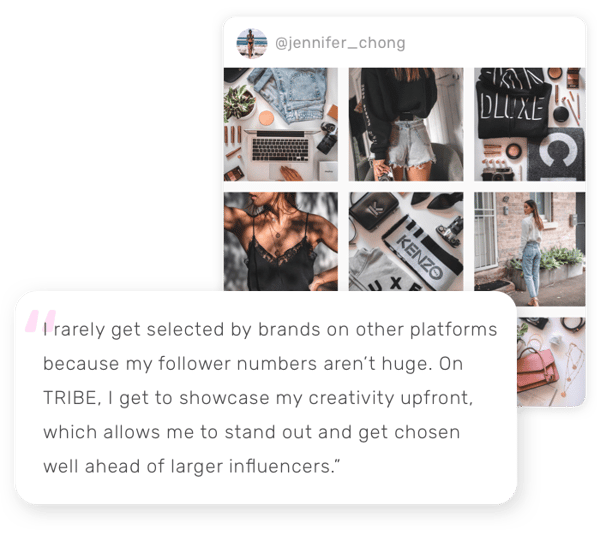 Pros:
Quality over quantity.
You get judged on the quality of your content, not the size of your following.

Opportunity for all.
Even if you don't have a huge following, you still get the opportunity to work with global brands.
Cons:
You gotta work.
With so much high-quality content on the app, there's no preferential treatment for influencers with big followings. If you work hard to create stunning content, you'll always come out on top!
Communication
While it might seem easier to communicate with brands individually, when you're working with multiple it can take a lot of time and effort. But we take care of all that for you! Forget about moderating negotiation, tax, contracts and payment and get back to doing what you love - creating!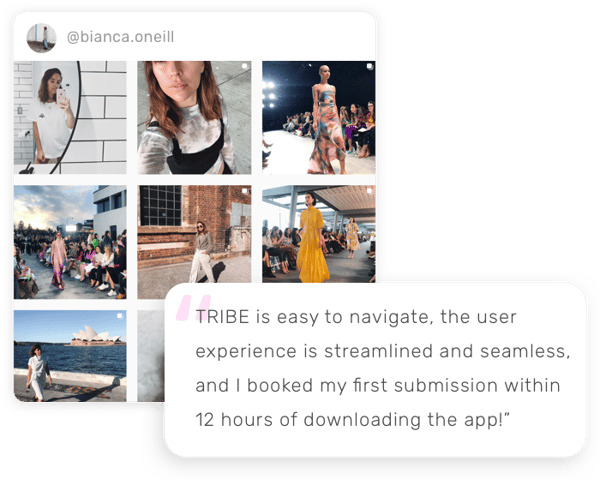 Pros:
Safe and sound.
All brand/influencer comms are monitored and mediated by TRIBE, so you can spend less time waiting and more time creating!

Negotiating is easier and quicker.
You confirm your own fee and get 100%.

Less stress.
Thanks to our T&Cs and compliance dream team, brands can't mess you around, pay you late or drag out the creative process.

Cons:
You can't take comms outside of TRIBE.
Chatting outside of the app breaches our T&C's and leaves you exposed.
Talk is cheap.
Sometimes a brand will want to negotiate the price. It's up to the creator if they lower their price or stand their ground, just keep in mind TRIBE is a marketplace.
Authenticity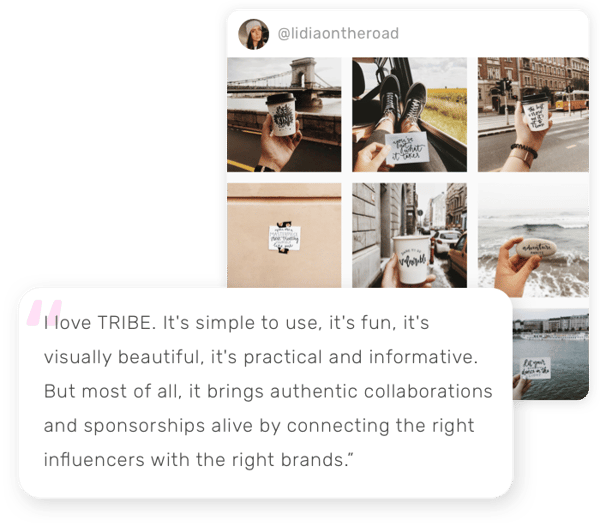 Pros:
You pick which campaigns to create for.
Recommend brands and products you use and love! In fact, your next win could already be sitting on your shelf.

More brands will want to work with you.
If you're recommending brands you truly believe in, this authenticity will translate and make other brands want a piece of that pie.
Your followers will trust your recommendations.
Trust is everything. A loyal following is a good following!
Cons:
You need to buy the product yourself.
By creating content for brands or products you'd normally buy in your day to day life, there's no limit to how many wins you can get.

You need to hustle!
You're only going to get approved by the brands you submit to, so get amongst it!
Content Licensing
Have you ever dreamed of seeing your content splashed across billboards, or the pages of your fave magazine? Well, TRIBE could make those dreams a reality!
Once a brand has approved your submission, they have the opportunity to request the rights to use your content for their advertising and marketing channels. This means not only more $$$, but the possibility of seeing your creations up in lights!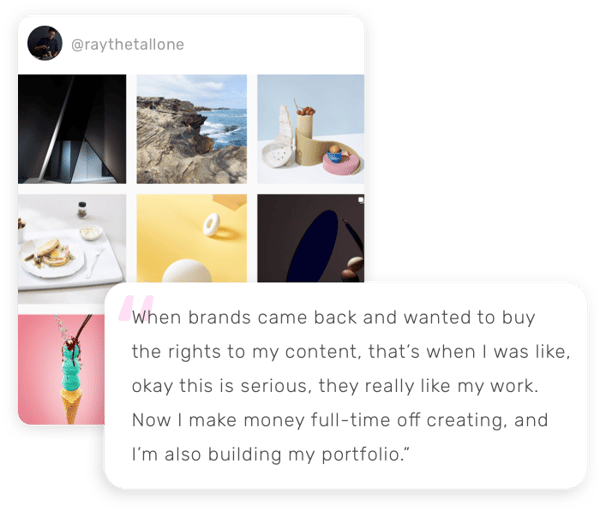 Pros:
See your content on billboards.
Get your content licensed by global brands to see your pics splashed across billboards and magazines!

Earn extra $$$
If a brand decides to license your content, not only do you get bragging rights – you get extra $$$ in the bank!

It's your choice
You have the right to accept or decline the license request.

Cons:
You might not get credit.
While it's not mandatory, we always encourage brands to credit the creator. But, we still think getting paid to see your content splashed across a billboard is pretty spesh!
You can't reuse the content.
If your content is licensed, you won't be able to use the image anywhere else.