Social media can be a fickle game, especially when you're trying to go viral on TikTok.
These platforms constantly change how content is promoted. As soon as you think you've figured out the algorithm, it changes (just like TikTok Live did recently). But that's no reason to lose hope! There are plenty of failsafe strategies creators can follow to create quality content that's likely to go viral (like Maybelline did).

If you've already mastered using our 7 TikTok video ideas for when you're feeling stuck, keep reading.
9 actionable tips to help you go viral on TikTok
1. HOOK YOUR AUDIENCE FROM THE GET-GO
TikTok moves fast, so make sure your video starts with an engaging hook that immediately captures your audience. The longer a viewer spends on your video, the better it will perform.


2. TAP INTO THE POWER OF HASHTAGS
Hashtags help the TikTok algorithm categorise and rank your content. We all know that hashtags work, but you just have to use them correctly. Identify popular and trending hashtags to include in your captions by entering a keyword in the search bar and tapping the 'hashtag' column. Mix these in with less popular hashtags that are specific to your niche.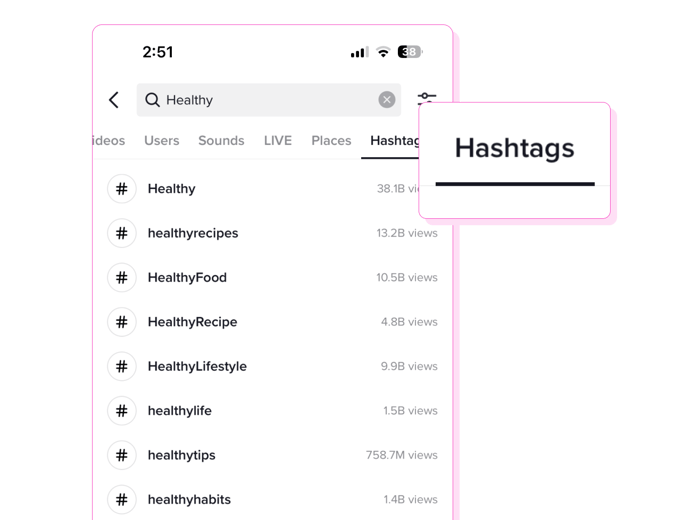 A good rule of thumb is to include around three to five hashtags per post. This leaves you space to write a descriptive caption without overwhelming your followers.
3. KEYWORDS ARE KEY
TikTok gathers information from the titles, descriptions, and captions of your videos when categorising and ranking them. The more organically placed keywords (without the hashtag), the better!
4. FOCUS ON QUALITY
Quality is king! With so many excellent creators out there, ensuring your content is high-quality will help you stand out.
Here are a few things to keep in mind:
• Put time and energy into planning and shooting your content
• Draw inspo from your fave creators and stay on top of what's trending
• Arm yourself with the right tools and equipment
• Bring your authentic self - no one does you like you
• Let creativity reign. This might seem obvious, but fresh ideas are at the heart of TikTok - don't hold back!

For more, check out our content creation tips that will help you shine.
5. EXPERIMENT, EXPERIMENT, EXPERIMENT
If a certain style of video isn't working well, shake things up and try a new format. Because TikTok is such a fast-moving app, it's vital to experiment with a bunch of different ideas to see what your audience responds to.

Stuck for inspiration? Here's our list of TikTok video ideas that can be adapted to any niche.
6. KEEP IT SHORT AND SWEET
Short, engaging videos are far more likely to go viral.
Watch completion rate is one of the main factors determining what ends up on the For You Page, and it's easier to watch 100% of a 7-second video than a 2-minute video.
7. BE STRATEGIC WHEN CREATING LONGER VIDEOS
While short videos perform well, that doesn't mean you shouldn't experiment with longer content (plenty of three-minute videos on TikTok have millions of views!)
There are a few things to consider, so take a look at our full explainer on creating longer TikToks that still get engagement.
8. UNDERSTAND THE ALGORITHM
We've name-dropped the algorithm plenty of times, but rather than treating it as some foreign entity you have to please, it pays to really understand what's going on.
TikTok's algorithm rewards user engagement, user interest (aka video watch time), and creativity, so make sure you're tracking how your videos perform. The app's inbuilt analytics are surprisingly in-depth and provide insight into what your followers want to see.
If you need help with your TikTok analytics, read this.
9. EMBRACE STORYTELLING
Think about the videos you watch and share with your friends. Most of the time, we love them because we can relate to them, and you'll find your audience feels the same way.
Tell them a story, find things about you, or your life, that will resonate with them and express them in an engaging way. Try using classic storytelling techniques to keep viewers hooked, like the sneaky "more in part two" cliffhanger.
Grow your TikTok audience with TRIBE
One of the best ways to grow your account and go viral on TikTok is to partner with brands you align with.

The TRIBE app makes it easier than ever to pitch your creative ideas to loads of Instagram and TikTok campaigns from your fave brands.