TikTok played an undeniably colossal role in the rise in popularity of short form videos, and forcing Creators to stick to a short time limit really drove creativity. But now, TikTok has changed its maximum video length from 3 minutes to a whopping 10 whole minutes.
Some people have pushed back against the change, arguing that 10-minute videos belong on YouTube, but we think it's a great opportunity for Creators to mix up their content on TikTok and start branching out from short, snappy videos to longer, more thought out content.
How to make longer TikToks
Make sure you have access to the new feature
• Open the TikTok app on your phone
• Click the + sign at the bottom of the screen to open the camera
• Above the record button, you should be able to swipe across the different time limits to see if you have the 10-minute option.
If you don't see it, update your app via the App Store to make sure you've got the latest version. Still not there? Don't worry! The feature is being rolled out in phases, so not everyone has access just yet — but it'll hit your account soon.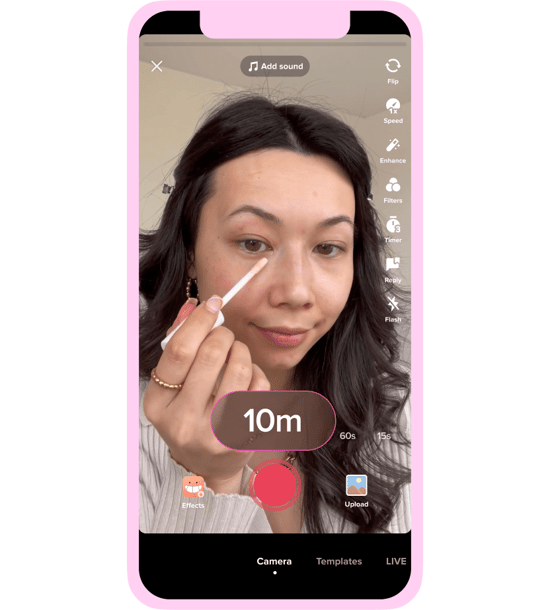 Start putting together your video
It works just like the shorter video length you're used to, but you've obviously got more time to work with. You can record a total length of 10 minutes directly in the app, starting and stopping as needed. Or upload multiple video clips and images from your camera roll if you've pre-recorded your content.
Find inspo: Here's 6 ideas for making long-form TikTok content
Yes, 10 minutes may seem like a long time for a TikTok video. Some of you might even remember when TikToks were limited to 15 seconds! But the social platform is all about creativity and experimentation, and some Creators are really using this new 10-minute length to their advantage. Here's how:
Storytime
Everyone loves a good storytime video. In the past, TikTok storytimes had to be condensed into a quick 60 seconds or split into multiple parts.
The ability to upload a single 10-minute video is revolutionising the storytime format, especially for Creators who aim to engage. Rather than rushing through a story or editing in lots of cuts, Creators can now tell their stories in a format we're more used to seeing on YouTube. We're talking dramatic pauses, lots of backstories, and building suspense. The key is to make sure that the entire 10 minutes is engaging. Give viewers a reason to keep watching until the end.


Q&A
Q&A videos are an excellent way for your followers to get to know you a bit better. It's quite common to see Q&A's on Instagram, usually with the Question sticker on a Story. This access to 10-minute TikTok videos will allow Creators to do in-depth Q&A videos on TikTok too!
Tell your followers to submit questions in the comment section of another video, then pick the ones you want to answer, settle in, and start filming! Though some Creators love using the Live feature on TikTok to do Q&A sessions, everyone can see the comments as they come in — making it harder to dodge anything you don't want to answer.
Daily Vlog
Daily vlogs have always been en vogue. You can't go wrong with a daily vlog — from 20-minute long YouTube videos to 15-second montages on Reels.
TikTok's 10-minute feature is the perfect mid-way point between Reels and a YouTube video. Your TikToks can be less polished than YouTube, while you can definitely get a bit deeper than you could with a Reel.
Film your day as you go along, edit it together in the evening, and post it to TikTok that night. It's a great way to show more of the behind-the-scenes of your life (an already huge trend on TikTok).


DIYs
DIY videos have been big on TikTok since the app's inception, and they really boomed in popularity during COVID lockdowns. From tie-dye shirts and punch needle rugs to furniture upholstery and room makeovers, the DIY opportunities are endless. And having 10 minutes of video means you can go into more detail about each step of the DIY process.
Mukbang
Mukbangs — where Creators eat a meal while talking directly to the camera — had a real heyday a few years back. Though the trend was solely found on YouTube, Creators now have a chance to bring it back with 10-minute TikTok videos.
It's a great way to update your followers on anything going on in your life — relationship breakups, career wins, travel stories — in a more casual way than a Q&A.


Morning routine
We seem to be fascinated with watching other peoples' morning routines. YouTube, Insta, and TikTok are all full of videos montaging Creators' skincare, breakfast, gym routine, makeup, and more.
A 10-minute morning routine video is a great way to go more in-depth into what you're doing, whether it's sharing a pancake recipe, explaining your favourite skincare products, or even responding to some journal prompts. Seeing an entire morning routine in real-time is an innovative way to engage your followers.
Remember: you don't have to make a 10-minute video just because you can
Don't get caught up in the excitement and churn out mediocre content for the sake of it. Make sure you're creating something worthwhile, that you're proud of and that your audience will want to see.
Don't be afraid to experiment, but remember that your 10-minute videos need to work in tandem with the rest of your content, and most of all match your style.
Ready to up your TikTok game?
Working with brands is one of the best ways to grow your audience and have fun with your content. If you're not sure where to start, TRIBE is the ideal launchpad. Browse through hundreds of brands with active campaigns, submit content or pitch to win, and start earning by doing what you love – creating real, authentic, and engaging content.