Creating engaging content is at the heart of what every influencer does. It sounds straightforward, but we all know that it can be pretty tricky to maintain for long stretches, especially when the platform is constantly evolving.
Five years ago it was easy to make it big on Instagram: post at the right time, use hashtags, and try to be featured on bigger creators' accounts. But when the algorithm changed, all that flew out the window.
Now, there's no one key to finding success on Instagram. But what we do know is that consistently posting high-quality content that inspires your followers is imperative. So here are nine things to keep in mind when you're trying to boost your Instagram engagement.

@katherinedorrington for

Rhicreative
1. Plan your content
Set aside some time each month to brainstorm and come up with content ideas. Maybe you want to scroll through your IG or Pinterest for inspiration, and jot down the main themes of the posts you have in mind. Not everything has to be a killer idea either—you can do a bulk brain dump of ideas and then just pick and choose the ones you're most drawn to later.
It will help to also keep a note of any upcoming events or holidays that you can create content around, and categorise your post ideas into timely and evergreen.
2. Track (and engage with) your analytics
There's no point putting hours and hours into creating content if you forget about it the second you post it. Tracking the performance of your posts and your account is essential for success on social media. You need to know what resonates with your audience, because if they're not engaging, it'll be impossible to grow your channel.
You can use the built-in 'Insights' section on Instagram to see which of your posts have over-performed, and let those guide your future content. If you've posted a video that has received a much higher engagement rate than your photos, then you know that video content is an avenue you should explore.
3. Prep your posts ahead of time
It's not as simple as just opening up the app and posting a random photo whenever you feel like it. Calendars are key and allow you to schedule your upcoming posts at least a week in advance—but a month is recommended. It'll show you how everything will look together on your feed, and you can make sure timely content is going out amid your evergreen posts.
Posting frequency is important here. You'll ideally be posting four to five times a week if possible, so use a scheduling tool like Buffer, Hootsuite, or Later to sort out your content calendar, and you'll find life gets a whole lot easier.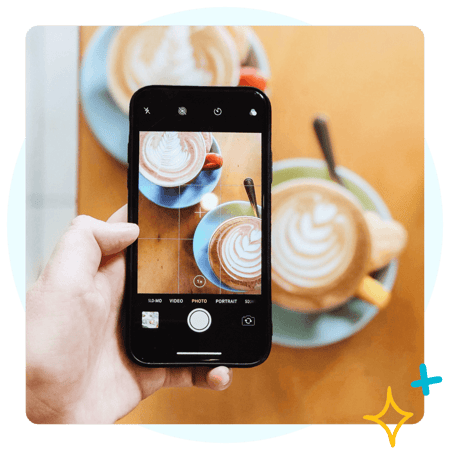 @stepheats_ for Milk Lab Co
4. Be sure your content is top notch
Instagram is such a visual platform and there's so much out there for you to compete against so stand-out content is crucial. Invest time into making sure you're sharing the best-quality images and videos possible.
Ensure you've got good lighting (or are an editing wiz), interesting poses or angles, and varied content so that your grid doesn't all look the same. You don't need fancy equipment—a lot of the best creator content is produced using only a smartphone—but here are our personal tips for crafting content that pops.
5.Diversify your content
You can only post so many selfies and #ootd content before it gets old. Some of the best Instagram creators publish many different types of content to their feeds, and experiment to see what works best.
Use an online tool like Canva to create quote cards or informative slideshows that your followers can share to their Stories; and don't be afraid to experiment with Reels and IGTV, rather than just static image posts. It pays to get creative!
6. Give your content a helping hand
Ultimately, you want to make sure your content is getting in front of the right people. This can be done by using hashtags, tagging relevant brands and accounts, and even adding location tags to your images.
Also be sure that your Instagram name and bio are geared for SEO, by putting essential keywords in the name section.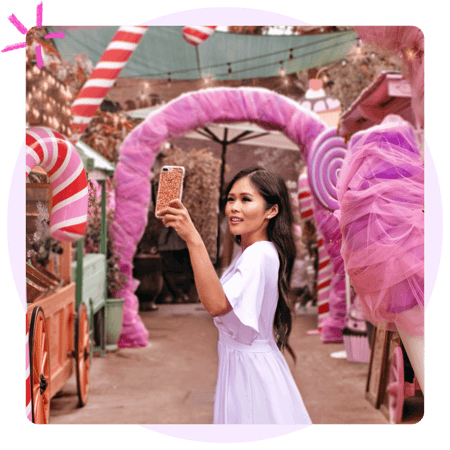 @anniesbucketlist for Casemate
7. Post regularly
You want to remain at the top of your audience's minds—and feeds—and the only way to do that is to be consistent. Set yourself a posting schedule and stick to it.
Stories are a great way to maximise your potential and are becoming increasingly important for growing your account, with around 500 million people engaging with Stories every day. That's half of Instagram's users!
If, for whatever reason, you can't post for a few days, let your followers know ahead of time. Tell your audience where you've been; you'll be surprised at how far transparency and communication goes.
8. Focus on building a community
Follower count and engagement rates are important metrics, but you should really be focusing on the kind of community you're building. The more you nurture your relationships with your followers—by asking questions, uploading Stories and replying to comments and DM's—the more your audience will trust you and see you as an authentic part of their lives. This quality is something that brands look for when choosing influencers to partner with.
9. Set yourself up for brand partnerships
Make it easy for brands to reach out if they're interested in partnering with you. Try to make sure your Instagram is verified (read this if you don't know how) and that you've upgraded your account to a Creator account (here's how!). This also unlocks Instagram's analytics tools we mentioned above.
Make sure you're easily contactable by having your email in your bio or accessible via the "email" button on your profile. Remember: If you have any dream brands you want to work with, start featuring them in your posts and tagging them; It might just be the "in" you need!
TRIBE helps creators like you find brands you want to work with. You know... those brands that you already use and love! Don't believe us? Check out the heap of brand campaigns in our app right now and see just how many tickle your fancy.