Every influencer wants to get IG verified. That little blue badge is a sure way to boost your engagement and your credibility — which is what the Instagram game is all about.
Getting verified on Instagram can be a tad tricky and while the process is less mysterious than it used to be, it's still very useful to get the lowdown before you make an application.

What does it mean to get IG verified?
When you get IG verified you get a

blue tick next to your username. Celebs, big brands and prominent influencers have been showing theirs off for years.
The badge shows users that the account is authentic and can be trusted. It's not a copycat or fake account making the most of someone else's popularity.
Because "notability" is taken into account when Instagram dishes out the blue badges, they've also come to indicate your prominence on the platform.
Basically, if you have a blue badge, you're one of the IG elite.
What are the requirements for Instagram verification?
Anyone can apply for Instagram verification; but not everyone will get it.
In order to be verified, you need to stick to Instagram's Terms of Service and Community Guidelines. You and your account also need to be:
Authentic. You'll need to prove that you're a real person, registered business or brand.
Unique. Only one account per person or business can be verified.
Public. You can't be verified if you've got a private Instagram account.
Complete. Your bio should be complete, you should have a profile pic and you should have created at least one post.
Notable. This is where Instagram makes things a little less black and white. You're seen as notable if your name is "well-known" and "highly searched for". Which means you can't be 100% sure you tick this box before you make an application.
Apply to get IG verified in 4 simple steps
Step #1
Go to your profile and click on the hamburger icon.
Step #2
Click Settings > Account > Request verification.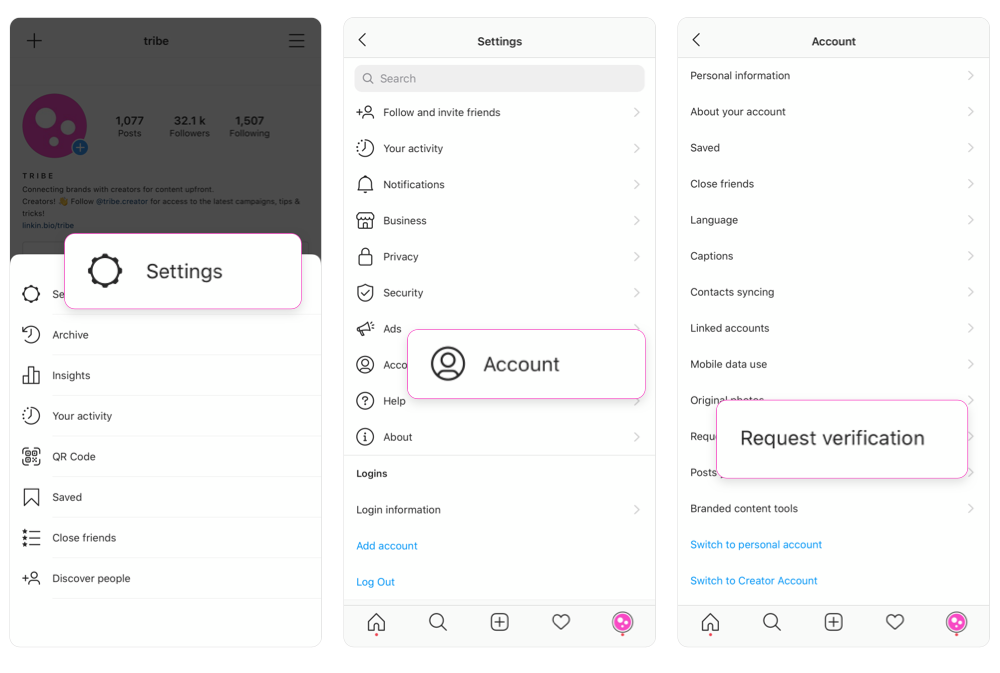 Step #3
Fill in your details.
You'll need to give your legal name, your "known as" name (where applicable) and your category or industry. You'll also need to submit a photo of your ID — a passport or driver's license.
Step #4
Tap Send. And you're all done!
Instagram will review your application and get back to you within a week. You'll find out if you've been successfully verified in your notifications tab.
If you're unsuccessful, you'll be able to apply for verification again after 30 days.
Tips and tricks to get IG verified
Wondering whether you're notable enough for the Insta gods to grant you a blue badge? Here are a couple of things you can do to boost your status:


GROW YOUR FOLLOWING
The more engaged your followers are, the more notable you will seem. Be authentic, post at the right times for your following and use relevant hashtags to organically get those numbers up.

CROSS-PROMOTE YOUR SOCIAL PLATFORMS
Make the most of your following on other social media platforms. Direct your Facebook tribe, Pinterest crew and blog squad to your Instagram page.
GET YOUR NAME OUT THERE
It's not just about building your personal brand on Instagram. Send out press releases to publications. Being featured in a glossy mag or on a high profile website is just the kind of publicity you need!
Blue badge or not, you can create content and get paid for it on TRIBE. Our influencers work with some of the world's best brands, promoting products they already use and love. Join us today!