Simply put: users trust other users. They trust everyday creators like you and that's why more and more brands are realising the impact of user-generated content. It's more authentic than heavily-crafted native content and shows consumers how a product or service is used in everyday life.
Brands can harness the power of user-generated content to give them organic advertising for a fraction of the price of a targeted campaign; while you get to work with brands you already love to grow your portfolio and expand your reach.
So let us take you through the basics, then show off some stellar examples of user-generated content that'll spark your creativity.
What is user-generated content?
User-generated content is any form of content that is created by the consumers of a company or product. Ahem... that's you! It is generally regarded as a more authentic form of promotion and thrives on visually-driven platforms like Instagram, where it's also very easy for brands to repost the content and tag creators accordingly.
Why is user-generated content important?
It's proven that UGC consistently delivers more engagement than native or over-orchestrated content. Due to the importance of engagement in successful social media strategies, UGC is super important in helping brands grow their audience, build trust and drive sales.
It's clear to see that marketers are moving away from polished, professional imagery and investing more in authentic lifestyle content crafted by authentic creators.


Followers relate to you and trust your opinion, so your value to brands is at an all-time high.


Some of our fave examples of user-generated content

@BODYPOSIPANDA — MEGAN JAYNE CRABBE
Megan uses her @bodyposipanda account to spread messages of self-love and body positivity to her 1.3 million fans. She's an absolute Instagram whiz, but in this particular video for Bumble, she got innovative with the Q+A feature in Stories and instead of answering followers' questions, she created a video post.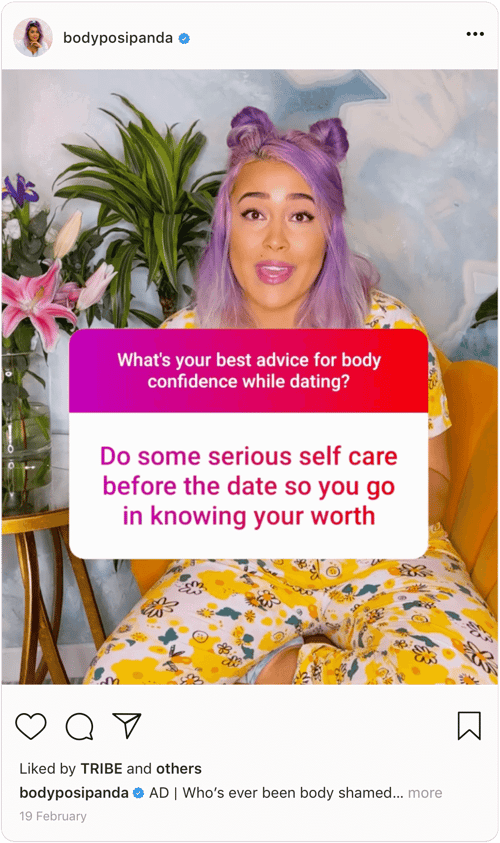 By involving her followers, encouraging them to ask questions and then answering the best ones, she ensured higher engagement on her account –– which we know is essential to beat the algorithm!
@COLORMECOURTNEY — COURTNEY QUINN
Courtney has a really strong aesthetic on her Instagram grid: bright colours and good vibes. She is a great example of an influencer who creates content for brands that still are distinctively hers, which slots effortlessly into her grid. Sometimes branded posts can garner lower engagement when they're obviously an ad, but Courtney strives to ensure her UGC post looks like everything else on her profile.
We love this post in particular, which fuses her crisp photography with a bright graphic background –– it's eye-catching and will stop people mid-scroll.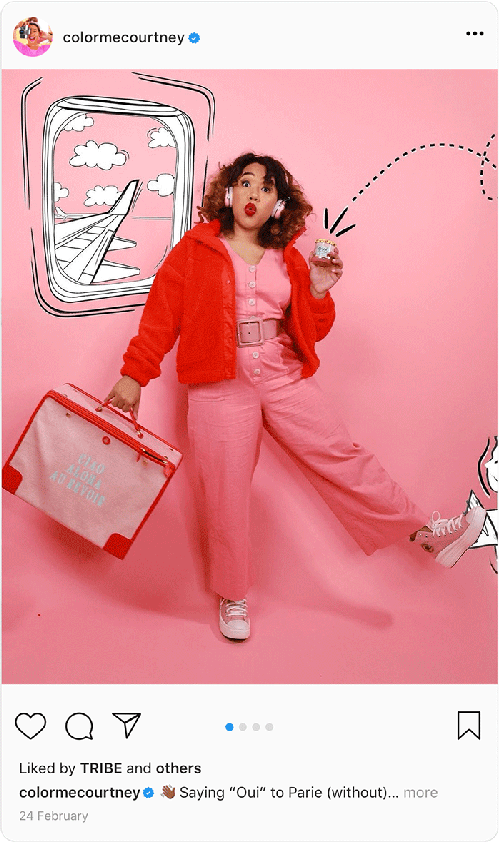 @KEVIN_THE_TOY_CAVOODLE — KEVIN
Kevin, the adorable toy cavoodle from Australia, has built up a loyal fan base on Instagram thanks to his adorable snaps. While you wouldn't really associate a dog with a chocolate brand, Kevin's owner managed to make this UGC for Ferrero Rocher fit seamlessly into their grid.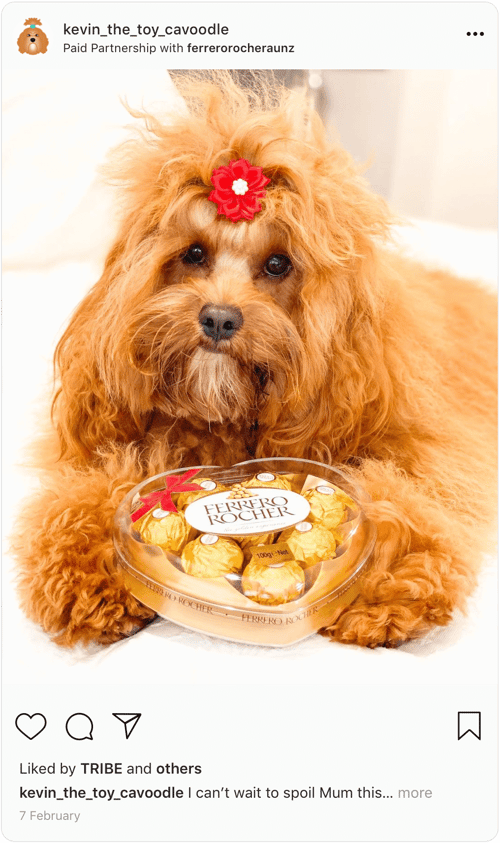 It's a great reminder that when creating content for brands, you need to remain true to your own brand. Don't change up your signature style just to suit a brand because chances are it will underperform; your followers want to see you being yourself.
@BESTCOOKSPERIOD
This account sets itself apart from all the other food pages on Instagram by blending photography with professional editing skills, to create super unique posts that really stand out. If you've got experience with editing in Photoshop, let this serve as inspiration for you to think outside the box to create something innovative.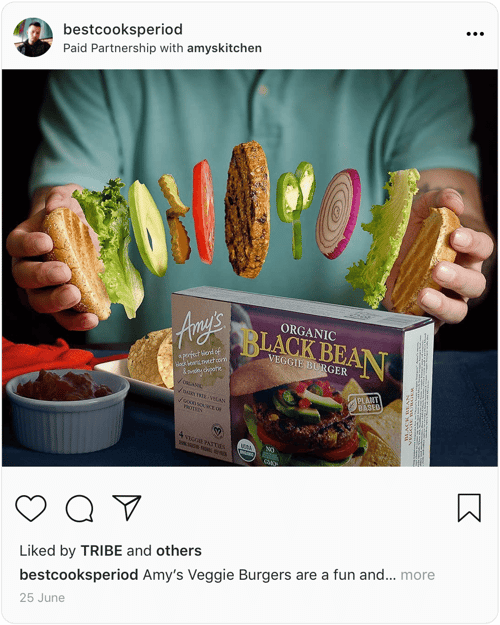 @bestcooksperiod has less than 10k followers, which just goes to show that you don't need a huge following to partner with brands you love—it's about the content.
@FEARNECOTTON — FEARNE COTTON
There's been a real shift on Instagram in the past few years, moving away from over-edited, unrealistic photos toward a more 'real and raw' vibe. Though she's more of a celebrity than an influencer, Fearne Cotton is a good example of how you can show your audience more insights into your 'real' life beyond Instagram.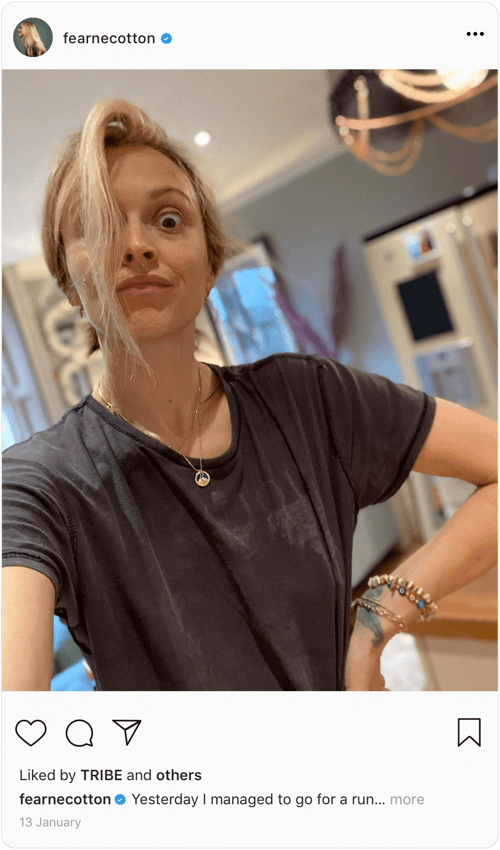 While glam photos are good for growing your audience, it's also important to relate to your audience with honest and raw content. This helps you build a sense of trust with them, like they're seeing more than your highlight reel. By combining these with your UGC and regular content, it's a great way to bring more authenticity to your account.
Top tips for creating user-generated content brands will love
Now that we've got a good idea of what user-generated content is and what works, let's go over a few things to keep in mind when creating your content.


KEEP TRACK OF WHAT WORKS
Analytics are your best friend, no matter the size of your audience. Once you have a Creator account on Instagram, you can link it up with the Creator Studio, giving you access to a huge amount of metrics that'll help you track your impact and growth. It's super handy to have these numbers to share with brands when pitching UGC or showing how effective it was.


WORK WITH THE RIGHT BRANDS
If you're starting out, it can be tempting to just jump right into working with brands — any pay check is a good one, right? But it's important to make sure you're working with companies that align not only with your online persona, but also with your own values and ethics. At TRIBE, you choose the brands you work with, so if they're not a good fit; onto the next!

Ready to start creating epic user-generated content?
So you've read all about UGC and how it works, and you're ready to create some awesome content for brands. Great!
TRIBE has plenty of briefs to choose from so jump in and check 'em out! (Psst! Read this if you're struggling to choose one). Then… when you find a brand you'd love to create content for, here's how to nail your submission.