Social media is an essential part of a brand's marketing strategy, especially if their target market is made up of millennials and Gen Z.
Each day, millennials spend two and a half hours on social media and messaging apps and in 2020, nearly half of all internet users used social media to search for brand information — a number that's even higher in young women. With 40% of people worldwide using ad blockers, brands have to get smart about how they market themselves online. There's no point pouring your blood, sweat, and tears into your social strategy if you're not doing it right. Here are our tips for successfully optimising your social media to make the most impact on your brand.
How to optimise your branded social media accounts
Work with influencers
You've surely heard it all before: influencer marketing can be a game-changer if you're looking to make authentic connections with your audience. It varies by industry, but for most small businesses, partnering with influencers works. They can help build your audience and engagement on social platforms, but it's all about working with the right ones.
Influencers live and breathe Instagram. They cultivate loyal audiences built on trust and authenticity, which you can leverage as a brand.
Lean into user-generated content
UGC ties into influencer marketing and is a great way to build brand loyalty in an authentic way that is also cost-effective.
Encourage your customers to share photos of your products or services and ask them to tag you, or use a specific hashtag so that you can share them via your account. It's a win-win, you receive images to use on social media, and they get the exposure of being tagged by a brand account.
Consumers are 2.4 times more likely to view user-generated content as authentic compared to content created by brands, which is why UGC should be part of every brand's social feed.
A word of caution, keep an eye on your feed. Your 'tagged photos' page can be viewed by anyone, so make sure you untag your brand from any unprofessional photos.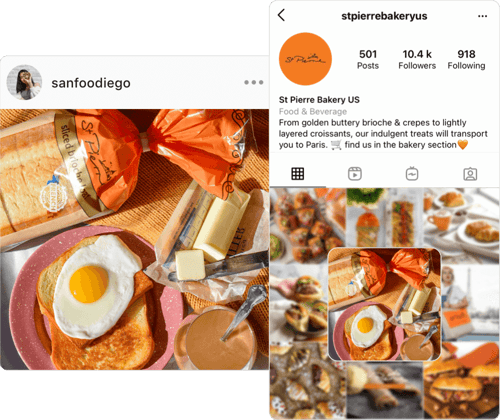 Test everything
With every post you share, switch over to your personal page and assess how it looks to your followers. Make sure the image quality is good, the caption is on brand and most importantly, the links work.
Typos do happen but make it a habit to double-check everything before you hit publish.
Test different headlines and share copy too
Find out what content engages with your audience best. Run mini informal tests on your social channels by sharing the same link twice within a week, but with different headlines or share copy.
Check out the post analytics and see which performed better. Maybe your audience responds better to captions with a question included. This can then inform your social strategy moving forward.
Hashtags
Hashtags are still super important, but only if you use them correctly.
For example, tagging a photo of your new organic face exfoliator with #beauty won't do anything; #skincarejunkie will have more of an impact. Do some research to find out the relevant hashtags people within your niche are following.
Check out influencers and other brands in your market and take notes.
Experiment with different mediums
A brand that shares nothing but static images and links will struggle to keep its followers engaged. We're in the age of short-form video, so give it a go!
Instagram recently launched Reels, their answer to TikTok, and brands have seen great success by getting creative with video. If you're unsure about it, start off by experimenting with Instagram Stories, and explore the features available there.
Create platform-specific content
What works on Facebook is different to what works on Instagram. A one-size-fits-all approach won't work. Not only are the image sizes and platform designs different, but the audience demographics differ as well. You don't have to create new content for each platform, instead try tweaking the tone and length of your copy, or the types of images you share.
Make your profile shine
Your profile page, for all platforms, is often one of the first introductions potential clients will have with your brand, and you only get one chance to make a first impression. You want a cohesive grid, a clear brand name (maybe no quirky fonts or emoji), and a succinct bio.

Many brands don't think too hard about their bio, which is a big mistake. It's important to clearly state what your company does with focus keywords integrated into the text, while also linking out to your relevant website.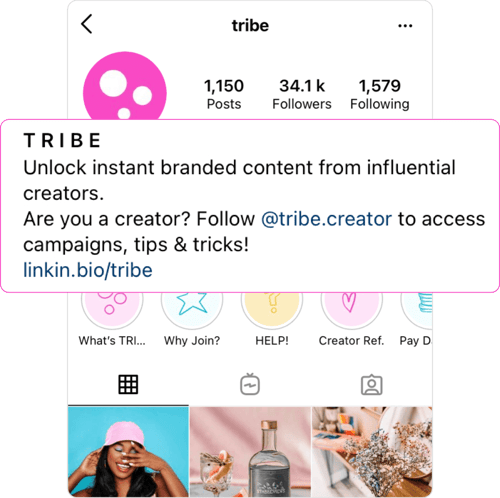 Nail your keywords
SEO is your friend. Many businesses focus all their SEO energy on websites and blogs, but it's vital for social media too.
Do some keyword research to find out the words and phrases that will help you rank on search engines. If you know what your target audience is searching for, include those words in your social bios to increase your chance of being pushed up in the search results.
Choose the right influencers
Influencers have invested time and energy into building a highly engaged audience who trust them and are likely to follow their lead. Micro-influencers, those with a following under 100,000, can often be more effective advocates for your brand than celebrities or mega influencers. A smaller audience usually means they're more engaged and interested in a specific niche. But it's all about finding the right ones.
TRIBE helps brands unlock instant branded content from skilled and influential creators who already use and love them. New to influencer marketing? Find out why some of the world's biggest brands use TRIBE.