As marketers, we're well aware that marketing is a long-term investment; but in order to see results, your strategy needs constant tweaking and updating, especially when it comes to digital.
Social media is forever changing. Marketing techniques that worked five years ago may be totally irrelevant now. Remember when simply posting at the right time with a few hashtags garnered killer engagement? Now—primarily due to algorithms—it's a lot harder to reach the same number of social media impressions that brands had in the past.
But there is a way to stay on top of your brand's online presence; and that's by monitoring your social media metrics. This is something that every business should be doing in one form or another. Social media metrics can provide very detailed information about your followers, your target audience, their social media habits, how they interact with you and your overall brand sentiment.
Once you get your head around it, social media metrics can prove essential for creating an effective and in-depth strategy.
What are 'social media metrics' all about?
They're about analysing data to determine and track how much of an impact your social media presence is having on your brand. Of course, you want to know how much revenue you're making from your social channels, but social media metrics are also handy for monitoring your brand awareness and public sentiment.
They are imperative to your social strategy. In the world of marketing, you can't grow and improve your brand without tracking your performance. Measuring metrics will give you an in-depth look at exactly how your channels are performing, how they're being received by your audience, and just how much of an impact you're having.
There's always a healthy amount of debate around which social metrics are the most important to track. There is so much information provided to business owners about their social media pages—both in-app and also through third-parties—and if you're new to the game, it's tough to determine what to focus on.
Some marketers focus on traditional metrics—like click-through rate and engagement—while others swear by their bounce rate and social share of voice.
Which social media metrics are the most important?
It's a good idea to do regular reports on your social media accounts on all platforms to make sure they're maintaining growth and reaching targets. This will also help you proactively identify any holes in your marketing plan and adjust accordingly. Keep track of your monthly numbers in a spreadsheet so you can measure your growth.
But if you're wondering what to focus on, these are the most important social media metrics that you should be tracking.
Social media metrics for building brand awareness
Even prior to the advent of social media, brand awareness was the bread and butter of marketing. You want as many people as possible to know about and recognise your brand. This is something that—among other things—can be achieved through targeted posts and working with trusted influencers.
When it comes to building brand awareness and cultivating a good reputation on social media, here are some metrics to keep your eye on.
POST REACH
This is simply how many people have seen your post since it went live. It's not conceivable for every one of your followers to see every single thing you share, but a low post reach could be a sign that you're not being favoured by the algorithm.
Divide your post reach by your number of followers, and multiply by 100. Compare posts with a high reach to those with a low reach; and consider what makes one better than the other.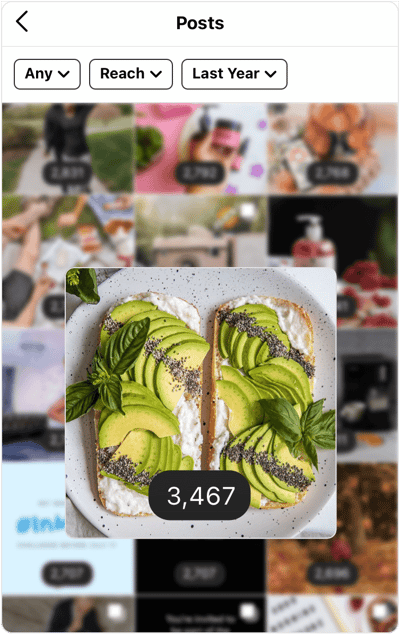 POTENTIAL REACH
Potential reach measures the number of people who could realistically see a post during a reporting period. This is an important one to track because you're always working to expand your audience, so you should have a potential reach to work towards.
Use a brand monitoring tool to track your total number of brand mentions and record how many people saw those mentions (ie. the number of followers each of those accounts have). Multiply those two numbers together to find your theoretical reach. Then, your potential reach is 2% to 5% of that number.


AUDIENCE GROWTH RATE
This is the rate at which your brand account gains followers. To measure your audience growth rate, start by choosing a select period of days or months that you wish to analyse. Calculate how many followers you gained over that period, and then divide your new followers by your total followers.
For example: Say you wanted to measure your audience growth rate between January and July. On January 1st, you had 10,000 followers, and on July 1st, you had 15,000 –– a gain of 5,000. So your audience growth rate for H1 is 33%.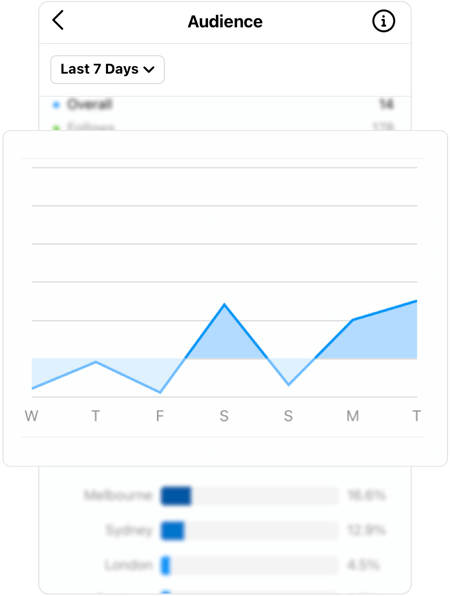 SOCIAL SHARE OF VOICE
This refers to how much online "conversation" there is around your brand, compared to your competitors. For example, H&M has a much higher social share of voice than a small boutique clothing line. Determining your own social share of voice could tell you whether you need to update your social strategy to garner more conversation.
To do this, you need to calculate your mentions across your social networks—something that your social media analytics tools will be able to help with. Then add your mentions to the total number of mentions of your competitors to get the total industry number of mentions.
Divide your brand mentions by the industry number then multiply by 100 to determine your social share of voice percentage.
KEYWORDS
Tracking keywords can be very helpful in growing your audience and share of voice. Keywords are certain words that search engines will identify and highlight based on what audiences are searching for.
Once you know the best keywords for your niche—which you can find on Google Analytics—you can include them in social posts, making your content rank higher on search engines and potentially adding to the growth of your audience.
Social media metrics for engaging your audience and new prospects
So you've built up an audience that is the perfect demographic for your business. Now it's all about the follow-through. Here's how to make sure you've cultivated brand fans who engage and help you grow.
CUSTOMER RESPONSE RATE
Engagement is essential for your posts to reach as many people as possible. The more comments and shares on a post, the more Instagram will push it up in the algorithm. But it's also important to make sure your customers feel like the relationship is two-sided.


You don't have to reply to every single comment, especially if they're just emojis or random commentary, but if your followers are asking questions or leaving lengthy responses, replying to them can up your engagement rate.

To calculate your customer response rate, divide the number of responses you gave in a certain period by the number of comments you received, then multiply by 100. It's a good idea to track your response rate on each post, and make sure you're keeping it high.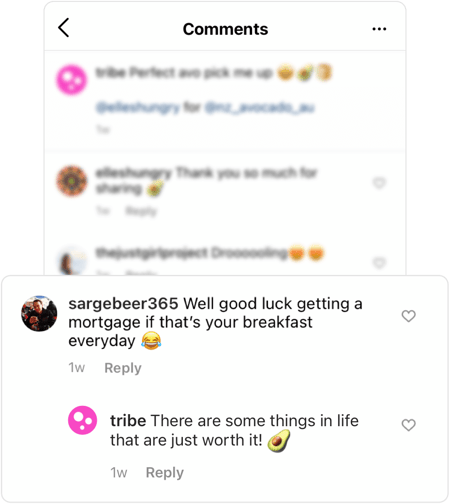 ROI
Is the time and money you're investing in social media turning into customers, sales, and brand awareness? ROI targets vary widely between businesses and depend on your objective; but generally a 5:1 revenue-to-ad ratio is considered acceptable.
A quick way to determine your ROI is to divide the revenue generated by social media efforts by all your known social media expenses. Of course, if you're more focused on brand awareness and share of voice than you are on revenue, it may be better to instead track those metrics.

APPLAUSE RATE
Your applause rate is the number of approval actions—a.k.a likes or favourites—a post receives, relative to your total number of followers.
Add your total amount of likes received over a certain period, divide that by your total followers and multiply by 100 to find your applause rate.
AVERAGE ENGAGEMENT RATE
This is a step above your applause rate. It takes into account all engagement actions on your posts - including likes, comments, shares and bookmarks. Follow the same formula as your applause rate, but with your total number of engagements.
While many people think that comments and likes are the best kind of engagement, the Instagram algorithm actually favours bookmarks (or 'Saves'). Keep this in mind when you're planning posts, and try to share things that would inspire your audience to 'save' your posts for later.
AMPLIFICATION RATE
This is a term coined by social marketing aficionado, Avinash Kaushik, who says amplification is "the rate at which your followers take your content and share it through their networks." Put simply, higher amplification = better brand awareness and social share of voice.
A high amplification rate means that you're top of your customers' minds. Add up the number of times a post was shared over a certain period, divide by total followers, and multiply by 100.
BOUNCE RATE
Your bounce rate is the number of users who follow a link from your social media to a webpage, but leave the site quickly without taking any other actions. You can compare your social media bounce rate to your search engine bounce rate or newsletter bounce rate. If your social media rate is lower, that means you know you're hitting a more suited audience.
You can track your bounce rate using Google Analytics. Go to Acquisition > All Traffic > Channels then select Bounce Rate. This will rank your bounce rate for all your channels - from lowest to highest.
Social media metrics for converting users into leads
At the end of the day, no matter your social strategy, the whole point of your online presence is to drive business for your brand. You need to be constantly tracking how well your social accounts are converting your followers into actual leads.
CONVERSION RATE
This is the percentage of users who follow a certain call to action (CTA), like clicking a link in your bio or swiping up from your Story. This helps you see how relevant your content actually is.
To calculate your conversion rate, your CTA needs to be trackable—for that you can use a free, online URL shortener like Bitly. Say you want to track how many people visited your website from your Story: take the number of conversions—a.k.a the number of visitors to the link—and divide it by the number of viewers of your Story. Multiply by 100, and there's your conversion rate.
COST-PER-CLICK (CPC)
If you're investing a significant amount of money in your social media strategy, then it's important to track your CPC. This tells you if it's worth continuing!
Simply divide your total ad spend by the number of clicks you generate from it. Again, an ideal CPC will vary based on your business. It's good to compare different campaigns and see which has a higher CPC, to help inform future ad design.
At TRIBE, we're all about making sure that your social strategy is as strong as possible—it's about working smarter not harder. That's why we have our own first-party data and metrics—accessed via Instagram's Graph API. We make sure that all the brands we work with know exactly where their social media budget is going and how it's impacting their business.
Let us help you source instant branded content
that helps you maximise your online presence.