What's the use of running a TRIBE campaign if you can't analyse its performance? Optimising for success is marketing for social media 101. This blog will not only arm you with the tools and TRIBE analytics to make informed decisions about the influencers you choose to work, but also help you assess the overall impact of your campaign.

It's important to note that TRIBE only uses first-party data—accessed via Instagram's Graph API—meaning all our data comes directly from the social platforms; and when running marketing campaigns for social media, analytics for instagram is key. We never use third-party data sources, like others do, as they're not nearly accurate enough.

So, how can you use our data and analytics for Instagram to elevate your marketing for social media?
There are three reasons why you'll absolutely love the influencer data and Instagram analytics available to you on the TRIBE platform:


YOU CAN EASILY DRIVE BRAND AWARENESS
This is one of the most common reasons why our customers love using TRIBE. Awareness is a key player in social media marketing that allows you to to reach as many (relevant) people as possible; and reaching new audiences is our specialty. The key numbers you want to look for when making your buying decisions are:
Follower count and engagement - more followers means more people that see your beautiful content. When you add high engagement, you can bet certain people ARE seeing and engaging with your content; so while they are the most basic, these Instagram analytics are still important in social media marketing.

Audience demographic and location data - if you're a subscriber, you'll see this data against each submission. It's very common that influencers have audiences spread over multiple regions. E.g. a U.S influencer will often have 50% or more of their audience outside of the U.S. Naturally this is reflective of Instagram being a global platform.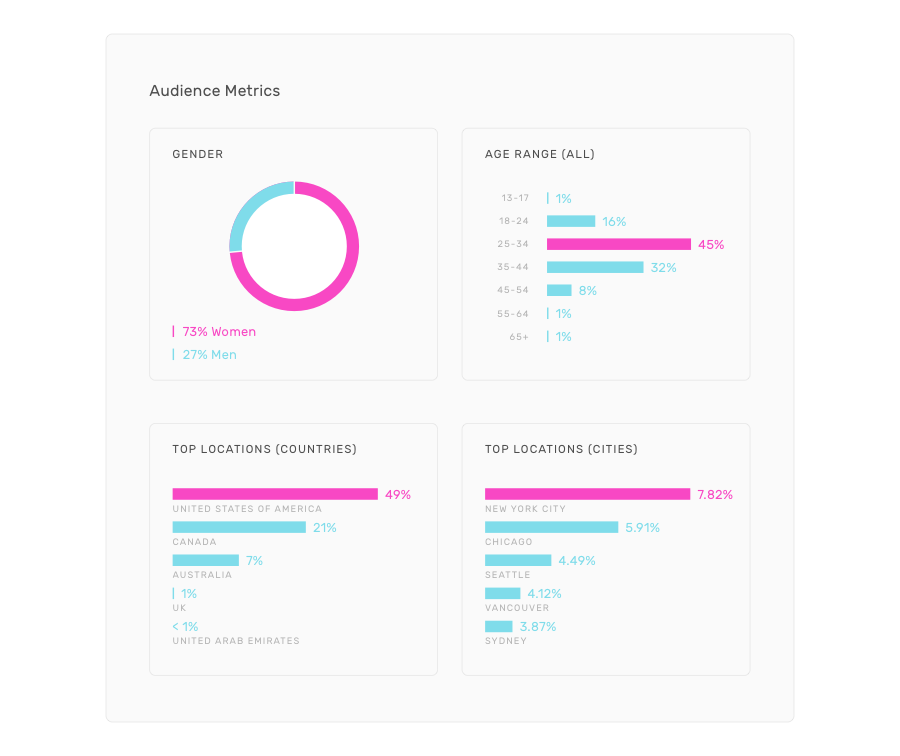 We recommend our customers look for influencers with a higher % of their audience in chosen regions, rather than having a hard-lined approach that requires an influencer's audience to only be in a single place. If you do however need to reach hyper-targeted audiences, the most effective way is via Branded Content Ads, which you can utilise after you've undertaken your first organic influencer activity.
Reach and impressions - these analytics for instagram can only be seen by TRIBE subscribers. When marketing for social media, your reach and impressions data tells you how many people saw your content. TRIBE also gives you a prediction of how many people will see your content before you purchase your post.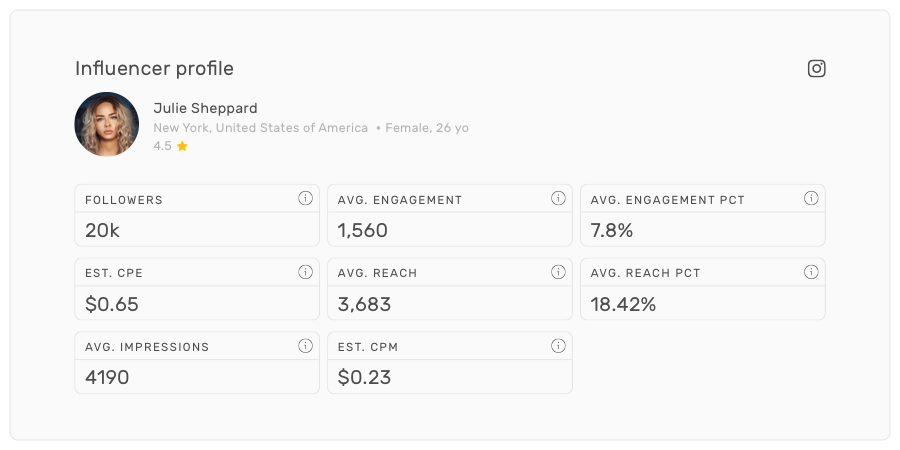 An influencer with one million followers may only achieve a reach of 100K of their audience, so this data enables you to make decisions that are beyond the surface level of followers and engagement.
CPM (cost per thousand impressions) - this is a common media metric, but on TRIBE it's a little different. Since our influencers already include the cost of producing the content into their post price, TRIBE's CPM data includes the cost of creative and the reach, which can seem a little expensive compared to other channels. Nevertheless, customers wanting to drive awareness whilst also being price-conscious will often rank their inbox according to CPM. CPM data is exclusively available to TRIBE subscribers.
YOU WANT PERFORMANCE AND ROI ON YOUR CLICKS
CPE (cost per engagement) - this will determine the relative value of your purchases. Whilst an engagement will not tell you if the content led to a website visit or an E-commerce purchase, it will help you determine which influencers are pricing their submissions economically. This could be a game changer if your marketing for social media is ramping up.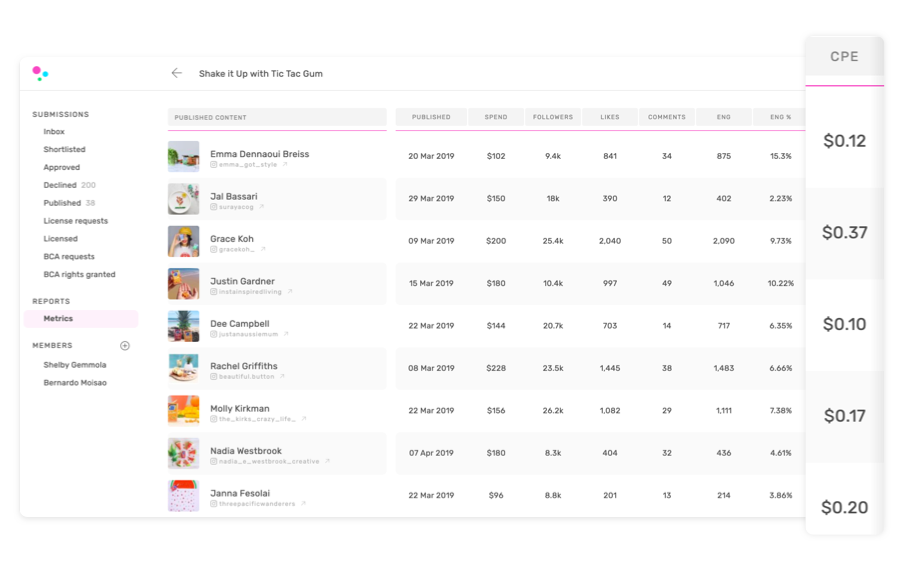 Post campaign, you can rank creators by CPE and CPM and determine who you'd like to add to your Brand-Fans - a bespoke hub on the TRIBE platform that houses your nearest and dearest brand ambassadors. Sort them into groups, invite them to private campaigns or build ongoing collabs - the choice is yours!
Branded Content Ads - whilst you can collect reach, impressions and video views data on your TRIBE campaigns, marketing for social media is all about amplifying your success. For true performance, turn your organic influencer posts into Branded Content Ads. This will allow you to add a call-to-action while also targeting your precise audience, just like you would a facebook ad.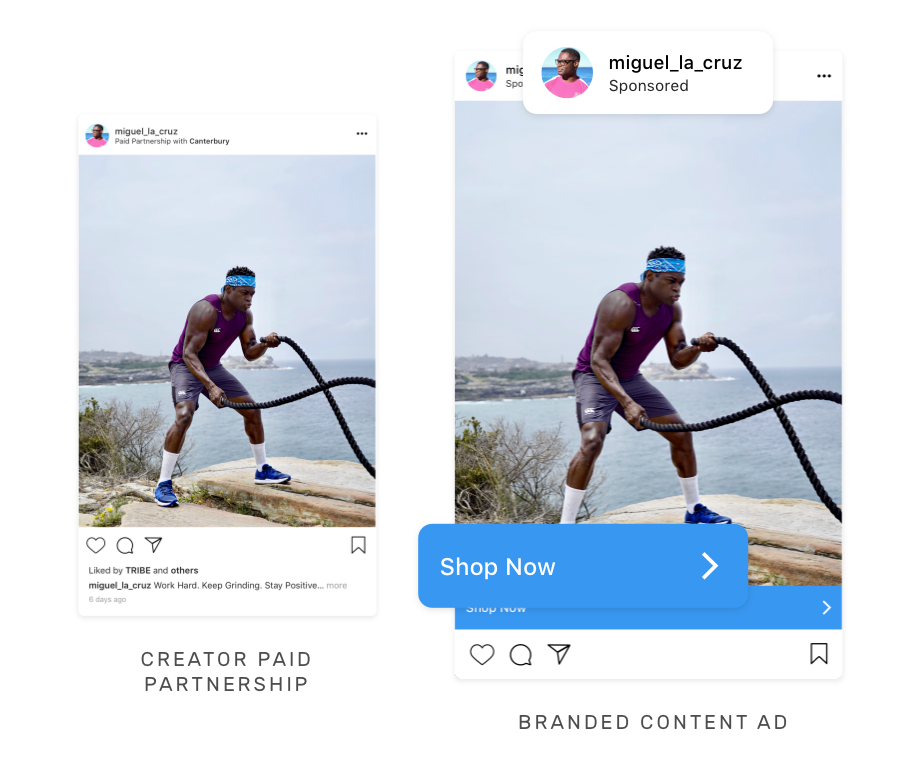 Branded Content Ads combine the power of organic reach with analytics for Instagram by being data-driven, targeted and measurable. They truly allow influencer marketing to become performance marketing for social media. In fact, when Branded Content Ads are combined with standard brand ads, they are 97% more likely to drive cost-effective action intent than brand ads alone (Instagram for Business Brand Building Playbook 2020).

Licensing Content - your other option to drive performance is to license the highest organically-performing content through the TRIBE platform. If you rank your published posts by engagement, you can see which content resonates most with audiences and license that raw asset directly from your personal branded Content Library. You can then set up your own performance ads from your brand's Facebook account, and drive to a landing page or an E-commerce conversion.
YOU'RE AFTER HIGH QUALITY CONTENT
Whilst creativity is in the eye of the beholder, an influencer's engagement rate provides metric-based insight into how much their content resonates with their audience. Remember: influencers know what style of content their audience loves, so rank your inbox by predictive engagement and use data to help make informed selections.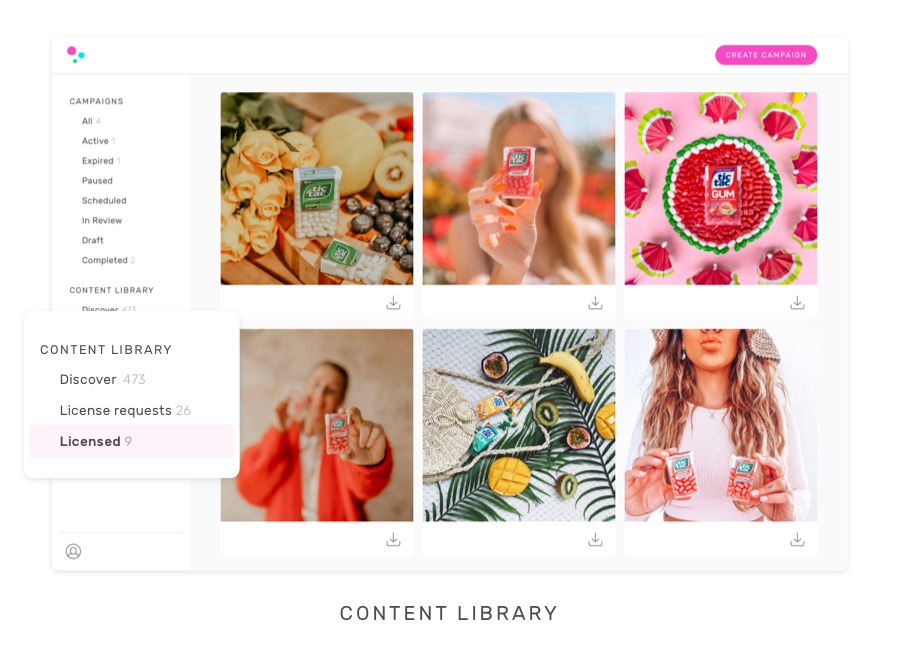 The best part? If the content performs exceptionally well, you can license assets after an influencer posts them (or directly from your Content Library!) to use in any channel you choose.


Here's a full glossary of our pre and post-purchase performance metrics and what they mean.
Have different data requirements or are new to TRIBE and want to see how we can elevate your marketing strategy? Email us at sales@tribegroup.co or contact us for a demo.