TikTok, once the newcomer, is now one of the most powerful social media platforms for brands to be on. With the proper planning and strategy, brands can hit the big time.
There are three main things brands should be considering for their TikTok marketing: influencer partnerships, branded content, and an experimental mindset.
Being able to boost a Creator's video as an ad is relatively new on TikTok, but oh boy, is it powerful.
Spark ads – TikTok's take on Branded Content Ads
On Instagram & Facebook, Branded content ads (BCAs) combine the best parts of UGC and targeted advertising. Basically, BCAs are posts created by influencers in partnership with a brand, which are then promoted as ads. The post is labelled as 'sponsored' and appears in users' home feed, including users who don't follow the influencer or your brand.


BCAs harness the effectiveness of influencer marketing and push the content out to a much larger audience.

TikTok is the perfect place for brands to be experimenting with advertising. The platform's unique algorithm helps small accounts get colossal reach, and the audience is more receptive to fun and outside-the-box branded content.
And now that TikTok has introduced their own version of BCAs called Spark Ads, brands can take advantage of that notoriously accurate TikTok algorithm.
So, IS BOOSTING CREATOR CONTENT really that much better than A REGULAR AD?
Essentially: yes.
Influencer marketing is good. Social media advertising is good. Combine the two, and you've got an absolute marketing powerhouse on your hands.
We all know about the success of influencer marketing on Instagram and TikTok. 82% of consumers say they're very likely to follow an influencer's recommendation, and 67% say they had no negative reaction to sponsored influencer content whatsoever.
Even when a brand pays for a post, followers connect with the influencer, as they trust their authentic endorsement.
As a brand, if you're paying an influencer to create content, why not give that content the best possible chance to shine? By boosting Creator pics and clips, you're putting branded content in front of more eyes than you and the Creator would be able to reach on their own. This is mutually beneficial for both of you.
Don't believe us? The stats speak for themselves:
• Brand recall is 59% higher for branded influencer content than it is for other digital advertising.
• Branded content is 22x more engaging than display ads because it doesn't immediately present as an in-your-face ad.
• 42% of IG users say that branded content helps them discover products or services.
BRANDED INFLUENCER CONTENT
Spark ads are very similar to regular posts, but there are a few key differences.
The username, profile pic, and music tracks are the same as a regular in-feed video. Viewers can still click through to the original user's profile page (the circular image on the right.)
The caption will still show up below the Creator's username, but there will be a small 'Sponsored' label above the music track.
There is also a Download button that doesn't appear on regular content. A viewer can click this button to take them to your brand campaign landing page, which you create when setting up the Spark ad.
Creating a Spark ad from an existing piece of content is also easy.
When Creators post a paid promotion for a brand, they simply toggle a BCA switch before sharing. This adds an extra level of disclosure to their clips and permits you to promote the video as a Spark ad.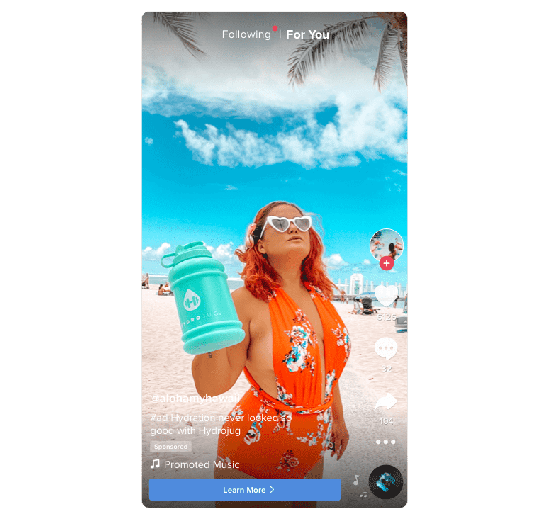 Spark ads look pretty much the same as 'regular' content in-app.
And that's what makes them so good. Most social media users instinctively swipe past ads when they pop up in-feed. But Spark ads are far more engaging — they're authentic, Creator content that matches the vibe and energy that users are used to seeing when scrolling through the app.
BCAs and Spark ads let you tap into both the creativity and the dedicated follower base that influencers can offer. It's a step above traditional influencer marketing and can be super-powerful — especially on TikTok.

The best way to nail TikTok Spark ads is by working with a team of Creators
The more Creators you get on board for your campaign, the more For You Pages you'll end up on, and the more visibility you'll get for your brand.
Getting influencers interested in working with you has never been easier. On TRIBE you can create a brief, request the type of Creators you'd like to work with and have content rolling in instantaneously.
Like you do now for other social platforms, our campaign builder helps you create a brief in under 10 minutes. Include visual inspiration and prompts, a description of the kind of content you're looking for, and your budget. Then, TRIBE's team of influencers will have the chance to submit their content ideas right to your inbox.
You will be able to approve your favourites, and our influencers will post them to their social media channels, reaching thousands. In addition, our data analysis platform will assist you in identifying the best-performing content, which can also be promoted as a Spark ad, exponentially boosting your reach.
Brands that have been killing it with influencer ads on TikTok
Let's leave you with some inspiration: two of our absolute favourite collabs that we've seen between brands and influencers.
Isle of Paradise
This beauty brand already found organic success on TikTok in late 2020 but turned to Spark Ads to launch their new Glow Drops. Isle of Paradise identified five top Creators to make original videos featuring the product in their own natural style. They also reached out directly to TikTokkers, who had already created organic testimonials about Glow Drops, worked with them to repurpose their content for the campaign.
Using Spark Ads, they promoted this content in the app, causing a much more impactful reach. Results included a 500% ROI, 45 million video views, 1.1% click-through rate, and a 68% increase in revenue per week compared to the prior nine weeks.
Up
Australian digital bank Up used Spark Ads to increase brand awareness. They partnered with local personal finance influencer @TashInvests. She's known for making fun, casual videos that empower her followers to be financially confident and educated.
Up's choice of influencer here is essential — someone who is already well-known and respected in the finance community on TikTok. When they promoted her branded videos as Spark ads, the content travelled much further, resulting in 1.5 million video views.
TRIBE helps brands unlock instant branded content from talented and influential Creators who already use and love their products. Get in touch today to learn about our powerful platform.