One of the more exciting advancements in social media marketing is the ability to combine organic influencer marketing with Facebook's sophisticated ad targeting tools.
This revolutionary ad format created by Facebook and Instagram, is called a Partnership Ad (Formerly known as a Branded Content Ad). These ads start their life as an organic influencer post and then by following the steps below, you can amplify it to a specific audience, add a Call-To-Action and optimise it's effectiveness.
If you'd like to execute quick and easy Influencer campaigns to surface the best-performing posts to turn into Partnership Ads simply refer to our TRIBE guide, here.
If you've achieved that step, here is how to get your very first Partnership Ad live!
1. Head to your Facebook Ads Manager via here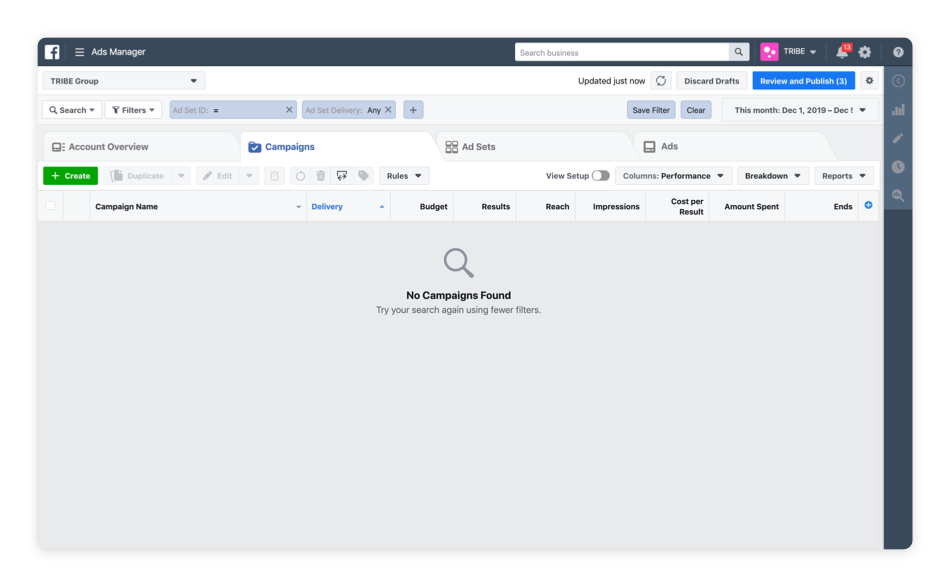 2. 'Create' a campaign if building from scratch. Otherwise select a previous campaign.

3. Select an 'Objective', 'Budget' and name your 'Ad Set' and 'Ad'. 'Save to Draft'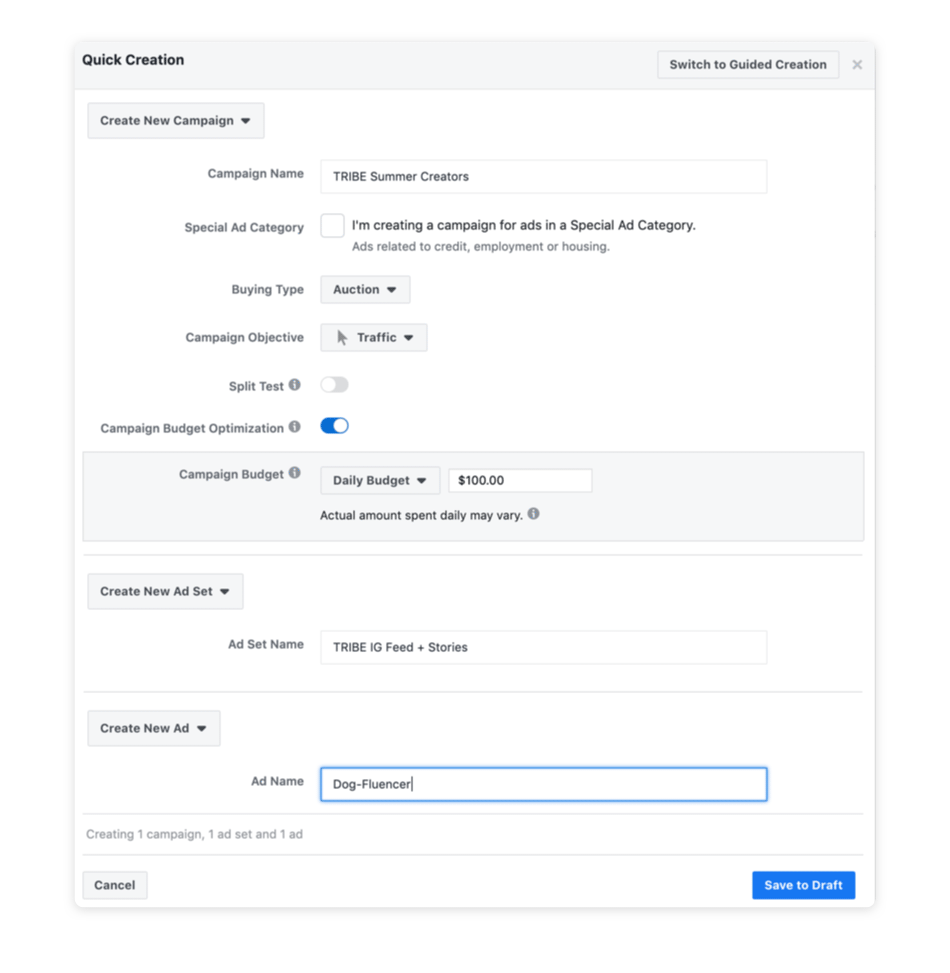 4. Enter the 'Ad Set' level.
5. Apply your audience targeting and the preferred 'Placement' of your ad.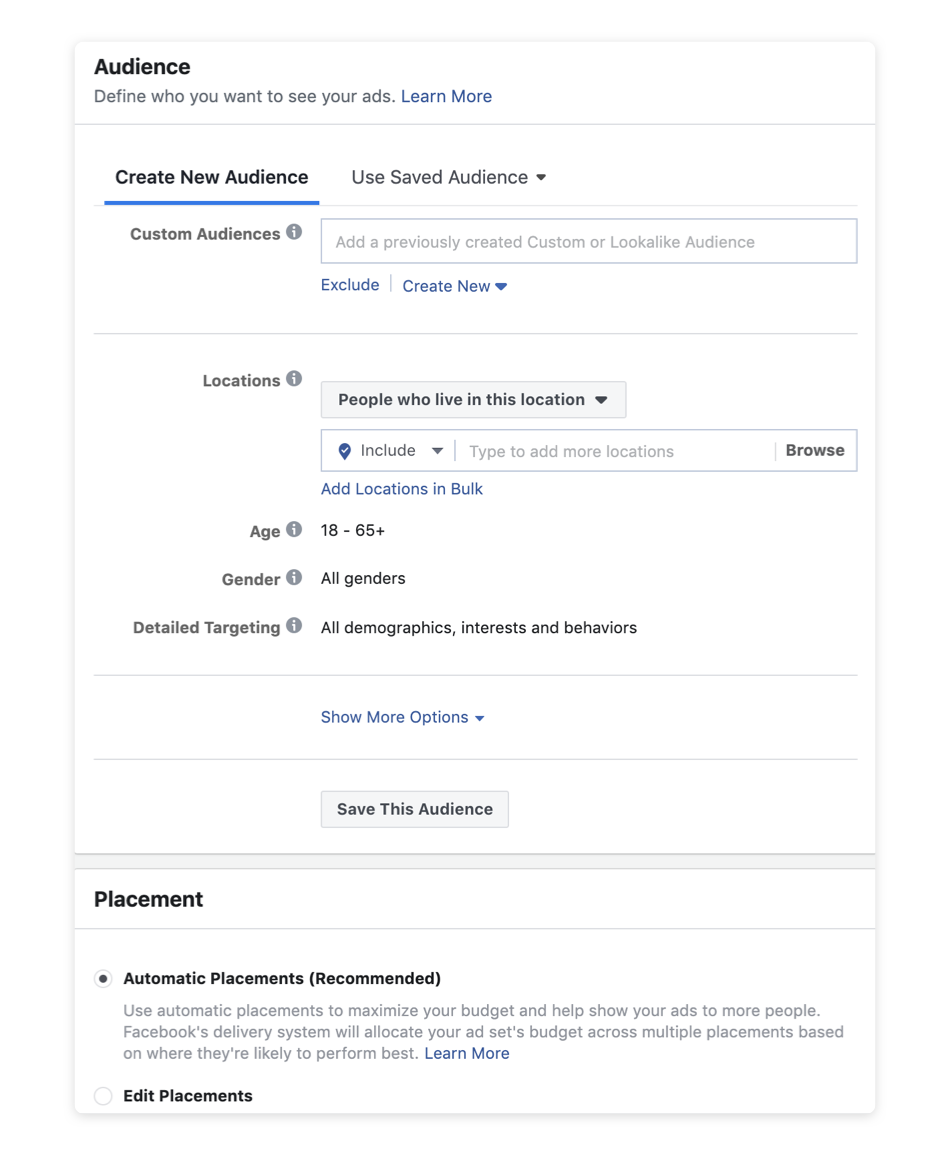 6. Select the 'Ad' level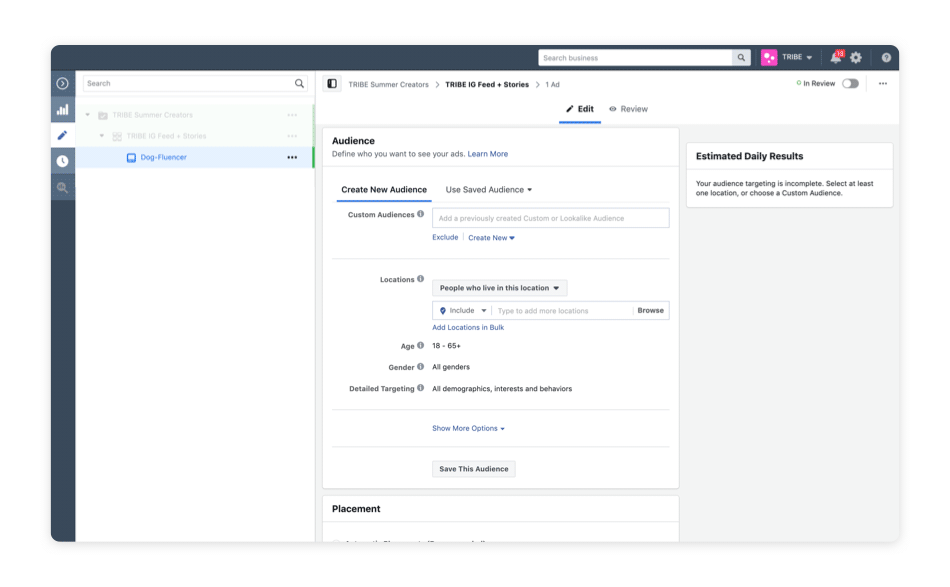 7. Tap on 'Use Existing Post' and 'Select Post'

8. Up top, choose 'Branded Content'.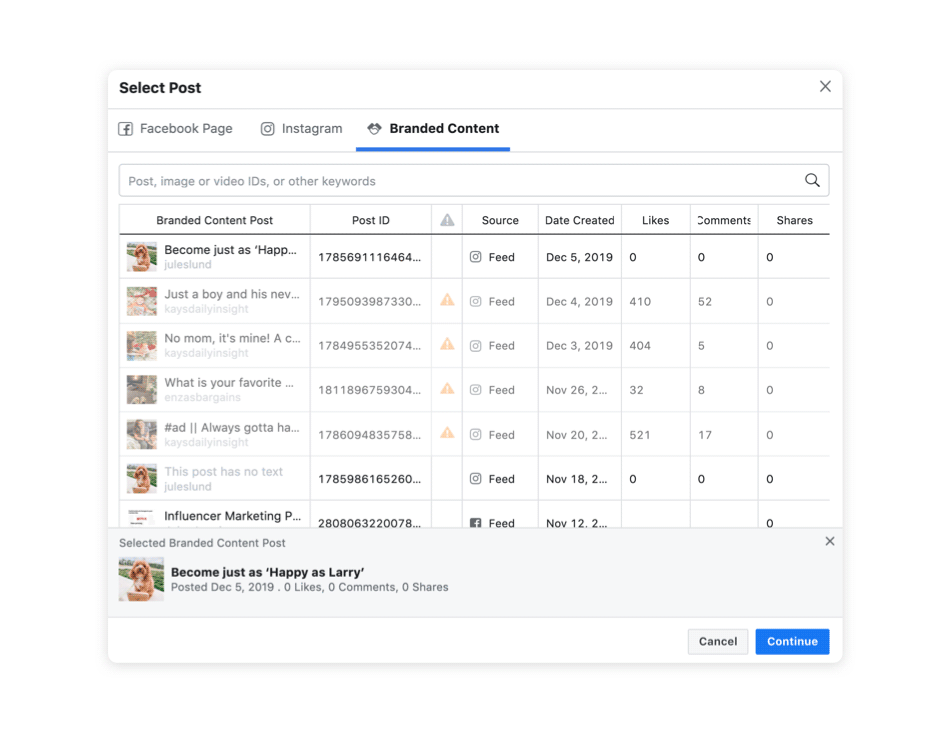 9. Select the Creator's post and press 'Continue'.

If this yellow exclamation icon restricts this action, see Troubleshooting section below.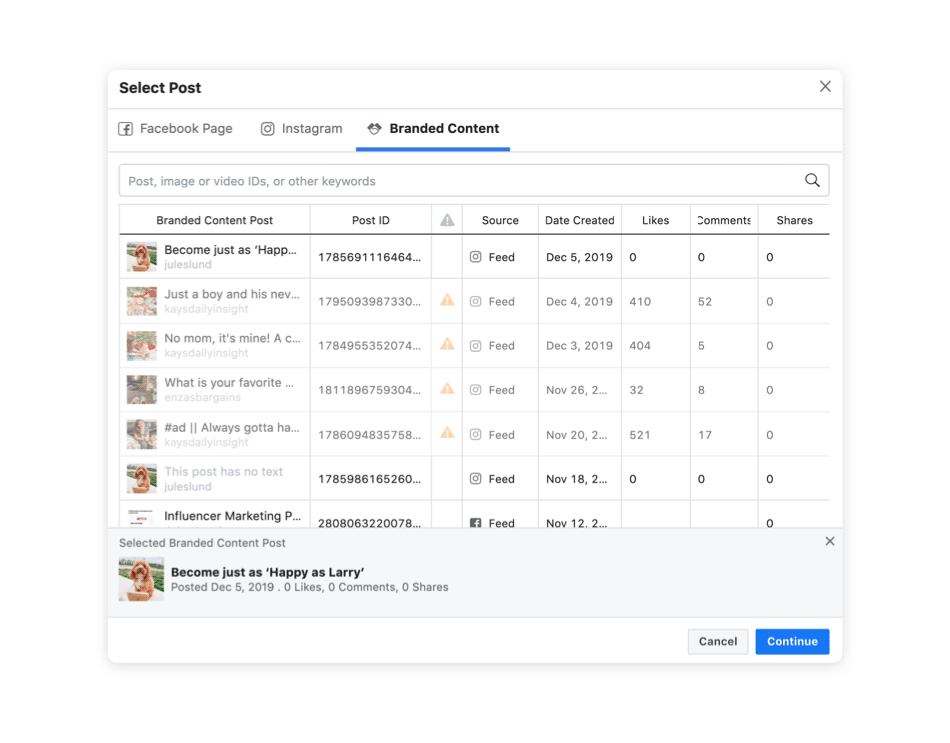 10. In the Preview panel, the Creator's post should now appear as a Partnership Ad, where you can scroll through the available placements.
If some placements are not available, see Troubleshooting section below.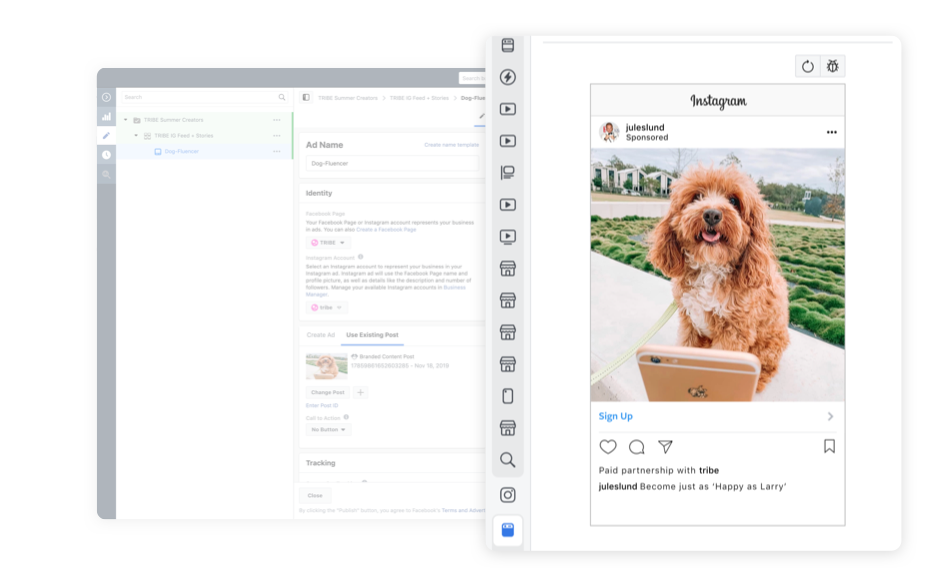 11. Add a 'Website URL' if required and a 'Call To Action'.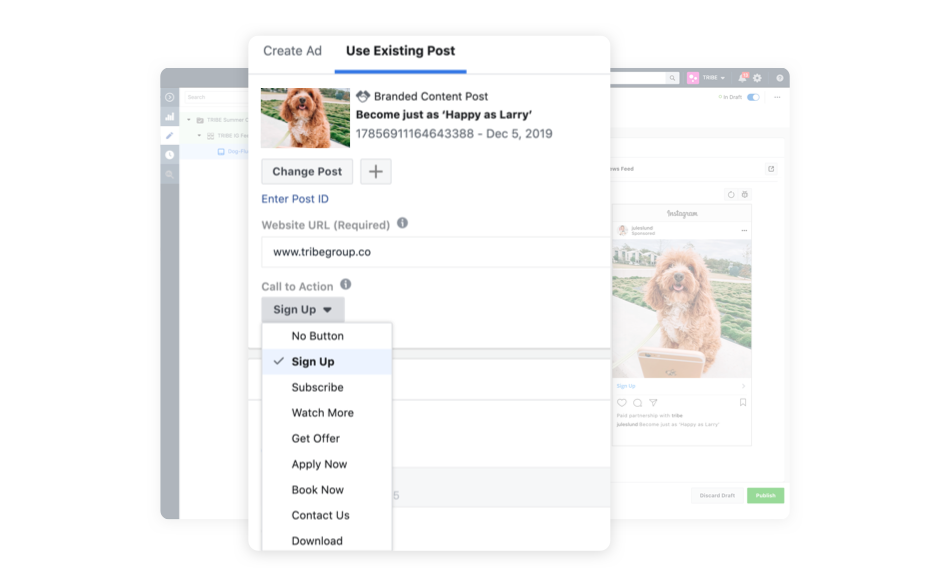 12. Confirm the preview and 'Publish' your campaign!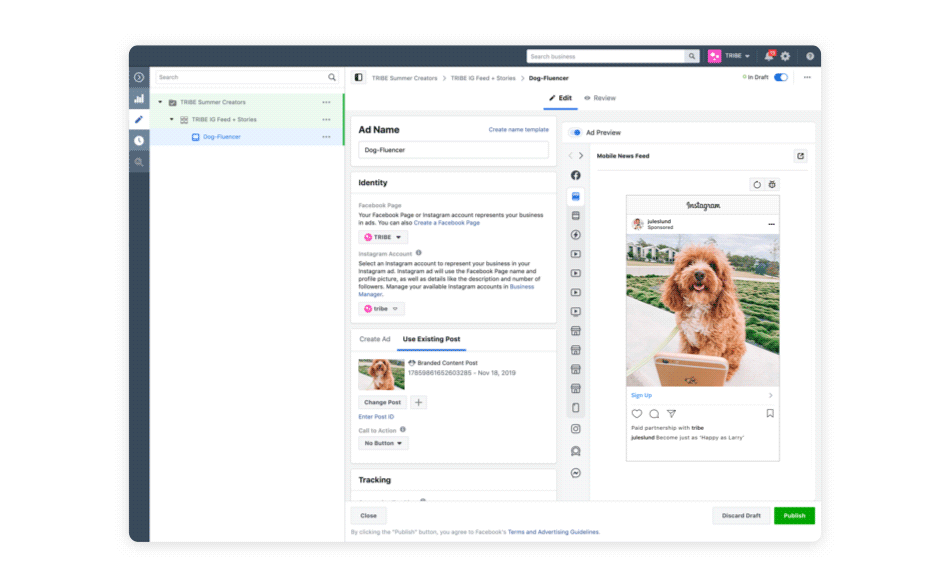 13. Voila! Your Partnership Ad is live.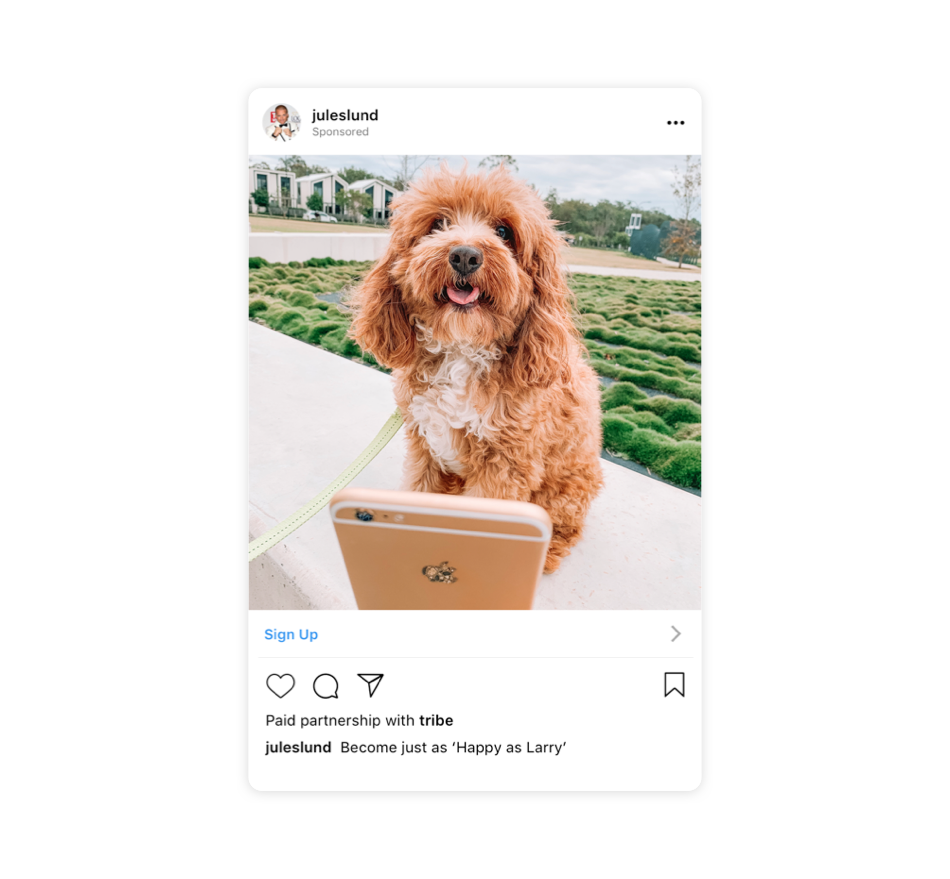 Troubleshooting:
THIS YELLOW EXCLAMATION ICON RESTRICTS ME BEING ABLE TO PROMOTE A CREATOR'S POST
This simply means the Creator has not yet changed the settings on their post to allow you to promote it as a Partnership Ad.
If you've received confirmation the Creator has accepted your request to promote this post, then it's now up to them to toggle ON 'Allow Business Partner to Promote'. Simply let your TRIBE Account manager know and we'll follow it up for you.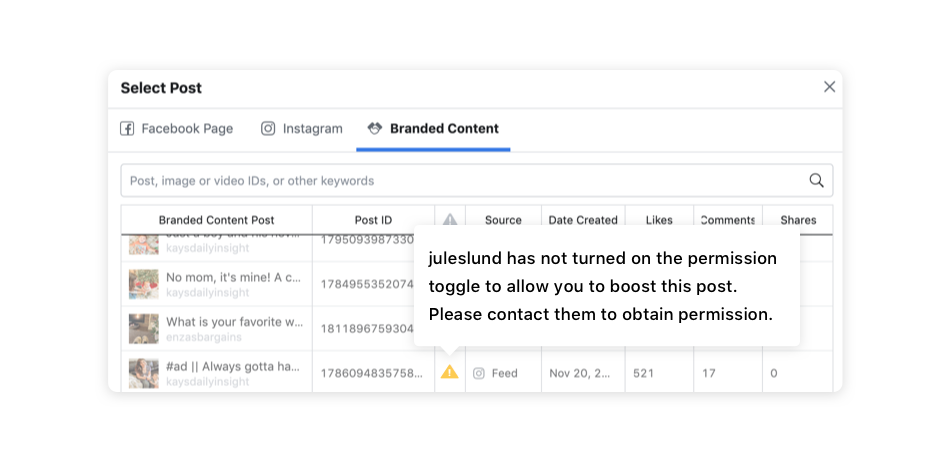 THE CREATOR POSTS I NEED AREN'T IN MY 'PARTNERSHIP CONTENT' TAB
At the 'Ad' level, under 'Identity' ensure you've selected the same Instagram account as the Creator has tagged as a Paid Partnership.
We made this mistake ourselves! Hence why we added it here.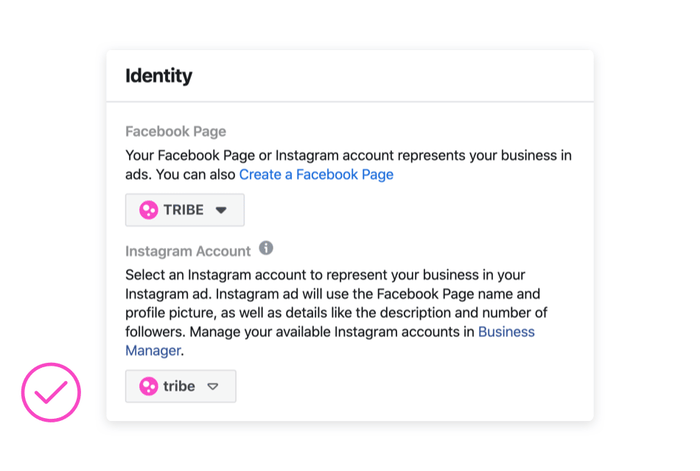 MY PARTNERSHIP AD WAS REJECTED BY THE FACEBOOK ADS POLICY TEAM
We've all been there! To increase your chances for success it's important you're familiar with Facebook's Advertising policies listed here and only request Promotion Rights from Creators whose content is compliant. If you feel your Partnership Ad was unfairly rejected, simply press 'Request Review' or appeal via this form and often it gets approved. Just be aware your Partnership Ad may be automatically published the moment it is.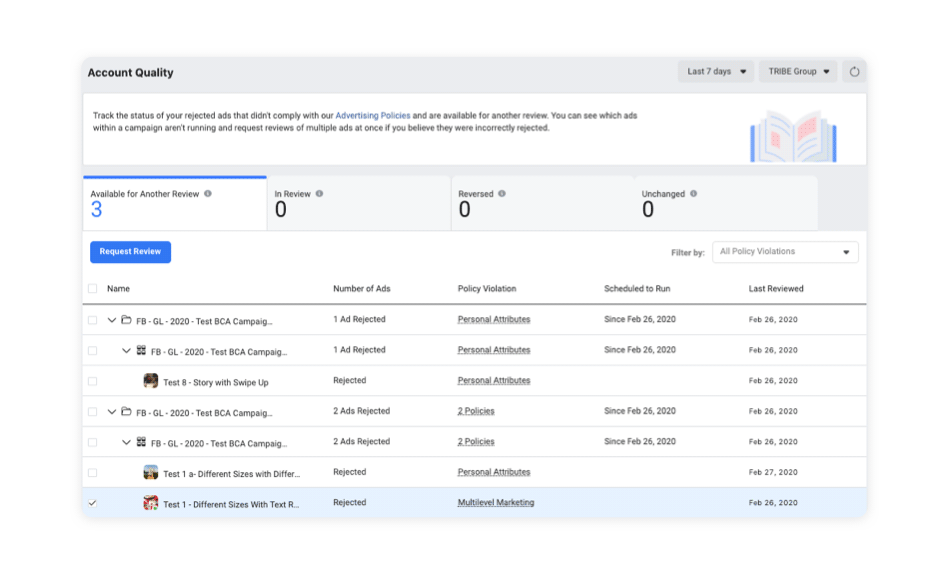 If you have further questions or feedback, hit us up via the pink speech bubble

on the right of your screen.
We're happy to help!