Okay, so you've run an Influencer Campaign and Creators have tagged your brand as a Paid Partnership in their posts.
(If not, here's our step-by-step guide).
It's now time to identify which of these influencer posts had the most impact, so you can turn them into ads that drive action for your business.
But you aren't just turning these posts into regular social posts, you are accessing a revolutionary new ad format designed by Facebook and Instagram called Partnership Ads.
Partnership Ads combine the power of authentic word-of-mouth marketing with Facebook's sophisticated ad-targeting tools to drive results you couldn't previously achieve just with organic influencer posts. Essentially, the art and science are together at last!
When you turn a Paid Partnership into a Partnership Ad you can…
TARGET PRECISE AUDIENCES
If a post from one of your Creators is resonating, you can now amplify it to an audience of your choice across this massive network of Facebook connected channels.

ADD A CALL-TO-ACTION
Goodbye clumsy #linkinbio! A path to purchase has never been smoother.

MEASURE EFFECTIVENESS
Finally! Access to insights so you can benchmark your Influencer campaigns against your paid social campaigns.

Here's how to get the jump on your competitors and execute Partnership Ads with speed, scale and ease:
Step 1. Identify top performing content
Head into the Published Tab of your TRIBE campaign. (Haven't run one yet? No worries, start here).
Here you can select content you love or sort your Creator posts by highest 'Engagement'. This surfaces the most loved content according to Instagram's community.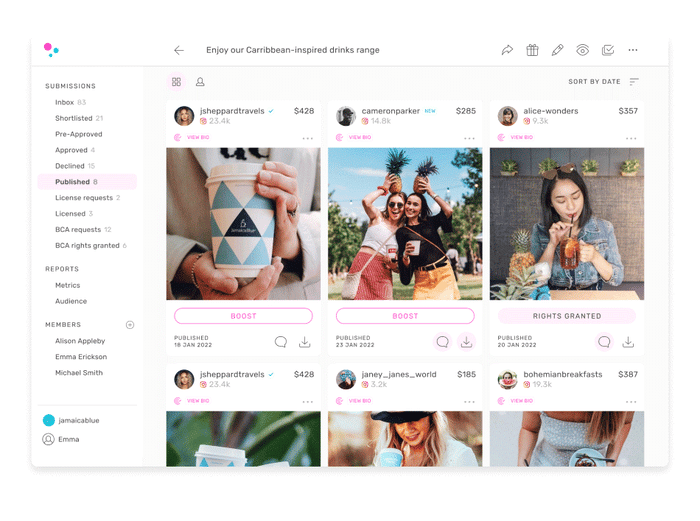 At this stage, you can promote feed posts as a Partnership Ad, however Carousels aren't yet supported and Facebook is still ironing out some friction with Stories.


Step 2. Request Pricing for Promotion Rights
When you tap 'BOOST' the following will pop-up.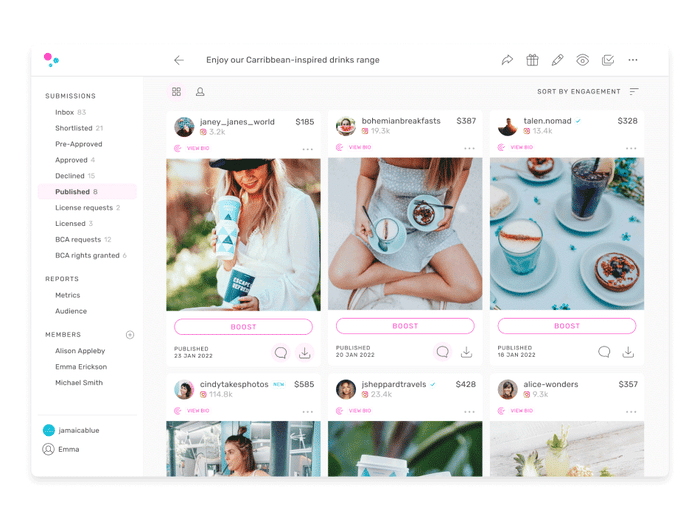 These fields will assist our team in providing a price for this Creator's promotion rights.
First select the DURATION you'd like to promote the post for.
• 7 days
• 30 days
• 60 days
Then provide an indication of how much you're planning to spend to promote this Partnership Ad over that time.
Ensure you are familiar with Facebook's Advertising Policy listed here and that you aren't requesting Promotion Rights to content that is may get blocked by Facebook when submitting it as a Partnership Ad.
Select 'REQUEST PRICING'
You'll receive an email confirmation and a TRIBE member will be in touch to provide a price.
If you wanted to request another post, go right ahead.
Step 3. Accept Pricing
If you're happy to proceed with the price provided, we'll send you a confirmation email and communicate with the Creator in the hope they agree to sell the Promotion Rights to their post. Although you won't be charged at this point, please ensure your TRIBE account has credit, because you will be charged the moment the Creator accepts your request.


IF THE CREATOR DECLINES YOUR REQUEST...
Simply head back into your Published tab and request another. However, if you had your heart set on this post, let us know and we'll do our best to help.

IF THE CREATOR ACCEPTS YOUR PROMOTION REQUEST
You'll be notified via email letting you know your transaction has been processed. In TRIBE the button under the Creator's post will have updated from 'Rights Requested' to 'Rights Granted'. Which means you can now turn this Paid Partnership into a Partnership Ad via your Facebook Ads Manager.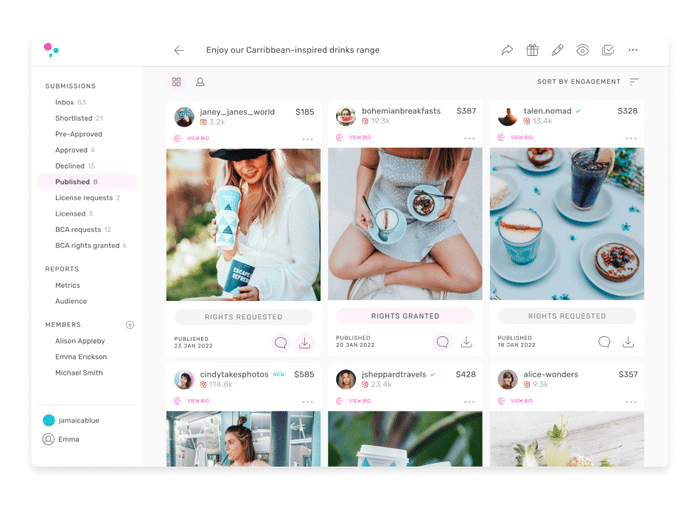 Up until this point, the Paid Partnership in Facebook Ads Manager should display this icon

when you try to select it as an ad. This indicates the Creator is yet to give you permission to promote their post as a Partnership Ad. Please reach out to your Customer Success Manager if the icon still appears at this point.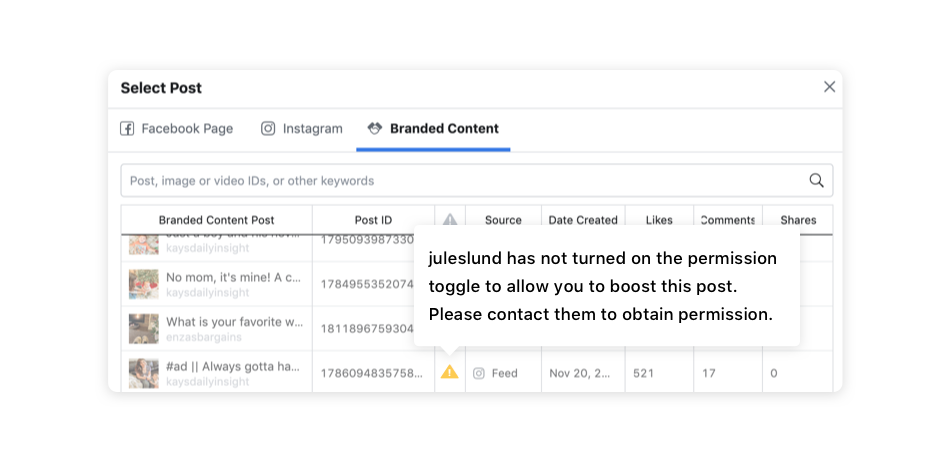 Step 4. Create a Partnership Ad
Click here for a visual walkthrough of the steps below. You'll thank us.
1. Head to your Facebook Ads Manager via here.
2. 'Create' a Campaign, if building from scratch. Otherwise choose a previous campaign.
3. Select an 'Objective', 'Budget' and name your 'Ad Set' and 'Ad'. 'Save to Draft'
4. Enter the 'Ad Set' level.
5. Apply your audience targeting and the preferred 'Placement' of your ad.
6. Select the 'Ad' level
7. Tap on 'Use Existing Post' and 'Select Post'
8. Up top, choose 'Partnership'.
9. Select the Creator's post and press 'Continue'.
10. In the Preview panel, the Creator's post should now appear as a Partnership Ad, where you can scroll through the available placements. Here's a handy visualisation of each placement.
11. Add a 'Website URL' if required and a 'Call To Action'.
12. Confirm the preview and 'Publish' your campaign!
13. Voila! Your Partnership Ad is live.

Having trouble? Check out some possible solutions at the base of the visual walkthrough.
If you'd like more guidance, use Facebook Guided Creation here but integrate Steps 6-9 above.
Once you've created your ad, it will be reviewed by Facebook and you'll be notified when it's approved. The ad will then appear in the feeds of the audience you chose. Be aware, you won't be able to manage or delete likes and comments that appear on your Partnership Ad.
Step 5. Optimise. Optimise. Optimise.
It's important you monitor your Partnership Ads so you can extend those that are performing well, and refresh any suffering from ad fatigue.
If the Promotion License for one of your Creator posts is about to expire and you'd like to extend it, simply email your Customer Success Manager who'll process it.
If the performance of any of your Partnership Ads is starting to wane, the chances are you'll need to replace it with fresh creative. Luckily you have loads of Influencer posts you can convert into Partnership Ads. Simply head into your TRIBE inbox and pick those with similar attributes as your original one and license the rights to promote it.
Partnership Ads are a whole NEW world for marketers, so if you aren't yet 100% confident… You're not alone!
If you have questions, hit us up via the pink speech bubble

on the right of your screen.
We're happy to help!