It's no secret that TikTok can be a real game changer for brands — just one viral video can make you an overnight success. That's why knowing how to use the platform to its full advantage can help you find your perfect customers, build a loyal and engaged audience, and generate consistently high sales. So how do you get the most out of TikTok as a small business? Is top-performing content just a happy accident or is there a strategy to get you the results you're after?
Learning to navigate TikTok's algorithm can feel a little overwhelming, leaving many businesses and creators feeling that it's working against them. But in reality, TikTok wants your small business to succeed. They're continually rolling out new tools and features to help brands grow on the platform, with the latest support tool being the launch of the #ShopSmall Accelerator.
Here's the lowdown on what TikTok's #ShopSmall Accelerator entails and what it can do for your brand.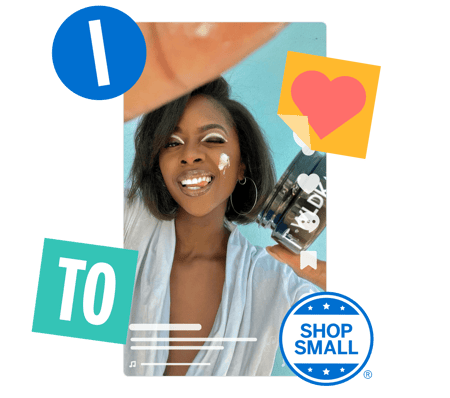 What is the TikTok #ShopSmall Accelerator?
With more than half of TikTok users revealing that they discover new brands and products on the app, TikTok wants to nurture its small business community. That's why they've partnered with American Express to launch the #ShopSmall Accelerator, aimed at small merchants that want to grow their businesses through TikTok.
The platform describes this latest initiative as a 'one-stop shop' for brands and it features:
• Creative guidance from some of the most popular and successful TikTokers
• Insights into the latest trends on TikTok
• A custom 'Shop Small' soundtrack
• $100 in ad credit to use on TikTok when you spend $50 on your first TikTok Ads campaign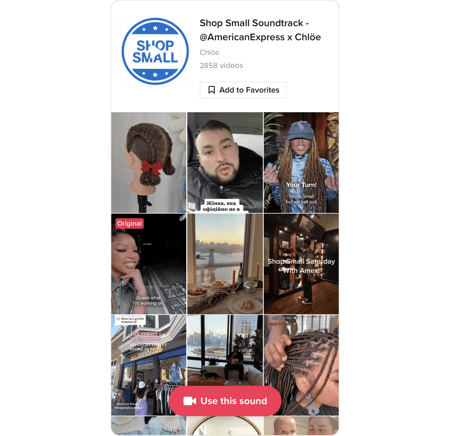 How can brands take advantage of the #ShopSmall Accelerator?
Here's what to do to get started:
1. Create a TikTok Ads Manager account
2. Click the "Let's go" button here before December 24th 2022, to take advantage of the $100 promotional ad credit.
How else can brands grow on TikTok?
Get to know your niche
It's essential to stay up to date with your niche. What's the latest news? What's everyone talking about? You can better join in on the conversation when you're tuned in.


Share videos regularly
Your audience wants you to show up consistently. We know that small businesses are usually strapped for time, so we'd recommend batch-creating your content and regularly dripping it into your feed on a schedule that suits you.


Engage with your audience
Building an engaged community isn't just about creating content. Your followers want to interact with you so don't forget to reply to comments and answer any questions they might have.


Use hashtags to find your customers
The TikTok algorithm is constantly working to determine who wants to watch your content. Help it out by providing any relevant hashtags for your niche or video. This helps get your content in front of the right people and gain more traction on the platform.


Work with influencers
With such a high return on investment, it's no wonder the use of micro TikTok influencers for brands is skyrocketing. TRIBE helps you find the perfect creators to partner with, letting you tap into their already-existing, highly-engaged communities and execute creator strategies that rival the world's most innovative brands.
If you want your brand to move at the speed of trends, request a free demo of the TRIBE platform today.