We probably don't need to tell you about the impact that TikTok can have on small businesses.
Over the last two years alone — and particularly throughout the pandemic — small brands have absolutely blown up on the app, with some going from zero orders to thousands in a single day, all thanks to one TikTok video that took off.
But it's not as simple as just jumping on the app and making content with no plan. TikTok can be a daunting place and often the trickiest part can be knowing where to start (as well as understanding your TikTok analytics). Thankfully, TikTok has put together a guide for small businesses to get started on the platform.
How TikTok is helping small businesses
As TikTok puts it, "creating content on TikTok is easy, and the payoff for your business could be huge."
So in order to help small businesses maximise the platform and leverage it to the best of their ability, they've released a series of short instructional videos that cover things like:
• How to create a TikTok video with text, transitions, audio, hashtags and more.


• How to set up a business account rather than a regular user account. This will give you access to a number of super-helpful tools: detailed analytics, a scheduling calendar, the ability to use 'Promote' to boost your videos to a wider audience, access to the 'Creative Hub' and linking your email and website to your page.
• How to create an 'Ads Manager' account, which is essential for customer acquisition. Why? Because it lets you target the customers you want, track and measure results, and drive awareness and sales. There are flexible budget options you can choose from if you're just getting started (the great thing about TikTok is you don't need to spend a ton to be seen).
• How to tap into the tools and resources available to thrive. TikTok has a ton of different things you can utilise to help grow your brand on the app, along with guides and tutorials to help make sure you're using them to their full capacity.
TRIBE's top tips for small businesses on TikTok
We've been working with brands on TikTok for over a year now, so it's safe to say we're pretty well versed in what works — and what doesn't!
Here are our hot tips for businesses looking to up their TikTok game.
• Use hashtags. Especially trending ones, but only so long as they're relevant. Hashtags are still a great tool for discovery on the app. Once users show interest in a certain hashtag by clicking or searching it, that type of content is pushed into their 'For You Page'.
• Get involved in challenges. Again, these are a great way to be discovered by new audiences. When you jump on an existing challenge that's already trending, it's far more likely to be distributed to a wider audience than your other videos.
• Know when to post to maximise your engagement. More often than not, the evening is your prime time. Head to the 'Analytics' section on the app, and under 'Followers', you'll be able to see what time of day your followers are most active. You can also track the time of day you post content and see which time slot corresponds to the most engagement and video views.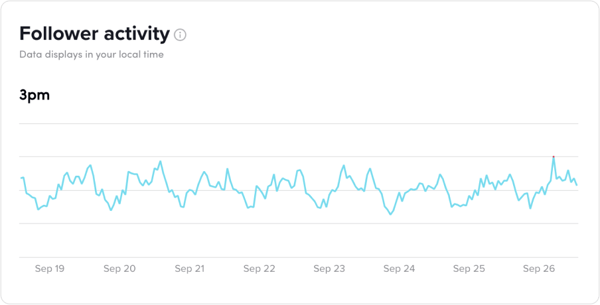 • Post regularly. Just like with Instagram, the more often you post, the more likely your content is to show up on the 'For You Page'.
• Mention your location if you're a brick-and-mortar business. This way followers know you actually exist IRL.
• Be authentic. TikTokkers can sniff out fakeness from a mile away, so it's important to pin down your brand identity: are you relatable? Educational? Fun? Serious? Define your identity and stick to it.
• Show what your business does. And what customers can expect from you. While challenges are a great way to gain traction, you also need to create content that shows off your business. Behind-the-scenes videos are a great way to do this.
• Work with influencers to tap into their already-established audiences. Creators know the TikTok app inside-out, so it makes sense to partner with them to help bring your brand to a wider audience.
Is your brand new to the world of TikTok? Our Ultimate Brand Guide covers everything you need to know to bring TikTok into your social media strategy.