For brands, working with influencers is one of the best ways to build your social capital and boost business. Maybe you've already dipped your toe in the influencer marketing pool and have worked with content Creators. Chances are you've probably also experimented with user-generated content to flesh out your social media presence. But have you tried influencer marketing on TikTok yet?
You probably already know about how powerful TikTok is. With over a billion monthly active users, it's a massive market to tap into. Many small brands have seen astronomical growth thanks solely to their TikTok strategy. That being said, it can be intimidating for brands, especially if you haven't ever used it before, so we think one of the best ways to jump right in is to form partnerships with influencers within your niche.
Let's go through the basics of finding micro-influencers on TikTok and the benefits that come with it.
7 easy steps to finding micro-influencers on TikTok

1. Set goals for the type of Creators you're interested in
The best way to do this is to look at your brand from the eyes of your audience. What kind of content do they want to see from you? Perhaps you want to work with a Creator in the same city as you or maybe it's best to find someone who's already publicly posted about your brand. Is it best to work with a Creator who focuses on aesthetic or educational content? Consider your brand identity and your audience profile and then set goals for the Creators you want to bring on board.
2. Do your research
Just because someone has a good following, doesn't mean they're necessarily going to be the best Creator to work with. Here are some things to consider before making a decision:
• What kind of videos do they make, and how often do they upload content?
• Do they appear to follow the same values as your brand?
• What is their engagement rate on the app?
• Do they reply to comments and engage with other Creators?
• Have they worked with any other brands in the past? In particular, any in your niche?
3. Find out if any existing Influencers you've worked with make good TikTok content
This one sounds like a no-brainer, but it's worth mentioning. If you've worked with Instagram influencers in the past who have returned good results, see if they're creating content on TikTok. Continuing your partnership across apps is an easy way to make sure you choose the right influencer for your social media strategy.
4.
Comb through hashtags
Using the Discover page on the TikTok app is a good way to search for relevant brand hashtags. Even if you exist in a very specific niche, chances are there'll be at least one Creator making content in that space.
If a TikTok influencer is consistently using a hashtag related to your brand—eg #blackbeauty or #melaninpopping—it's likely that the majority of their followers are interested in these topics. In other words: they're already tapped into your target audience and are a great option for a partnership.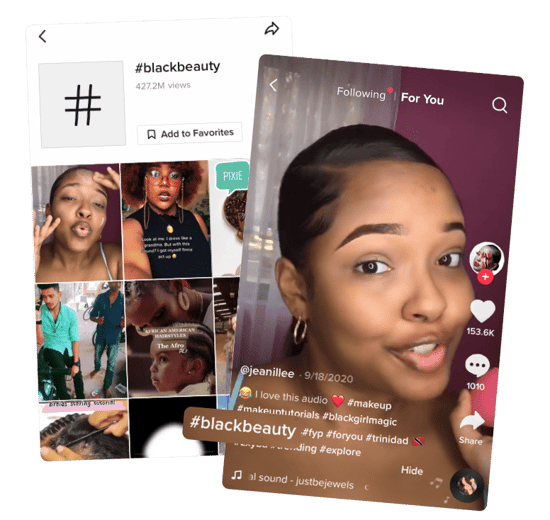 5. Check out what other brands are doing
Create a list of other brands in your niche and take a look at their TikTok presence. From there, click through to the pages of the Creators they're working with and the hashtags they've used. The TikTok app makes it easy to fall down content rabbit holes, which is actually a great thing for brands needing to do a little research. Another option is to comb through the #ad tag to find existing sponsored content and influencers who could be suitable for your campaign.
6. Work with an agency that caters to micro TikTok influencers
Much like on Instagram, there are several agencies out there that handle brand deals for TikTok Creators. TRIBE is a platform that connects Creators with brands like yours, allowing them to forge their own partnerships. Brands sign up and add their briefs, which are then picked up by Creators who'd like to represent your brand.
7. Check Creators' engagement rates
On TikTok, a Creator's engagement rate is much more important than their follower numbers, even more so than on Instagram. You'll want to work with people who can genuinely influence their audience, not just people with large follower numbers. It's easy to gain followers but only the best Creators can cultivate engaged and loyal audiences.
How to calculate a Creator's engagement rate:




[(Number of likes + number of comments + number of shares) / number of views] X 100%
Micro TikTok influencers can be the best way to grow your brand
There's huge value in working with micro-influencers on TikTok. Why?


They're trusted in their niche
At TRIBE, we define micro-influencers as everyday people with a decent following – usually at least 3,000. They tend to focus on one particular niche and create a steady stream of content related to that topic. Micro-influencers are generally trusted by their audience as a smaller following makes them seem more relatable.
They're cost effective
Many influencer marketing campaign prices are determined by a Creator's follower count.
With your marketing budget, you could hire one big-name Creator to create a single post, or you could hire 20 micro-influencers. The latter means you're spreading your net further, getting a bigger reach with more engagement, while reaching a larger variety of potential customers.
Their followers are invested
Gone are the days where working with brands was seen as a 'sell out'. Nowadays, when a Creator partners with a brand they're passionate about, their followers' overwhelming sentiment is one of pride and excitement.
When a micro-influencer has a small follower base, their audience is far more invested in them as a person. It's as if they're an online friend. A small, engaged audience is much more likely to take a brand recommendation than a large audience who may only see 5% of an influencer's content.
Working with micro TikTok influencers
There are actually a lot of videos—over nine billion—on TikTok about micro-influencers. Have a scroll through the #microinfluencer hashtag, and you'll see everything from branded content to instructional videos. It's a great place to start when you want to get a feel for the type of influencers you may end up working with.
Just starting out on your TikTok journey?
Allow us to make things a little bit easier for you. TRIBE helps brands zero in on the best influencers to partner with to create instant branded content that performs. We're passionate about social media and truly believe that brands and influencers can have meaningful and mutually beneficial partnerships.

If you're creating your brand's TikTok strategy, TRIBE can help you streamline and simplify the influencer marketing side of things. We offer a fast and automated solution that you can find out more about here.