We already know the immense value that can come from cultivating a strong TikTok presence, but the app has stepped it up a notch by finally introducing the TikTok Shopping Ads feature.
Now is the perfect time to experiment with Shopping Ads as it gives your customers a far more streamlined shopping process and a more seamless customer experience — exactly what everyone is looking for.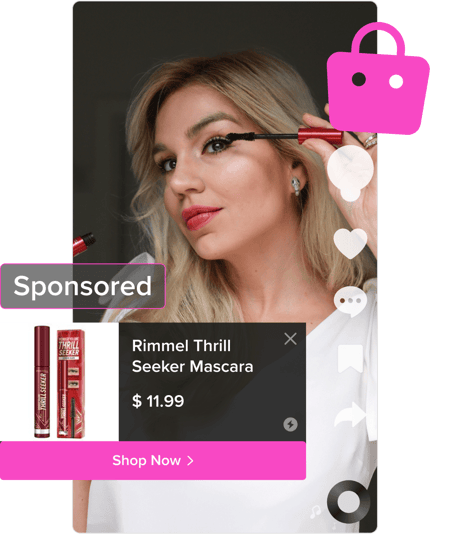 What are TikTok Shopping Ads?
Similar to TikTok Shop, TikTok Shopping Ads are proving to be a game-changer for brands. Often confused with TikTok Spark Ads, Shopping Ads let users shop directly from videos appearing on their For You Page – the in-app terminology being used is "content to cart".
Shopping Ads make in-feed advertisements directly shoppable for users, similar to the Instagram Shopping posts (which helped brands master advertising on Instagram) that have been around for a while. A special product card is added to the bottom of the Shopping Ads screen, which users can click on to be directed to an in-app page where they can easily make a purchase.
They're a great way to help brands close sales and shorten the purchase journey of their customers. At the end of the day, a shopper is far less likely to abandon cart if it only takes a few simple taps to buy a product.
Are there different types of TikTok Shopping Ads?
There are three different kinds of TikTok Shopping Ads that brands can incorporate into their marketing strategy.


Video Shopping Ads
These look like regular in-feed videos but have the added product card at the bottom of the screen.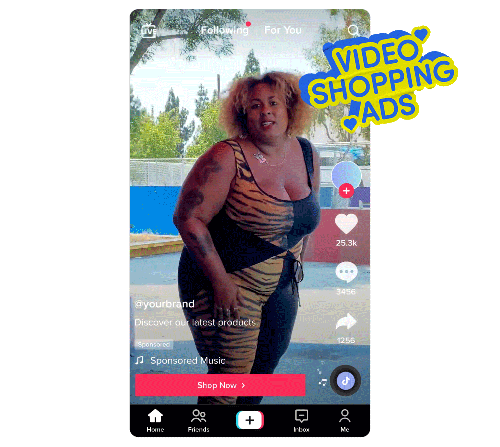 Catalog Listing Ads
These are static images presented in a "catalogue" to users who are most likely to buy. These also pop up on a user's For You Page.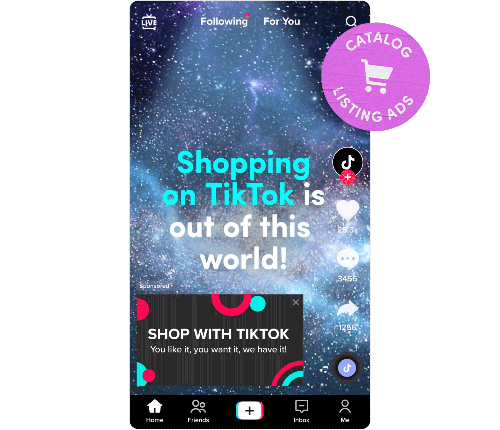 LIVE Shopping Ads
These allow brands to add product cards to their LIVE videos and target users in-feed who are likely to engage with them.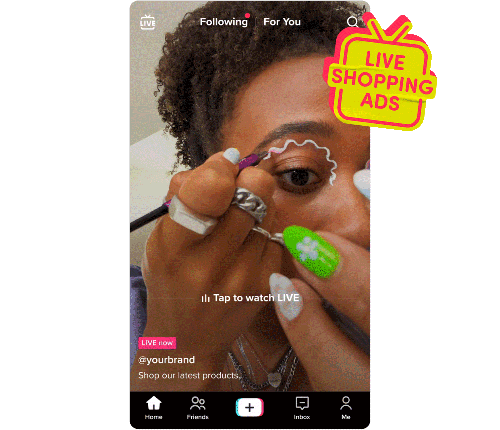 How to use TikTok Shoppable Ads
Here's how to create a TikTok Shopping Ad:
1. First, check if your commerce platform is integrated with TikTok. The app has partnerships with platforms including Shopify, Square and many more. If your platform is listed there, you can skip the next step.
2. Integrate signals and link your product catalogues to your TikTok account. TikTok has provided a step-by-step PDF you can follow to make sure you haven't missed anything.
3. Head to your TikTok Ads Manager and start a new campaign. Be sure to select 'Shop Purchases' as your advertising objective, then fill out the rest of the settings based on how you plan to run the ad.
4. Set up an ad group: Go to Shop Settings, select the Shop you want to promote and choose 'Video Shopping' as your promotion type. For Identity, you can select your own TikTok videos or those authorised by other creators. This is essential if you're considering influencer marketing.
5. Now, create your ad. Select a product under your 'Products' tab — you can pick just one, or several — and then link it to one of your videos.
Just note that this feature is still being rolled out, so if it's not available in your market yet, be patient, it will be soon.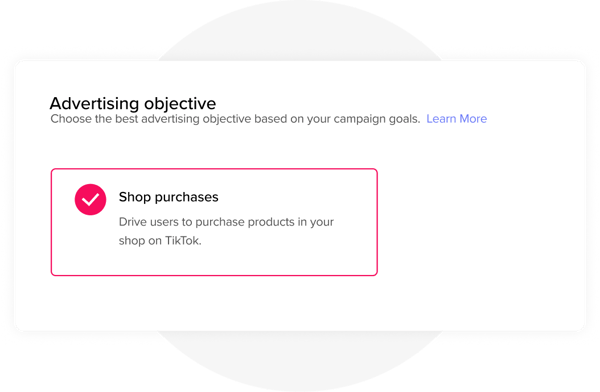 Using TikTok Shopping Ads
Looking for inspiration? Here are a few ways we think you can get creative with your TikTok Shopping Ads.


Highlight new products
If you've got a brand-new product in your line-up, now's the perfect time to make a video promoting it. Build hype by showing it in action. Remember: add a product card and allow users to buy it directly from their FYP.


Promote sales
Do you have any sales or promotions planned in the lead-up to the holidays? People are already thinking about shopping for loved ones or themselves, so keep your brand top of mind with in-feed Shopping Ads that link to the most crowd-pleasing products.


Jump on the trends train (while showcasing your products)
As you undoubtedly already know, trends are the best way to get traction on TikTok, so why not integrate the new Shopping Ads feature into them for an extra layer of success? Jump on a trend that's going viral, incorporate your products into the video, and add a product card to it.


Work with influencers to make organic branded content that's shoppable
TikTok is offering brands a simple way to partner with creators to share user-generated content: just add your product tags to an existing video from an influencer, as long as you have their permission. Take time to find users already using and showcasing your products, and form partnerships with them for easy and successful branded content.
TRIBE helps you move at the speed of trends and discover the ideal creators, making it simple to execute successful branded content ads. Just launch a campaign and watch your inbox fill with creators excited to work with you – they'll pitch their ideas, tailored to your brief, giving you a sense of the content you'll receive before making any commitments.