It almost feels like TikTok is rolling out new features every week to transform and improve the user experience. The newest update? Branded Mission: a new advertising solution which helps cement their place as the best app for brands, particularly those targeting younger and more-connected audiences.


What is TikTok's Branded Mission?
Branded Mission is an inbuilt ad solution that aims to streamline the process of sponsored influencer content, making it easier for Creators to deliver videos that perfectly fit the brand vision. While the feature is still in beta testing, it will enable brands to crowdsource content from Creators and turn top-performing videos into ads.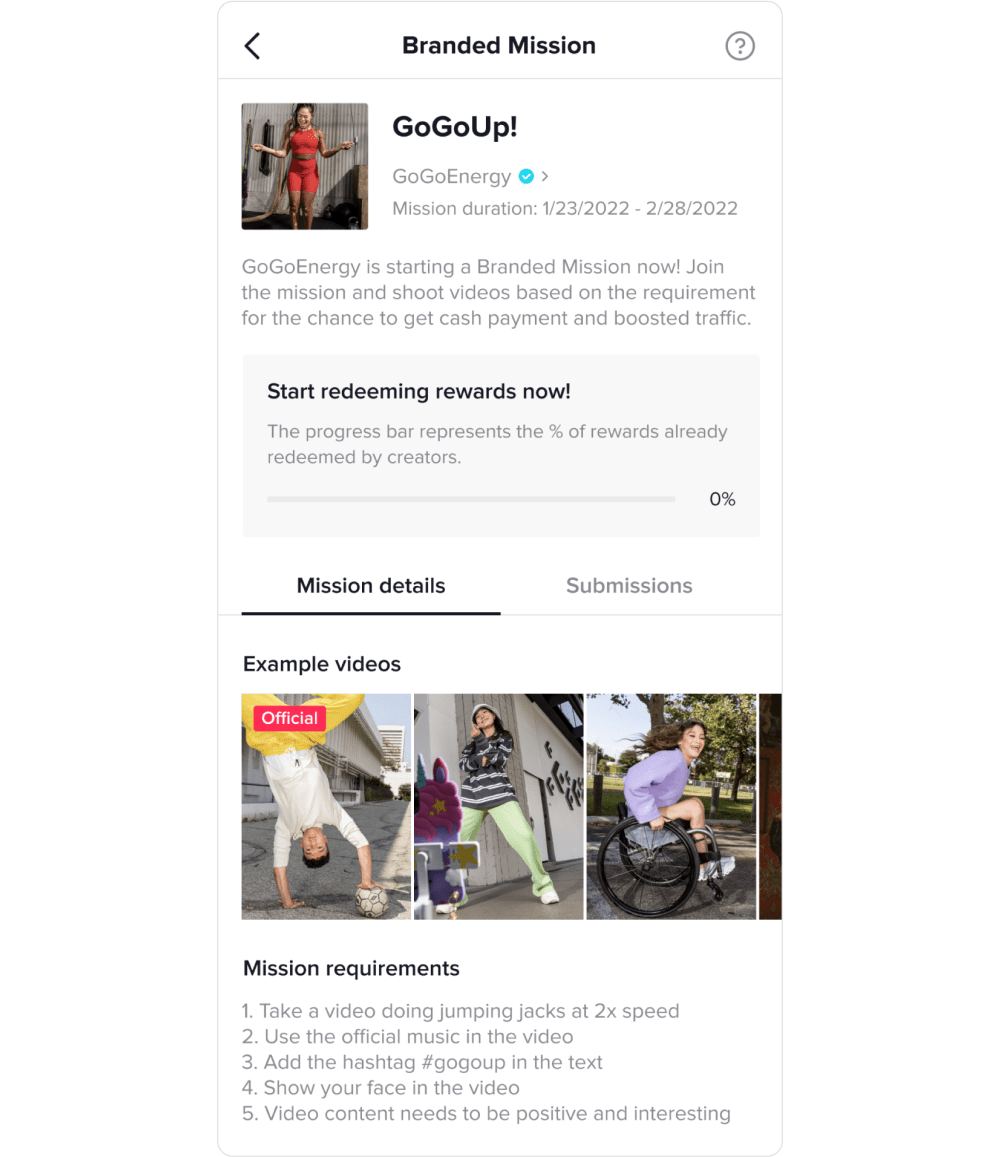 How does it work?
Brands use the tool to brief the Creator community on how they'd like videos to look. Creators then find and participate in the 'missions' that speak to them and upload their own content. The brand then reviews the user-generated content and selects videos, which are then amplified as ads, in turn rewarding the chosen Creators for their work.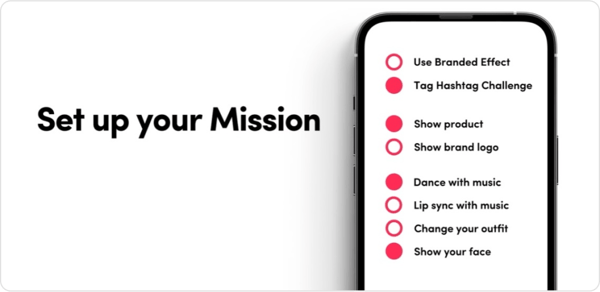 How will TikTok Branded Mission benefit brands?
TikTok Branded Mission is all about streamlining the influencer-brand relationship while also connecting Creators and brands who may not have otherwise crossed paths. So what are the key benefits?


1. Reach more Creators
With Branded Mission, brands can connect with a much broader base of Creators, including the ones who are out there creating genuine content they're passionate about.
TikTok users over 18 (with over 1,000 followers) will be able to participate in Branded Missions. This means that almost anyone with a great idea for a brief has an opportunity to work with brands, opening the door to some really meaningful partnerships.
2. No more back and forth
Brands create and upload a detailed brief covering the kinds of videos they're after. It's designed to help brands be completely transparent about their expectations and payment schemes, so there's absolutely no miscommunication.
At this stage, Creators whose videos are chosen get rewarded with a flat fee that won't vary based on individual video performance. Creators then participate if they're excited by the brief and happy with the earning potential.
3. New partnership opportunities
Traditionally, influencer marketing methods involved brands directly reaching out to Creators in their niche — but this should be a two-way relationship. Branded Mission allows Creators to make the first move by submitting their videos to the briefs that align with their own personal brand. It's an opportunity for brands to form partnerships with Creators they may not have encountered via "normal" influencer pathways.
4. Increased brand exposure
Even if you don't select every piece of UGC that a Creator submits to your brief, you're still out there increasing your brand exposure, reaching new potential customers and keeping your name top of mind.
When will TikTok Branded Mission be available?
TikTok Branded Mission is currently in beta testing in more than a dozen markets worldwide. It will start becoming available to additional brands and markets in late 2022.
The good news? You don't have to wait until then to start working with effective influencers. The TRIBE platform enhances the two-way partnership between brands and Creators. Much like Branded Mission, TRIBE allows brands to share specific briefs for the exact content they're after. Creators can then browse the briefs and submit pitches for those that they align with most.
Are you ready to jump into influencer marketing the right way?