Thankfully for brands, shopping on Instagram has never been easier. This means Social Commerce—the use of social networks and interactions to assist online selling—is in full swing. Back in August, Instagram trialled Reels—a video function designed to rival the success of TikTok. It allows Creators to make snappy 15-second videos; the type that are on-trend right now.
The engagement was good, the trial was deemed a success and now everyone around the world gets to see a little Reels icon on their Instagram home screen.
So what does this mean for brands?
Reels isn't just a new way to share content on Instagram. It's a way to showcase and sell your products too. Just like the Instagram feed, IGTV, Live and Stories, Reels is now shoppable, meaning users can now shop products featured in your Reels (or those of the influencers you work with).
And with 72% of users making purchase decisions based on something they saw on the app, brands really have no excuse not to jump aboard the Instagram shopping train.
Shopping on Instagram: how it works
Instagram has recently done two things to further its Social Commerce offering:
• Added a featured products function to Reels
• Given the 'Shop' tab pride of place on the IG homepage


SHOPPING ON INSTAGRAM REELS
Instagram describes Reels as "a kind of stage" — a place where Creators can share their innovation with the world, but it's also a place where brands can showcase their products.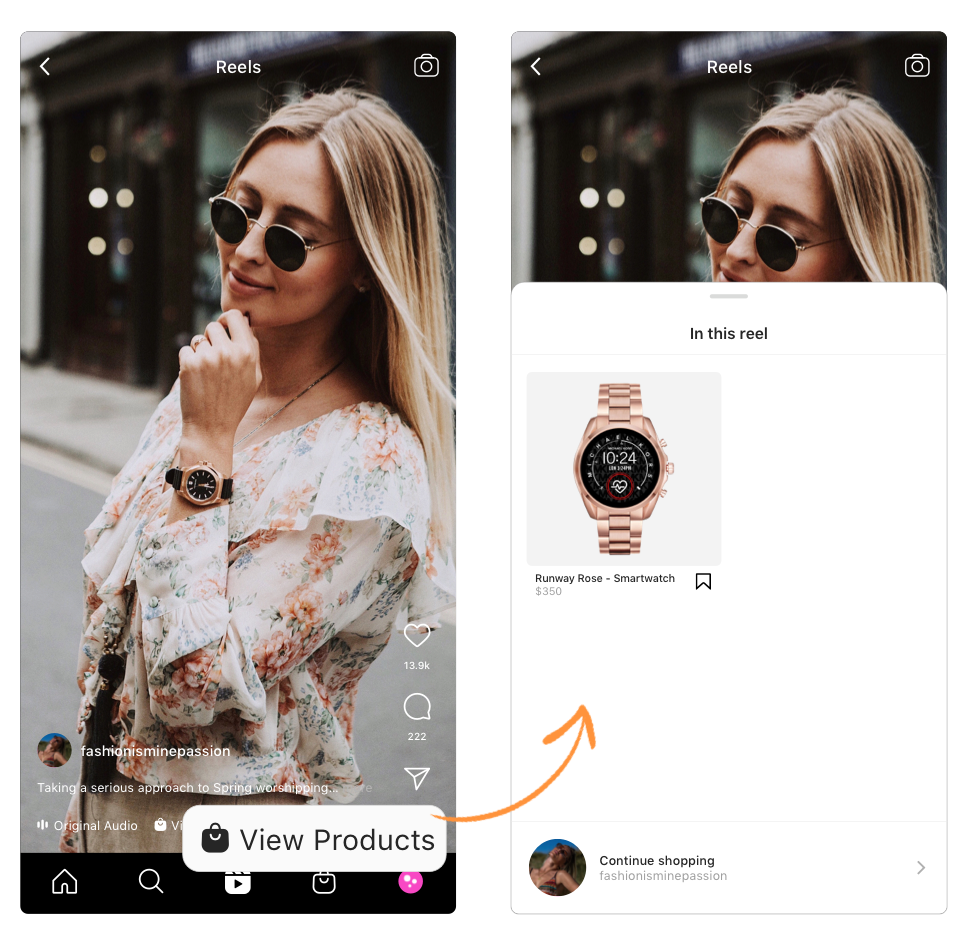 How? Brands and influencers can tag products in their Reels so that when users watch them, they're able to view those products. Tapping this button allows them to buy, save or learn more about the featured products.
SHOPPING VIA THE SHOP TAB
When users click on the newly prominent Shop tab they are taken to an immersive full-screen storefront.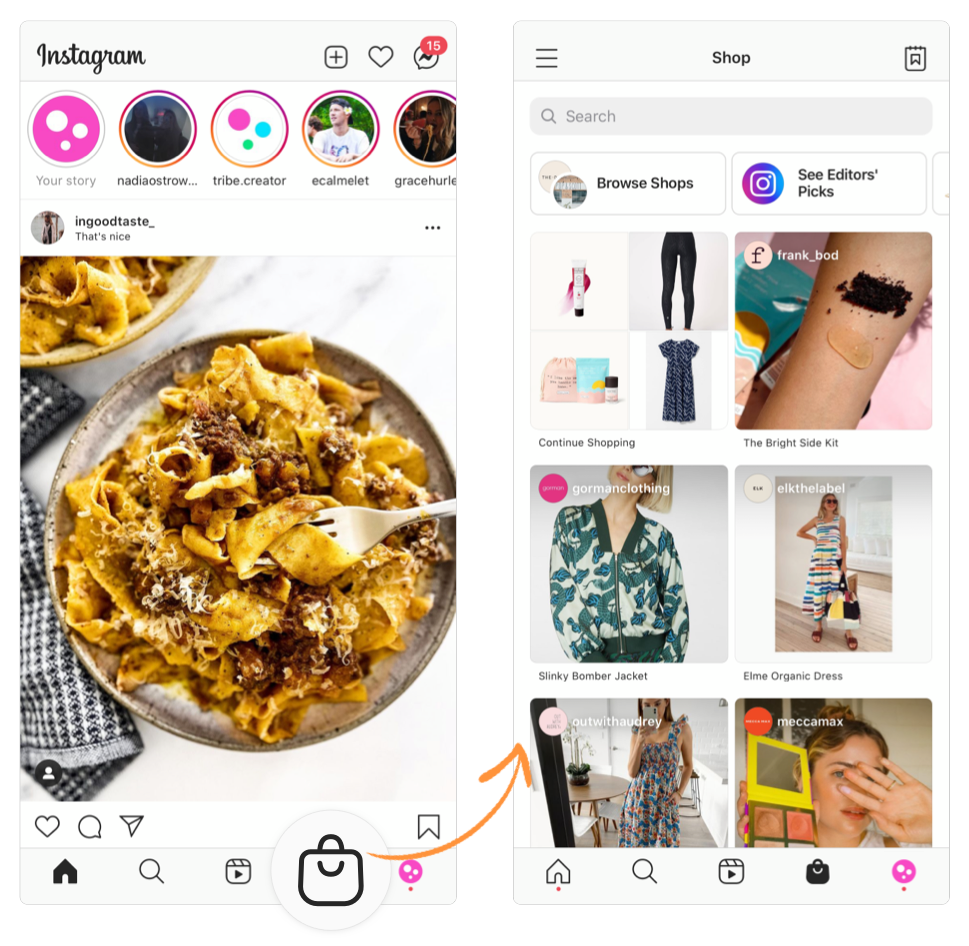 They can browse products, explore collections and—by clicking through to view the product on a brand website—make a purchase.
Here's what Instagram has to say about it:
"With the Shop tab, we're making it easy to get inspired by Creators you love, shop on Instagram, and support small businesses. You can find personalized recommendations, editors' picks curated by our @shop channel, shoppable videos, new product collections, and more."
This solidifies the prominent shift Instagram has made to Social Commerce and the impact it'll have for brands.
HOW TO GET STARTED WITH SHOPPING ON INSTAGRAM
Ready to get your piece of the pie? Check out Instagram's step-by-step guide to setting up your brand's Instagram store.
Once you're up and running, you'll be able to add product tags to items featured in your posts, Stories, Reels, etc. and get a dedicated Shop tab on your brand profile.
Shopping on Instagram: what it means for Social Commerce
130 million Instagram users click on shopping posts every month. It offers consumers a purchasing process with fewer friction points. Users see content featuring a product and can seamlessly navigate towards the checkout.
This means that brands who deliver their content across the full range of Instagram's shoppable formats, get to experience greater reach and in turn, higher revenue.
WHAT SHOPPING ON INSTAGRAM MEANS FOR BRANDS WHO WORK WITH INFLUENCERS
Sourcing content is tough. Sourcing content for a number of different social media platforms in an ever-increasing variety of formats is even tougher. But brands who work with influencers are at an advantage.
Firstly, you're outsourcing some of your content creation, saving you a tonne of time. Secondly, you're working with experts in the field. Thirdly, you're working with your very customers, who already use and love your brand.


The short video format offered by Reels is hugely popular right now; and working with Creators who truly understand the format and the audiences who enjoy it, is a real opportunity for brand growth.

What's more, Instagram has made brand-influencer collaborations super easy. Influencers can make your products shoppable via their own posts and they can easily label posts as branded content, keeping everything transparent.
If you've not taken the plunge with influencer marketing yet, there has never been a better time.
How to find the right influencers to kickstart your Social Commerce strategy
74% of people trust social networks to guide their purchasing decisions. But how do you find the right influencers to showcase your brand and product?
You partner with TRIBE. We connect brands with influencers, and allow those creators to come to you. All you have to do is submit a campaign, watch a range of creative content roll into your personal branded content library and amplify it through the social channels of our influencers to reach thousands.