We know TikTok is growing rapidly. With over a billion people worldwide using the app monthly and 8 users joining every single second, TikTok has truly shaped the Creator culture. From new filters and features like TikTok Library and longer, 10-minute videos to compensation schemes for Creators like you, the app is constantly evolving. And while there are endless ways for replicating your Instagram success on TikTok, we think staying up to date with the latest features might just be the most important thing for Creators.
With that being said, say hello to TikTok Friends! A feature designed to help you connect with more people you know.
Sure, we're used to scrolling through our For You pages and being served videos of strangers whose interests align with ours. But TikTok Friends is upping the game and bringing the social aspect of the platform to the forefront.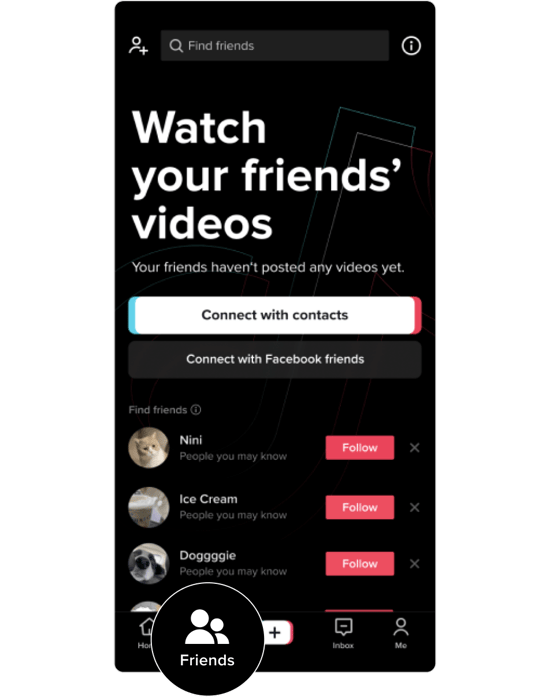 What exactly is the TikTok Friends feature?
TikTok Friends gives you a whole new way to explore the app. It's a new tab in the toolbar that features content only from your "friends" – people you follow and who follow you back. It'll also include random videos you'll like (according to the algorithm).
Since TikTok's inception, the For You Page has been the only way to scroll through videos in the app. And while the algorithm is accurate (we know, it's getting scary now), it lacked the social 'friends' aspect that its competitors had. Well that has changed. Now, there's a tab dedicated solely to content from your mutual followers.
Yes, TikTok already has a 'following' content feed, but Friends only shows you videos from people who follow you back.
Don't fear! The For You Page is still there and full of the hyper-personalised content you know and love. Friends is an additional feature to help you keep up with videos from more familiar Creators and accounts.
The Friends tab has replaced the Discover tab in your toolbar, though it's unclear whether the Discover tab is gone for good. You can still search, however: just click the magnifying glass in the top right corner of your main feed.
The Friends feature is being rolled out slowly across all accounts but should be a widespread feature by June.
How to use the TikTok Friends tab
It's simple! Click on the Friends tab, which has an icon of two people, located in the toolbar of your TikTok app. Here, you can scroll through all the videos created by your TikTok friends.
Once you've scrolled through all the videos on that feed, you can switch back to your FYP for more content OR connect with more people to really fill out your Friends feed!


To connect with more friends:
1. Tap Profile located in the bottom right.
2. Tap the three lines in the top right.
3. Click on Settings and privacy.
4. Select Privacy, then tap Sync contacts and Facebook friends.
5. Tap the toggle icon next to Sync contacts or Sync Facebook friends to turn on or off and change how accounts are suggested to you. You can also remove previously synced contacts.
TikTok will then try to match you with your contacts or Facebook friends who also have TikTok accounts. Easy!

Looking to exercise your creative TikTok skills? TRIBE is an app that connects Creators like you with brands you know and love for paid content creation. It's as simple as downloading the app, browsing through our long list of brands, picking some campaigns that match your niche and identity as a Creator, and submitting a pitch.