TikTok is constantly updating its interface and adding new features for its users, giving Creators the ultimate chance to innovate and experiment. From longer, 10-minute videos to new filters every day, there's always something new to play around with.
Introducing the latest update from TikTok: The TikTok Library!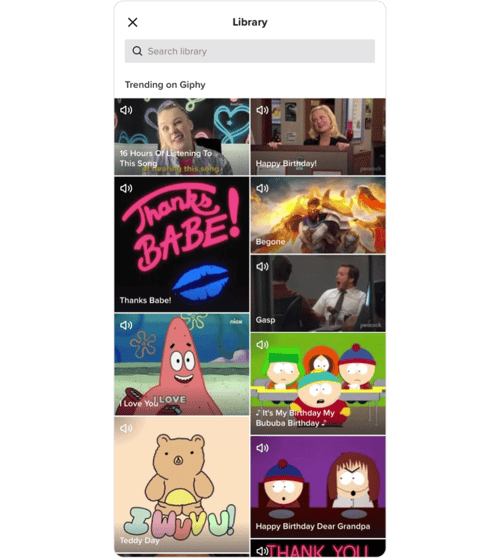 What is the TikTok Library?
The TikTok Library is a brand-spankin' new tool designed to make it even easier for Creators like you to make engaging videos. It gives you access to clips from TV and movies, which you can use to seamlessly integrate into your videos.
For the Library launch, TikTok partnered with Giphy to make GIFs available to Creators – a feature you might be familiar with from Instagram Stories. But the TikTok Library also includes a new feature, GIPHY Clips, which have sound.
The idea is that the Library will make it easier for people to start or participate in popular trends using clips from TV and movies. Reaction GIFs have been standard across social media for nearly a decade, but being able to add them to your TikToks (with sound!) gives Creators a lot more opportunities to innovate.
In the past, if Creators wanted to include a clip from a movie or pop culture moment, they would have to find the video, download it, and use Green Screen to add it to their TikTok. Now, it's all done within the app.
Like Duets and Stitch, it's a way to build off existing content and truly make it your own. The best ideas come from collaboration, and now TikTok Library lets you draw from iconic moments in pop culture that we all recognise and relate to.


Right now, available GIPHY Clips include:
• Reactions, like Emma Stone drooling over a plate of food, or Chrissy Teigen grimacing at an award show.
• Quotes, like Gretchen in Mean Girls saying, 'That's so fetch' or Meredith in Grey's Anatomy saying, 'Pick me, choose me, love me'.
• People, e.g. clips of your favourite celebrities or athletes doing things.
• Iconic Moments that you can react to: an award speech, a scene from a show, or a game-changing sports play.


And it's only going to expand with more and more content. According to TikTok, they "hope to further expand Library to include additional content sources, audio and sounds, text templates, Creator content, and more, as [they] continue to innovate and spark creativity for [their] community."
How to use the TikTok Library
Here's how to use GIPHY Clips in Library:
1. From the camera screen, tap the new Library icon on the vertical sidebar.
Tip: If you don't see it, you likely need to update your app!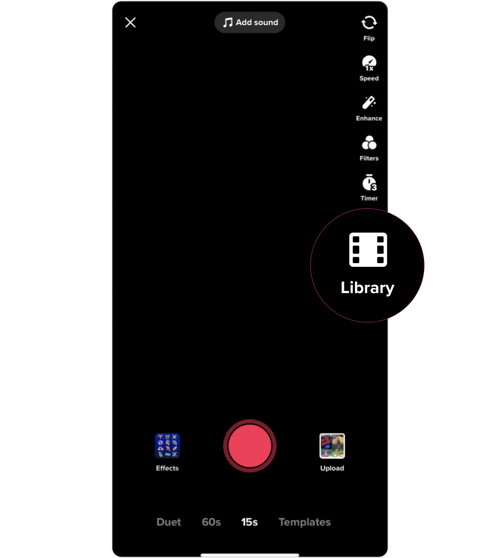 2. Once on the Library screen, you can scroll through trending content or use the search bar to find something specific.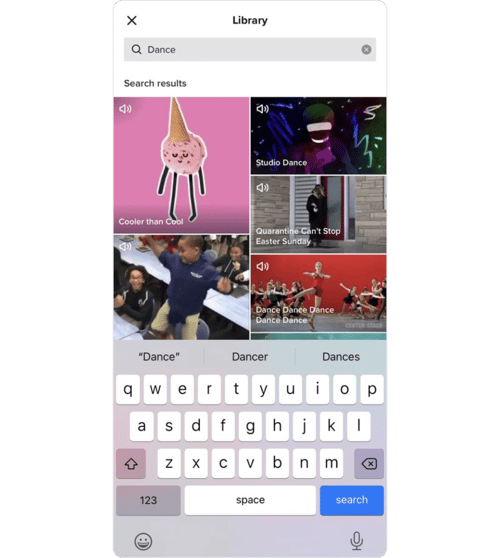 3. Once you've selected your content, you can clip to the desired length and return to the shoot page to continue capturing content.
It's that easy!
Everything in the TikTok Library is from verified partners and artists of TikTok and GIPHY, so you don't have to worry about copyright or having your videos taken down. AND it's all high-quality, recognisable content from sources like HBO, ABC, Hulu, Xbox, and The Roku Channel.
How can you make amazing content for brands you love?
If you're trying to create a name for yourself or grow your following, using new and evolving features like the TikTok Library is a great way to kickstart that! But another great way to establish yourself as a Creator is by working with brands you align with. And instead of waiting for them to find you, you can find them.
How? With TRIBE – an app that easily connects brands and influencers, leading to paid content creation and powerful partnerships. It's as simple as downloading the app, browsing through our long list of brands looking for Creators like you, picking some campaigns that match your niche and identity as a Creator, and submitting a pitch.


So, what are you waiting for?