Since TikTok launched in 2016, it has had astronomical growth. Helped in part by the pandemic and subsequent lockdowns, the app now has over a billion monthly users worldwide. In fact, it took Instagram eight years to get that number of users. Meanwhile, TikTok grew from 50 million users in January 2018 to 700 million in mid-2020.
So why is TikTok so popular? On the surface, the two apps seem pretty similar. They're both platforms that prioritise visuals over text, are primarily used on mobile devices, and are popular with Gen Z and Millenials.
But the content you'll find on TikTok is worlds apart from what's in your Instagram feed.
Despite Instagram's ambitions to compete with other platforms by introducing features like videos, Stories, and Reels, success on Instagram relies heavily on how polished your content is.
As you might know, Creators on Instagram need to work harder to grow their followers. Many influencers who have found fame through Instagram have a certain level of photography or videography skill, and they've leveraged that skill to gain new followers.
Becoming a TikTok influencer, however, requires significantly less professional experience. The most successful videos on the app are low-fi, shot on a smartphone and usually edited in-app. But, as a trade-off for technical expertise, TikTok-ers need a high level of originality and creativity.
While the Instagram feed algorithm rewards photos that are beautifully framed, shot and edited, TikTok is all about the raw.
That's why it can be difficult for Instagram Creators to make the switch over to TikTok.
Whether you're repurposing your Instagram content for TikTok (which you can find out how to do right here) or creating fresh content, TikTok is a whole different ball game. If you're a photographer, you might not even be used to showing your face on social media. Taking that step and putting yourself out there really pays off on TikTok. However, it requires more personality and on-camera energy than you might be used to, and you need to keep the momentum going.
So, how can you evolve from an Instagram Creator to a TikTok performer?

Keep it consistent
As with Instagram, the TikTok algorithm rewards consistent posting. Because of how content is disseminated, there's really no such thing as posting too much on TikTok. Once a day is ideal, but if you're sharing mostly long-form content (rather than trend-jumping), you should aim to upload two or three times per week.
But that's not a license to just post junk! People want entertainment or education, so make sure your videos are quality.
Find your niche
Sure, everyone wants to be universally loved, but the best way to succeed on TikTok is by finding your audience niche. The same can certainly be said for Instagram, but TikTok's views are driven by their very specific algorithm, which will serve your content to the right people.
Carve out your niche—e.g. fashion for tall girls or ethical beauty—and stick to it. If you have a niche and you post high-quality content regularly, you'll eventually build up a good following.
Jump on those trends
Each day, spend some time in the discover tab, found under the compass icon. Here you'll find trending audios, hashtags, and effects.
Trend-jumping is one of the best ways to get views. Is there a way you can adapt these trends to your niche? Think about the kind of content that your audience will relate to; what will make them laugh or say "same"?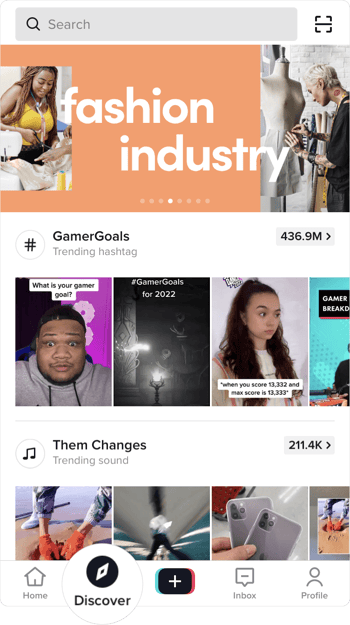 Think outside the box
You can't just rely on trends for your video output. To stand out on TikTok, you need to be creative. So what's missing from your niche? Is there a hole you can fill that'll bring your audience content they're not getting elsewhere?
Be yourself
Instagram is arguably a very polished place; well-performing content is aesthetically pleasing and often over-curated. Stories and Live videos are where you can share more unfiltered content, but the home feed isn't as loose.
On TikTok, however, it's all about personality. The content in your FYP is raw, unfiltered, and genuine. You won't get brownie points for being aspirational or by changing what you look like for views. Take inspo from other TikTok-ers but stay true to yourself and share the personality that's uniquely yours.
Browse the comments section
Often, the comments are the best part of a TikTok. This is where viewers share their feedback and engage with your content. Sometimes random comments can get thousands of likes, which definitely helps push your video out to a wider audience.
As a video Creator, you should be engaging with your audience in the comments section to help build a rapport with them and make you seem more accessible and relatable.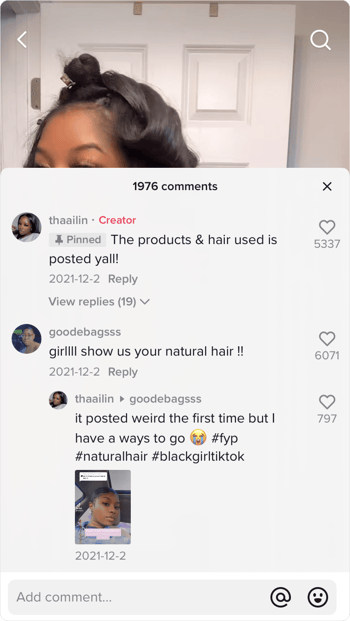 It's all about the collabs
Partnering with a brand in your niche—and one that aligns with your values as a Creator—is an excellent way to broaden your reach and cement your place as a TikTok performer.
At TRIBE, we help Creators like you collaborate with brands that you already know and love. And with loads of TikTok campaigns dropping for you in 2022, the new year will see some major app updates that'll make it even easier for our Creators to submit to TikTok campaigns – and more submissions means more chances to win!
Learn more about TRIBE or download the app and start getting paid to create content.