Social commerce is currently an $89.4 billion industry and is projected to grow to $604.5 billion in the next seven years.
By using social networks and interactions to assist with online selling, social commerce (or Scommerce) has become a rich and engaging alternative to encounters with physical retailers and modern-day Ecommerce stores. With 72% of users reporting that they make shopping decisions based on something they saw on social media, social commerce is all about simplifying the process for the consumer, which in turn drives sales for your brand.
So let's take a look at how to make it work for your brand.
What is social commerce?
While the term social commerce applies to all social media platforms, we'll primarily focus on Instagram. This international tech powerhouse has introduced some huge changes in the past few years that make it easier than ever for users to shop right from the app.
Rather than seeing a product on the home feed, clicking through to the brand, then clicking through to their website, people can now browse and purchase within the Instagram app.
Brands and influencers can tag specific products in posts and Reels, while the recent introduction of Shopping from Instagram has fast-tracked the Scommerce process even more.
This is an absolute game-changer for brands, particularly those with a younger audience and a strong visual presence on the platform.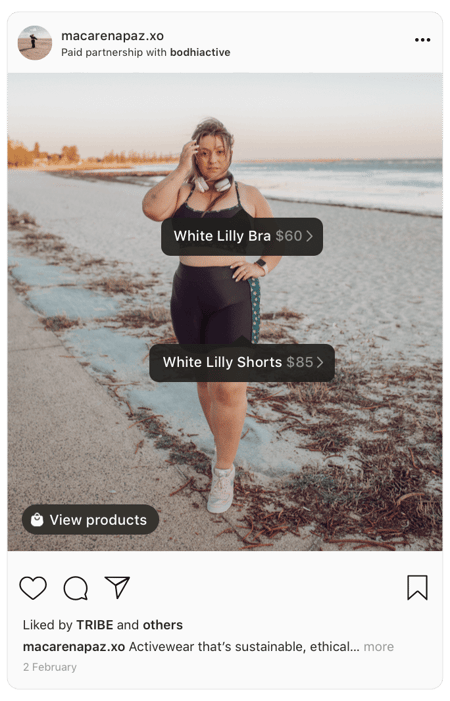 Is social commerce really the future of shopping?
Social media and shopping now go hand in hand with the majority of people on Instagram following brands to better understand their products and ultimately make a purchase.
Let's take a quick look at some statistics:
• Every month, 130 million people tap on an Instagram shopping post
• 87% of customers say that social media helps them decide what to buy
• A quarter of all people surveyed say they seek advice on social networks like Instagram when buying apparel
• 90% of followers try to reach out to brands via social media
• 60% of users discover new products on Instagram
It's evident that social commerce is the way of the future. Why?
It's curated and personalised
Imagine walking into a retail store where everything is perfectly matched to your personal style, budget, and wish-list. That's essentially what Instagram shopping is. Users get personalised recommendations based on their previous in-app habits; just like the Explore page is perfectly curated to your tastes.
Consumers can choose to Browse Shops, See Editors' Picks, Explore Guides, and Shop Collections, leading to a seamless process of discovering inspiration and making purchases without ever leaving the app.
If a user is in the Shop feed, you can assume that their intent to buy is high, so creating engaging, trendy content will make it that much easier to lock in a sale.
It's designed for impulse spending
Unsurprisingly, we saw a huge spike in online shopping during 2020, with one survey finding that people were spending an average of 10-30% more online at the beginning of the lockdowns.
Luckily for brands, the scroll-to-shop habit that has taken over the consumer world doesn't seem to be disappearing anytime soon.


Instagram's targeted tools are built for impulse buys, with highly-specific algorithms serving users products they'll likely be interested in; and the addition of buying directly in-app only increases the likelihood of a sale.
Influencers are a big player
We know that influencers are a huge asset for brands trying to market themselves on social media. They've already built an engaged audience around their specific niche and have an established level of trust with their followers.
In fact, 87% of people say that influencers have inspired them to make a purchase, and 67% say they have no negative reaction to sponsored influencer content.
Influencers can play a huge role in your social commerce strategy with the ability to tag your products in posts, allowing their followers to shop directly from their home feed. You can also use their photos to sell your products in the Shopping tab: seeing a trusted influencer promoting your brand through eye-catching content (read this for inspo!) is going to be far more effective than a standard brand shot from your page.
It makes shopping an experience
Brick-and-mortar shopping is undeniably a different experience to online shopping; and while the physical actions cannot be replicated, the experience Instagram is creating is quickly replacing it.
Users can easily share Shopping posts via DM's with their friends to get opinions before purchasing, and can similarly send people products they think they'd like. They can interact with brands instantly, open up entire digital stores within the app, share their purchases to their Stories, and browse comments and reviews from other users.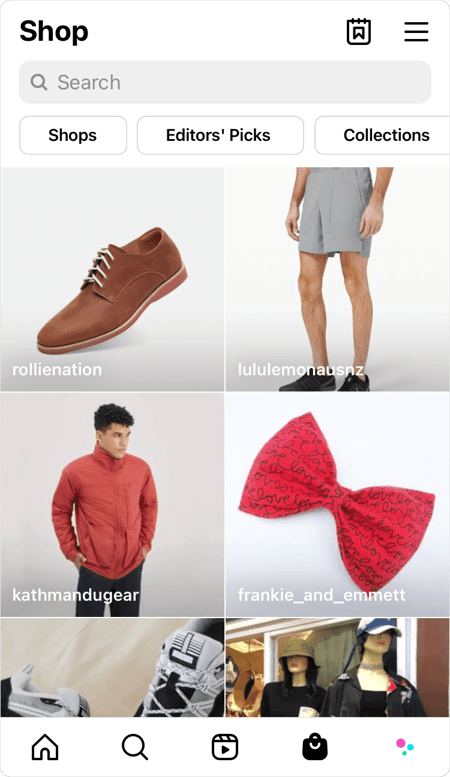 How to get started with social commerce on Instagram
To set up an Instagram store, you must already have an eCommerce site. Check out Instagram's step-by-step guide to getting yourself started before moving on.
Work with influencers
Like we said above, partnering with influencers inside your niche is the number one way to build your business and drive sales through social media.
Once you've found the right influencers for your brand, you can work together to create stellar content that both of your audiences will love. After all, the best partnerships are the ones that seem natural.
Engage with your audience
Reply to comments, create engaging Stories, run competitions, and share polls and quizzes. The more you build yourself as a fun and interactive brand, the more likely users will want to shop with you. Plus, if they're engaging with your content regularly, the Instagram algorithm will favour your content and push it to the top of their Shopping feeds.
Get creative
Don't just use static product shots to sell your images. Instagram has a lot of features you can play with to make engaging and creative Shopping posts. Use the photo carousel features as a lookbook to showcase different products in the same collection, or different ways to use one product. You can also now tag products in Reels, which is a good opportunity to weave short-form video into your social strategy.
Leverage the power of user-generated content
A form of influencer marketing is utilising user-generated content for your Shopping posts. Encourage your customers to tag you in their photos on social media, then get their permission to turn the best ones into tagged Shoppable posts.
So how do you find the right influencers to kickstart your social commerce strategy?
Yes, working with influencers is important, but only if you find ones that are suited to your brand. The best way to source instant branded content to fuel your social commerce strategy is to get in touch today and unlock our pool of 50,000+ talented and diverse creators.