Back in 2017, Instagram introduced the Shopping feature, allowing users to shop products directly from a brand's page. Since then, the experience has only grown and improved.
70% of online shoppers say they get inspiration for purchases by browsing through Instagram. Cutting out the middleman creates a much smoother process for customers, and brands are reaping the rewards.
Every month, 130 million Instagram users tap on a shopping post to learn more about a product.
What exactly is Instagram shopping?
Instagram shopping posts allow users to buy products directly through Instagram without leaving the app. Businesses and creators can tag products in an image, and when a user clicks the tag, they can purchase the product. It creates a seamless shopping experience across all Instagram media formats, including posts, Stories, IGTV, Reels, and even Live videos.
Instagram has also introduced a shop section for brands. A "View Shop" button on a brand's IG profile will take customers to a curated list of shoppable products within the app.
The app now also has a Shop tab, easily accessed in the bottom menu bar. Think of it as a shoppable version of the Explore page, where users can view a customised selection of products based on their browsing history.
Brands of all sizes have embraced Instagram shopping as part of their social media strategy. And it works. Fashion brand Barbour says that since introducing Instagram Shopping, traffic to their website via Instagram is up a massive 98%.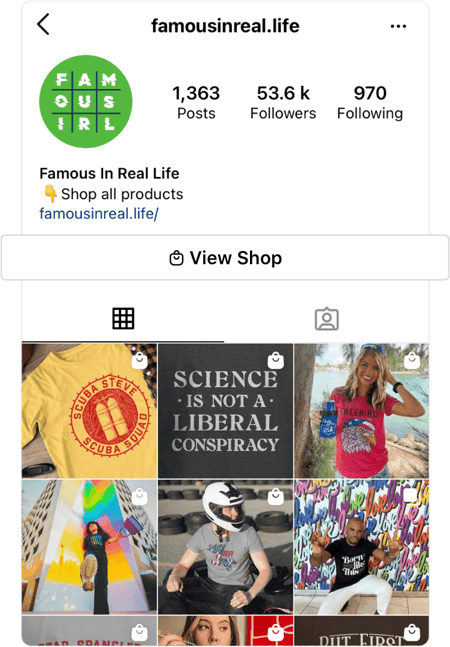 Getting started with Instagram shopping and product tags
Like most things on social media, it's vital to nail your process and ensure you're using the features to their fullest potential. By the time you finish this article, you'll be an Instagram shopping whiz.


What does Instagram shopping look like for users?
When a user taps on a tagged product, they view the Product Detail Page (PDP) that contains the product description, price, photos and videos of the product in action. They can then buy the product directly in-app (for US businesses only) or complete the purchase from the brand's website.
Note: You need to configure in-app shopping on your Instagram account to display the purchase option.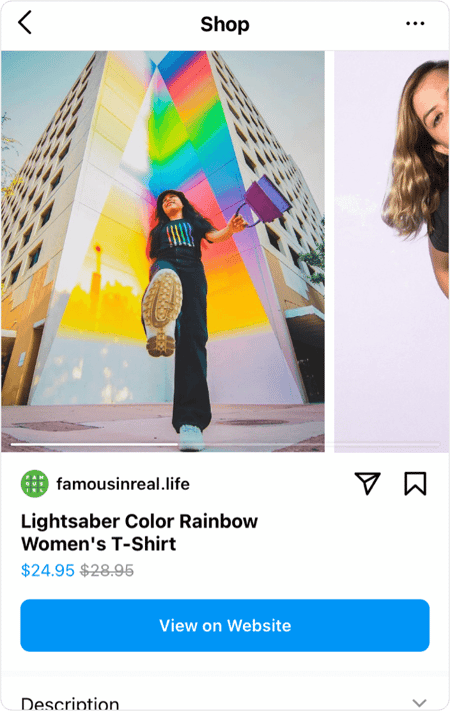 How to set up your shop on Instagram
Instagram makes it very straightforward to set up a shop associated with your brand account. Here's how to do it:
1. Confirm your account is eligible by having a look at this checklist.
2. Make sure you have a business or creator account.
3. Link your business to your Facebook account in your 'Edit Profile' menu.
4. Upload your product catalogue – you can do this through Facebook Business Manager or third-party eCommerce platform partners like Shopify or BigCommerce.
5. Submit your account for review. This can take up to a few days.
6. Turn on shopping features under the 'Business' section in settings.
7. Start tagging your products in posts!
Where to tag products on Instagram
There are many different places where you can tag your products on Instagram. But, of course, the more formats you use, the more users you'll reach; there's no such thing as too much product tagging.
You can tag your products in:


In-feed video and image posts
You can tag up to five products in each post. You can also use the carousel feature to create a lookbook of up to 20 products.
Reels
Reels are relatively new – short-form video with a maximum of 30 seconds, appearing in feeds and the Reels tab. Brands can tag up to 30 products from a single catalogue or collection in their Reels, which will come up when users tap the 'View Products' link in the caption.
Stories
We know that Stories are a great place to share behind-the-scenes content and more relatable, less structured photos and videos. Brands can now add one product sticker per story, which links to a product in their catalogue.
Captions and your bio
Product tags can also be placed in blocks of text, like post captions or in your bio –– these are called 'product mentions'. You can use them separately, but brands that combine tags and mentions increase their average PDP views by three times, compared to feed tagging alone.
IGTV
You can tag products in any IGTV videos that are over one minute in length. It's a great way to show off campaign videos for new product launches, allowing users to shop straight from the video. You can include a max of 30 individual products, and you can pin up to 10 products for 20 seconds throughout the IGTV video.
Live video
A great way to have a two-way conversation with your audience, and brands can now tag products in their Lives. You can feature up to 30 products, which you have to select before you go live. Then, during the video, you can select certain products to highlight at specific times.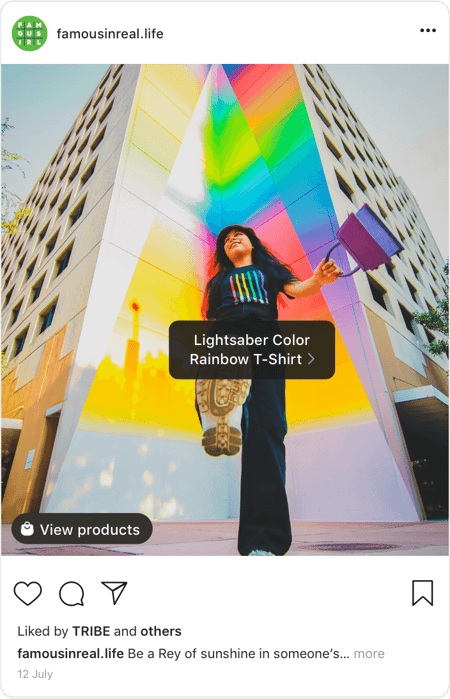 Best practices for product tagging on Instagram
A few things to keep in mind as you begin your product tagging and Instagram shopping journey:


Tag as frequently as possible!
Being consistent will help boost your visibility within the app. The more products you tag, and the more places you tag them, the more likely you are to show up in users' Shopping explore page. According to Instagram, successful Shops post product tags at least five times per month.
Double-check that everything is working smoothly
There's nothing worse than dead links or product tags that link to the wrong thing. Make sure you're constantly checking that everything is working the way it's supposed to. Use your personal account to check on your brand page and view it through your consumer's eyes.
Mix up your posts
Shopping posts and product mentions are important to drive business. But, if every single one of your posts is an ad for your product, your audience might get sick of it pretty quickly. Find the right balance between authentic, engaging content and product posts to ensure your followers return for more.
Perform some tests on your audience
Try tagging different types of products with a range of price points. Then, analyse your tag data for click-throughs and sales conversions. By experimenting, you can get a feel for the kind of content that resonates best with your audience.
Save and highlight your content
Use Instagram's highlight feature to save stories into a group and collate all your shoppable content in one place. Then, when new customers visit your page, they can see all your product content in one place.
Hashtags are still relevant!
Using hashtags can help open up your posts to new audiences, and if those posts are directly shoppable, that's even better. For example, hashtags like #smallbusiness are a great way to get more traffic to your Instagram Shop.
Embrace user-generated content
UGC is always a good idea for brands looking to boost their customer engagement on Instagram. Combine that with shopping posts, and you've got yourself a winner! Working with an influencer within your niche to source UGC is a great way to vary your content and keep your feed fresh.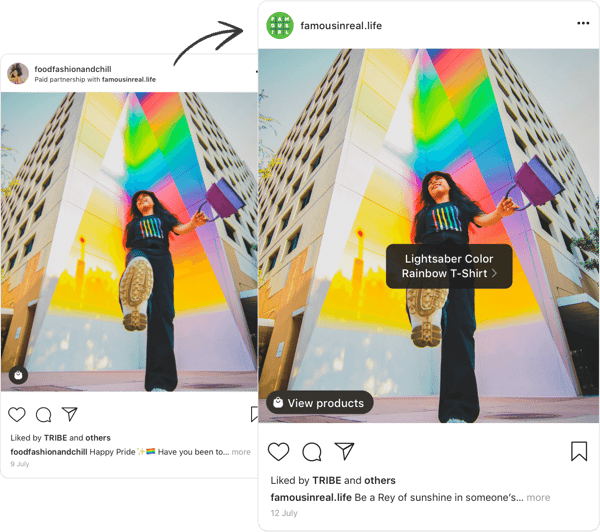 Use the carousel feature
Now that brands can upload batches of photos into a carousel with tags for each different product, it's made life a lot easier. Customers can scroll through your product catalogue, getting a feel for your brand, without having to visit your shop front.
Include actionable CTAs
Ads and product posts have always included call-to-actions like 'click now' and 'buy it before it's too late'. With users able to click and buy instantly from within the app, CTAs tend to be more literal. Include things like "tap the shopping icon to get yours now" in your captions.
Want to know more about nailing the eCommerce and social shopping game?
Check out our blog post all about how brands can embrace the phenomenon of buying through social media. TRIBE helps brands unlock instant branded content from skilled and influential creators who already use and love them. Find out why some of the world's biggest brands use TRIBE.
Get in touch today to find out how it all works!