The current debate on the role of influencers in political advertising has been brought to the forefront, with Mike Bloomberg's recent Influencer Marketing tactics for the 2020 presidential race breaking the internet. It began with a small activation on TRIBE's platform which spread like wildfire across the globe. So much so, that on Friday, 14 February Facebook decided to allow branded political content on its platforms; changing the social network's previous rules governing political ads.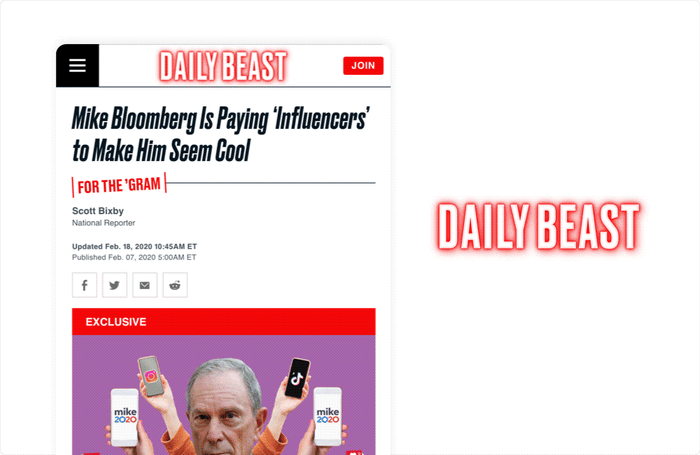 Let's break down the timeline for you:
MON, 3 FEB
Bloomberg's campaign team approaches TRIBE to assist in running an Influencer Marketing initiative whereby micro-influencers would be paid to create content around why he's the best candidate for the US 2020 Presidential elections.


WED, 5 FEB
TRIBE discovers Facebook has policies around political advertising and branded content and seeks clarity, prompting Facebook to take a deeper look at the policies in place.
THURS, 6 FEB
TRIBE decides to run a content-only campaign for Bloomberg's ads—where influencers create content but don't publish it themselves—allowing Bloomberg's team to distribute the branded content themselves, while also ensuring TRIBE operates within the existing FTC and FCC political advertising regulation, as well as Facebook's still-developing policies.
Then the story breaks...
FRI, 7 FEB
• The Daily Beast is the first to report on the story: Mike Bloomberg Is Paying 'Influencers' to Make Him Seem Cool
• CBS then reports on the matter: Mike Bloomberg's campaign is looking to pay influencers
• Vanity Fair catches on, publishing an article on how Mike Bloomberg Wants To Build An Influencer Army
SAT, 8 FEB
• The Guardian gets on board: Mike Bloomberg will pay you $150 to say nice things about him
• Business Insider publishes the story: Billionaire Mike Bloomberg is looking to pay micro-influencers to make sponsored content for his presidential campaign
MON, 10 FEB
The New York Times reports: Paid Social Media Influencers Dip Toes in U.S. 2020 Election
WED, 12 FEB
Mumbrella talks about how Billionaire presidential candidate Mike Bloomberg assigns chunk of advertising budget to influencer platform TRIBE

While Facebook looks into their policies surrounding political Influencer Marketing…
WED 12 & THURS 13 FEB
The now-international coverage of Bloomberg using TRIBE to pay influencers to promote him snowballs further. Headlines like Mike Bloomberg Is Paying 'Influencers' to Make Him Seem Cool call out the 78-year-old candidate for attempting to tap into the power of social influencers.
The Bloomberg team seizes an opportunity; owning their actions and capitalizing on the coverage surrounding this nontraditional approach to the campaign. They transform the seemingly-embarrassing headline into one of the most unique Influencer Marketing strategies the political stage has seen.
Bloomberg's team proceeds to pay larger social media influencers to create and publish memes of Mike awkwardly trying to be cool. Some of the famed Instagram accounts infiltrated include @fuckjerry (15m followers), @grapejuiceboys (2.7m followers), @tank.sinatra (2.3m followers), @sonny5ideup (1.3m followers), @fourtwenty (3.7m followers) and many more.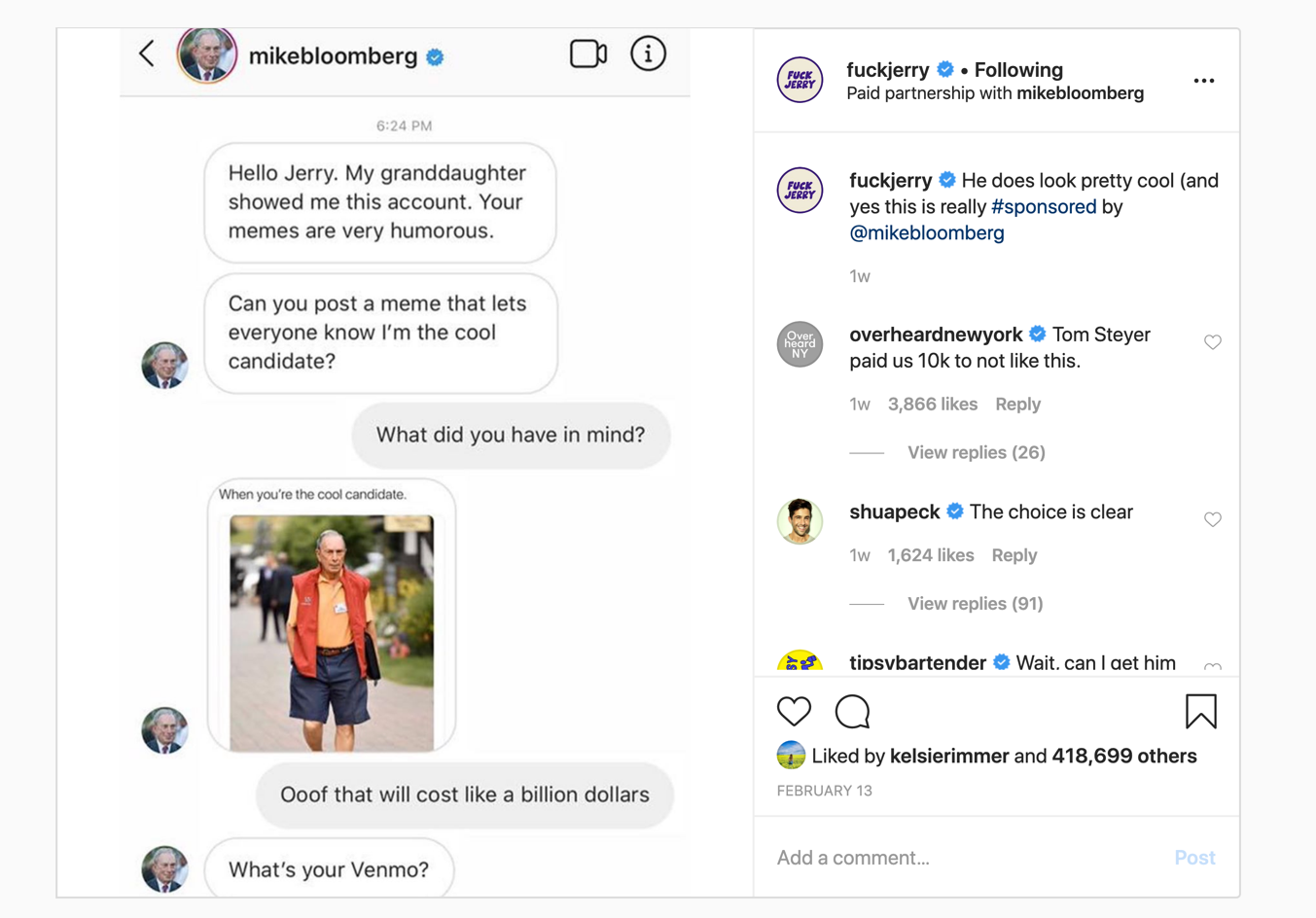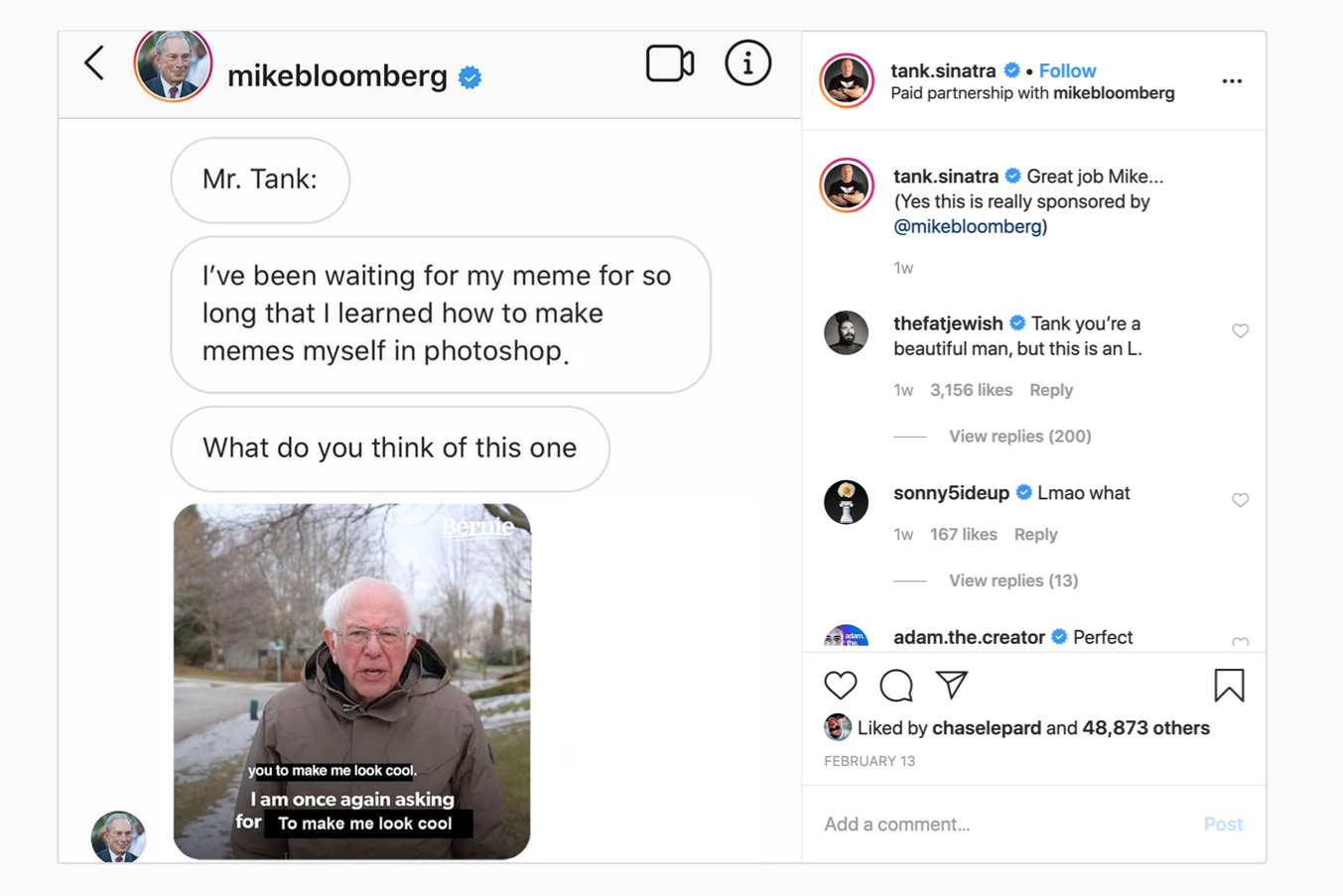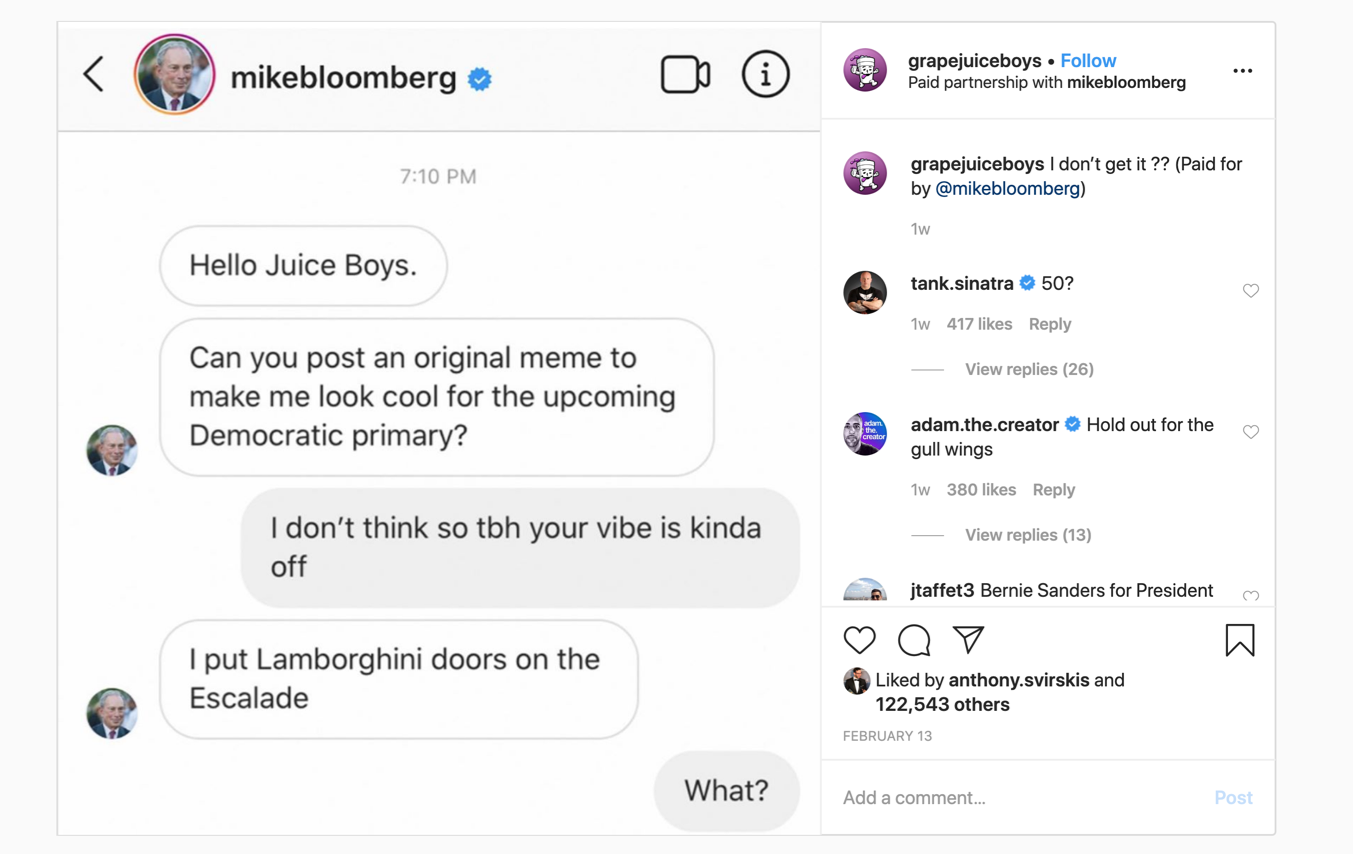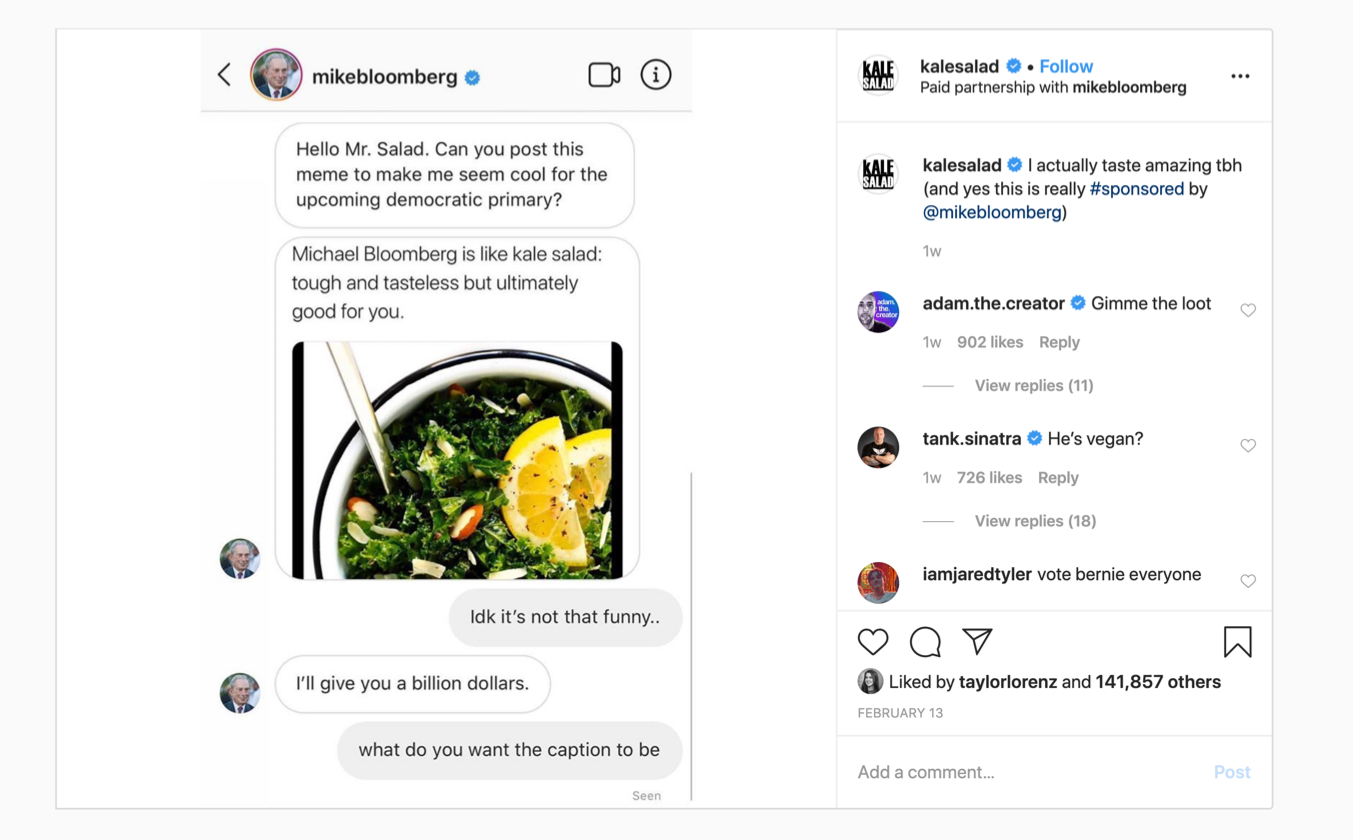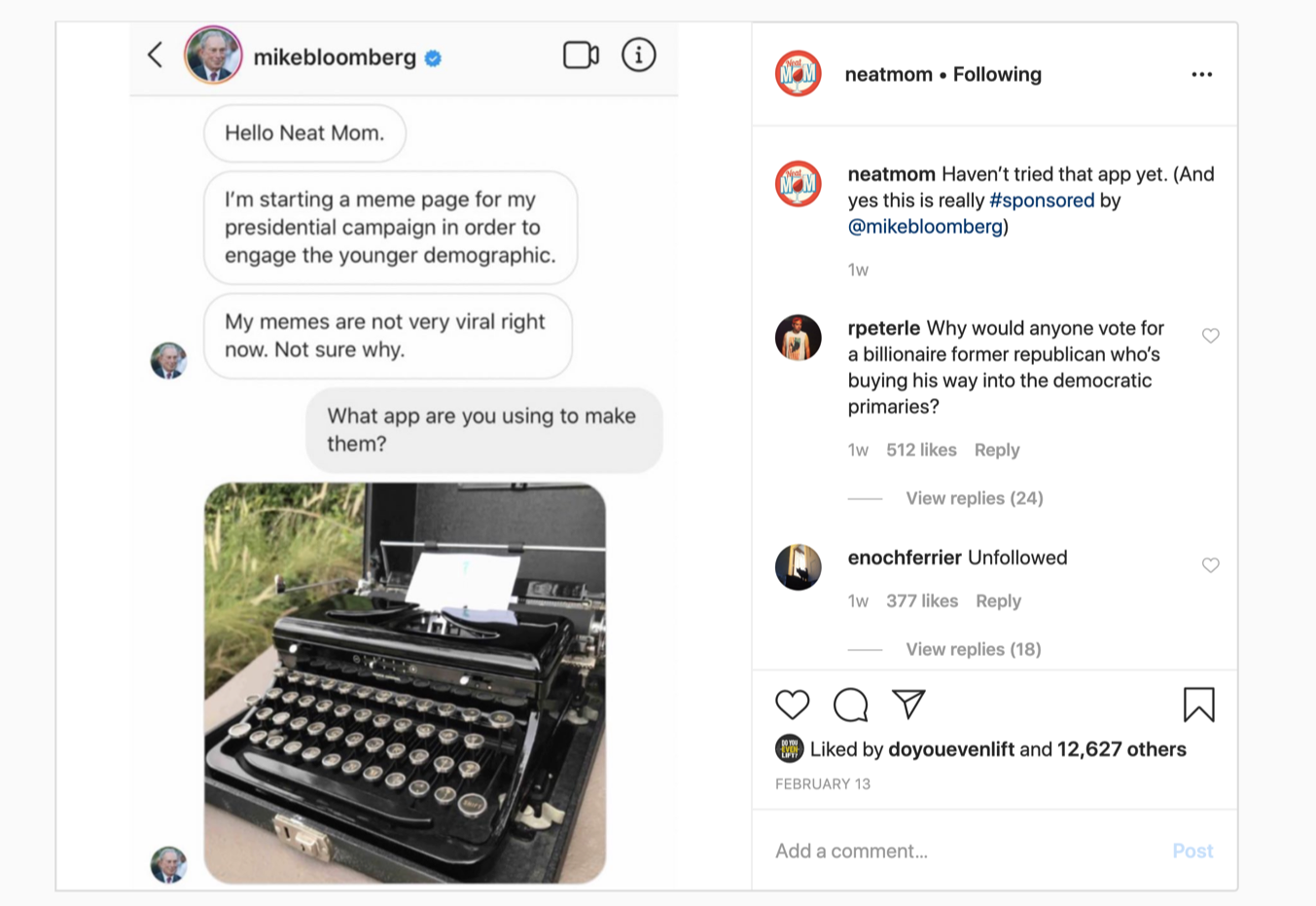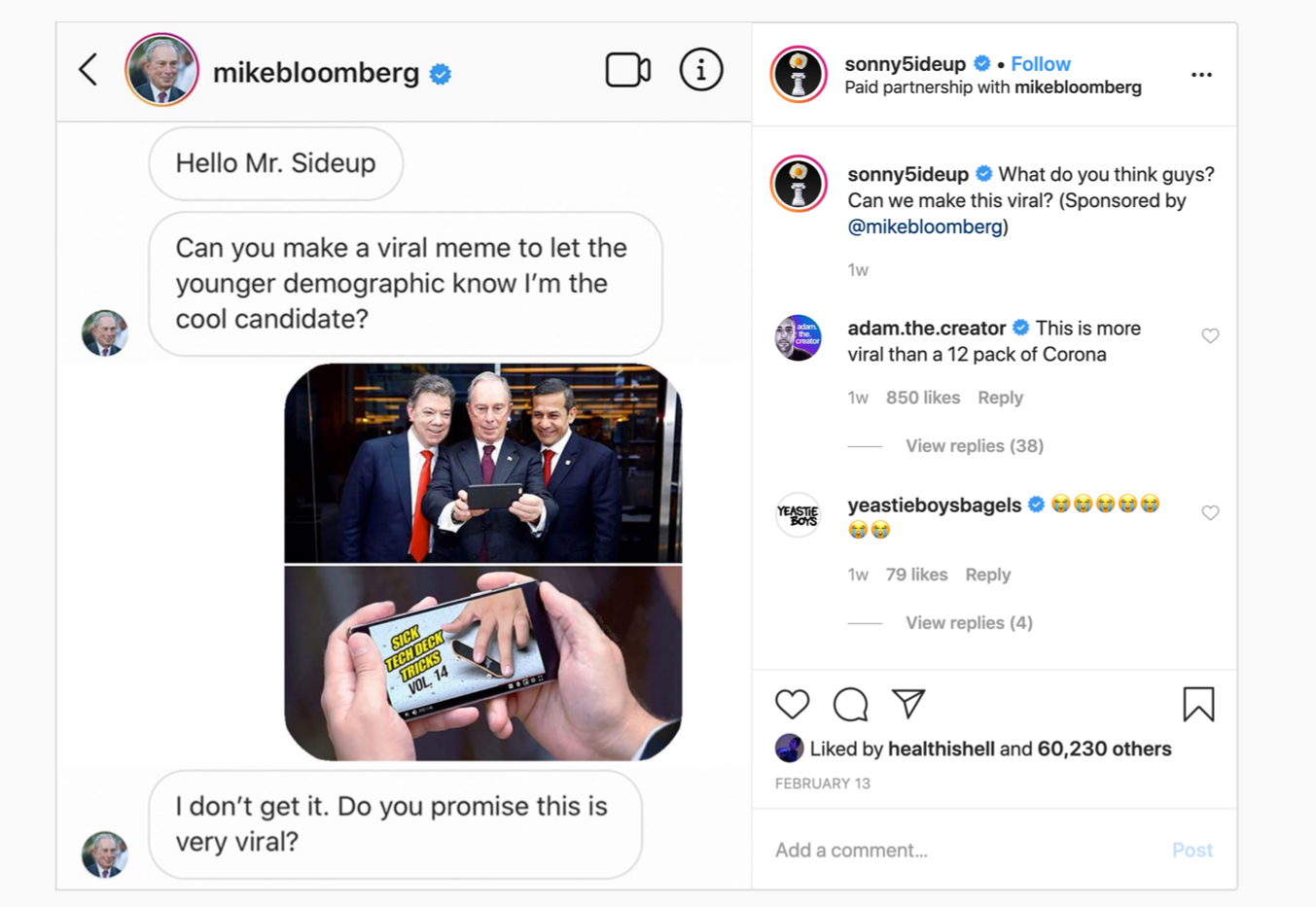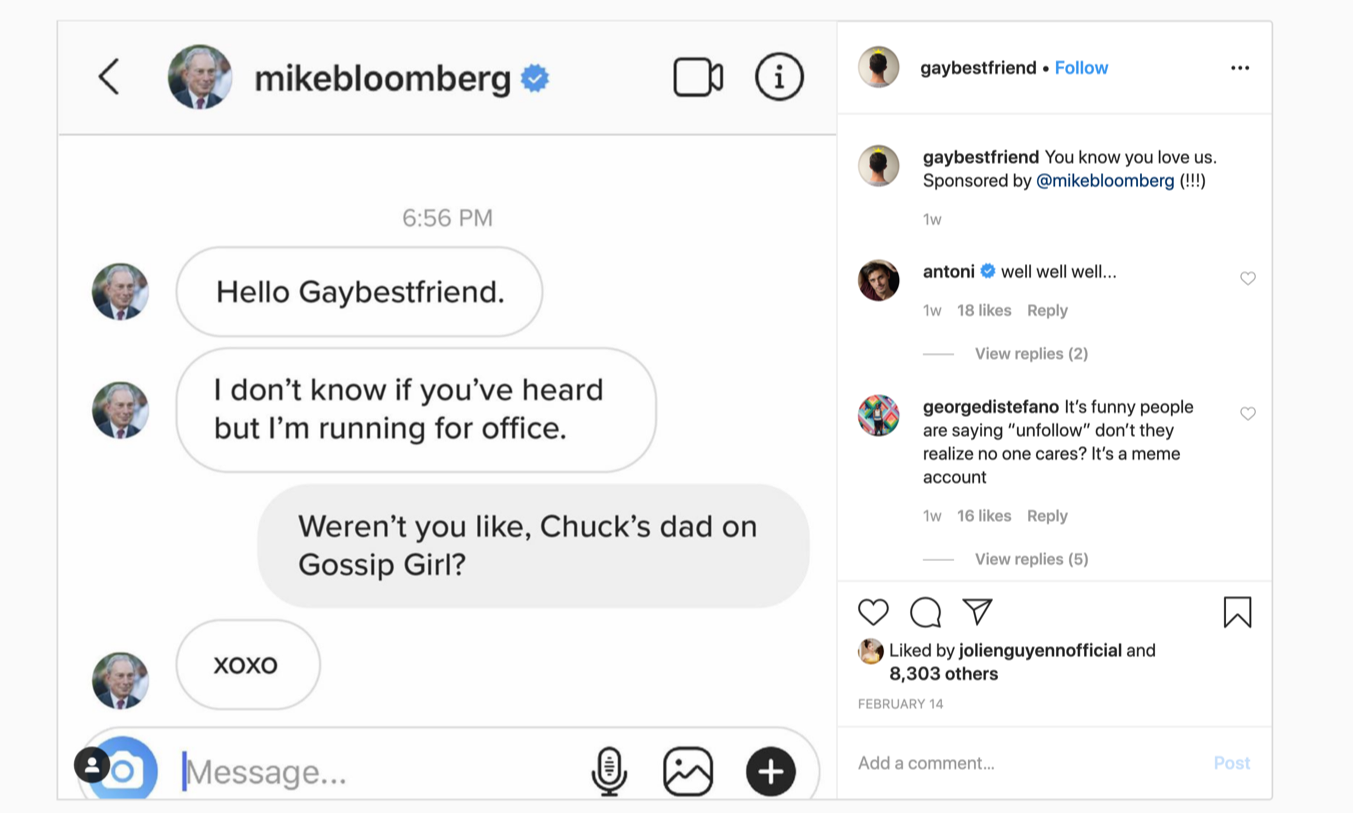 Off the back-end of these famed accounts promoting the candidate, a new wave of media coverage breaks…
THURS, 13 FEB
• The New York Times catches on to Bloomberg's tactic: Michael Bloomberg's Campaign Suddenly Drops Memes Everywhere
• The Wired talks political social media: The Influencer Election Is Here
• BBC publishes: Bloomberg campaign pays influencers for memes

FRI, 14 FEB
• Triple J Hack covers the story: One of the Richest Men in the World is Paying the Biggest Meme Pages to Make Him Seem Cool
• TRIBE CEO, Anthony Svirskis, goes public about the company's role in the global debate of influencers and political advertising: Bloomberg just won Influencer Marketing

SAT, 15 FEB
The Independent discusses Bloomberg's new-found social media approach: Michael Bloomberg paying Fyre Festival promoters and influencers to make fun of him with memes
In light of Bloomberg's social media tactics that have now gone viral, Facebook reassesses their T&C's
FRI, 14 FEB
Just one week after the media covers Bloomberg's campaign on TRIBE, Facebook makes changes to their rules governing political ads.


FRI, 14 FEB
CBS covers this huge industry change: Facebook changes ad policy after Bloomberg hired influencers

SAT, 15 FEB
The Age reports: Facebook reverses on paid influencers after Mike Bloomberg memes
So that's how, in just one week, TRIBE's partnership with the Mike Bloomberg 2020 campaign impacted the global conversation around whether politicians should be allowed to pay social media influencers to spread their political messages, and influenced Facebook ad policy change.
"It was only a matter of time before the progressive political marketers utilized the tools and channels of the progressive marketing world. Influencer marketing falls right into this," says TRIBE CEO, Anthony Svirskis, in his article Bloomberg Just Won Influencer Marketing.
We look forward to seeing how influencer marketing strategies evolve in future elections.