But don't think it's that easy when it comes to politics...
A small activation on TRIBE's platform has suddenly started a broader conversation about the role of influencers in political advertising.
Today, that work snowballed into multiple memes capturing the attention of the US public, and praise of the marketing industry worldwide.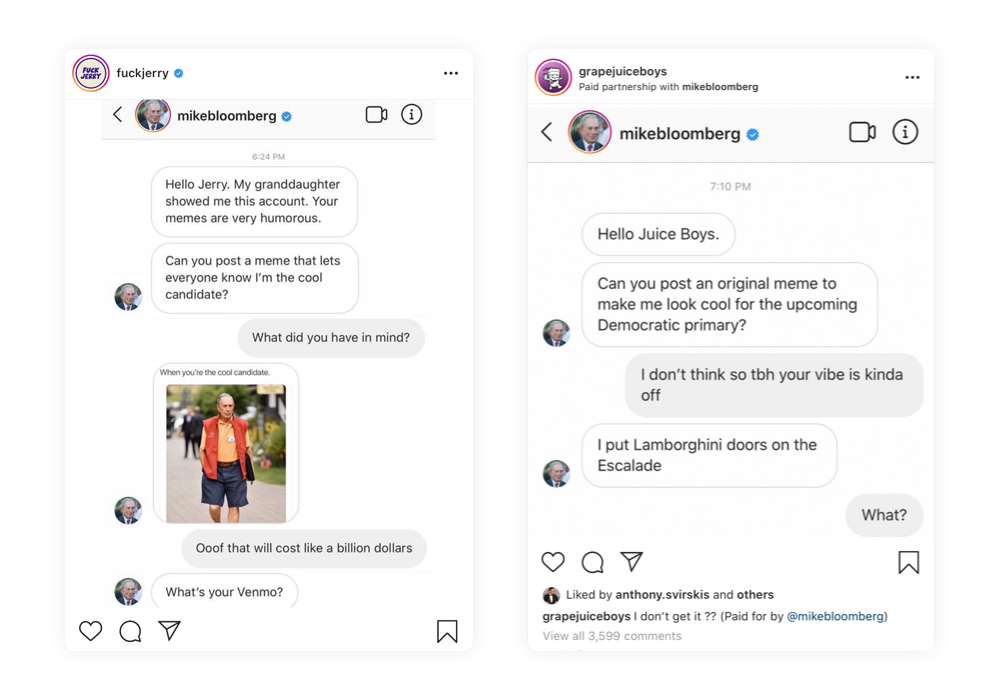 I use the term 'small activation' on TRIBE because when you consider the candidate - Michael Bloomberg, with an estimated wealth of $65B, and a campaign budget of $300M - I now wish we'd charged a little more.
For transparency, the Bloomberg activity on TRIBE that started this conversation was in fact, not influencer marketing. The campaign team used TRIBE to source authentic content from our network of influencers, and creators. To participate in the activity there were no follower size requirements, mainly because there was no need for our network to publish the content on their own channels. The Bloomberg campaign team simply wanted to hear from their supporters; that content was then licensed and can be placed in any channel the Bloomberg campaign team choses. Just not in the influencer's channel.
Nevertheless, the debate on influencer marketing in politics is a stimulating one. As a native Australian, and new resident in the US, I'm quickly learning about the magnitude of politics in this country. It's all consuming in press and primetime television, driven by bespoke ad budgets most Australian brands would envy spending over a number of years. It's also closely regulated, and with recent history in mind, closely policed by public and press.
Yet the marketers who run political campaigns are amongst the most skilled marketers around. They are experts in messaging, awareness, reach and digital. The advantage of digital is hyper targeted ad placement to districts and voter segments. Many of the digital platforms have chosen to sit out of political media spend altogether to avoid the exploitation of this benefit, others have created robust registration and approval hurdles.
"The advantage of digital is hyper targeted ad placement to districts and voter segments."
It was only a matter of time before the progressive political marketers utilized the tools and channels of the progressive marketing world. Influencer marketing falls right into this. While it has skirted the edges of marketing playbooks for the last few years, influencer marketing's place in marketing strategy is now legitimized and companies like TRIBE, the socials platforms and big agencies are investing. So are the brands. The influencer side is also getting savvier. The days of Fyre Music festival are well behind us and skilled influencers not only abide by their own set of principles, but as their content creation skills get sharper, so do the content creation tools that live in their smartphones. The industry is being propelled forwards by all those who participate in it.


"While it has skirted the edges of marketing playbooks for the last few years, influencer marketing's place in marketing strategy is now legitimized"
However, there's still no clear policy or regulation that covers influencer marketing in politics. One could merge the regulation of the FTC, FCC and social platforms and find a pathway through, but this is more likely a case of 1+1+1 not equalling 3. As we saw with the emergence of influencer marketing 5 years ago, regulation tends to occur when the bad practitioners push the boundaries too aggressively. Regulation happens after it is first needed, not preemptively. TRIBE has always prided itself on mandating #ad prior to any industry regulation and we were ecstatic when the industry bodies caught up.
But as per FTC and FCC requirements, disclosing #ad, and 'Paid for by X candidate' is not the only missing piece to solve this industry innovation. We need to ask, are candidates happy to let influencers push messages to fragmented audiences, and are influencers happy to be the messaging channel to their trusted followers?
In the case of the Bloomberg activity and memes, the answer is a resounding YES.
The audience is broad, the content is authentic and on point for what that creator is comfortable creating. In the case of the memes, the content is also completely native to what @fuckjerry audiences are used to seeing. But it's not easy to achieve or replicate, and in general doesn't fit the mould of digital ad strategy in politics.
Digital ad strategy in politics relies on controlled messaging and precision placement. Organic influencer marketing isn't the first weapon of choice for a marketer with only these two needs in mind. It is certainly becoming more precise by the day and with the launch of Branded Content Ads will soon be the precision tool marketers have been waiting for. It also remains a powerful tactic in broader brand awareness and consumer focussed marketing, as the memes prove. Since the Bloomberg influencer news broke, TRIBE continues to field interest from politicians, and has run small tests in the past, but they yielded less than usual interest from the 80,000 influencers and creators on our network.
The Bloomberg content campaign on the other hand was far more engaging, both for the candidate who seemed to appeal to our progressive base, as well as the platform output which delivered the Bloomberg campaign team authentic assets faster and cheaper than going to their creative agency, or a freelancer.
All of which contributes to the learning and innovation of the category which we continue to progress optimistically, but in the case of politics, rather carefully.
Of the Bloomberg activity with TRIBE, the PR was without doubt far more powerful for him, and us.
Check out Anthony Svirskis' original LinkedIn post.



TRIBE CEO, Anthony Svirskis, has taken the company from inception through to launch, growth and international expansion. His undeniable proficiency in strategy and operational execution in digital, online and high growth businesses are evident from the success of his own online ventures in Europe alongside his management of the growth of an eCommerce business from a revenue of $3mil to $26mil in 18 months.