In the Creator Economy, there are loads of different ways you can identify which creators you'd like to collaborate with.
The most common is filtering a search engine to identify relevant creators. You can see their stats, and past content and offer them a fee to respond to your brief.
On TRIBE, we've flipped this approach on its head.
For two reasons:
1. Speed
2. Creativity
Running a TRIBE campaign allows you to unlock our community of over 70,000+ creators. You launch a brief and watch your inbox fill up with creators excited to work with you. They don't just pitch their ideas, they pitch ideas that are tailored to your brief!
We recently asked Jessica Bernard from Kraft Heinz what surprised her most about running her TikTok campaign;
"The creativity of the creators! They have the ability to take our campaigns to the next level."
We put that rave review down to one special little feature we've added to TRIBE. Pitching.
Here's how it works: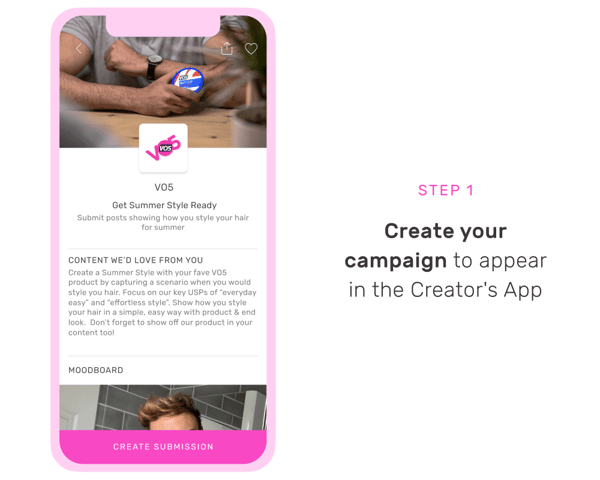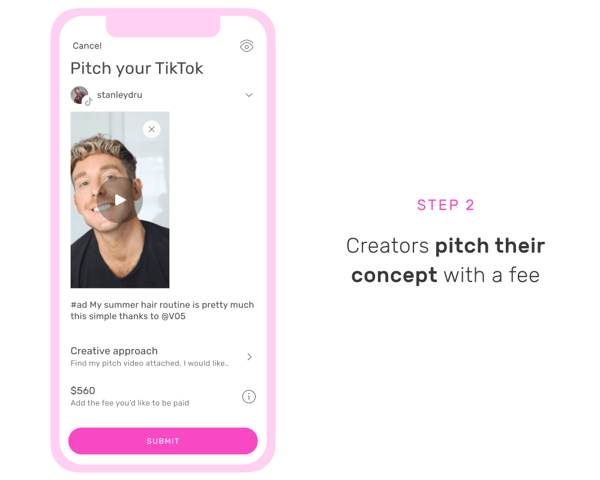 How do creators pitch their ideas?
There are three ways creators can pitch. They can:
1. WRITE their idea
2. PRESENT their idea
3. SHOOT their idea
Creators have the freedom to choose which method they can best articulate their ideas or are inspired by. It may depend on the style of content you're wanting, for example, a TikTokker may prefer presenting their idea to give you a glimpse of their personality. A photographer may lead with their aesthetic and skill and show an example of their work, alongside a written description. Let's take a look at each approach.
1. Writing
If Creators choose to write their pitch, they'll add their creative approach alongside a pic or clip that helps bring to life what they've written, such as a photo they've taken previously that's in a similar style to what your brief is calling for. If they've added their bio and portfolio, we recommend checking it out to get an even better sense of their style.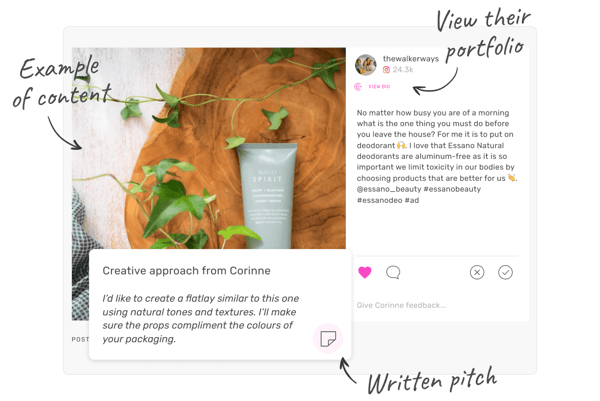 Written pitches work best for:
✅ Simple concepts that don't require much explanation via a video pitch.
✅ Creators who may not feel comfortable presenting to camera.
Why we ❤️ the below examples:
✅ Short and sharp.
✅ They've attached a strong example of a pic or clip they've shot in a similar style as what they'll shoot for this campaign.
✅ A creative and fun idea.
✅ Creators have an awesome Bio/Portfolio to support their pitch.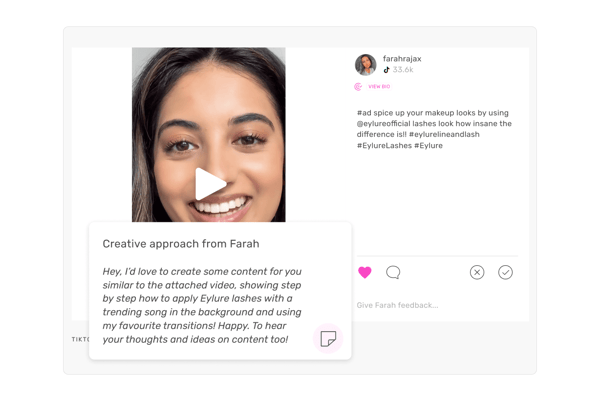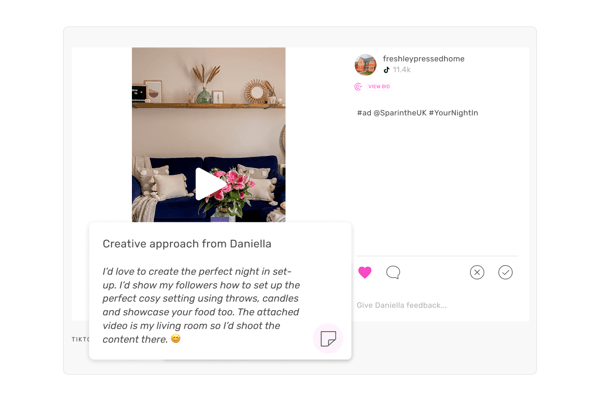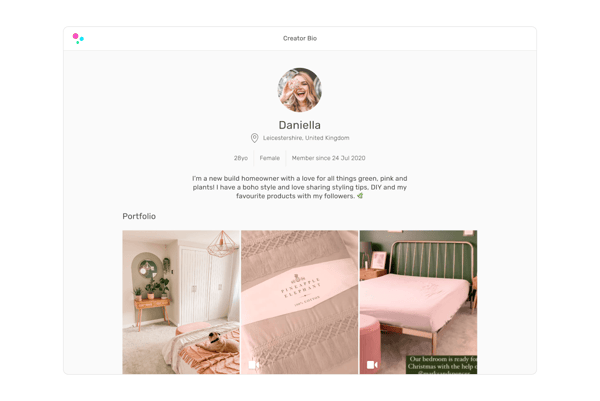 2. Presenting
Creators simply look into the camera and tell you what they have in mind for your campaign.


Presenting works best for:
✅ Video concepts for TikTok or Instagram
Why we ❤️ the below examples:
✅ Less than 60 secs.
✅ A friendly, yet clear description of their idea.
✅ A creative and fun idea.
✅ Creators have an awesome Bio/Portfolio to support their pitch.


Watch some awesome video pitches below along with the Creator's final content.

3. Shooting
This option is for the adventurous creator who is happy to try their luck and submit their final content upfront. Rather than describing their idea, they shoot and submit it. If a creator is shooting their final content, they'll let you know in the notes of their submission. If you love the content, but would like something tweaked, you're free to Pre-Approve them and collaborate on any changes.
Shooting final content works best for:
✅ Campaigns asking for easy content like:
• Something that already exists in their camera roll.
• A pic or short clip featuring a cheap product, no product or a product they already have.
✅ Creators who are happy to shoot content knowing they may not get approved BUT feel they have a higher chance than simply describing their idea.
Why we ❤️ the below examples:
✅ Eye-catching quality!
✅ Caption is written exactly as it'll appear if published.
✅ Bio and Portfolio are complete.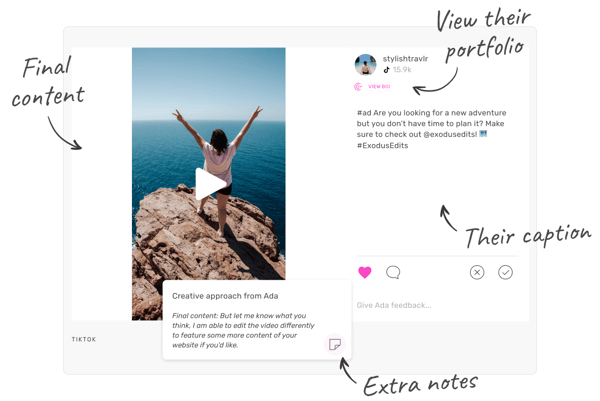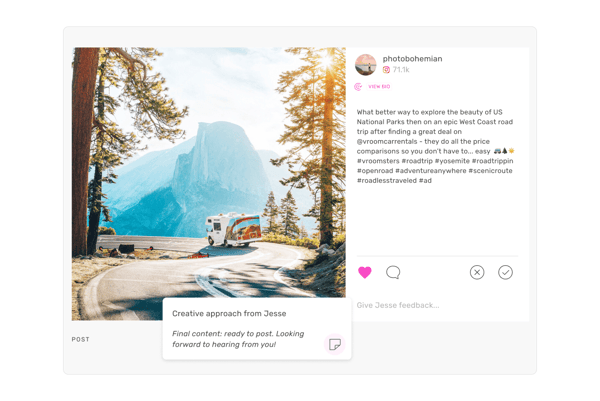 How to make the most out of pitching
Save time
One of the most powerful benefits of pitching is creators can do it quickly! As soon as inspiration strikes from reading your brief, they can work on their pitches immediately. They don't need to source the product or wait for it to be shipped, before finally spending the time on creating the content itself.
Start with bespoke creative
By starting with diverse creators pitching creative ideas tailored to your brief, you hit the ground running with real insight into what your finished product will look like. The best part? You only have to brief once to receive dozens of ideas from creators you know already want to work with your brand.
Get the full picture, upfront
When a creator submits their pitch, you don't just receive the idea. You'll also be able to;
• View their fee
• Click through directly to their social account/s
• See their bio and portfolio, giving you insight into their style
• View metrics on their audience and average performance
The best part? You can do all of this inside the TRIBE platform. You choose from a pool of talented creators who want to work with you. You can view, shortlist, Pre-Approve and approve dozens of submissions, communicate directly with creators, and facilitate shipping, legal contracts and payments in one place. Gain post-campaign performance data and start building your own community with your top-performing Brand-Fans. You can even license their content to power your own channels with UGC, or run Branded Content or Spark Ads.
If you're ready to receive fun and creative pitches, create your next campaign here. To chat with one of our TRIBE experts and see the platform in action, request a demo today.