Instagram has recently announced that they're changing the navigation bar. Again.
This time, the switch-up involves removing the Instagram Shop tab from the home screen altogether, the Reels tab shifting over, and the Create button once again taking centre stage.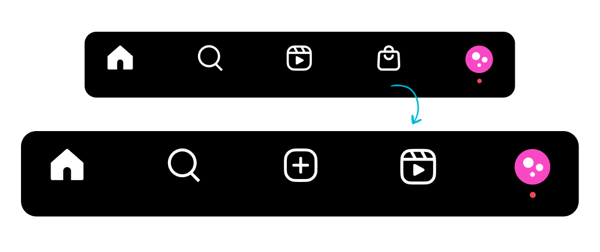 This latest update is almost a complete U-turn on the changes they made to the navigation bar back in the summer of 2020. That's when the Instagram Shop tab was introduced, along with the Reels tab, which meant that the Create button had to be moved to the top, right-hand side of the screen.
Frequent changes to social media platforms can be overwhelming to stay on top of and make you wonder whether you should even be using Instagram going into this year, so we've broken down what this latest change to Instagram will mean for brands.
Why is the Instagram shop tab leaving?
While many brands utilize shopping on Instagram, the app decided to remove the Shop tab to help "simplify" the Instagram experience for users and "make it easier for people to share and connect with their friends and interests."

But we know there's a deeper reason. The Instagram Shop tab never really caught on, with research showing that many brands avoided using it due to a lack of data. Brands, however, shouldn't worry too much about this Instagram update, because despite the Shop tab's removal from the navigation bar, you'll still be able to nail product tagging in your posts. Plus, you'll still be able to create and run a shop on Instagram so users can make purchases directly from the Instagram Feed, Stories, Reels, and ads.


How to keep featuring your products without the Instagram Shop tab
While there are many ways to promote your products on the platform, here are a few ways to make it a success.

1. KEEP MANAGING YOUR INSTAGRAM SHOP
As we mentioned above, Instagram Shop isn't going away — only the Shop tab is. Instagram Shop is a major gateway for acquisition. It's a touch point for intrigued customers to discover products, so brands should keep it front of mind and not let it fall by the wayside.

That includes keeping your product catalogue up to date, optimising your product descriptions for search and conversion, and tagging them in any relevant posts, Reels, Stories, or ads.

2. FEATURE YOUR PRODUCTS IN REELS AND POSTS
As users will continue to be able to purchase products directly from posts, stories, ads and Reels, it's important to have enough content to lead them. Some ideas are:
Product photos
Whether they're professionally shot, aesthetic photos or natural lifestyle pics, keep sharing photos of your products.
Behind-the-scenes photos
Consumers love to see what's behind the camera. Have any behind-the-scenes content you can share about making your products? Packaging them up? Of your photoshoots? These are all great ways to give people a look behind the curtain and keep them entertained.

Giveaways
Want to drum up some more hype around your brand and products? Giveaways are still a fantastic way to do this. Better yet, partner up with an influencer to tap into their engaged audience.

Tutorials
How do you use your product? Even if it seems fairly straightforward, audiences love to see products in action. Form a cooking tutorial and a hair tutorial, to a styling tutorial — whatever your niche is, your customers want to see it.

Reviews
Product reviews help build trust in your brand and products. 72% of customers won't make a purchase until they've read the reviews, so keep these up and always ask happy customers for their testimonials.
3. EMBRACE INFLUENCER MARKETING
In 2023, it's safe to say that influencers are sales catalysts. Not only do they help get the word out about your brand or any of your latest products, but their content can also generate eight times the ROI.

Any content ideas we listed above would be even more effective with the help of user-generated content that customers trust. In fact, consumers trust influencer recommendations almost twice as much as they'd trust a brand's own content.
How can you find influencers that are right for your brand?
TRIBE helps brands like yours partner with amazing content creators and execute social strategies that rival the world's most innovative brands. Our end-to-end platform and expert team streamline how you discover creators, run campaigns and measure your ROI.