Influencer marketing campaigns are one of the most lucrative forms of social media marketing. When you invest in influencer marketing, you're tapping directly into a creator's highly engaged community to drive brand awareness, brand trust, and conversions.
Now, what if we were to tell you that there was a way to take the success of your organic influencer marketing campaign and amplify it for even better results?
Boosting creator content as paid Creator Ads — known as Spark Ads on TikTok and as Partnership Ads (formerly Branded Content Ads) on Instagram and Facebook — can increase the reach of your campaigns, resulting in an even higher ROI. It's an efficient way to amplify the success of creator content at scale.


What are Creator Ads?
Creator Ads are pics or clips posted by creators, in partnership with a brand, that the brand then boosts as a paid ad.
They combine the authenticity of user-generated content with the sophisticated ad-targeting technology of TikTok and Meta. They're the best of both worlds.
Unlike a traditional ad from a brand's own account, users will see the creator's handle, profile picture and caption. The lack of a brand name and logo gives the impression of an organic post while still featuring a call-to-action and the all-important targeting and tracking capabilities a brand needs.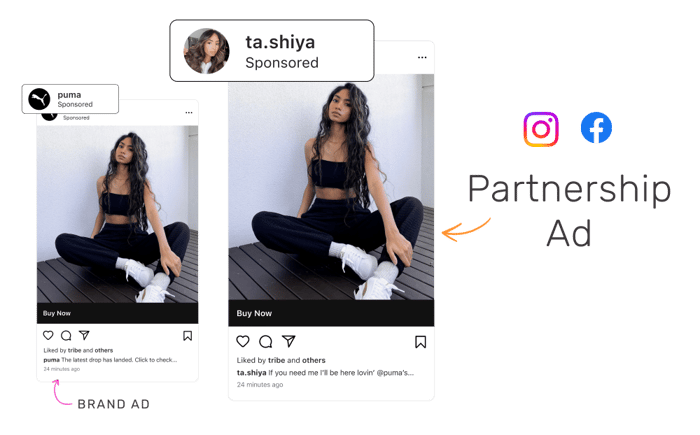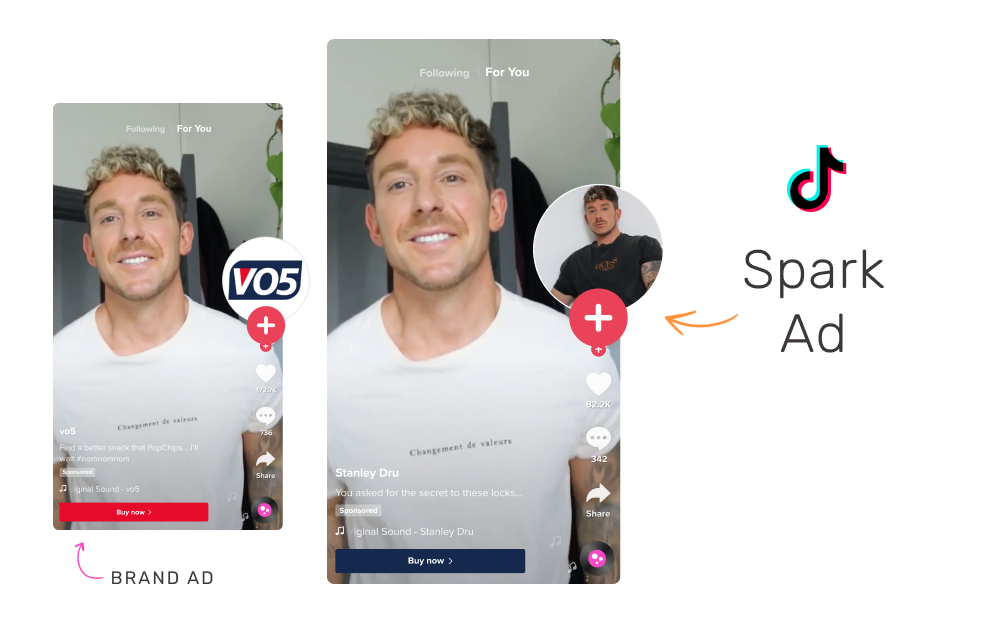 4 benefits of Creator Ads
1. YOU CAN TELL YOUR BRAND STORY THROUGH MANY CREATORS' VOICES
Great content creators are natural storytellers. They know how to engage audiences with their content and build an overarching narrative through their posts.
Creator Ads amplify content from talented creators telling your brand story in their own unique, compelling voice. It's an excellent way to get your brand's story to resonate with niche audiences, at scale.
2. YOU CAN REACH CUSTOMERS BEYOND THE CREATOR'S OWN AUDIENCE
By boosting branded content as Creator Ads, your campaigns will achieve a much wider reach, because you're in control.
Partnership and Spark Ads will appear in your Meta and TikTok Ads Managers alongside any other ads you're running. Not only will you reach a wider audience than the creator's followers by targeting your own, you can also set objectives, test calls to action, track your performance and optimise for success.
3. CONSUMERS TRUST PEOPLE MORE THAN BRANDS
Content creators and influencers build their communities on a foundation of trust and relatability, and their followers look to them to inform their purchasing decisions. Even social media users who see your ad but don't follow the creator still prefer to hear from a person rather than the brand itself.

In fact, 50% of Millennials trust product recommendations from influencers and 33% of Gen Z-ers have purchased a product based on an influencer's recommendation in the last 3 months. Having a content creator talk about your products or services instead of using brand-generated content can significantly improve your campaign performance.
4. REPURPOSING CONTENT SAVES YOU TIME AND MONEY
Why invest your time, money and resources into producing new content when you have creator content readily available? Instead of investing in both influencer campaigns and paid ad campaigns, you can combine the two for a much more efficient use of your marketing budget.
5 ways to use Creator Ads to successfully amplify your creator community
1. BOOST YOUR BEST-PERFORMING CONTENT
The content seeing the best results organically is the content that's more likely to get even better results when promoted. If you see a piece of creator content getting great organic traction, leverage that into a Creator Ad and supercharge your ROI.
Pro tip: Discovering top-performing content with TRIBE couldn't be easier. After running a campaign simply filter your published posts by engagement and click 'Boost' to request the rights from the creator.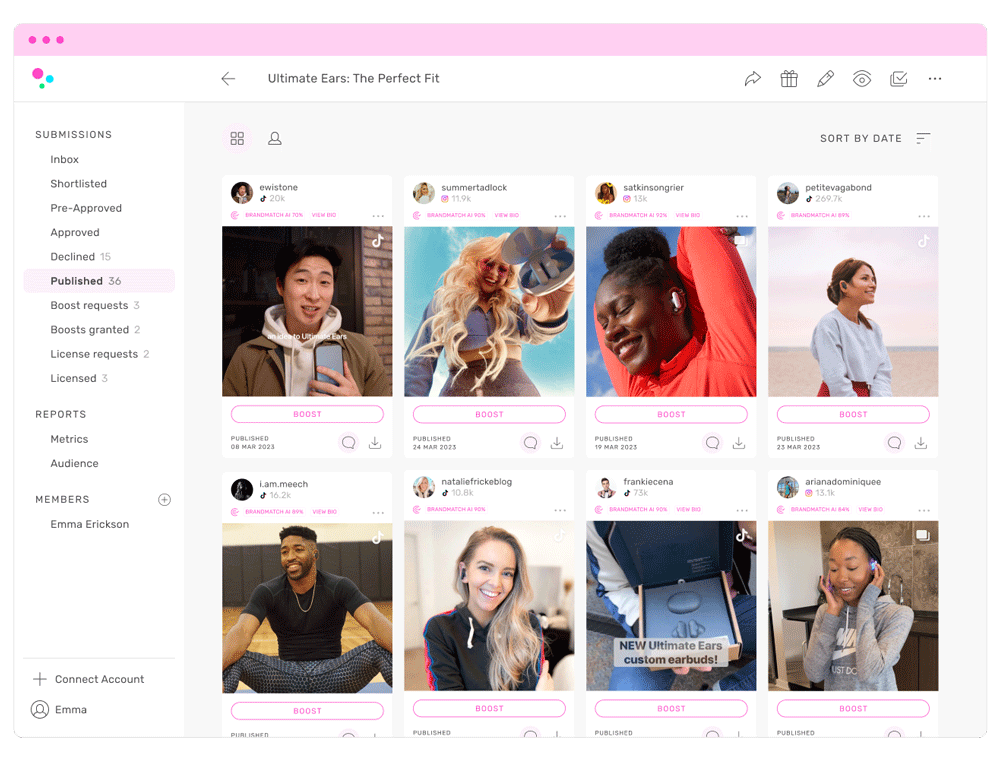 2. WORK WITH A TEAM OF SMALLER CREATORS
Rather than working with one macro creator or celebrity influencer, working with several micro creators is a great way to reinforce your brand's story with multiple voices to multiple audiences. Plus, your customers are more likely to trust them.
3. LET CREATORS DO WHAT THEY DO BEST — CREATE
Creator Ads resonate more with social media users when the content is authentic to the creator. Users are more likely to engage with an ad that complements the native user experience and doesn't actually feel like an ad at all. By giving creators free rein and letting them put their own personal spin on the content, you're likely to see stronger engagement.


4. MOVE AT THE SPEED OF TRENDS
Staying on top of popular trends is a powerful way to reach wide audiences. If your Creator Ads can cleverly tie into a recent trend (like these 4 Pinterest trends of 2023), they're more likely to perform well. This ties into the effectiveness of creating ads that don't feel like ads. Using trends to promote your brand and products will feel a lot more entertaining to consumers than an obvious ad. As TikTok says: 'Don't Make Ads. Make TikToks.'
5. KEEP AN EYE ON CONTENT METRICS
When you're running Creator Ads, be sure to track your social media metrics to see how well they're performing. Make a note of content that's performing well and not as well. When it's time to create more ads, you'll have a better idea of what kind of user-generated content (UGC) works best for your brand.
See successful Creator Ads in action
Looking for some inspiration?
Check out how Makeup Cartel gained 1.5x higher return on ad spend by amplifying their TRIBE creator content as Instagram Partnership Ads.
Or discover how Australian skincare brand Bangn Body collaborated with TRIBE creators to generate content to amplify as Spark Ads when launching into the US.
Tapping into the TRIBE platform is a powerful way to discover creators, run organic campaigns and identify top-performing posts to promote your brand as Creator Ads.
Ready to get the most out of your creator content?