There's no doubt about it: TikTok is the king of social media right now. It might not have the same number of daily users as Facebook or Instagram, but the engagement and brand loyalty is through the roof.
Since its launch in 2018, it has grown into an incredible platform for consumers, creators, and brands. However, while TikTok is presented as something of a young person's game, that couldn't be further from the truth.
Brands shouldn't be scared of trialling TikTok; the opportunity to reach new audiences and work with talented creators is exciting! For brands whose target audience contain Gen Z or Millennials, TikTok is an essential marketing tool.
Let's go through everything brands should know about using TikTok and tap into influencer marketing on the platform.
Why should brands use TikTok?
The organic reach is unparalleled
Right now is the golden time for brands to be jumping on the TikTok bandwagon. It's been around a few years, so the kinks have been ironed out, and it has a healthy user base. But, it's still a relatively young app and is still in its golden age of organic reach.
We saw the same thing when Facebook and Instagram first launched — the platforms provided an enormous amount of organic reach. They wanted users to find success and hoped that success would also bring new users to the platform. Right now, TikTok is striving to build a community of creators, with the idea being that as the creators build an audience on TikTok, they will become more committed to the platform and stick around.
Before TikTok reaches the content saturation point that is inevitably coming, every brand's marketing strategy should include TikTok as a platform. And you'll be rewarded for it.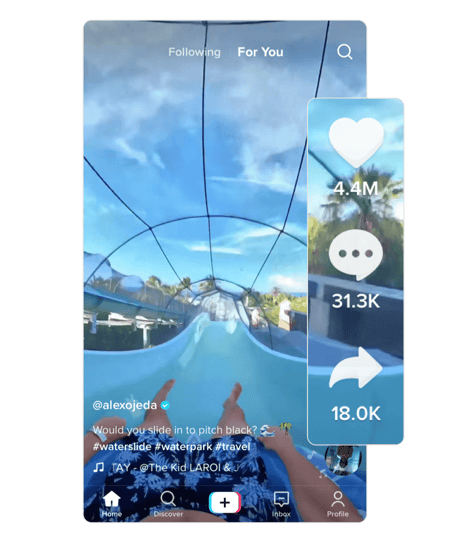 It's a good testing ground
Every brand that has a solid TikTok presence started out by going through an experimental phase. It's the perfect place to test out all different types of content to see what sticks and what resonates with your audience.
The TikTok algorithm pushes any video that performs well out to a huge audience, giving you the opportunity for massive amounts of engagement, even if you've got a small following.
TikTok is where Gen Z is
According to a study by eMarketer, by the end of 2021, TikTok will have more Gen Z users than Instagram. In addition, the same study predicts that by the end of 2023, TikTok will have more US users than Snapchat.
If your audience is under 25, it makes sense to direct the majority of your social marketing efforts into your TikTok presence. And considering nearly 40% of millennials are active TikTok users, it's well worth being on the platform no matter who your audience is.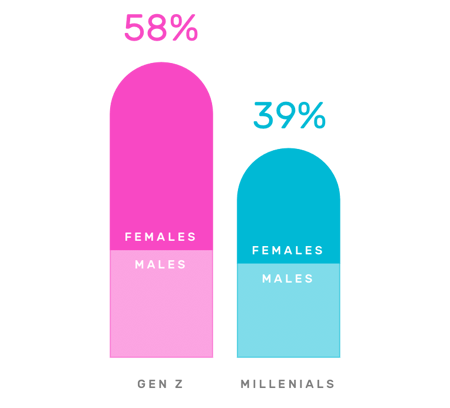 Source: YPulse Surveys n=1000, ages 13-39 | April 2021
Give followers an insight into your brand identity
While users expect to see polished content on Instagram, TikTok is definitely more of a casual vibe. This is where brands can share fun and raw videos that are all about showing off who you are as a company.
Save the big-scale production shoots for Insta, and lean into unscripted and natural content for TikTok. You'll soon find that TikTok feels like one big community, where people are more comfortable letting their hair down and showing off the 'unfiltered' parts of their lives.
Reach the right audience immediately
TikTok's algorithm is so accurate it's almost scary. Within just half an hour of scrolling through the app, users will be served specific content based on their interests, no matter how niche.
This is excellent news for brands! You can get your content in front of the people who actually want to see it without investing time and money into audience data mapping.
What's the difference between Influencer Marketing on TikTok and Instagram?
To an outsider, it mightn't seem like there's much difference between influencer marketing on Instagram or TikTok.
While the two platforms have many similarities, there are some significant differences that brands need to be aware of before wading into the waters of TikTok influencer marketing.

TikTok is all video
Instagram focuses on static images with video in different formats as an almost secondary element. TikTok, on the other hand, almost exclusively features short-form video. TikTok content can be up to three minutes long, though most average under one minute.
For some creators, that means putting in a lot more effort to make a piece of content. But for others who have a more 'unpolished' aesthetic, creating a TikTok is as easy as filming and uploading in less than five minutes. This leads us to…
Content is less polished, more homemade
Compared to Instagram and YouTube, TikToks feel a lot more raw and casual. Even scripted content, or videos that clearly involved a lot of planning, come across like they were just thrown together at the last minute.
TikTok has cultivated this relaxed and carefree atmosphere, which almost acts as a counterpart to Instagram's 'highlight reel' aesthetic.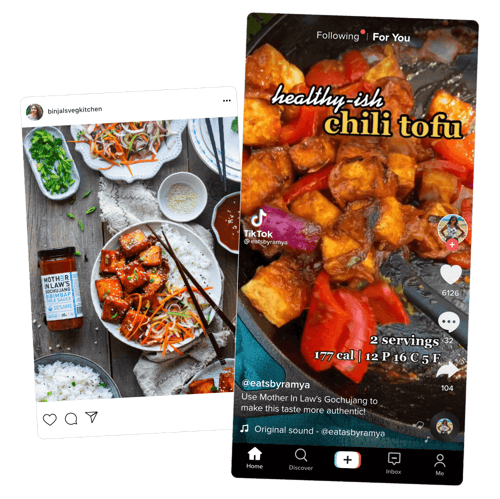 TikTok influencers are on-screen talent
On Insta, influencers are often behind the camera or the focal point of a static image. However, TikTok is much more about personality. The most successful influencers on TikTok have grown an audience by being their authentic self on-screen.
TikTok creators are micro-entertainers — expect to pay more for their talents because the work is more significant than just sharing a few photos and stories.
A major thing to keep in mind: The TikTok platform is built on an unconnected distribution model
Instagram is a closed community with a finite audience. When a brand shares a post, it will go to a percentage of users that follow the account. Marketers know that the Instagram algorithm limits a post's reach, even if the Creator has a significant following.
There are pros to the Instagram distribution method, don't get us wrong. But on TikTok, a video's distribution is unconnected to your account's statistics. It is not anchored or restricted by who follows your account.


The reach has no ceiling, so your content doesn't just go to those who follow you; it goes to everyone.

And if the algorithm says that the content is quality, you could far exceed the number of followers on your account. For example, a video can get one million views, even if a user with one follower posted it.
Things to consider when making a brief for TikTok influencers
Some things to keep in mind when you're finding influencers and writing up briefs:
• Don't restrict them too much — the best TikTokers have their own voice, and by stifling that, sponsored content won't resonate with their audience.
• Instead, go for overarching themes — you're best to share the campaign's main goal and the message you want them to convey. They can interpret this how they see fit.
• Get permission to reshare — explicitly state that your brand has the right to repurpose their content for marketing across TikTok and other platforms.
• Specify your deliverables — do you want just one video? Is the video going to be a skit, a transformation, a speaking-to-camera video or a tutorial? Be clear about your expectations.
For a more in-depth look at writing TikTok influencer briefs, check out our guide here.
How can a brand benefit from using TikTok?
Let's take a quick look at some brands that have made the most out of TikTok, as proof that a small company can make big waves on the platform.
This US-based mirror brand has 'TikTok fave' written all over it. It's a light-up mirror, perfect for doing makeup, and it fits so well into the classic 'get ready with me' videos that are all over short-form video platforms.
Riki Loves Riki partnered with a handful of influencers, with small and large followings, to create content featuring their mirrors. Not only did this get their product on the For You Page of millions of TikTok users, but it also led to them getting press for being an "influencer favourite".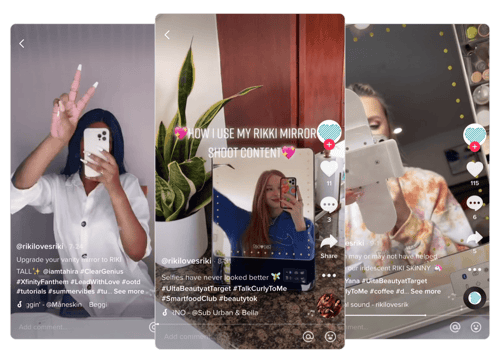 In Australia, Lipton launched a strategic influencer campaign on TikTok to promote their iced tea products. Rather than being overly prescriptive with a brief, they enlisted Australian influencers to create content in their normal style and just hold a bottle of Lipton in the video.
The results were more authentic videos, even though they were branded as collaborations, and it resonated with users. This is a great example of letting your influencers dictate the kind of content they create for you — after all, they're the experts!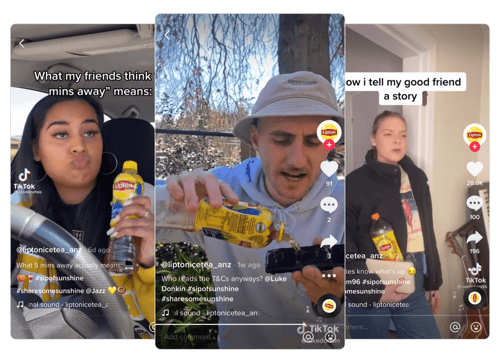 This British brand sells coloured contact lenses and has made a huge impact since joining TikTok. Of course, it helps that they're selling a very visually appealing product, but their strong influencer strategy is what propelled them to TikTok fame.
One look at their page, and you'll see that nearly every single video is UGC. They've invested all their budget into working with influencers, and it has paid off. They tapped into a huge potential market by partnering with beauty and lifestyle influencers, who already had a ready-made audience.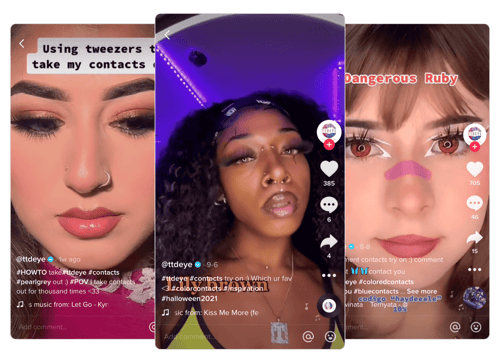 How do I get started with Influencer Marketing on TikTok?
You have two options when you get started with influencer marketing on TikTok: one-on-one relationships or large-scale campaigns.
Finding influencers for one-on-one video campaigns
Finding and reaching out to an influencer to help you promote your brand and create bespoke UGC content is a great way to boost awareness and brand recognition instantly.
So how do you find the right influencer for your brand? Well, TikTok has actually made a Creator Marketplace that brands can request to join, it's a great place to start your search. Have a look at the content they're creating and see if it fits in with your brand identity and reach out to them to see if they would like to partner with your brand.
Finding influencers for large scale campaigns
If you want to think bigger, and make more of an impact with your TikTok campaign, it might be worth thinking about working with influencers at scale.
Instead of building a relationship with one singular creator, a large-scale campaign uses a number of influencers at the same time. Imagine having 10, 50, or even 200 creators all working with you simultaneously. That could make a significant impact.
As an example, you could kick off a hashtag challenge attached to your brand. The end goal is to get as many TikTok users involved by sharing videos using your hashtag. To get the ball rolling, you bring on 50 influencers who all post their own video, with your hashtag, on the first day of your campaign. This will give it an excellent chance of going viral — far more than if you'd just posted one video and crossed your fingers.
TRIBE helps brands unlock instant branded content from talented and influential Creators who already use and love their products. Learn more about running a TikTok campaign on our platform here, or get in touch for a live demo with a TRIBE expert.