It's no marketing secret that promoting your brand on Instagram can deliver maximum ROI. You likely already have the basics sorted: who you want to target, what product you want to promote and how much you want to spend.
But with so many other ads and sponsored posts out there, how do you create a truly stand-out piece of content that'll stop people in their tracks? Every company will approach their strategy in a unique way that is specific to their product, but there are definitely some rules of thumb to follow when making Instagram ads.
Let's run through some of the best Instagram ads we've seen recently to help inspire you, figure out what works best for your brand, and set you up for success.
The types of ads you can run on Instagram
Photo ads — This is a still image, which is either an existing post that you can promote or new content you've created. A static photo ad needs to be eye-catching and engaging.
Video ads — These can be up to a minute long and are a great way to showcase more of your brand and message. However, because watch time is generally low, it's important to capture attention in the first few seconds.
Carousel ads — This is like a standard photo ad, but you can include up to ten images.
Story ads — Rather than appearing in the Instagram feed, these vertical videos are placed in users' Stories queues and are tagged as 'sponsored' with a swipe-up at the bottom. Plus, it's no secret that stories make effective Branded Content Ads.
Collection ads — These posts use Instagram's new Shopping feature and allow users to buy products directly from your ad.
Explore ads — An add-on for a photo or video ad, Explore ads are shown to people after they click on a post from the Explore page on Instagram.
The best examples of Instagram ads to inspire you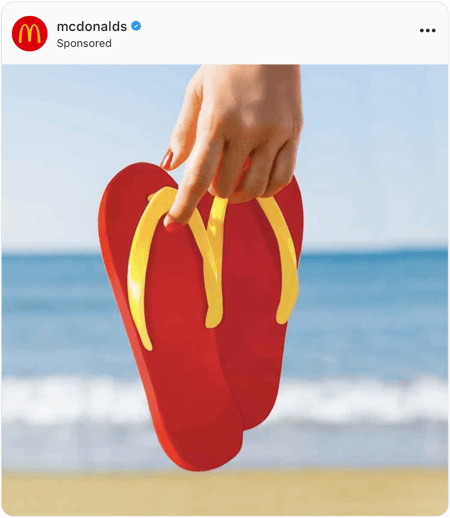 PHOTO ADS
While this McDonald's ad doesn't have their name or logo anywhere in the image, it's still instantly recognisable and is a great example of thinking outside the box to create simple content that is captivating. This was published to celebrate the first day of summer with the objective of keeping the brand front of mind for consumers.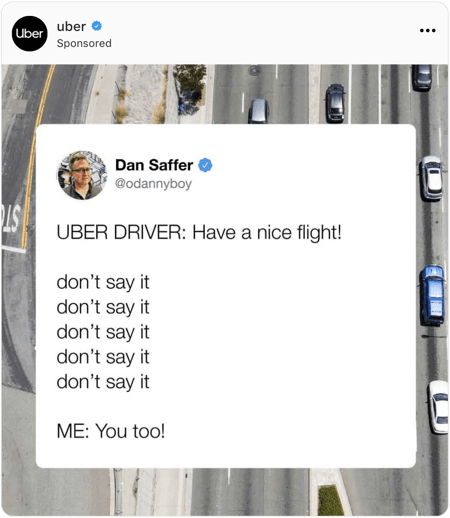 User-generated content is a low-cost and simple way to create posts and ads that will look right at home in users' feeds. This Uber ad is a simple tweet screenshot, and has the look and feel of many posts made by Instagram meme accounts.
This is the kind of content that people tend to share with their friends or on their Story, resulting in greater reach. You could also use testimonials or reviews for UGC static image ads.
VIDEO ADS
Eubi makes fun menswear that is designed to last. They've knocked it out of the park with this video ad, showing a side-by-side of their static product shot, and what it actually looks like in real life. This is exactly the kind of information customers need before buying.
This ad looks nothing like any other clothing ad on Instagram, so people are more likely to stop scrolling and take a look.
While TV and print ads should look highly polished; often it's the rough, homemade-style footage that performs best on social media. Here, mattress brand Lull Bed has partnered with an influencer who has filmed themselves using the product, which the company has turned into a Branded Content Ad, capitalising on the sense of relatability and authenticity.
CAROUSEL ADS
A carousel ad is a great way to show off multiple products in a single post. ARKK Copenhagen has made the most of this format, by starting the carousel with a video showing their shoes in action, followed by slides of all their different styles. Using video is a great way to highlight the experience side of a product, and combining the two mediums really helps give potential clients a look at the brand.


STORY ADS
One of the best things about Instagram Story ads is that you can make them interactive, with poll stickers. Not only does this get your audience engaged, but it also adds a layer of authenticity to your content, making your ads look like regular Stories.
Yoga International ran a campaign of Instagram Story ads and found that 18% of their sign ups during the campaign came from this one poll.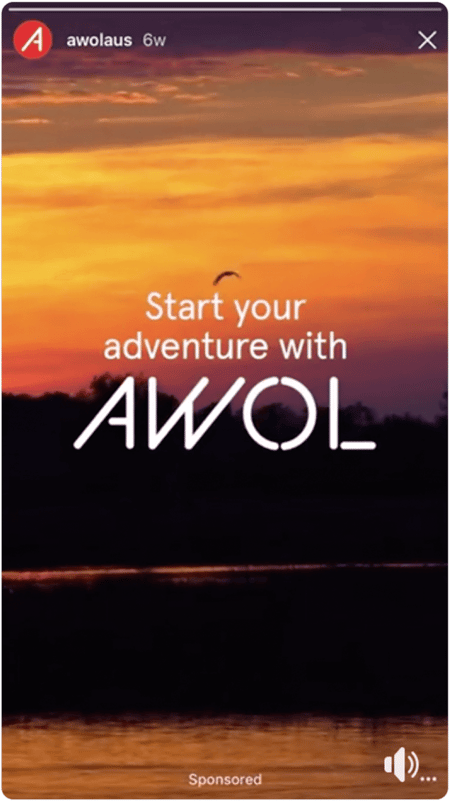 Qantas made the most of Story ads for their millennial brand AWOL, creating visually stunning videos to show off global destinations.
Young people are highly influenced when it comes to choosing their holiday locations, with 44% of Gen Z saying they've been inspired to travel based on seeing influencers' trips on Instagram. So it makes sense for Qantas to target them on such a visual and lifestyle content-heavy platform. Over the campaign, they received a 3-point lift in brand awareness.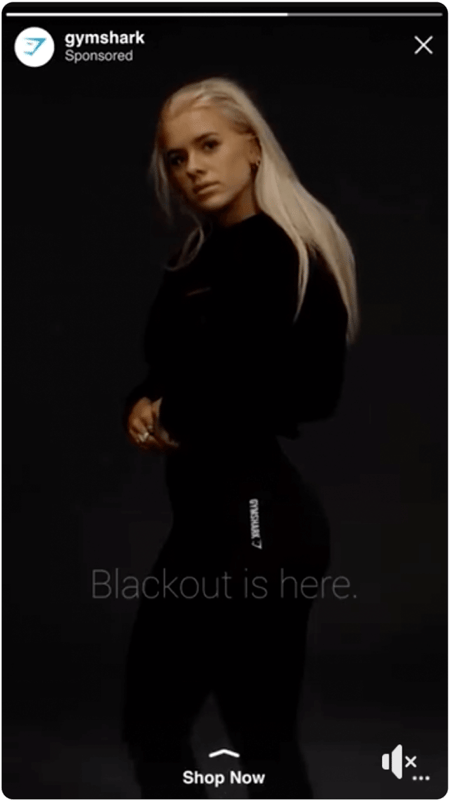 Athleisure brand Gymshark made a splash with their Instagram Story ads for Black Friday. They made visually-striking, full-screen ads with their branding on display, and nothing but the word "BLACKOUT".
They used a mix of UGC and their own images, with swipe-up CTA's designed to add urgency to the ad: buy now or miss out on the sale. It worked! 40% of purchases made during the campaign came directly from Instagram.
COLLECTION ADS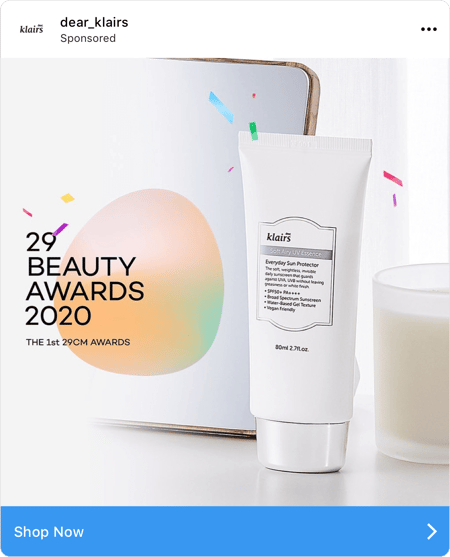 Beauty brand, Klairs, ran an extremely successful campaign on their Instagram using influencer-generated content. They partnered with a beauty creator and boosted their posts as Branded Content Ads, giving consumers the ability to purchase the beauty products directly from their home feed, increasing the brand's return on ad spend by 1.8x as a result.
EXPLORE ADS
Designer and perfume brand, Kenzo, launched their Spring advertising campaign with exquisite imagery and slowed-down video assets, representing the growth of their iconic flower fragrance.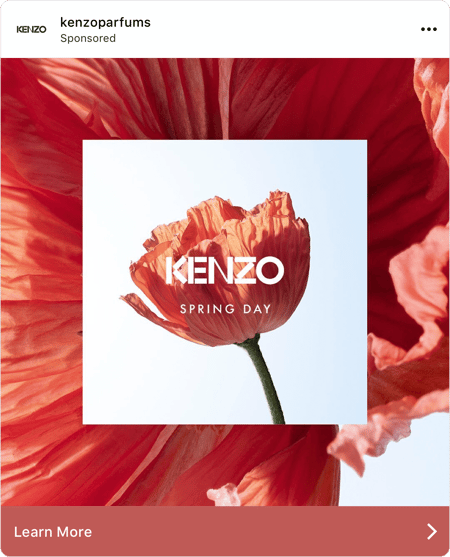 The minimal, yet elegant, videos show off Kenzo's love of blooms but are also great examples of ads that are timely and relevant—with the lead up to Spring front of mind.
How can you make Instagram advertising work for you?
With Nearly two-thirds of people admitting that they're more likely to trust an individual than a brand; finding the right influencer to partner with can help you reach an entirely new audience, or even your exact target market. Want to know more? TRIBE can help you source branded content from influential creators.