These days, your Instagram promotion strategy is just as important as the content you push out into the world. You're not going to be able to grow your account without putting yourself in front of the right people; and some of the things that would've guaranteed you reach and growth in 2018 no longer apply.
Come 2021 and Instagram promotion has become one of the most important factors in social media growth. Now, let's be clear; we don't mean throwing money behind posts and hoping it works, we mean getting creative with how you promote your brand on Instagram.
So what is Instagram promotion?
Don't confuse Instagram promotion with Instagram ads. Much like Branded Content Ads, Instagram promotion is about elevating your reach and getting in front of new audiences, without running a typical ad campaign.


With Instagram promotion, you take a well-performing post or Story and convert it to a sponsored post.

In short, you're requesting Instagram's algorithm to 'favour' your post and push it out to a greater audience that's likely outside your original network.
Remember: you'll need to have a business account to be able to promote posts.
PROMOTING AN INSTAGRAM POST
If you have a post that's already performing well, you can promote it even further. Instagram lets you select specific audiences and demographics for your post so you can ensure it's being seen by the right people.
PROMOTING INSTAGRAM STORIES
It's no secret the Stories offer great potential and that potential grows by being able to promote an individual Instagram Story so that it'll appear in the Story carousel of users who don't follow you. Even though the Story will disappear from your page after 24 hours, it will still run as a promoted Story for the duration you wish.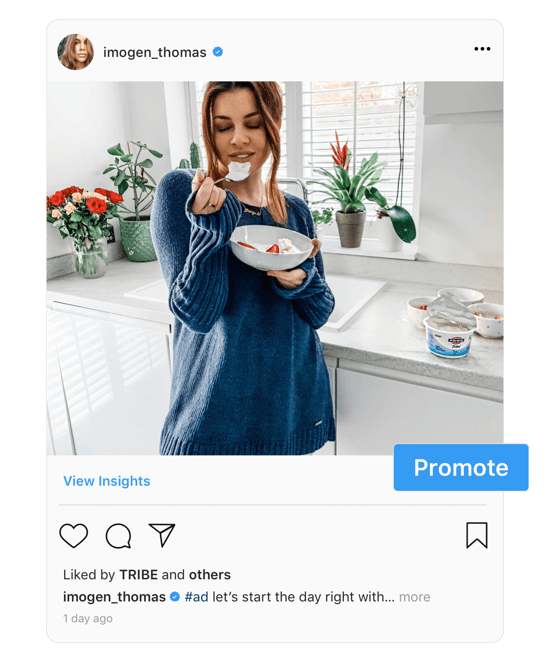 How much does it cost to promote on Instagram?
Promoting your posts on Instagram can cost as little as US$5. Once you've selected the post or Story you want to promote, you can set a budget for how much you'd like to spend and your post will be boosted until this money runs out.
You pay for promotion on a CPC (cost per click) basis. For most users, the CPC hovers between $0.50 and $1, but this will fluctuate depending on your target demographic and your market. For example, the apparel industry is highly competitive and can have CPC's as high as $3.


The cost of Instagram promotion ultimately comes down to the audience you're targeting — that's why knowing your audience demographic is essential.
Tips and tricks to get started with Instagram promotion
KNOW YOUR TARGET AUDIENCE
It's crucial to know who you want to be engaging with your content. When you're promoting a post, you'll have a choice of three different audiences.
Automatic Audience targets users similar to those who already follow you and who have engaged with you in the past. It's great if you're trying to solidify your audience, but not ideal for reaching new users.
Local Audience will target people in a specific geographic area.
Manual Audience gives you the power to create your own specific audience based on age, location, interests and more.
PROMOTE WELL-PERFORMING POSTS
To make sure you're getting your money's worth, you should only promote posts that have already performed well with your followers. Have a look at the Insights tool in the Instagram app to gauge which of your posts received the most engagement and use these metrics to help you define which ones are worth promoting.
WORK WITH ESTABLISHED INFLUENCERS
63% of people say they trust influencers more than brands—there's an established level of trust that brands will forever struggle to reach. Influencer marketing is an extremely cost-effective way to build and grow your brand and TRIBE can help you find the perfect people who align with your brand identity and values.
DEFINE YOUR MOTIVATION
When you promote your Instagram post, you'll be given three options for where you want users to be directed. Before choosing, think about your motivation behind the promotion:
Send people to your profile if you want to boost your in-app presence—the Instagram algorithm favours profiles that receive a lot of views.

Direct people to your website to drive sales or educate potential followers about your business.

Or select Promotion View to push your post to be seen by as many eyes as possible; a good option if your goal is brand awareness.
TEST IT FIRST
Promoting Instagram posts can become costly, but the ROI is worth it if you know what you're doing. While you're still getting a feel for how it works, do a test run on one of your best-performing posts: set it to be promoted for 24 hours with a budget of $10 and assess how it impacts your engagement.

If done right, promoting your Instagram posts and profile can lead to massive success for your brand; and thousands of brands globally use TRIBE to help them source the very instant branded content that performs.