After TikTok launched in 2018, it steadily rose in popularity in the next two years. But it was the COVID lockdowns of early 2020 that really sent TikTok's user numbers into the stratosphere. Suddenly, it seemed like everyone suddenly had a TikTok account, whether they were making content or just consuming it. In August 2020, the app hit two billion downloads.
It started as a place for dance trends and niche content and has blossomed into the seventh most-used social media platform. TikTok's highly specific algorithm means that people of all ages and demographics will be targeted with exactly the kind of content they want to see, making it a much more immersive platform than Twitter and Facebook.
Yes, there are still dances, challenges, recipe videos, and a whole lot of good-natured nonsense. But TikTok has also been used to give a platform to fledgling musicians and small business owners who might have gone unnoticed on other social media sites.
The algorithm is engineered to let any content go viral, even if its creator has only 10 followers.
While TikTok's growth has been explosive, that's not to say that it will replace Instagram or other social media platforms. While IG is all about beautiful aesthetics, and more recently, a place for honest opinions and lifestyles, TikTok is where people can let their hair down and share more raw, experimental content.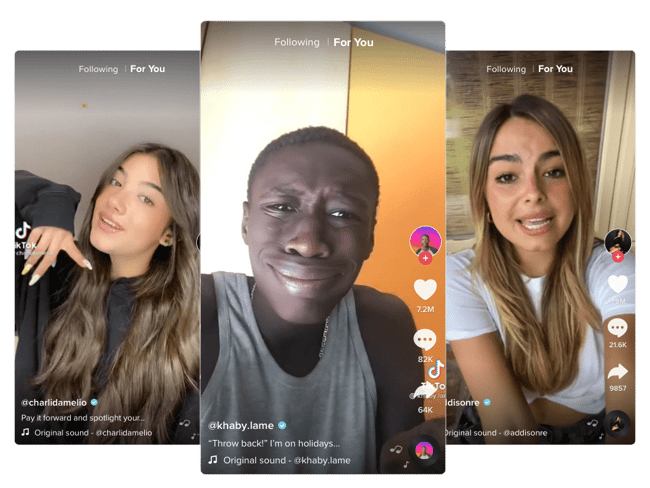 Why use TikTok influencers?
There's no denying that TikTok is primarily a platform that's been embraced by Gen-Z. Yes, there are still many Millennials and Gen Xers on TikTok, but in the US, the vast majority of TikTok users are below 30 years old. Nearly half of all American adults between 18 and 29 years old use the app. Most of the biggest TikTok stars, like Addison Rae, Charli D'Amelio, and Khaby Lame, are all under 21.
But it's not just a place for young people to find fame. TikTok offers a great opportunity for brands, especially small and new brands, to get their products in front of a huge audience.
TikTok's highly specific algorithm means you don't even have to target your content to a specific demographic using paid ads. It will organically end up in front of the right people.
Brands that have found success with TikTok
There have been many success stories of companies who have become huge on TikTok, just through making videos that speak to their audience.
Take Little Moons, a mochi ice cream brand that went viral on TikTok and saw a massive uptick in sales. The product is a Japanese/American dessert made of mochi and filled with ice cream; it's cute and brightly coloured, which perfectly complements visual content.
A young employee in the company started a TikTok page for the brand, and within a few months, there were over 15,000 Little Moons themed TikTok videos, with over 500 million views. Best of all, this translated into actual ROI, as Little Moons' sales skyrocketed by 2000%.
Meanwhile, cosmetics brand Elf, already well-known and successful, has done an incredible job of reaching Gen-Z customers on TikTok. They commissioned a song specifically for their TikTok campaign, the first brand to do so, and enlisted a handful of TikTok influencers to help kick it off. In addition, users were encouraged to use their song 'Eyes Lips Face' and hashtag their videos to help keep track. There are now nearly eight billion videos in the #eyeslipsface tag.
What content succeeds on TikTok?
We touched a little on how Instagram is usually highly curated and polished, while TikTok can be rougher around the edges. However, the kind of content that succeeds with the TikTok audience is organic and honest.
As you may know, Gen-Z are super content-savvy and don't like being advertised to. They have much disdain for anything that resembles a 'traditional ad', so create TikToks, not ads! You want to be creating content that fits in seamlessly with other videos on their feed.
According to the 2020 GlobalWebIndex survey, most people use TikTok "to find funny/entertaining content". The second-most common response was "to share content". Meanwhile, on Instagram and Snapchat, sharing content was the top use for the platform. So it's safe to say that audiences on TikTok are more about consuming and viewing content than audiences on other apps.
When it comes to sharing ads on TikTok, it's important to get it right. You want your ad to look like the rest of the content people are scrolling through, and you need to capture their attention immediately. There is so much good content on TikTok, so what's going to make people stop and watch yours?
There are four main ways you can market yourself on TikTok.


1. TopView ads
These appear when a user first opens the app. It's a full-screen, sound-on video ad, with which brands have had much success. A Kantar poll found that TopView ads were rated with the lowest skip preference, lowest annoyance level, and highest attention level.
2. In-feed native videos
These will appear like a normal TikTok post in a user's For You page but will be labelled as paid content, just like sponsored Instagram posts.
Some advertising stats to keep in mind when you're crafting your content:
• 63% of TikTok ads with the highest click-through rate put their product or their message up-front in the first few seconds.
• Almost half of the best performing ads on TikTok appeal to an emotion – but keep it light-hearted and positive.
• Vertical videos have a 25% higher watch-through rate, so avoid creating video content in landscape.
• One-third of top-performing ads break the fourth wall and feature someone talking directly to the audience.
3. Hashtag Challenges
If you've spent any time on TikTok, you'll know that challenges and trends are the backbone of the app. Many brands create hashtag challenges, encouraging people to join in. It's an excellent way to get free advertising and a positive brand conversation flowing.
4. Influencer marketing
Tapping into an influencer's audience is a safe way to advertise on TikTok. You don't face the potential negative reaction to a branded ad, and you get access to an audience that's already been cultivated by the influencer.
How to find the right TikTok influencer for your brand?
The process of finding a solid influencer to work with on TikTok is essentially the same as any other social media platform. First, make sure that your desired audience is actually already using TikTok. Then you want to see what kind of content they're engaging with — which influencers are they following, and which TikTok niches are they tapped into?
It's important to remember that relevance always trumps reach, especially on TikTok. A high follower count is nowhere near as important as finding an influencer who can relate to (or is) your ideal customer.
How to work with TikTok influencers
Once you've found suitable influencers who you want to work with, then it's time to reach out and form a partnership. Some may work with a talent agency that you'll have to go through, or you can partner with an influencer platform that specialises in pairing brands with individuals.
That's exactly what we do at TRIBE. We're all about matching up brands and influencers to create meaningful business partnerships that are beneficial for all involved. Get in touch today to learn more!