Since its launch, the TRIBE app has given influencers the opportunity to make a living from their creativity, simply by creating beautiful content for brands and publishing it on their socials.

But with the introduction of TRIBE Content Campaigns, you can now submit pics and clips for brands to purchase directly, without having to publish to your socials. This means that you can create content for campaigns outside of your following or niche, even if you haven't cracked 3k followers.

Once approved, brands will use your content for their own marketing channels, without you having to post a thing. You could be seeing your creations splashed across brand newsletters, blogs, websites, magazines or even billboards in no time!

Read on to find out what the FAQ Content Campaigns are all about...
So, what exactly is a Content Campaign?
Until recently, there was only one kind of TRIBE campaign: an Influencer Marketing campaign. With an Influencer Marketing campaign, influencers with 3000+ followers would submit content to a brand's brief, and once approved, publish it to their social accounts.

The introduction of Content Campaigns means influencers with any number of followers can be invited to submit content for brands to purchase. Once approved, brands have full licence to use your content in their paid advertising campaigns or marketing channels without you having to post a thing.

Plus, now that you're not publishing the #ad to your social accounts, you can submit to as many briefs as you like, with up to three images per campaign.
How can I join Content Campaigns?
TRIBE Content Campaigns are 'invite only' (well done, you!). This means each influencer invited is hand-picked and carefully selected for each brief; so there's less competition and more earning potential.
If you believe your content is of a high quality and you'd like to be invited into the exclusive team of TRIBE content creators, let us know at hello@tribegroup.co.

When new briefs enter the platform, only those creators invited to submit to Content Campaigns, will see them. It's then over to you to do your thing and create stunning content for brands to splash across their marketing channels!

You can find the campaigns in an 'invite only' tab that will appear in the menu next to your campaign feed.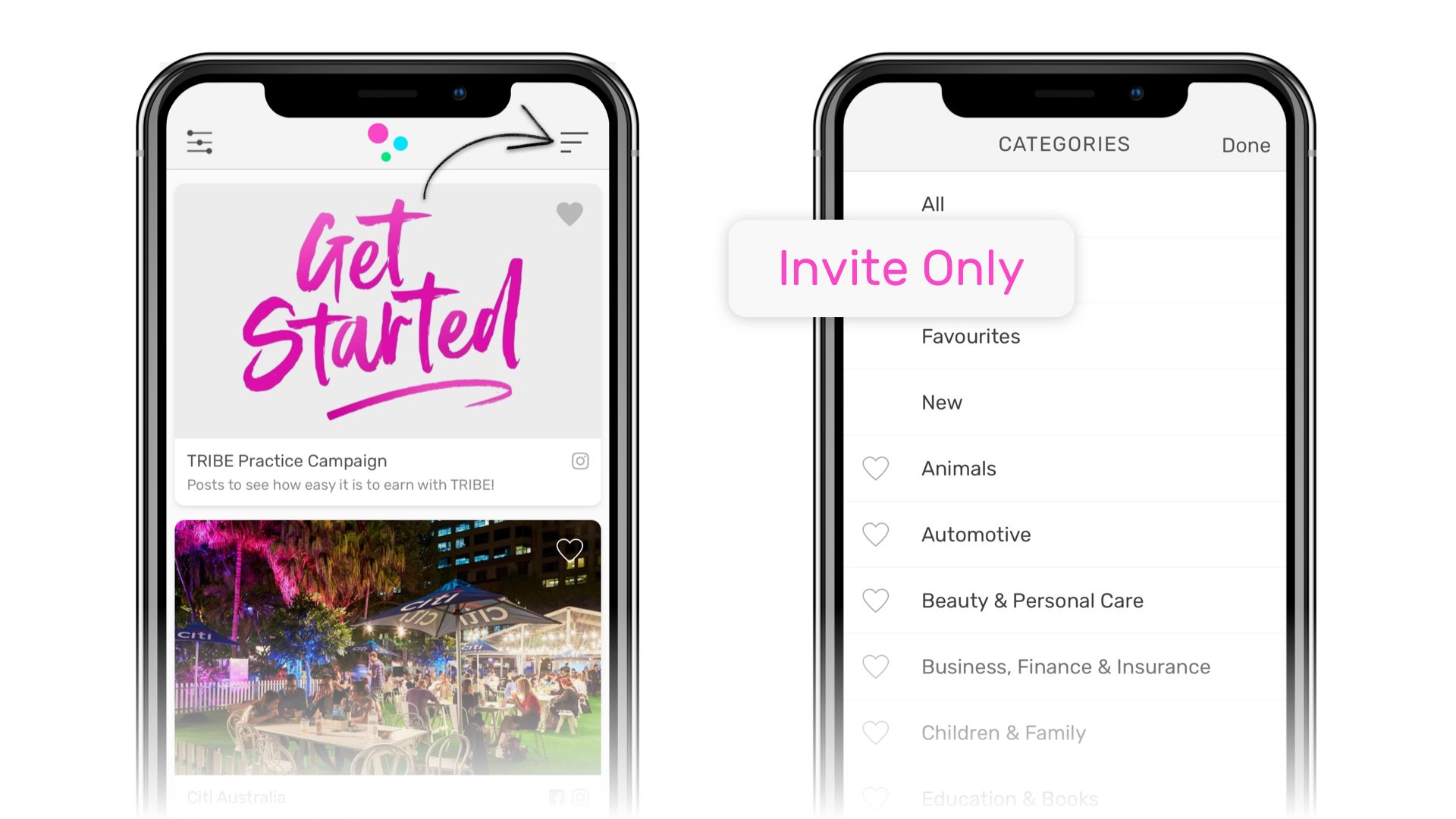 Because you're not publishing to your socials, Content Campaigns are open to influencers with followings of all shapes and sizes. You get to showcase your creativity up front, and get judged on the quality of your content – not the size of your following.


What's the approval process?
With Content Campaigns, you are invited to create and submit up to three pieces of content to a brand's brief.

The brand will view your content, shortlist and get back to you with any changes, so keep a variety of snaps from each shoot handy for resubmitting.

Once approved, you'll get paid within 48 hours or 30 days (depending on the payment option you've selected) and the brand will then be able to download the original version of your image to use for all of their advertising needs.


How much will I be paid?
You'll receive $150/£100 per piece of content approved, but since you can submit up to three pieces of content per campaign, you could potentially earn up to $450/£300 per campaign. Ka-ching!

While this amount might be less than what some influencers make from Influencer Marketing campaigns, not having to post to your socials means you can put your creativity first, and even create content outside of your niche and following.

This allows you to submit more content to a wider variety of campaigns, while making a lil' extra cash on the side.


"Content Campaigns give me an opportunity to be creative and increase my earnings without cluttering up my profile with #ads!" - Mihaela Ifrim.
To put this price into perspective, contributors to most Stock Image sites typically earn up to 35% of the purchase price of their assets. This means for a $10/£5 image, you could earn up to $3.30/£2 in royalties, or $70/£40 for 4k HD video.

Brands aren't obliged to credit you for your content, however we will always encourage crediting you as best practice.

Can I negotiate the payment?
As reach and engagement won't impact the value of your content, our Content Campaign rates are non-negotiable.

But, since you're not publishing it to your followers, there's no limit to the amount of campaigns you submit to. You can now submit content to as many campaigns as you want, massively increasing your earning potential!

Can I still use the image after it has been licensed?
Unfortunately not. Once your content has been purchased by the brand, they own the rights.

This means you can't publish it on any blogs, social accounts or sell forward to other brands... but keep an eye out, you might just see your content up in lights!
So, what are you waiting for?! If you believe your content is of a high quality and you'd like to be invited into the exclusive team of TRIBE content creators, let us know at hello@tribegroup.co.