Since our launch, TRIBE has helped creators like you, earn money by crafting content to publish to your social accounts. With TRIBE Content Campaigns, you can get paid for your pics and clips without having to publish them!
Yep! Instead, the brand buys your content and uses it in their own marketing. Everything from social ads, emails, websites and more!.

What's so good about Content Campaigns?
Well for a start…

Let us explain.


MORE MONEY
For every approval through a Content Campaign, you'll be paid a fixed fee starting at $200 for an image and $400 for a video.
The amount of money you can make from influencer marketing campaigns is somewhat limited. As it should be. For instance, if you publish a sponsored post every day, you'll be far less attractive to brands and followers. Brands don't want to appear amongst a sea of #ad and your community certainly didn't follow you for that.
Content Campaigns, however, lift your earning potential!
MORE OPPORTUNITIES
Since you're not posting on your own socials, Content Campaigns don't have follower thresholds or audience requirements like Social Campaigns do. Therefore, fewer requirements means there's more chances for you to earn!
That's a great segue to the next point…
MORE CREATIVE FREEDOM
This is where things get SUPER interesting.
Most TRIBE creators have an account dedicated to a particular passion or expertise. It could be parenting, fitness, beauty, baking, fashion, travel… you get the drift.
So it makes it tricky for a fitness creator to submit to ice cream campaigns, or for a food stylist to all of a sudden promote her car.
And yet, one thing all creators have in common, is that they can take stunning pics and clips that brands want to buy.
TRIBE Content Campaigns are your opportunity to unleash your creative talent for categories you've never submitted to and earn for your content, not just your community.
Some Frequently Asked Questions
WHAT EXACTLY IS A CONTENT CAMPAIGN?
In a world where content is king and brands are leaning more and more on authentic User-Generated Content (UGC) for their marketing, Content Campaigns exist purely for the production of UGC.
Creators don't post on their socials after completing a Content Campaign. Instead, brands purchase the rights to your content to use in their own marketing channels, in line with the license type and duration they've selected.


"Content Campaigns give me an opportunity to be creative and increase my earnings without cluttering up my profile with #ads!" - Mihaela Ifrim.
HOW DO I FIND CONTENT CAMPAIGNS?
You can identify them in your Campaign Feed by the pink 'camera shutter' icon next to the campaign name.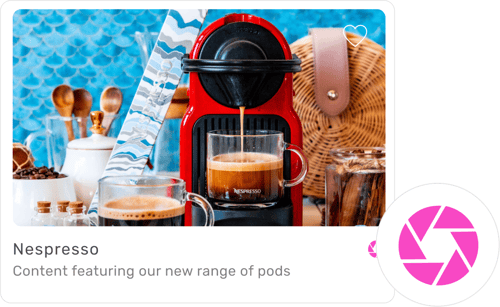 It's then over to you to pitch your creative idea so you can create stunning content for brands to splash across their marketing channels!


WHAT'S THE APPROVAL PROCESS?
Like Social Campaigns, you're invited to pitch your creative idea to the brand via the app.
The brand will then view your Pitch and if they love it, they'll Pre-Approve you - committing to 50% of the fixed fee. This means you can go and create the final content for final approval.
The brand may have minor tweaks and suggestions before approval, but once they hit 'Approve' on their side, you'll get notified and paid within 48 hours/2 business days (10% fee) or 45 days (no fee). Check your Payment Preferences in the app to confirm how you'd like to be paid.
The brand will then be able to download the original version of your image or video for their own use.
HOW LONG CAN A BRAND LICENSE MY CONTENT FOR?
Brands have two options. They'll either license the rights to your content for 12 months or for perpetuity.
You will see what license type the brand has chosen when they Pre-Approve your pitch.
HOW MUCH WILL I BE PAID?
You'll receive a fixed fee starting at $200 for an image and $400 for a video.
However, payment also depends on the campaign and license type a brand selects. For example, the fee for a perpetual license is higher. Some brands may be looking for a long-term partnership, very specific content or are transitioning to the current standard fixed fees above.
You can find a full rundown on content license fees here.
CAN I STILL USE THE IMAGE AFTER IT HAS BEEN LICENSED?
It depends on the license.
If the brand has purchased a 12-month license, you're free to use your content after the 12 months have passed.
If the brand has purchased a perpetual license, they own the rights entirely. This means you can't publish it on any blogs, social accounts etc. or sell the rights again.



Our #1 tip for Content Campaigns
Complete your TRIBE Creator Portfolio!
Unlike Social Campaigns, brands won't be able to click through to your social account to see more of your content, but they can (and will) look at your Portfolio.
Alongside nailing your Pitch, your Portfolio is the best way to show off the work you're most proud of AND give brands a sense of what you're made of.
So, head to the 'YOU' tab in the TRIBE App, add your fave pics & clips and get pitching to campaigns!