TRIBE creators get paid for crafting and publishing authentic content celebrating the brands they love. You know that.
But, did you know there are 4 MORE ways to cash in on your content?
Brownie points if you know them all.

4 ways to earn more via content rights
On TRIBE, a brand can:
1. Run Content Campaigns where they license your pics & clips (and you don't post to your socials)
2. Boost your Paid Partnership as a Creator Ad
3. Request license rights from Social Campaigns
4. Request license rights from their previous campaigns
Here's a guide on what to expect, and how much you can earn when you encounter any of the above.


1. CONTENT CAMPAIGNS
Content Campaigns are purely about your content. Instead of posting to your socials, the brand will license the rights for use in their own channels.
User-generated content (UGC) is powerful for brands to generate awareness and drive performance and sales. They love it! So it's not a surprise more and more Content Campaigns are appearing in the TRIBE app.
The extra opportunity here? Because you're not posting to your socials you can bring your skills to entirely different niches AND get approved for multiple submissions in the same campaign!
When Pre-Approving your Pitch the brand has a few options depending on the license type and duration they need. For example, if they want to license your content for perpetuity you will earn more than the standard 12-month duration and the rates for video content are higher than still images.


Standard rates for content licenses:
Payment
When submitting your Pitch you'll see the starting rate in the app.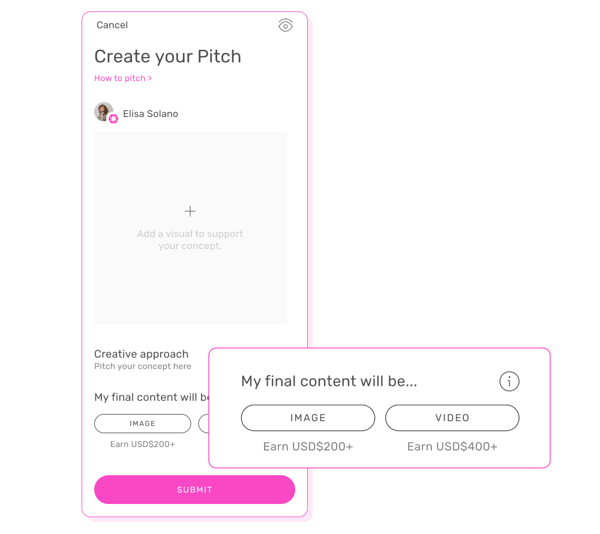 Once Pre-Approved you'll see the rate associated with the option the brand has chosen - which might be higher or lower than these rates above.
After you've resubmitted and the brand has approved your final content, you'll be paid within 48 hrs (2 business days) or 45 days - depending on your preferred payment schedule.

Why might the rates be different?
1. Some brands are currently transitioning to these new standard rates. This can take some time. We appreciate your understanding in the coming months.
2. Other brands are running very bespoke campaigns looking for long-term partnerships, specific content or content bundles.
2. CREATOR AD BOOSTING
Brands love turning high-performing Paid Partnerships into paid ads!
Why?
When they see how well your content performs it gives them the perfect reason to amplify it for more reach and engagement to their own audiences. The added bonus? YOU and your content will get seen by thousands, even millions, more people - and the brand is paying for it!
Once your post has been published a brand can request the rights to boost it for 7, 30, 60 or 365 days as either a Facebook/Instagram Partnership Ad or a TikTok Spark Ad. Check out the standard rates below.
Payment
Note: The above are the standard rates. You may receive a request with rates lower or higher than those shown above. Once you approve the request your payment will begin processing and you'll be paid within 48 hrs (2 business days) or 45 days - depending on your preferred payment schedule.
3. LICENSE REQUESTS FROM SOCIAL CAMPAIGNS
While brands love boosting your Paid Partnerships as ads, they may also request to license the rights to use it in their own online and offline channels - just like they would in a Content Campaign. The only difference is it's up to you to approve or decline their request, but given you've already crafted the content it's a very easy way to make some extra bank.
Payment
Just like Content Campaigns, the rates are dependent on the license type and duration the brand selects - so refer to the table above.
4. LICENSE REQUESTS FROM PAST CAMPAIGNS
Did you know brands can request to license any final content you've submitted from their past Social and Content Campaigns? That's right, you might have submitted content last year that brands can license today!
Not a bad way to make some extra cash. If a brand makes a request, you'll receive a notification in the app which you can either approve or decline.
Payment
Like all content licenses the rate will depend on the usage and duration the brand selects so refer again to the table above. Once you accept the brand's request you'll receive your payment as usual.
The best part
Outside of TRIBE, dealing with selling the rights to your content can be A LOT of admin work. Signing contracts, negotiating and sending invoices (& getting paid in a timely manner) is time you can be spending collaborating with more brands.
TRIBE makes things as simple as possible by automating contracts and offering transparent rates & payment terms so you can focus on important things like your content!
We wanted to emphasise again, the rates for Content Licenses and Ad Boosting Rights shown above may differ depending on the campaign.
As always, if you need help, reach out to us in the app 😀