Ever since TikTok launched TikTok for Business last year, they've been consistently reminding brands: "Don't make ads, make TikToks."
TikTok is a unique social media platform, unlike any others that have come before it. While branded posts on Instagram and Facebook often stick out like a sore thumb, ads on TikTok slide seamlessly into a user's For You page.
Yes, the videos are marked as 'sponsored', but when a TikTok ad is done right, the content seamlessly fits right in with all the other videos. And because every brand has its own unique voice and audience, marketers need to experiment with their TikTok presence.
TikTok's now been around long enough that we all know what a powerhouse the app is. Since it launched in 2018, it's been popular with younger generations, but 2020's COVID lockdowns took the app's reach into the stratosphere.
Now is the perfect time for brands to jump on board. In 2020, Tiktok saw a 164% increase in sponsored posts and a 481% increase in engagements, according to data pulled from beauty influencers. In addition, the use of the #ad hashtag on TikTok increased by 130% in 2020.
But if you're new to TikTok, it can be hard to get a grasp on the platform and its audience. This article will take you through the basics and get you thriving on the app in no time!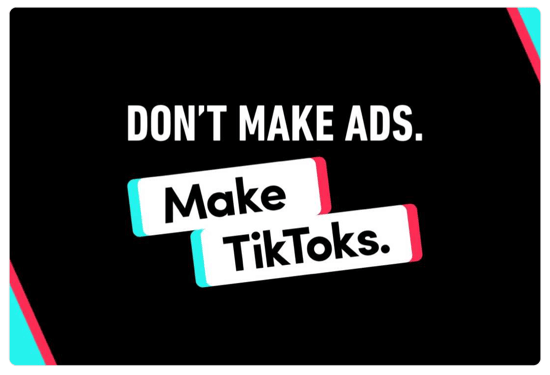 New to TikTok? Here's what you need to know to get started
Keep it low-key
TikTok's are made for viewing on phones, so it stands to reason that creators also use phones to make them. There's no need to film on fancy cameras or edit with fancy software. As a general rule, if you can't make your video in the TikTok app, then it's too polished for the TikTok audience.
Heavily branded or overproduced video might fly on IG and Facebook but will look entirely out of place on TikTok. Gen Z is especially good at knowing when they're being marketed to and will immediately scroll past anything that looks like an ad. When content doesn't get traction, it's buried pretty swiftly by the TikTok algorithm.
Work with influencers
Honestly, deploying social ads on TikTok isn't affordable for all brands. That's why so many brands choose instead to partner with influencers. As you'll know, Instagram influencer marketing is often a more impactful and cost-effective way to market your business — and the same is true for TikTok.
Find influencers within your specific niche whose values align with your brand's and who already have a built-in audience that you can tap into. TikTok's algorithm is unique. Videos are promoted outside of a user's follower base, so someone with only 40 followers has a chance of a video gaining millions of views. It's all about how engaging and captivating the video is. The higher its average watch time, the more it's pushed onto peoples' For You Page.
Connect with your community
The true value of TikTok is the connection it fosters between brands and their consumers. You can create less polished content and truly let your brand and its message shine in a way that your followers can relate to.
Take a look at make-up brand Glossier, which has excelled on TikTok. They regularly upload UGC and reply to user comments. They've made their community an integral part of their brand in a much more immersive way than they do on Instagram.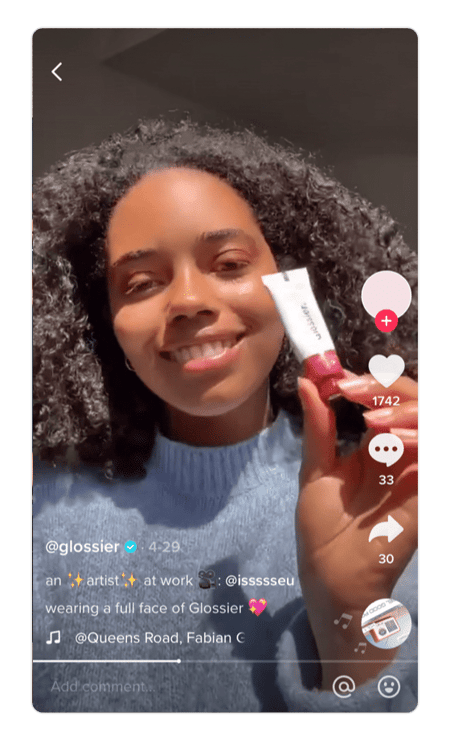 Trends are a surefire way to get views
A significant subset of TikTok is trends, ranging from dances to lip-syncs, and adapted to every audience niche. So jumping on a trend when it's fresh, and finding a way to adapt it to your brand, is an almost guaranteed way to get views.
But — you have to be timely. Nailing a trend the day after it sweeps across the app means you're joining the conversation, but a brand jumping on a trend from a week ago just looks lame.
Even the TikTok Discover page is pretty slow to showcase what's trending among audiences, so the only way to keep on top of trends is by spending a lot of time in-app, seeing what your customers are doing on their own accounts.
But it's also good to think outside the box
Yes, trends are the backbone of TikTok. But for a brand to succeed, they need to be a little more innovative. For example, ELF Cosmetics commissioned a brand-new song titled 'Eyes Lips Face', attached it to a challenge and hashtag, and got influencers' help in making it trend. In the end, users posted nearly 4 billion videos with the hashtag #eyesipsfce attached.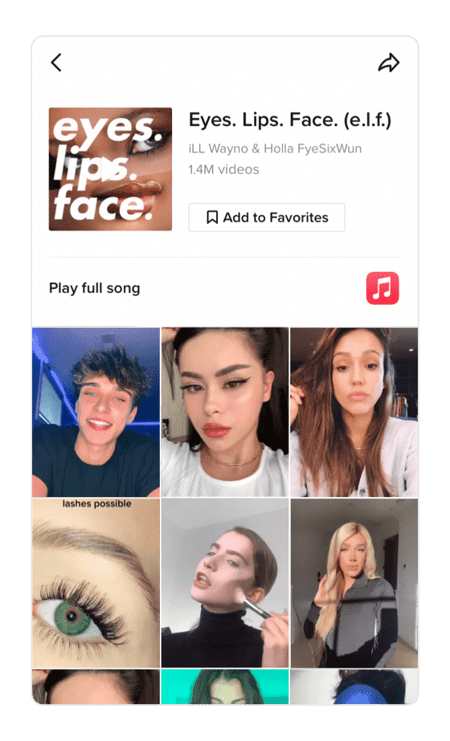 The rapid pace of the new wave of influencer marketing on TikTok is catching some brands off guard. Large brands with traditional marketing department structures are re-considering if the more hierarchical approach to approvals are the best option to support TikTok campaigns. This video by TikTok brand adviser JT Barnett sums this up nicely.


Why brands should take an experimental approach to TikTok
Of all the social media platforms out there, TikTok is the place where you can truly experiment. This is true for both brands and creators — just a simple scroll through your For You Page (FYP) will reinforce the vibe that everyone's out here creating whatever fun and wacky ideas that go through their heads.
Basically, creators are being experimental, so brands should be too!
TikTok is the perfect place to experiment. Anything that resonates with your followers will be pushed to more and more users' FYPs, while the algorithm will bury anything that flops. So you can analyse your views and see pretty quickly what's working and what isn't.
Let's take a look at some brands that have excelled by thinking outside the box.
NBA
The NBA has been on TikTok for a while, and the videos they share on there are very different to their heavily-produced Instagram and Facebook content. This experimentation has worked out for them — they have over 13 million followers. They share amusing clips from games, Q&As with players, and the occasional meme content, like a chihuahua dunking at half-time.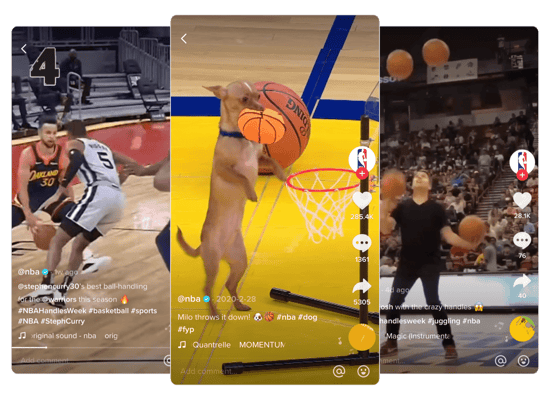 Menulog
Australian food delivery app, Menulog, decided to create a dance challenge to commemorate the launch of their TikTok page. To create a viral dance challenge campaign, they chose to leverage the song from the major campaign, 'Did somebody say Menulog'. Creators were encouraged to show themselves dancing upon receiving their Menulog order and tag the posts with #DeliveryDance. The song, which featured hip hop superstar Snoop Dogg, was well known to the audience, and the challenge was straightforward, which was a recipe for success. The two-week campaign amassed 22.6 million views and ensured that hungry Australians had Menulog top of mind when ordering their next meal.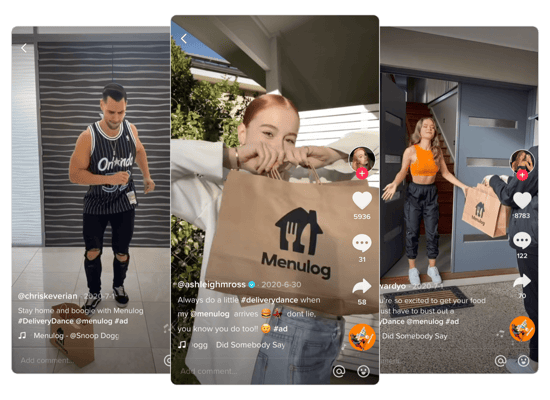 Washington Post
You'd expect such a prestigious newspaper to stick to traditional social media channels like Facebook and Twitter, but The Washington Post absolutely nailed TikTok during the COVID pandemic (and beyond). Every day they post entertaining videos, a mix of skits and trend-jumping, which relates to what's going on in today's news. As a result, they've got nearly a million followers and the company's TikTok creator, Dave Jorgensen, is a familiar face to Gen Z and Millennials.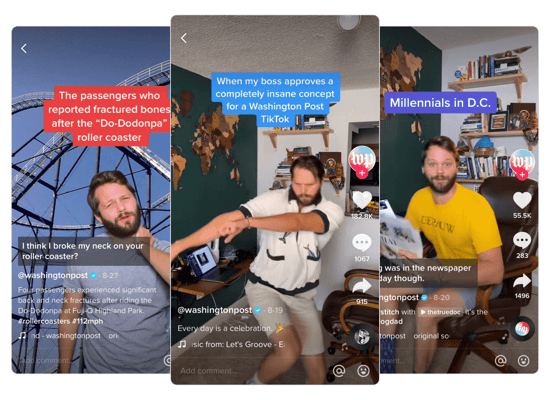 Ready to get started with TikTok? The main things to remember are:
• Keep it simple
• Experiment
• Work with influencers


TRIBE helps brands unlock instant branded content from talented and influential creators who already use and love their products, get in touch today to learn more about the TRIBE platform.