TikTok is HUGE; we all know it! In the last three years, it's become an absolute juggernaut of a social media platform, with over one billion monthly users. So you'd be crazy not to jump on board and consider it a critical platform for your marketing campaigns as a brand.


What are the benefits of advertising on TikTok?
TikTok is the place to be for digital advertising, especially if your audience is under 40 years old. It's affordable, accessible and the infamous TikTok algorithm does the work to make sure your content gets in front of the right audiences.
People love TikTok for its authenticity. Videos are raw and honest, without the grandeur or polished filters of other platforms. It's a chance for brands to let their hair down, have fun, show off their personality and experiment with their content.
The different types of advertising on TikTok
There are several options for brands when it comes to placing your ads in the app. They're all equally valid options for your content; it's just about thinking about the purpose of your video and your campaign.


In-Feed ads
TikTok's standard ad format is similar to how ads and sponsored posts work on Instagram. In-feed ads allow you to embed a video ad that will auto-play on your target audiences' 'For You Page' (FYP). Like every other video in the app, your ads are served up in sequence as a user swipes up.
In-feed ads are marked as paid advertisements but look like every other video in the FYP. Users can like, comment on, share the video and shoot videos with the same TikTok sound. The ads also have a clickable call to action (CTA) button, unlike regular videos.
The key with in-feed ads is to create engaging content that users will watch before swiping up.
HelloFresh, the meal kit service, nailed their in-feed ads by relying on user-generated content. As a result, the raw-style footage feels authentic and aligns with the visual aesthetic of organic TikTok content.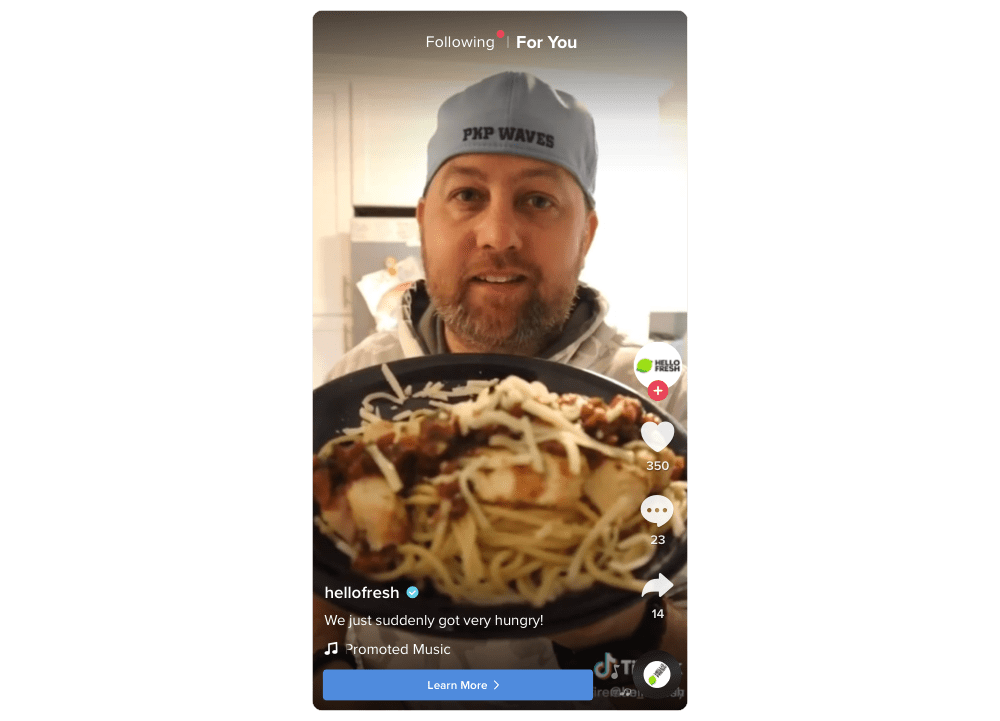 TopView ads
TopView ads are essentially the same as in-feed ads, but they're presented to users as the first video when they open the TikTok app. These ads can be up to 60 seconds long and allow brands to deliver more detailed messaging.
Like in-feed ads, users can engage with the video and follow a CTA where they can learn more about your brand's product or service.


Brand Takeover
A step above TopView ads, these videos will appear when a user opens the app, but they're a full-screen video rather than being presented as regular TikTok content. Users can't like or comment on these videos. Brand Takeovers usually last for 3-5 seconds — think of them like YouTube's non-skippable ads.


Branded Effects
These are like Snapchat filters. Branded effects enable brands to create shareable branded stickers, filters, and effects that users can utilise in their video content. These effects can be a standalone campaign or integrated into a Branded Hashtag Challenge.
Branded Effects can be way more impactful than a simple advertisement. This is because you're bringing your target audience into your campaign, resulting in much higher levels of engagement.
When Veet launched a new hair-removal product, they created a branded effect on TikTok. Using the signature "V" hand gesture triggered the effect, resulting in an on-screen transformation as users showed off their post-lockdown summer looks.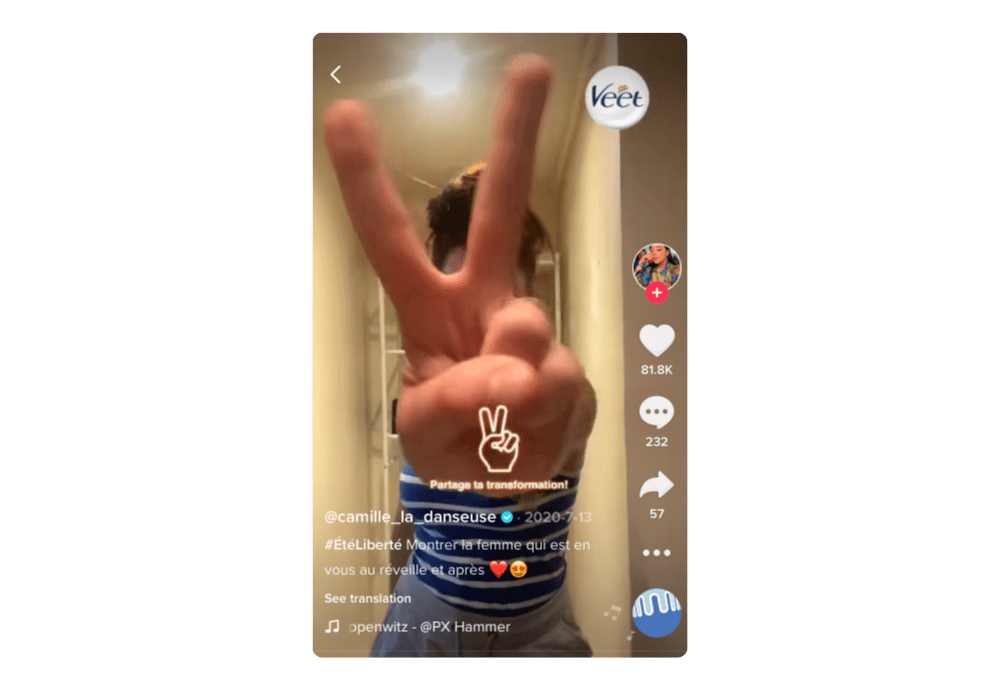 The best practices for ads on TikTok
There are definitely some things to keep in mind when creating ads for TikTok:
• Keep your videos vertical, in 9:16 format.
• Aim to keep your videos around 10 seconds, no more than 15.
• Start with something impactful to keep people watching.
• Centre important elements, including your brand name, logo, and CTA.
• Add background music.
• Avoid talking in your videos, but always include subtitles if you need commentary.
• Keep your captions short and sweet; a user's eye will always go there as they swipe up onto your ad.
• Be sure to have a CTA in your caption or video — don't waste your ad.
How brands can integrate influencers in their TikTok ads
You're undoubtedly thinking about how you can start using all the different ad types we've discussed so far and how to tie these ads to influencer campaigns. Here's some inspiration to get you going.
Levi's
When Levi's launched its Future Finish 3D customisation technology, they worked with four influencers who personalised their own denim pieces. The brand then used the influencers' videos as in-feed ads, with CTAs to click the Shop Now button.
By using familiar faces and creators who know how to make engaging TikTok videos, the campaign was a huge success; the watch time for these influencer videos was twice as long as the platform average on TikTok.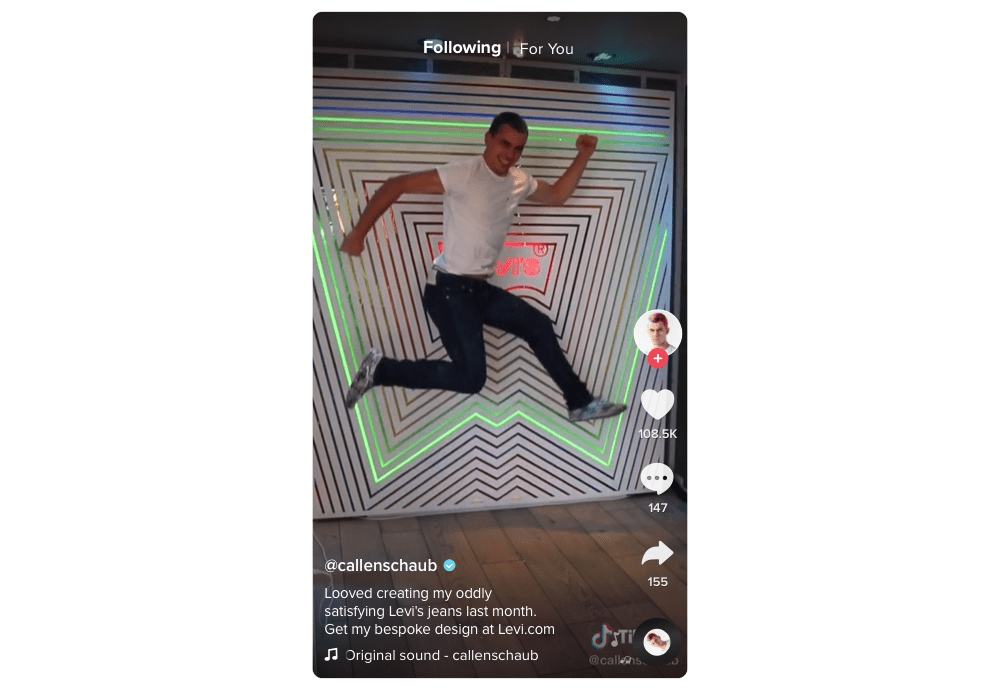 Up
Australian digital banking app Up launched one of the first-ever gamified branded filters, which allowed users to play a coin-catching game while filming a TikTok video. A winner was randomly selected to win $1000 in cash. They promoted the campaign by enlisting local influencers to share their videos playing the game, prompting more users to jump on board.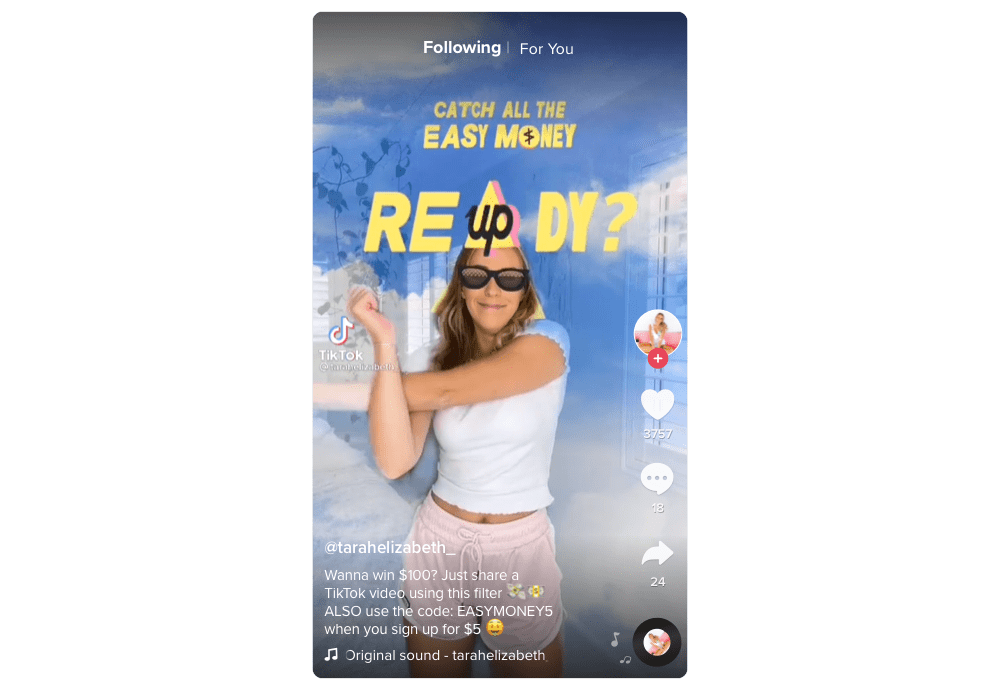 Little Caesars
The fast-food brand launched a new Stuffed Crazy Bread in 2020 and promoted it on TikTok by teaming up with a handful of well-known creators. The brand turns the influencers' videos about the product into TopView and In-Feed ads, targeting a broad range of audiences.
The creators were given free rein to shoot in their own style, resulting in totally authentic videos. As a result, little Caesars delivered over 65 million 2-second video views and a 70% view-through rate.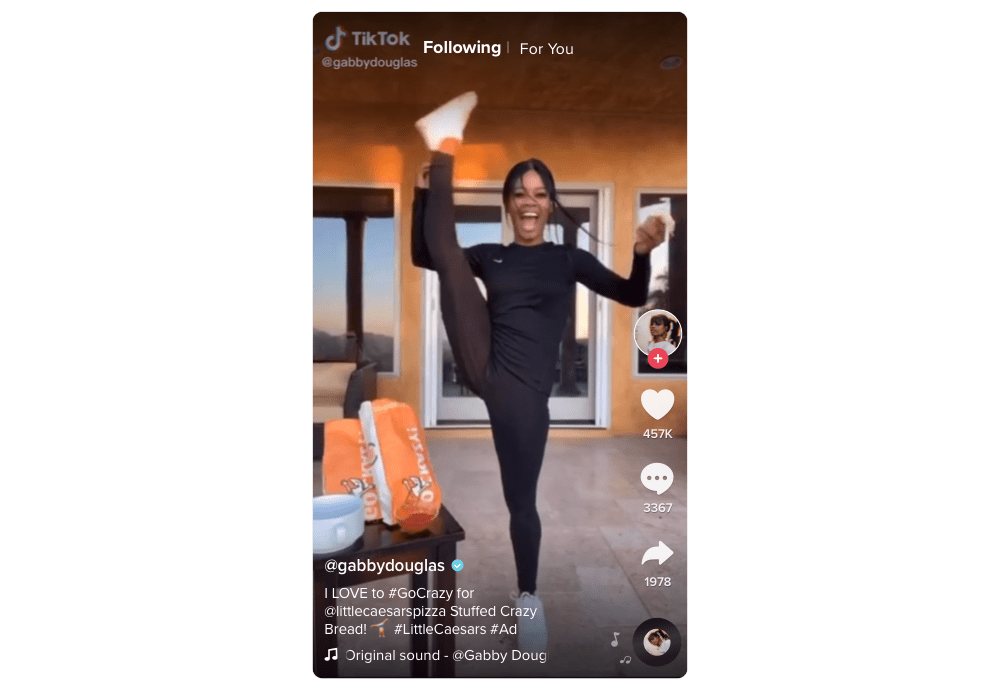 Brand Building vs Sales on TikTok
When marketing your brand on social media, there's a fine line between brand building and making actual sales. A lot of your TikTok strategy should revolve around building up your brand awareness, but you can't do anything if you don't make sales at the end of the day.
While product placement in videos is done for awareness, that can still affect your sales figures. Let's take, for example, the mega-viral video created in 2020 by TikTok user @420doggface208. It's a simple selfie video where he's coasting down the road on a skateboard drinking Ocean Spray cranberry juice. Yet, for some reason, it went absolutely gangbusters.
It wasn't an ad for Ocean Spray, nor was the product even mentioned by name or even focused on. But in the weeks following Doggface's video, the brand saw huge spikes in their sales figures for that juice.
It's hard to draw a direct correlation between the video and someone going to a store to buy the juice. But if that video puts Ocean Spray top of mind for consumers when they are at the point of purchase, then the video has done its job.
Other platforms have in-app shopping; what about TikTok?
It's coming! Let's not forget that TikTok is still a relatively new company, trying to keep up with its massive growth.
TikTok and Shopify are now working together to add the ability for consumers to shop directly in the TikTok app for the first time. Under the new partnership, Shopify merchants participating in a pilot program will add a shopping tab to their profiles and link to products within TikTok posts. By the end of 2021, all brands should have access to this feature.
Social shopping is a HUGE industry right now, ever since Instagram launched the in-app shopping tab. Shopify said sales on its social commerce channels — including TikTok, Facebook, Instagram, Snapchat and Pinterest — grew a massive 76 per cent from February 2020 to February 2021. In total, Shopify works with 1.7 million merchants.
Until TikTok shopping launches, brands will need to trust that their efforts in making videos, promoting ads, and working with influencers will increase brand awareness. Of course, this, in turn, indirectly affects consumer sales. Still, there's no doubt that trying to illustrate a direct correlation between a TikTok video and a consumer sale is very difficult.
How much does it cost to advertise on TikTok?
TikTok ads start at $10 per CPM (cost per 1000 views). On every campaign, a brand is required to spend a minimum of $500.
Brand Takeovers are a lot more pricey, at $50,000 per day, though they do guarantee 5 million impressions. Hashtag challenges will cost $150,000 a week.
Working with influencers is one of the most cost-effective ways to spend money on TikTok. The app had just introduced a Creator Marketplace where brands and agencies can sign up and find individual creators to work with.
But the best way to make a splash with your influencer marketing is to go all in and recruit a team of creators to help promote your product — like Levi's, Up, and Little Caesars has done too much success.
Why not try using influencers to help you launch a branded hashtag challenge? Of course, you want it to get off to a fast start, so why not plan and have an army of creators ready to go on day 1 to give it a kickstart? TRIBE has a huge database of influencers from all different niches ready to go to help make your campaign dreams come true.
TRIBE helps brands unlock instant branded content from talented and influential creators who already use and love their products. With TikTok launching on TRIBE soon, get in touch today to learn about our powerful platform.