Since the dawn of social media — admittedly, not that long ago — hashtag challenges (HTCs) have been a thing. From fundraisers like the #IceBucketChallenge and dances like #InMyFeelingChallenge, to silly viral movements like #planking, #TidePodChallenge, and the #CinnamonChallenge, HTCs are far-reaching and spread like wildfire.
So what's a branded hashtag challenge?
In recent years, brands have realised the power of a viral HTC and began creating their own branded hashtags. On Instagram, Twitter, and Facebook, brands would create online 'challenges' around their products, and encourage people to jump on board, often with the help of influencer marketing.
The challenge is often simple, like sharing a makeup-free selfie, doing a basic dance, or executing an outfit transition. The easier the trend is to adopt, the more people will jump on board.
Now TikTok is on the scene, and HTCs are more rampant than ever. The fun, trend-jumping nature of TikTok as a platform lends itself to branded hashtags having a massive reach.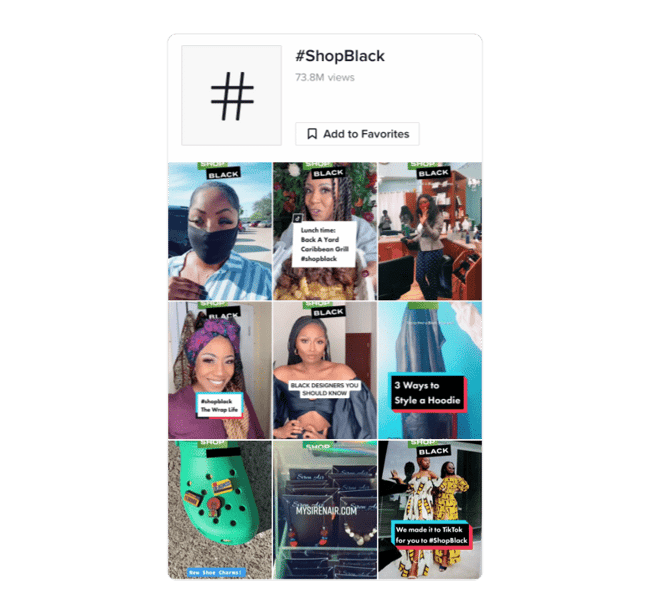 How do you make a TikTok branded hashtag challenge?
Creating a hashtag challenge is simple: combine a catchy hashtag with a video that showcases a specific action, a dance, or some feat of athleticism and challenge others to copy you.
TikTok HTCs prompt users to video themselves completing a particular action, then upload it to their account. Thanks to TikTok's robust algorithm, the more often users interact with a specific hashtag, the more it will appear on their For You Page (home feed).
Think bottle flipping, basketball trick shots, lip-syncing or dancing to a specific song — pretty much everything and anything! Of course, anyone can create a hashtag challenge and hope it goes viral, but the Branded Hashtag Challenge is a paid-for version that takes it a little further.
When brands sponsor a hashtag challenge, that's when it becomes a branded HTC — and it's an incredibly effective way to boost awareness, drive engagement, and build a bigger fanbase.


Most brands often work with influencers to help them launch a hashtag challenge. Users are far more likely to adopt a challenge if they see people in their network already participating.


What does a branded hashtag challenge look like?
There are a few ways to go about marketing your branded HTC. First, you could keep it organic — just encourage users to jump on board, maybe enlist some influencers, and let it spread on its own.
Or you can opt for some sponsored posts, which will make sure your challenge gets in front of the right audience. In addition, standard video ads appear in-feed alongside regular TT content, encouraging users to participate in the challenge.
If you want to go a step further, you can place your branded HTC on the 'Discover Page'. This is where TikTok users go to find trending sounds and hashtags. A banner here for your HTC will direct traffic to the hashtag page, the central hub for the challenge.
The hashtag page automatically aggregates all of the video submissions from all over the world in one place — making it easier for users to see what others are doing and connect with other individuals and brands.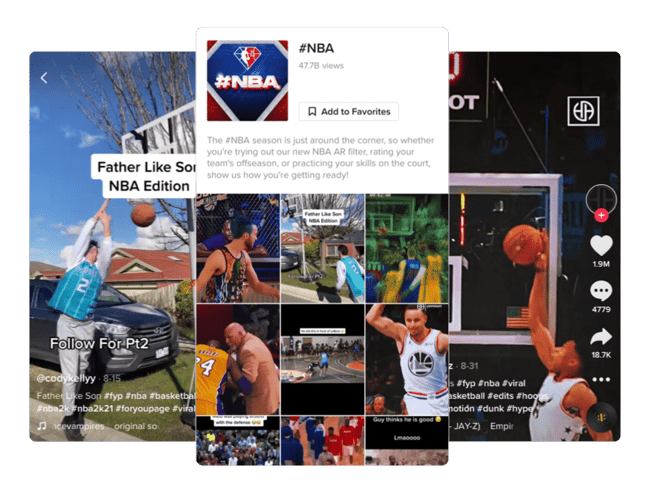 What are the benefits of Hashtag Challenges?
HTCs have far more impact and reach for your brand than traditional online marketing. Especially now, social media users are savvier than ever towards advertising and branded content. Remember that TikTok catch cry, "Make TikToks, not Ads", it rings true here.
To get users' attention on social media, brands need to think outside the box and deliver content that people want to see. That's where HTCs are so powerful. For example, on TikTok, branded hashtag challenge videos present as regular in-feed content. As a result, users will engage with challenges, liking videos and creating their own without feeling like you're marketing to them.
The elements that make TikTok HTCs so effective for brands include:


Participation
Never underestimate the power of participation. The whole point of an HTC is to get as many people involved as possible. Even if users know that it's linked to a product or brand, they're more than happy to give it free promotion in return for being included in the challenge.
When a consumer actively participates with your brand's message, you're connecting with them on a deeper level than you'd get with a simple ad.
Collaborative Culture
Trends underpin TikTok. The majority of videos on any given user's FYP will be trend-based — the app's culture is built around remixing sounds and actions that other users post. That's why hashtag challenges thrive here more than on any other social platform.
In fact, according to TikTok, branded HTCs have a 17.5% median engagement rate, compared to less than 1% on other platforms.
Reach
TikTok's algorithm is magic for brands. If your branded HTC takes off, it will spread through the app, across audiences and niches, supercharging engagement with your brand.


It's organic visibility: users learn about your brand or product without ever feeling like they're watching an advertisement.

Even when users know it's a paid hashtag, they still have continuous contact points with your brand, keeping you top of mind. While that doesn't directly relate to sales, it gets a user well positioned within the sales funnel to become your brand's customer.
Best examples of branded HTCs on TikTok
Shopify and #ShopBlack
In 2020, e-commerce company Shopify partnered with TikTok to launch the super-effective branded hashtag #ShopBlack. They encouraged users to post videos sharing their favourite Black-owned businesses and Black entrepreneurs to promote their own brands and products.
Centring the branded HTC around a worthy cause was mega-successful: to date, the hashtag has amassed over 70M.


V Energy and #VMakeItHappen
Australian energy drink brand V created a successful branded HTC around something that's always been prevalent on TikTok: transformations. Using the hashtag #VMakeItHappen, users were encouraged to sip a V energy drink and show their transformation from low energy to high energy.
It was a fun directive, which let creators run wild with their ideas. By keeping the challenge vague and open to interpretation, users had the chance to let their personalities shine through.


Converse and #ConverseAllStar
Centred around London Fashion Week, Converse shoes launched a branded HTC around their new white leather shoes. Converse prompted creators to customise their Converse shoes and post a video using the #ConverseAllStar hashtag. The best creations won an invitation to the Converse London All-Star Creative event.
Converse launched the hashtag with videos from some of the UK's biggest TikTok creators, driving high user engagement and generating massive reach. Thousands of videos were uploaded, with some seriously creative painted, drawn, and even embroidered pairs of shoes.
There's a lot to be said for the involvement of established creators when launching a branded hashtag challenge. Having users with big audiences jump on your hashtag on day one can exponentially boost its reach and engagement.
What could this mean for your brand?
Think about this; you are launching a branded HTC and need an army of creators to make sure it gets a fast start. Engagement with an HTC on day one is essential for letting the algorithm know that our content is worth pushing out to other users. The jumpstart that comes from working with influencers cannot be understated, and the best place to find them quickly and easily is with TRIBE.
Ready to kick-start your TikTok strategy?
TRIBE helps brands unlock instant branded content from talented and influential creators who already use and love their products, and we will soon be integrating TikTok into our platform! In the meantime, get in touch today to learn more about the TRIBE platform.