TikTok has been the most prominent social media success story in the last five years. Even if you're not an active platform user, you undoubtedly know it and see TikTok content reposted to other platforms.
For brands — especially those with an audience that skews young — there's nothing better for your brand than being active on TikTok.
It's an excellent opportunity to let loose and have fun, establish a real connection with your followers, and experiment with all different types of content. The TikTok algorithm is forgiving: perfectly tailored to help you throw everything at the wall and see what sticks.
But of course, as with all social media platforms, marketers need to ensure that brand safety is always top of mind. So before you jump in, there are some things that brands need to know about influencer marketing on TikTok.
First of all, what does a brand need to know about making TikTok videos?
It's not as easy as repurposing your content from other platforms. TikTok is a unique place where regular rules do not apply. In the grand scheme of things, that's great news for your brand and your marketing strategy. But it does mean that you'll have to do a bit of groundwork to make sure you really understand the content before you make it.
Niches and audiences vary wildly on TikTok, but you should spend time exploring your brand's niche, paying attention to the:
• Styles of video being created
• Effects and filters
• Music
• Types of characters and creators on the platform
• Jargon, or style of speaking
• Audience
Before we dive into the nitty-gritty, what is brand safety?
Brand safety is all about protecting a brand's integrity and identity when advertising and marketing online. Brand safety applies to social media, newsletters, websites, blog posts and any other online activity the brand participates in.
Influencer marketing involves new audiences, external to your brand, being invited into the circle of trust. Having new people involved means that a brand needs to be vigilant in ensuring that they uphold the brand's values and represent it authentically.
The last thing you want is to spend time and money on building a marketing strategy, only to have your image tarnished by your content appearing alongside inappropriate content.


Brand safety is more important than you'd think
If your content, which is 100% innocent and well-intentioned, becomes inadvertently associated with something inappropriate, it could damage your brand. This is not an issue that is unique to social media; in the past, brands have had to consider similar issues in print and television advertising. Today, the difference is that if something goes wrong for a brand, the speed at which news travels is faster.
How TikTok is addressing Brand Safety
In 2020, TikTok launched its business service, allowing brands to create advertisements in various formats and utilise branded content from TikTok creators. Since this time, brand safety has been top of mind for the platform. Past issues, such as creators taking advantage of branded hashtag challenges for their own gain, have been addressed, and TikTok is working hard to ensure the platform protects its brand partners.
TikTok has recently expanded its partnership with OpenSlate, a third-party brand safety provider. This partnership reassures brands that their ads on the app appear in the right places, so the ad doesn't appear next to hate speech, for instance. This is especially important for brands paying for advertising on the platform and putting their trust in the TikTok algorithm to target their advertising.
While TikTok has plainly stated they're doing everything they can to limit harmful content and protect its users (including influencers and brands), it's also up to brands to keep a close eye on what's happening on the platform.
TikTok is a digital playground — a place where you can experiment and create a lot of fun content. So long as a brand understands the platform and ensures they work with reputable creators, the benefits of marketing on TikTok outweigh the risk.
How to stay brand safe when working with influencers
At TRIBE, we're passionate about ensuring your brand's safety is never compromised, even when working with new creators. It's essential to vet any creators you work with as a brand, even if you're just reposting their content as promo material.
We encourage brands to communicate with creators during the collaboration process and address any brandy safety-related concerns, such as nudity, adult content, or profanity.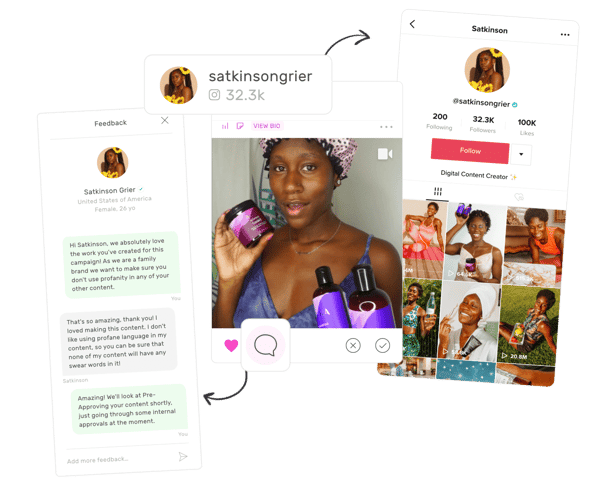 Legal issues brands should look out for on TikTok
Copyright is, and always will be, a tricky subject when it comes to social media. Of course, regular TikTokers, uploading organic videos, don't really need to worry about the songs or audio they're using. But, as a brand, you'll have to be a bit more cautious.
While there's plenty of licensed music on TikTok that is credited to the original artists (and counts toward streaming numbers), there are millions and millions of "original audio" tracks. The original uploader did not create the majority of these audio files. As a brand, if you use this original audio on a video and it attracts the attention of the song's rights owner, you could get yourself into legal hot water.
It's hard when the vast majority of trends on the platform are based around trending audio. But as with every other form of marketing, it's better to be safe than sorry.
Luckily for brands, TikTok does provide a safe music option, the Commercial Music Library, which houses over 150,000 royalty-free tracks. All tracks in the library are available for use by brands and feature talented emerging artists across the globe. You will find everything from instrumentals to songs with catchy lyrics, rock to pop, RnB, folk, electronic, and even classical tracks.
It's important to note that these rules also apply to influencer posts on behalf of your brand. The creator needs to have legal rights to use any music they use, even remixes, or use the Commercial Music Library.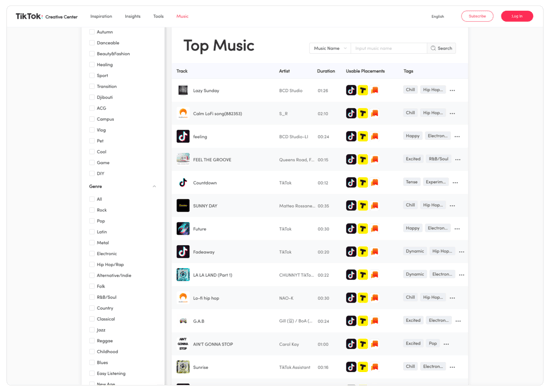 At TRIBE we're embracing TikTok, and you definitely should be too. We're passionate about helping brands make the most of the platform and realise their potential. Influencer marketing is undoubtedly one of the best ways to achieve this. In fact, that's exactly what TikTok's global positioning is about... "Don't Make Ads. Make TikToks."
TRIBE helps brands unlock instant branded content from talented and influential creators who already use and love their products, get in touch today to learn about our powerful platform.