Before the influencer marketing boom, campaigns typically consisted of one celebrity influencer. In 2016, brands began utilizing a handful of online gurus and macro-influencers to promote their products, then, throughout 2017, the number of micro-influencers used in marketing campaigns exploded into the thousands.
Now, at the end of 2018, all of our influencer marketing predictions have been completely blown out of the water...
While the focus of the influencer marketing industry is still shifting from celebrities to everyday people celebrating brands they love, it's also seen an insurgence of new and exciting influencer marketing metrics, statistics and strategies. Looking back at the development of the industry and the groundbreaking results it has generated, we're certain that 2019 is going to be influencer marketing's most exciting year yet.
Hold onto your hats folks, 'cause here are the most exciting influencer marketing stats, trends and takeaways of 2018…
More Brands are putting their money on Influencer Marketing
In 2017, eMarketer reported that marketers spent $570 million on influencer marketing globally. In 2018, $1.6 billion was funnelled into sponsored posts on Instagram alone. Now, at the end of 2018, influencers better prepare to get posting… because the industry certainly won't be dying out anytime soon!
According to a study conducted by Linqia, 39% of brands plan to increase their influencer marketing budget next year. In fact, 93% of marketers in the study said that they will be spending more than $10,000 on their campaigns.
The study also found that majority of brands spent between $25,000 and $100,000 on influencer marketing in 2017 – a number that will have significantly increased over the last year, and is sure to continue growing in 2019.
While brands are increasing their budgets across the board, influencer content is still affordable as ever – in fact, 84% of micro-influencers charge $250 or less for sponsored Instagram posts, and 97% charge no more than $500.
This means brands are able to access and activate a huge volume and variety of content for a fraction of the cost, allowing them to maximize their marketing budgets like never before.
ROI is becoming more measurable
At the end of 2017, 76% of marketers said that the biggest influencer marketing challenge for 2018 would be determining their campaign ROI. In fact, 90% of marketers in the study said that they only used engagement rates to measure the success of their influencer marketing campaigns.
2018 saw the development of new and exciting ROI lenses through which brands could view and measure their campaigns.
Alongside engagement rate and CPE, ROI metrics such as word of mouth, sentiment, operational ROI and affiliate link tracking have changed the way marketers are now able to assess, track and analyse the success of their campaigns.
Alongside engagement rate and CPE, ROI metrics such as word of mouth, sentiment, operational ROI and affiliate link tracking have changed the way marketers are now able to assess, track and analyze the success of their campaigns.
In 2019, these lenses will not only give brands more insight into what works for their target market, but allow them to optimize future influencer marketing campaigns to ensure peak performance.
content is more creative and high-quality than ever
It's no secret that the quality of tech, editing apps and smartphone cameras is continually improving. With the release of new models such as the Samsung note 9, Google pixel 3, and iPhone XS over the last year, almost anyone now has the tools to become a micro-influencer right at their fingertips.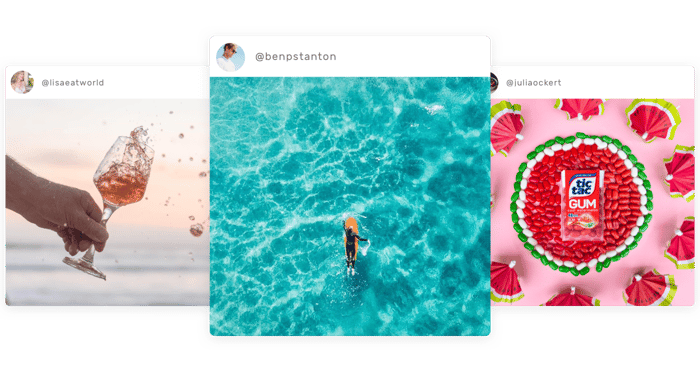 As a result, influencers are raising the bar, and creator content is evolving to be more creative, innovative and high-quality than ever before.
While motion was always pegged to be the hottest content trend for 2018, the past year has seen the rise of not only video, but other, more creative forms of motion content, such as cinemagraphs, boomerangs, stop motion, Stories, GIFS and AR filters.
Now, on the brink of 2019, brands are not only requesting these creative formats, but expecting them.

instagram is officially the influencer marketing platform
While a micro-influencer is defined as someone with 3000 followers on either Instagram, Facebook or Twitter, it is becoming abundantly clear that one social platform is leaving the rest in the dust...
93% of influencer marketing campaigns now use Instagram. In fact, the use of Instagram Stories in influencer marketing campaigns grew 60% in the last quarter, while the use of Facebook and Twitter declined by 20% and 10%, respectively.
Influencer marketing and Instagram are now so synonymous, that influencers could be getting their own custom version of the app. Instagram is currently testing out creator accounts, which will be similar to business profiles but with features designed specifically for influencers.
With 80 million photos now being uploaded to Instagram daily, as well as the addition of swipe up and affiliate link features on Stories, the snap-happy platform has fast become an influencer marketing goldmine – and not just for brands.
While a whopping 92% of marketers in the previously cited Linqia study chose Instagram as the most important social platform for influencer marketing, 60% of influencers also chose Instagram as the most effective platform for engaging their target audience, and 50% chose it as the best platform for posting branded content.
At the end of 2018, Instagram now has over 1 billion active monthly users - growing from 800 million in September 2017. Heading into 2019, you'd be crazy not to jump on the Instagram-wagon.
authenticity is the most valuable influencer marketing tool
While we've always known this at TRIBE, the stats don't lie: authenticity is key!
According to a Hashoff study, originality and authenticity was THE number one consideration for influencers when choosing which campaigns and brands to work with. But it's not just an influencer priority – it's a consumer preference.
Influencer content is now officially outperforming brand-created content, with 49% of consumers reporting they found brand-created advertisements "annoying or irrelevant". Contrastingly, 82% of consumers said they were very likely to follow the recommendation of an influencer they follow, and 67% said they had no negative reaction to sponsored influencer content whatsoever. Furthermore, 37% of consumers felt that, if influencer content was authentic and high-quality, it negated the fact that it was sponsored.
If influencers wish to maintain the trust of their followers, they need to keep creating authentic and original content, even when it's branded.
The bottom line? Influencers know what works for their audience. They know that high-quality, authentic content is what keeps their followers engaged and what will continue to grow their audience.
the main takeaways for 2019?
• While creators may have the creative control, that's okay! Trust the process, do your research and you'll be creatively rewarded.
• Measurement is more than just engagement and reach, so delve a little deeper into what ROI means for your brand to optimize your future campaigns.
• Instagram is the most important social platform for Influencer Marketing, so get your brand on the 'gram!
• And most importantly, authenticity is the key to igniting real influence.
Ready to activate influencer marketing in 2019?