The power of TikTok is undeniable. With over 1 billion active monthly users, it's a juggernaut. But if you're used to Instagram, it can be pretty hard to incorporate TikTok into your content strategy.
It's a whole new world. With a super-powered algorithm and constantly changing trending content, it's no wonder TikTok feels a little intimidating to some Creators. But the impact it can have on your personal brand is priceless.
Don't panic, you don't need to create completely new videos for TikTok. In fact, it's quite easy to repurpose the content you create for other platforms, saving you from having to start from scratch.
Why 'repurpose' and not 'reshare'?
Sometimes you can take a viral Instagram Reel and put it on TikTok, only for it to get less than 50 views. What works on one platform might not work on another. That's why it's so important to repurpose your content with a specific platform (and audience) in mind. Leaning into TikTok—even if you already have an established Instagram audience—will get you in front of a whole new audience with minimal heavy lifting.
It's pretty common for Creators to have two very separate and distinct audiences on each platform. Something that works on YouTube, might not fly on TikTok. But what will fly, is repurposing the content you shoot, and shaping it to fit all your different social channels. In fact, we recommend it!
But where do you get started?
7 tips for repurposing content on TikTok

Use an editing app
While you can edit your raw footage in Instagram and TikTok, it's a lot easier to do it all in one external place. That way you can export one separate video for each platform. An app like InShot is great for this.
One thing to keep in mind is that video lengths vary across platforms. Instagram Reels are 30 seconds, while TikTok videos can be up to three minutes. In saying that, you should think about capping your TikToks at 45 seconds to maintain a good watch-through rate – unless you're already established as a long-form TikTok creator, of course.
If you're planning to get a bit more granular with your edits, or you just prefer working on a computer, Filmora is a really great desktop editing program. It's a simplified version of Premiere or Final Cut, and is perfect for editing short-form videos destined for social media.
Hot tip: You can now upload TikToks from your desktop!


Different app, different vibe
While they're both social platforms focused on visual content and video, there's a difference between Instagram and TikTok, so it's essential to understand how they differ and how they're similar.
Instagram has spent ten years building a reputation of being an aspirational and aesthetic social platform. Here, people share filtered photos and a highlight-reel version of their lives. As a Creator, Instagram is great for establishing your personal brand and showing off your assets. TikTok, however, has established itself as an almost 'anti' Instagram. Here, Creators lean into the unpolished. The raw, the real, the behind-the-scenes content. It's where people show their true selves, with less pressure of needing to seem perfect.
While the two apps complement each other, they call for different styles of content. For example, if you're a recipe Creator, you'll likely share beautiful food snaps on Instagram and maybe a few Reels showing your process. TikTok is where you'd experiment with trends, reveal some of your best cooking hacks, or show off an 'Instagram vs reality' look at your kitchen post-cooking.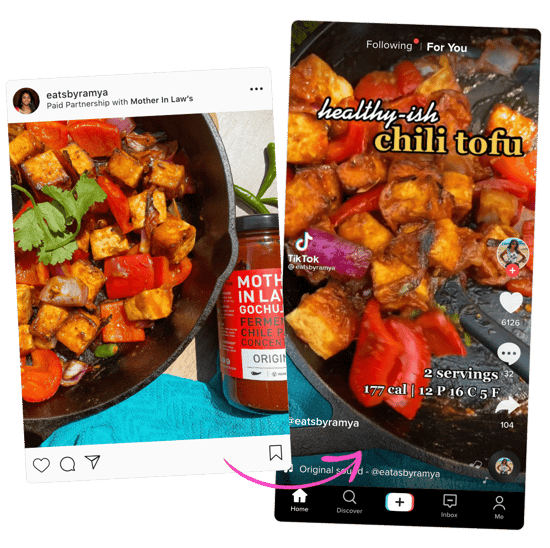 Produce content with repurposing in mind
If you start filming content only thinking about how you'd share it on Instagram, you're not setting yourself up for success. Before you start producing your content, it's a good plan to have an idea about how it will work best on each platform. That way you can capture some all-purpose footage, then chop and change it afterwards.
Spend time in the app
If you're new to TikTok or just establishing your brand, you'll need to spend a fair chunk of time in the app. Follow accounts similar to yours with Creators in your niche and brands you identify with. We also recommend scrolling through the 'For You' section and checking out the 'Discover' tab daily, just to keep your finger on the pulse.
To understand TikTok and the content that your audience wants, you need to immerse yourself in the app. It's important to find out who is popular and why. What are they doing to stand out? What does their content look like?
The more time you spend in the app, the easier it is to understand why things work and why others don't.
Use old content for new trends
An easy way to make new TikTok videos is to repurpose old footage that's sitting around in your camera roll. There's almost always a trend that you can jump on which involves a montage or photo dump – a perfect way to reuse footage you've collected over the years.
For example, the 'WOW' trend had Creators showing the best holiday and travel moments from their past.


Don't be someone you're not
On TikTok, authenticity trumps aesthetics. When your personal brand is tied to who you actually are, it makes it a lot easier to create genuine content that your audience will resonate with.
Reposting your Instagram content on TikTok without modifying it could risk it falling flat. The key is to be yourself and make the kind of content that you'd want to watch, and chances are your followers will love you for it.
Share hacks with behind-the-scenes footage
TikTok is the kind of place where you can 'reveal your secrets'. Say you shoot some beautiful portrait photos that you share on Instagram. Use your phone to film some behind-the-scenes content, which you can package into a 'hacks' style video on TikTok.
For example, maybe you used chapstick on your lens to create dreamy photos, or used the panorama feature on your phone for a new perspective. Edit some videos together, with a voiceover explaining how you did it, and there's a great TikTok counterpart for your Instagram upload. Two birds, one stone.


One of the best ways to grow your audience is to work with brands
Maybe you've already done some partnerships with brands on Instagram, creating native content featuring their products. This can apply to TikTok too.
At TRIBE, we help Creators like you form partnerships with brands that make sense (and, of course, are mutually beneficial). And with loads of TikTok campaigns dropping for you in 2022, the new year will see some major app updates that'll make it even easier for our Creators to submit to TikTok campaigns – and more submissions means more chances to win!
Learn more about TRIBE and how we help Creators like you shine.