The influencer marketing industry shows absolutely no signs of slowing down, fuelled by new app updates, intelligent algorithms, the rise in Social Commerce, and the seemingly-endless pandemic. Social media is no longer just a place where users upload photos and keep in contact with friends, and if you're reading this, you likely already know just how impactful a good influencer partnership can be for a brand.
Here are the latest influencer statistics you should know to take full advantage of influencer marketing this year.
GENERAL
1. More and more brands are waking up to the benefits of influencer marketing, with over 75% of brand marketers intending to dedicate a budget to pay influencers in 2022.
2. 93% of marketers have used influencer marketing at some point.
3. The influencer market growth is massive. Influencer marketing grew from a $1.7 billion industry in 2016, to a projected $16.4 billion this year.
4. On average, brands spend about $174 per piece of influencer-generated content.
5. Surprisingly, only 70% of brands track and measure the ROI from their influencer marketing campaigns. This is an essential part of working with influencers, so you can ensure that they're engaging your target audience.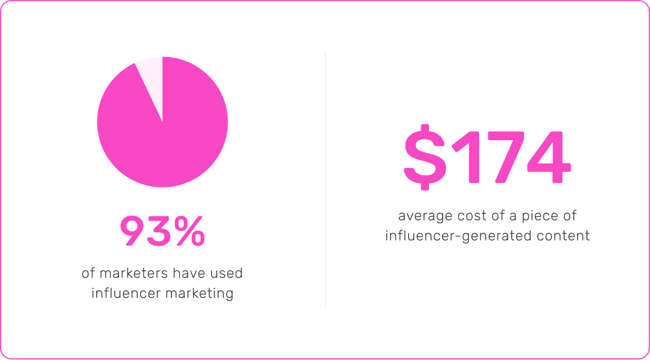 CONSUMERS
6. Two-thirds of respondents to Influencer Marketing Hub's 2022 State of Influencer Marketing survey say influencer marketing attracts higher-quality customers than traditional marketing techniques.
7. And audiences prefer influencer content to branded content. 60% of marketers reported that their influencer-generated content gets more engagement and outperforms their branded posts.
8. There have never been more places to reach your audience: the average number of social media accounts is 8.4 per person, up from 4.8 per person in 2014. This is why an omnichannel approach to influencer marketing is essential. Brands need to get their message out on multiple social platforms, using influencers that resonate on those platforms.
9. Consumers need influencers to be transparent and open about brand partnerships. 1 in 5 social media users say they'd unfollow a Creator if they were not upfront about advertising or sponsorships.
10. Over 50% of consumers prefer to discover new brands via word of mouth and social media.
11. Over 90% of consumers engage with influencers weekly on Instagram, YouTube, TikTok, and Snapchat.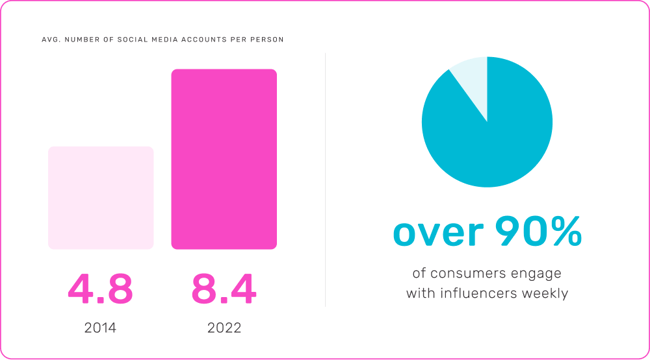 INSTAGRAM
12. Instagram is the most integral social platform for brands working with influencers. 79% of brands prefer Instagram, followed by Facebook, TikTok, and then YouTube.
13. 83% of Instagram users are on the platform to find something new, which presents an excellent opportunity for brand awareness and discovery.
14. Instagrammers are engaged: almost 90% of users took a specific action (like following a brand or making a purchase) after seeing posts with product information.
15. 3/4 of micro-influencers in the fashion industry say Instagram is their favourite platform. Meanwhile, only 31% of entertainment/pop culture micro-influencers prefer Instagram, as it's less focused on video when compared to YouTube or TikTok.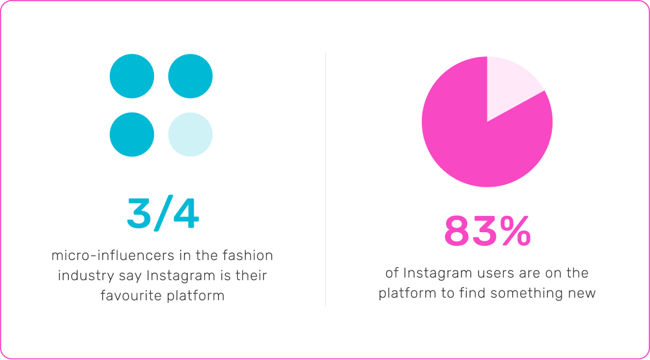 TIKTOK
16. Engagement rates are high on TikTok, especially for Creators with smaller, more loyal followings. Micro-influencers on the platform achieve average engagement rates of nearly 18%, while mega-influencers get just under 5%.
17. TikTok has seen massive growth in the world of influencer marketing in the last two years: 45% of brands use TikTok to work with Creators.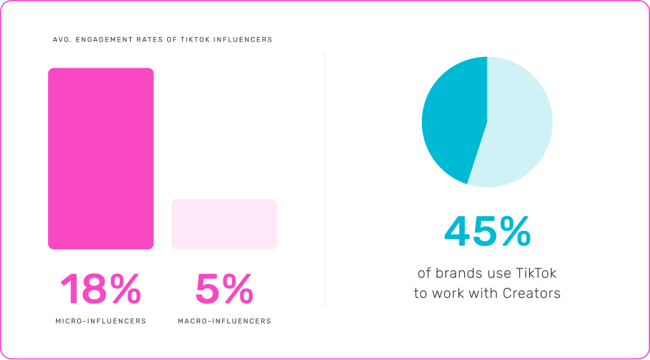 CREATORS
18. Micro-influencers are set to have their moment in 2022. Despite their smaller audience, their followers tend to be far more engaged. 82% of consumers are "highly likely" to follow a recommendation made by a micro-influencer.
19. Nearly 70% of influencers admitted that the main reason they work with brands and create content is to make money.
20. But it's not just about the cash. 3/4 of Creators state that they'll only partner with brands that align with their values.
21. Engagement rates for micro-influencers tend to hover around 4% on Instagram, while mega-influencers' engagement can be as low as 1.2%.
22. The lifestyle industry has the greatest distribution of Instagram influencers, at 13.8% — probably thanks to how broad the definition of 'lifestyle' is. It's followed by beauty at 8.5% and music at 8.3%.
23. The role of an influencer — at least, from a marketing perspective — is to have "buying conversations" that recommend different products. Experticity found that influencers have 22 times more buying conversations than regular consumers in a week.
24. In 2020, 50 million people identified themselves as a "Creator".
25. Influencers are increasingly being paid in cash rather than through free products.
26. Increasingly, influencers want more creative control. 83% of influencers regard it as their first priority.
27. An overwhelming majority (over 80%) of influencer marketers consider a Creator's content quality to be the most significant consideration — not follower size or engagement — when negotiating rates.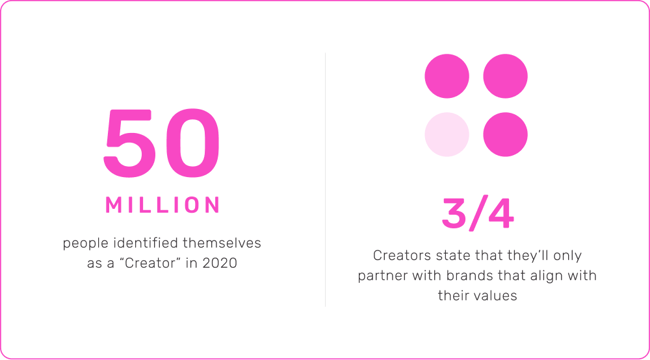 SHOPPING
28. Social commerce is expected to generate $958 billion in sales in 2022 and is one of the key trends that will shape influencer marketing. With new shopping tools on Instagram and Facebook, it's easier than ever for brands to use influencers to sell products.
29. These shopping tools are coming in handy: 86% of influencer marketers report that they're actively using social shopping features on social media platforms.
30. More than half of the brands who work with influencers also have eCommerce stores.
31. An eMarketer report predicts that there will be more than 100 million social commerce buyers by 2023 in the US alone.
32. Fashion (apparel and accessories) is the top industry for Social Commerce by a significant margin, followed by consumer electronics and sports equipment.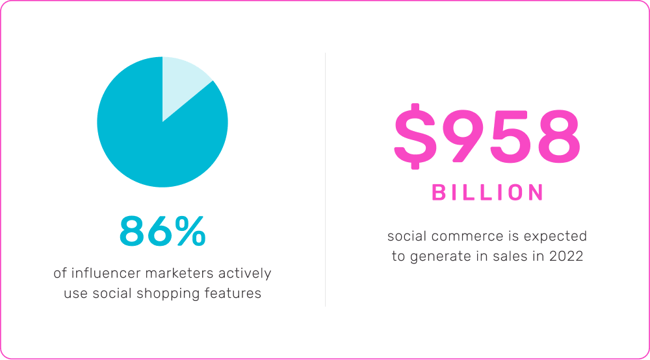 Love it or hate it, influencer marketing is here to stay. TRIBE is a platform that simplifies how marketers source branded, user-generated content at scale, and ultimately how they work with influencers. By automating the lengthy process of sourcing, organising, paying, and communicating with influential Creators, some of the world's biggest brands are using TRIBE to maximise their reach and ROI.