2018 Update to Influencer Rating:

In a bid to protect the energy of both our influencers and brands, we have updated TRIBE's influencer ratings to penalise any current bot activity detected on influencer accounts.

See here for more details.

Once you completely stop using these tools, your rating will begin to recover.


---

Growing an Instagram account is hard.

It's tricky being patient in an industry growing as quickly as influencer marketing.

Unfortunately the fear of 'missing the boat' is driving many to set up FOLLOWER BOTS to cut corners.

While these can boost numbers in the short-term, brands are now lumping Follower Bots in the same bucket as buying fake followers, likes and comments.

But it makes sense. In fact, we've recently noticed at TRIBE how many influencers are being declined because of them.

Bots are costing talented content creators LOADS of valuable collaborations.
So What Is a Follower Bot?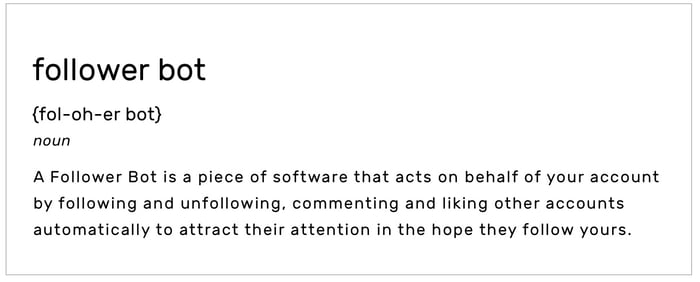 Why Do Brands Hate Them?
Brands use influencer marketing as a powerful way to reach potential customers.

It's extremely valuable for brands to have you recommend their product to your trusted audience. You're an 'influential customer' who spreads the word about a brand you love.

But if bots have been used, in the eyes of the brand, this authenticity is tarnished.

When brands see a healthy follower number, it gives them confidence that not only is your content engaging enough to build an audience, but those potential customers are here to stay.

As soon as a bot starts to like and unlike, follow and unfollow, this casts doubt over whether or not your content is engaging enough. After all, your audience most likely followed you because you pretended to show interest in them.
How Do Bots Cost Me?
If you've ever had a random account follow you and then unfollow straight away, you've most likely been the victim of a bot.

Naturally, you unfollow them.

It's because of this common reaction, bot-driven growth doesn't last.

Worse yet, these bots generate fake engagement.

Which is why it's against the Terms & Conditions of all social media platforms (Instagram, Facebook and Twitter's) causing them to shut down third party bot providers.

Fake engagement is extremely bad for everyone.

But none more so, than the brands you hope to collaborate with.

Likes and comments prove that their investment into you, was worth it.

If you use bots, you're releasing fake engagement into the ecosystem and brands will no longer tolerate it.
How Are Bots Detected?
Easily.

On TRIBE alone, your account is scanned by our AVS algorithm upon entry and then four times every day afterwards.

But forget us, brands can audit your activity within seconds via online sites.

One of their measures is HISTORICAL FOLLOWER GROWTH.

Here's an example of an influencer naturally following and unfollowing accounts VERSUS an influencer using a follower bot.

HEALTHY ACCOUNT

UNHEALTHY ACCOUNT

Plain as day, huh?

A brand is likely to avoid the second influencer.
Undoing The Damage
For a start, turn off any automated activity on your account.

You'll then need to do a sweep of any ghost or inactive followers you may have picked up as a result of these tools. Once identified, you'll then need to block these from your account.

More information on maintaining a healthy account here.
Even After Cleansing, Will Past Bot Activity Affect My Ability To Earn?
Well, if YOU can see it via an online audit, so can the brands.

The sooner you stop using these tools, the quicker they'll forgive you.

A history of bot usage will also impact your TRIBE influencer rating which is designed to share your holistic value to a brand, beyond your follower count or price.

More deets here.
At The End Of The Day...
Your biggest asset isn't your follower count - it's your stunning content and the relationship you have with your tribe.

Rather than trying to grow followers, concentrate on engaging the ones you've got.

Think videos, stop-motion, cinemagraphs, epic photography, funny content etc.

Get this right, and they will come.

Both the followers and the brands.

_

P.S: Think this is important? Fwd it onto your social-loving friends. They'd do it for you. 🙌