2018 Update to Influencer Rating:

In a bid to protect the energy of both our influencers and brands, we have updated TRIBE's influencer ratings to penalise any current bot activity detected on influencer accounts.

See here for more details.

Once you completely stop using these tools, your rating will begin to recover.


---
We're constantly impressed with how well influencers conduct themselves on TRIBE. Everything from responding quickly to a brand's feedback to attracting loads of approvals.

So much so, we've designed Influencer Ratings to help you stand out even more. These will be displayed next to your submissions in the brand's inbox and are out of 5 stars. You can also find them in your app in the 'You' section.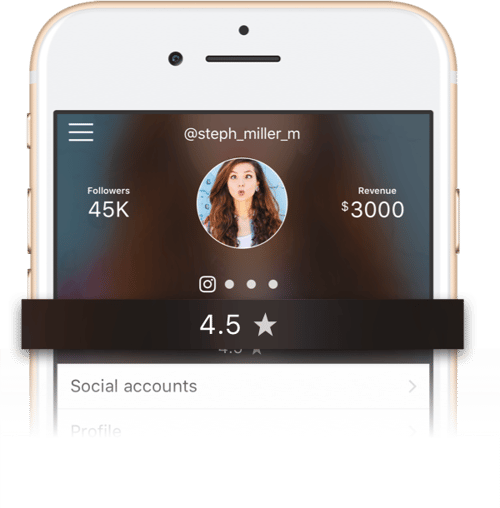 Why Influencer Ratings?

TRIBE Ratings are designed to share your holistic influencer value to a brand, beyond your follower count or price.

Yes, some brands get stuck in the popularity side of things and think more followers are better; but we all know that's there's far more to it than that!

The beauty of influencer marketing is the amazing content and engaged audiences that you guys have - regardless of whether they have 3k, 30k or 300k followers.

This rating system is the best way to show off to brands how valuable you are. And don't worry, a brand rating is on it's way too, so you can better select brands. What's fair is fair!

How Is My Influencer Rating Calculated?

Rather than being rated by brands, your rating is actually calculated by TRIBE.

We take into account things like your professionalism, activity and engagement. Let's break it down:

1) Influencer Professionalism

This is all about how well - and often - you work with brands. Small things like quick replies to brands and publishing approved posts on time make a huge difference. More professional activity with more brands = a higher rating!

2) Influencer Submission Quality

This is how good your submissions are. Brands love seeing and buying quality posts that match the brief. It's as simple as that! Meet the briefs and you'll be rewarded.

The opposite can be said if you're flagged for 'pitching' i.e. "Hey guys. I'm a food influencer who would like to work with your brand" rather than submitting content exactly as it will appear when published. The same goes for unoriginal or photoshopped content - you'll be flagged and your rating will suffer.

Check out our TRIBE influencer tips and tricks for more on how to take your submissions (and rating) to the next level.

3) Influencer Engagement

This is all about how much engagement your posts get, and whether it's real across your whole follower base.

We've heard of creators trying to boost reach and engagement by joining engagement groups and paying for bots to follow and unfollow on their behalf.

Not to mention the use of these tools is strictly against Instagram's terms of service.

Any detected bot activity or group engagement will negatively impact your influencer rating.

Here's the solution for how to get a better TRIBE rating: submit more great content that's on-brief, be authentic, and have a truly engaged audience. Your rating will soon follow and make you SHINE BRIGHT like the star you are!

Very few influencers on TRIBE have a 5 star rating, so don't despair. Even our Founder Jules is working hard to get his rating up... his ego won't allow him to stay at 3.04!