Looking for new customers? Check Instagram.
With more than 500 million active users daily and more than 1 billion active users monthly, Instagram has positioned itself as a powerhouse channel for companies looking to connect with their audience.
However, with all that competition for attention, it's getting increasingly difficult for brands to stand out on the platform. To reach new customers, your content needs to be authentic and highly engaging.
And whilst what you post is super important for reaching new audiences, it's also important to be strategic about when you post.
Finding a time when posts have a better chance of reaching the top of your audience's feed can feel like a puzzle. We're here to help.

So, what's the best Instagram posting time?
Honestly, there's no blanket rule for the best time to post on Instagram. But don't be disheartened. With a few considerations, it isn't hard to figure out a few ideal times to post.


CONSIDER YOUR AUDIENCE'S HABITS
Think about the general habits of your audience. Are they stay-at-home mums? Teenagers? Corporate workers who are in the office every day?
Look at the data you have about your audience's daily life and once you understand when they're online and ready to engage with different types of content, you can better understand when a post will get the most attention. Be sure to take into account time zones too.
EXPLORE INSTAGRAM'S INSIGHTS
Once you've started to build a following, you can get a better picture of when your ideal customers are online — directly from Instagram. Changing your account from personal to an Instagram business account gives you access to a dashboard called Instagram Insights.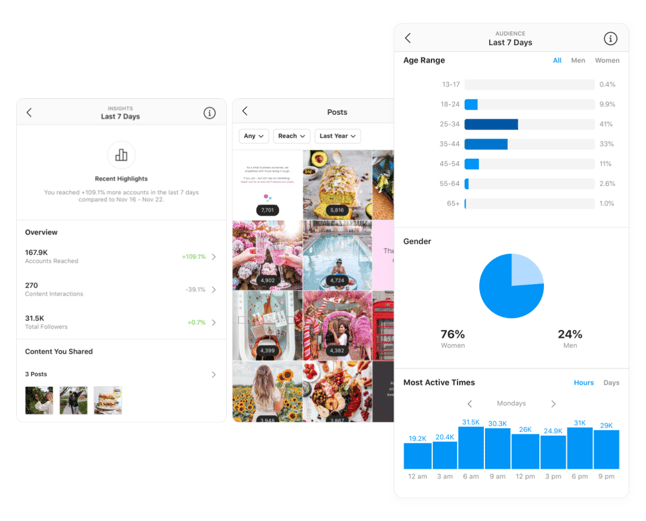 This dashboard is a goldmine of data where you can find:
• Impressions: how many times your posts were seen
• Top posts: those that generated the highest amount of engagement and reach
• Follower demographics: who your audience is, based on age, gender and location
• Audience activity: when your followers are most active on Instagram, broken down by day and time


The latter is crucial information for determining when your posts are most effective — so we highly recommend setting up a business account.
How to find the best time to post on Instagram for your brand
Once you have a good feel for your audience's habits and have studied your insights about the best times to post for your industry, you're ready for the next step.
TEST. TEST. TEST.
Now that you have access to a heap of insights from your built-in Instagram analytics dashboard, you can start to play around with your posting times. Check which hours of the day your followers are online. Is there a clear window when they're active? If there is, bingo! Say your followers are online between 8am and 11am on weekdays, you could post at 8am, then at 9am, and so on. This will allow you to gain even deeper insights into your brand's ideal Instagram posting time. To really get a feel for what days and times work best, you should test over a substantial amount of time; we recommend starting at one month.
Set up a spreadsheet to keep on top of your posting schedule that will double up as a place to track the engagement rate of your posting times. Plus, having all your data in one place will help you spot trends a lot easier.
OBSERVE YOUR COMPETITORS
Is there a particular competitor of yours who seems to be getting all the likes? Maybe they've cracked the code on post times with your particular audience. Study what times they are posting and try to imitate their schedule to see if it works just as well for you.
USE A SCHEDULING TOOL
Some social media scheduling tools like Hootsuite and UNUM can automatically post your content at peak times, based on the performance of your past posts. Try a few posts using this feature and then remember to measure the success.
Looking to source creative, user-generated content that can
help you ramp up your Instagram engagement?
See why hundreds of brands use TRIBE.