"We are smashing it in sales and serving over 1.5 million mojitos this summer. Bacardi #MojitoMoment demonstrates our approach to connecting with consumers through immediacy and innovation, via consumer centric creative."
JONATHAN SULLY
Their Success Story
Leveraging the speed of TRIBE's agile marketing solution
Working under OMD Create, Bacardi used TRIBE's influencer marketing platform to drive a data-led outdoor and social ad campaign, encouraging consumers to enjoy a #MojitoMoment as their first drink of the night. This saw Bacardi receive 160+ pieces of content from TRIBE micro-influencers within one week, a 14% sales uplift and a 20% summer performance growth YoY.
Their Objective
Keeping a Bacardi Mojito top of mind to increase sales
After researching consumers' drink choices, Bacardi discovered that the first drink of the night was decided less than 15 minutes before a consumer ordered it. In order to position the Bacardi Mojito as the ultimate first drink, the brand set out to nudge consumers into a planned, conscious choice before they reached the bar. With an aim of grabbing the attention of patrons with eye-catching user-generated content marketing, Bacardi hoped to encourage consumers to share their #MojitoMoment on social media in order to hit their summer target of 300,000 mojito sales and a Bacardi sales uplift of 1%.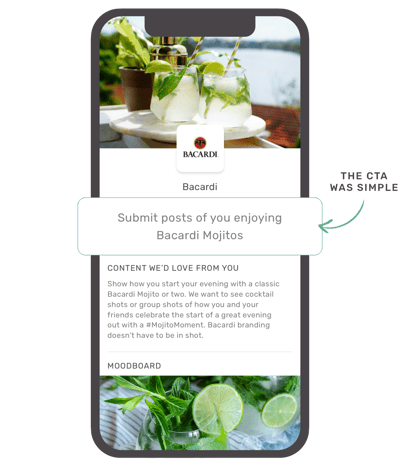 Teaming up with TRIBE, OMD Create and Bacardi launched the #MojitoMoment campaign, aiming to use TRIBE's pool of 80,000+ diverse micro-influencers and creators to source an unprecedented amount of high quality user-generated content.


Their Solution
Utilising the power of user-generated content with TRIBE's quick-to-market platform.
In order to leverage the tight 15-minute window for thirsty decision-making, Bacardi enlisted 60 TRIBE micro-influencers to share their #MojitoMoment on Instagram.


The twist? They got them to post the content in-feed as it was happening.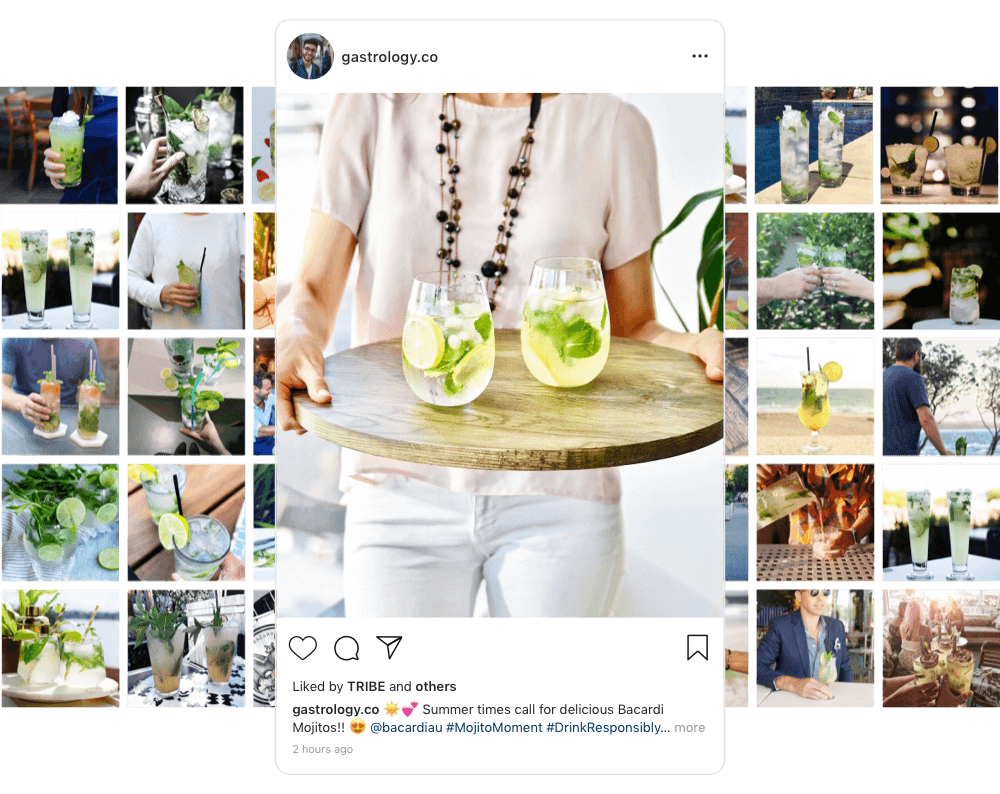 OMD purchased the rights to 70 pieces of stunning creator content and combined TRIBE's campaign analytics with sales and location data to identify the most influential bars in each city. They then placed the user-generated #MojitoMoment content in nearby targeted digital OOH panels, catching consumers in that 15-minute window before reaching a bar.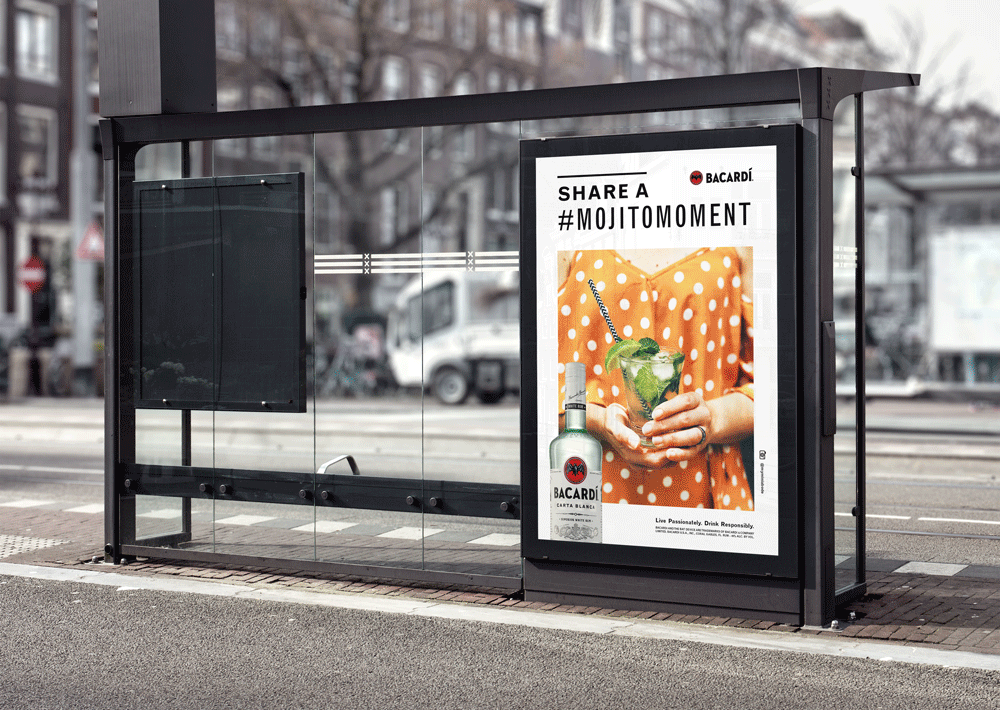 Using creative generated by the very consumers it was designed to engage, Bacardi's campaign was then able to encourage others to share their own #MojitoMoments – creating an instant viral effect.
Their Results
Making award-winning influencer marketing history
Combining user-generated content with outdoor ad campaigns, Bacardi not only established the #MojitoMoment as a 'first drink of the night' ritual, but also created the first ever dynamic media connection between social and OOH in the Australian marketplace. Within a week of uploading their #MojitoMoment campaign to the TRIBE platform, OMD received over 160 pieces of content in various venues around Melbourne, Sydney, Brisbane and Perth. Leveraging the virality of social media and igniting the influence of TRIBE creators, Bacardi discovered that cocktails and creator content was the perfect mix to make a mojito summer's most contagious drink.
In empowering their brand ambassadors to publicly and authentically celebrate their love of Bacardi, their campaign achieved:

But, we all know every marketing campaign comes down to increasing sales. Their campaign saw the following results over the summer: