The smaller the tribe, the more potent the influence. That is the beauty of micro influencers.
The problem is, this has always been difficult to measure BEFORE you pay for influencer generated content.
Recently, TRIBE has introduced a brand new influencer ratings system to help you better assess and compare the quality of an influencer; alongside our new pre-purchase analytics in your inbox.
Why Do Influencers Need Ratings?
So you can have more confidence in who you're working with. The ratings incorporate influencer professionalism, quality and engagement.
It all comes back to integrity.
We at TRIBE pride ourselves on providing the most authentic and powerful influencer campaigns possible. But, measuring influencer success is complex.
To do this, we need to look past follower counts and more closely at the quality of influencers, their followers and the impact they have on your brand.
TRIBE's influencer ratings system built through a formulated algorithm utilises the data inputs from over 100,000 pieces of content and more than 10,000 active influencers. It is the easiest way to give brands and agencies this vital information to make the right decisions on who they should work with.
How Are The Influencer Ratings Calculated?
TRIBE will give an influencer a score out of 5 stars, based on three data-driven criteria:
1. Level of Influencer Professionalism
How professional the influencer is to work with, factoring in response times to brands and publishing punctuality.
2. Quality of Influencer Content Submissions
We determine this by assessing the alignment of their past submissions with briefs, and the resultant success and impact of these posts. Ratings can be reduced if there are any submissions with screenshots, low quality content or with a 'pitch' (ie. "Work with me") instead of the final content,
3. Quality of Influencer Engagement
Engagement in this case refers to the percentage of their audience engaging with their content and the authenticity of their likes and comments. For each influencer, this is measured across their paid and organic content and we assess inputs such as engagement breadth - i.e. unique engagement across their entire audience base.
These ratings are refreshed every 6 hours, so rest assured they'll be up-to-date and accurate. If you cannot see an influencer's rating, it simply means we don't have enough data to rate them yet. We'd rather give you ratings we have confidence in than just throwing a number together.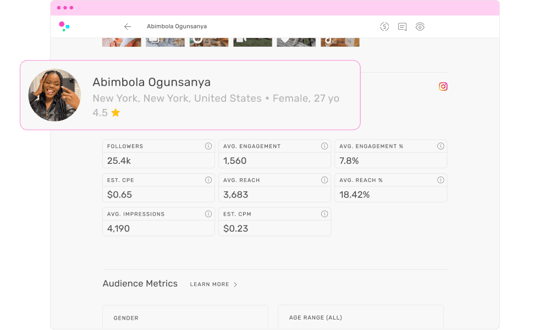 This doesn't mean an influencer without a rating is not worth your time, in fact it can often mean quite the opposite. As their activity on TRIBE increases, their rating will appear and purchasing influencers without a rating is often the best time to buy them at a cheaper price.
Note that there are very few influencers with 5 stars, so any influencer with a rating of 4+ should be considered in the Micro Influencing elite.
This is just one of the many updates we've made to make your life as a brand easier.
Influencer ratings, the ability to shortlist your favourite submissions and total estimated campaign outcomes have all been brought in to take away the guesswork from influencer marketing.